Victaulic sprinkler head cut sheets have the info to select sprinklers and accessories
Victaulic is most well-known for its innovative history of manufacturing pipes, fittings, and valves, but its fire protection repertoire also includes a wide array of fire sprinkler heads. And Victaulic data sheets, sometimes called Victaulic sprinkler head cut sheets, provide the information installers and buyers need.
Unfortunately, most sprinkler data sheets are so packed with information that they can be difficult to read. And while Victaulic's are a little simpler than their competitors' documents, they still may present challenges to the casual reader.
This blog tells you how to interpret current Victaulic sprinkler data sheets, including:
Need fire protection equipment? Shop QRFS's selection of Victaulic sprinklers, concealed sprinkler cover plates, and escutcheons. If you know the sprinkler identification number associated with a sprinkler or accessory, the QRFS Quick Finder is the fastest way to ID and buy the right parts.
The SIN and how Victaulic organizes its fire sprinkler line
Everything regarding fire sprinklers these days starts with the sprinkler identification number. All heads manufactured after 2001 have this four-to-seven-digit alphanumeric code imprinted on their deflectors, and each SIN begins with the manufacturer's code.
Victaulic SINs start with "V" followed by numbers, which should not be confused with Viking's initial "VK." Here are a couple of examples:
The V2707 is a standard spray, standard response, 5.6k pendent sprinkler.
The V2708 is the quick response version of the above.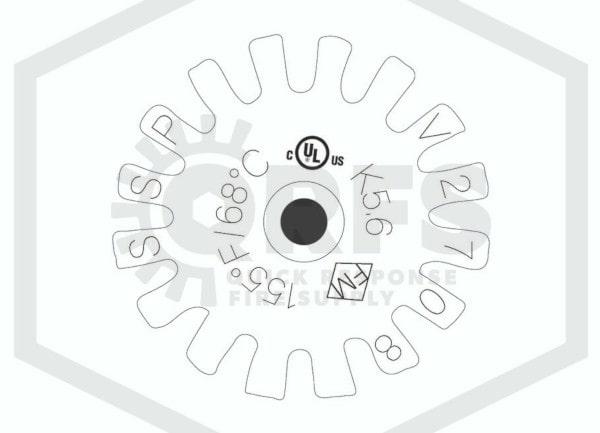 Some sprinkler manufacturers have created data sheets for a single SIN, but many group several on one document, including Victaulic. Overall, the company breaks its sprinkler products down like this:
Fire sprinklers, all under the FireLock™ brand
Standard coverage, extended coverage, residential, storage, dry, or specific application sprinklers
The specific sprinkler series
Victaulic's data sheets are organized by the sprinkler series; each document contains all the heads/SINs within that series.
The sprinkler series has another code, though it's a really easy one to understand (if you know fire sprinklers). For example:
The V2707 standard spray, standard response pendent sprinkler is in Series FL-SR (FireLock–Standard Response).
This pendent's V2708 standard spray, quick response version is in Series FL-QR.
Other notable examples:
Series FL-SR/C are FireLock standard response concealed sprinklers, whereas FL-QR/C are quick response
Series FL-QR/CNV and Series FL SR/CNV indicate conventional (aka "old-style") sprinklers
Series FL-ECLH are extended coverage sprinklers listed for use in light-hazard occupancies (the ECOH versions are ordinary hazard)
Series FL-QR/ST are storage sprinklers
Series FL-RES are residential
There is another key part of the code to be aware of that distinguishes Victaulic's series. All sidewall sprinklers have a "/SW" in their series name, whereas pendent and upright orientations are both within the primary series designation.
Again, if you know a little about sprinkler characteristics, the codes for different series make perfect sense. And Victaulic organizes its datasheets by series, which each document having multiple SINs/sprinklers.
You can read more in our guide to Victaulic fire sprinkler heads.
Essential sprinkler information
Many manufacturers start their data sheets with a copy-heavy description of the sprinkler(s), its key characteristics, and what use (occupancies) it's listed for. But Victaulic gets right down to business with a big "Product Description" table.
Here's the top part of it for the Series FL-QR sprinklers: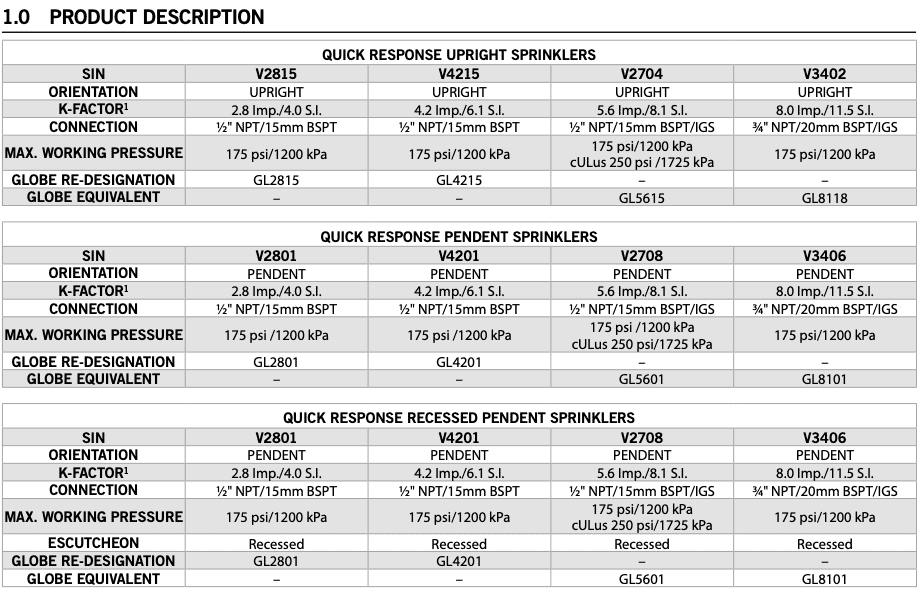 Despite 12 entries, this FL-QR series data sheet really only has eight different sprinklers, each with a unique SIN:
The four in the top section are upright (orientation) sprinklers
The next four in the row below those are pendent sprinklers.
The last four are the same pendents as the previous row—no characteristics change—but they also mention necessary escutcheons for when the heads are installed recessed into a ceiling.
This handy table quickly shows you most of the essential specs about these sprinklers: SIN, Orientation, K-factor, Connection [size], and Maximum Working Pressure.
Other than orientation (upright vs. pendent), the primary difference between the sprinklers in this line is each's K-factor, which is essentially how big the hole in the sprinkler is and how much water comes out. Higher K-factors are typically used in environments with more challenging "fuel loads," though different numbers can work depending on the water pressure, flow, and necessary coverage area.
If you're replacing sprinklers or putting in a new system, the K-factors must match what you have (except in special situations) or what the system's designer specifies.
You can read more about K-factors in our previous blog.
Also, note the bottom of each row where it reads "Globe Re-Designation" and "Globe Equivalent." Victaulic bought Globe Sprinkler in 2019, so these lines specify which old models people need to replace with current sprinklers.
What about escutcheons and cover plates?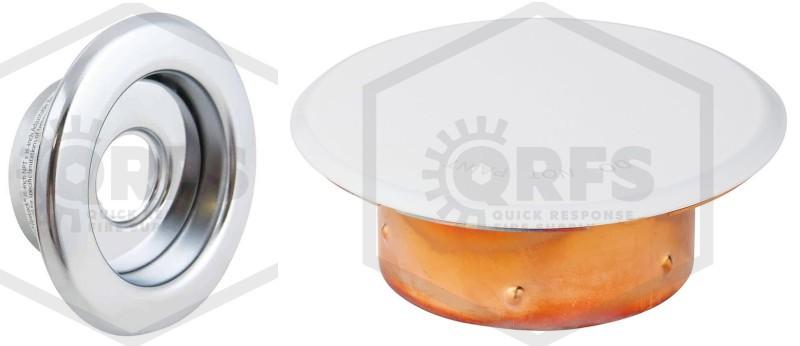 The top portion of the Product Description table showed one essential accessory for these sprinklers: that listed escutcheons are necessary to surround the recessed pendents. It communicated this by saying "recessed" in the escutcheon row. The documents for concealed sprinklers have similar info, only having "concealed" in the same row with the heading "escutcheon."
This points to one of the confusing things about Victaulic's data sheets: they list no part or model numbers for the escutcheons or cover plates, unlike some other manufacturers. And either of these accessories must match the specific sprinkler. So, how do you know what to get?
Fortunately, it's pretty simple: the first three digits of the sprinkler's SIN match the appropriate cover plate or escutcheon, among other parts. So, for example:
The bottom portion of the table shows other accessories: the compatible head guards, water shields, and installation wrenches, which also match up with those first three digits of the SIN:
Listed head guards can protect sprinkler heads from some impacts, while water shields block overspray from sprinklers. And you need wrenches that are specifically compatible with a fire sprinkler and how it's installed—this avoids damage and makes putting them in and removal easier.
This accessory portion of the table is pretty easy to read: a black box indicates what items are compatible with each SIN, of course.
Sprinkler safety certifications—listings and approvals in Victaulic sprinkler data sheets
All fire sprinklers are "listed" or "approved," and many specific accessories are, too. The general term "listed" means that a safety organization (notably UL or FM Global) has tested this equipment to perform specific jobs in specific environments.
Victaulic's "Approvals/Listings" table shows which sprinklers (SINs) are listed at available activation temperatures by what safety organization. Here's a portion of it: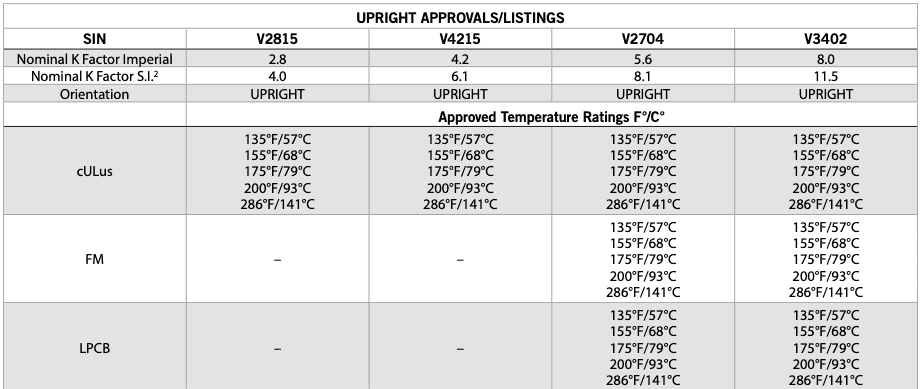 UL is the most important listing organization (certainly in North America), and that "cULus" row indicates that all four upright sprinklers are listed in the US and Canada. This distinction means the sprinklers meet the requirements of NFPA 13: Standard for the Installation of Sprinkler Systems.
FM Approval can also be important, as certain standards and organizations, such as insurance companies, may specifically require it. In the FL-QR series example above, only the V2704 and V3402 are FM-Approved.
LPCB stands for Loss Prevention Certification Board, an "international Certification Body in the fields of security and fire protection" based in the UK. Its approvals match FM's.
The full Victaulic data sheet table also features three other listing and approval organizations. But here are the essential things to remember:
UL and FM are most important for North American customers
All official certifications may meet NFPA 13's requirement that equipment must be listed
Make sure to get appropriately listed models. People are usually good to go with UL listings, but some entities may want FM or both.
Interestingly and unlike other manufacturers, Victaulic's data sheets don't specify overall what these sprinklers are listed for—the occupancy hazard level. But they are all quick response, which indicates light hazard (required) and ordinary hazard (possible, under certain conditions) environments.
The bottom of the table also includes some important footnotes:

The above mentions specific sprinklers available in this series with "Corrosion Resistant" coatings. That's important for individuals installing the heads in corrosive environments, as NFPA 13 may require them, and this feature changes some of the sprinkler testing and replacement intervals.
The notes also highlight a special New York City rule saying either FM Approved or UL Listed is ok, so be sure to always read the fine print. There's some relevant stuff in there!
Sprinkler materials, finishes, and technical installation drawings
The next two sections of the data sheet have what sprinklers are made of, their dimensions, and drawings that show them installed.
Major manufacturers can vary the material specs a bit, but all of them make quality fire sprinklers that just work. So, the main things to note here are:
1. More detail on finishes, such as this info for the Series FL-QR: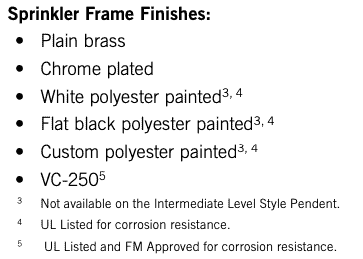 Beyond choosing something for looks, you again may need to pay attention to the superscripts and footnotes specifying listed corrosion-resistant finishes.
2. Diagrams pointing out each part and the installed sprinklers:

This info can come in handy for installers. But even more useful is Victaulic's separate installation manuals with way more information and step-by-step instructions, like this one.
Design criteria—mainly for residential sprinklers
All data sheets contain some crucial information relevant to system design, such as K-factor and maximum working pressure. But Victaulic data sheets for residential sprinklers, like other manufacturers', take things a step further.
This is because most commercial sprinkler system design rules are found in NFPA 13, which outlines all this information in great detail.
Residential sprinklers and systems, however, (usually) rely on these standards:
NFPA 13D: Standard for the Installation of Sprinkler Systems in One- and Two-Family Dwellings and Manufactured Homes)
NFPA 13R: Standard for the Installation of Sprinkler Systems in Low-Rise Residential Occupancies
These documents have fewer and some different requirements while deferring to manufacturers and laboratory approvals to provide key design data.
So, Victaulic and other manufacturers' data sheets include additional information in the residential sprinkler data sheets, including:
Maximum coverage area (ft. x ft.)
Minimum flow (gpm)
Minimum pressure (psi)
Distance from the deflector to the ceiling/mounting surface (in.)
Minimum (sprinkler) spacing (ft.)
Most of these design criteria directly correspond with the sprinkler's K-factor—change a K-factor, and they change, as well.
Victaulic puts these design criteria in the previously mentioned "Certification/Listings" section but only on data sheets for residential sprinklers:
Victaulic sprinkler data sheets are pretty straightforward—and so are the answers to their biggest unanswered questions
Victaulic sprinkler head cut sheets are simpler and more visual than some competitors, presenting almost all information in tables instead of regular copy. They provide all crucial details but leave two notable things out: a sprinkler's use in specific occupancy hazard levels and the exact nomenclature—part or model numbers—for essential accessories (cover plates, escutcheons, etc.).
Fortunately, answering those questions is usually pretty easy. First, the hazard generally corresponds to the sprinkler's response type, so a qualified system designer or contractor will know what's needed. And contractors or laypersons should just replace the sprinkler they have, or a system designer specified.
Second, the escutcheons, cover plates, head guards, water shields, and wrenches compatible with the sprinkler have the same code: the first three digits of the sprinkler's SIN. So, you know you need V27 escutcheons for a recessed V2708 sprinkler, plus a V27-2 recessed wrench (or V27 standard wrench for the non-recessed V2708s).
Data sheets are valuable for both fire protection professionals and regular customers who need the right parts. You can find all of the appropriate sheets (along with sprinklers!) on QRFS product pages for our selection of Victaulic sprinklers.
And if you'd like the fastest way to find a specific Victaulic sprinkler, escutcheon, cover, or wrench by SIN:
Just enter the sprinkler identification number (SIN) and select the options needed, and it shows you the correct parts available for purchase.
Contact us with any questions at 888-361-6662 or support@qrfs.com.
This blog was originally posted at blog.qrfs.com. If this article helped you, check us out at Facebook.com/QuickResponseFireSupply or on Twitter @QuickResponseFS.