In many jurisdictions, problems discovered during regular inspections must be resolved immediately
While large buildings of all kinds typically have an array of fire protection systems at their disposal — from automatic fire sprinkler systems to fire alarm systems — portable fire extinguishers remain one of the most effective tools for putting out fires in their earliest stages. Building owners and facilities managers who neglect these life-saving devices do so at their own peril.
In this article, we examine the rules governing how soon to fix problems with fire extinguishers and extinguisher cabinets, including how regular and annual inspections dictate the schedule of required repairs — and why it's best to resolve these problems as soon as they're identified.
Problems with fire extinguishers and cabinets should be fixed during inspections
The National Fire Protection Association (NFPA) develops standards and codes designed to prevent death, injury, and property damage due to hazards like fire. The rules in these "model" documents have been adopted by many state and local governments throughout the United States. NFPA 10: Standard for Portable Fire Extinguishers contains many of the NFPA's recommended rules for fire extinguishers.
In NFPA 10, problems with fire extinguishers and extinguisher cabinets are uncovered through regular inspections. And its answer to this article's question — how soon do problems with fire extinguishers and cabinets need to be fixed? — is as soon an inspection uncovers a problem. However, the standard provides different inspection criteria for different types of fire extinguishers. And while some inspections are merely visual, others require more rigorous examination.
There's good reason for this level of vigilance. In 2010, the National Association of Fire Equipment Distributors (NAFED) released a report on fire extinguisher use throughout the United States. Its data, collected from 1976 to 2010, found that attempts to stop early-stage fires with an extinguisher succeeded 95 percent of the time. Kitchen fires, apartment fires, and fires in commercial spaces are all regularly extinguished or controlled with portable extinguishers.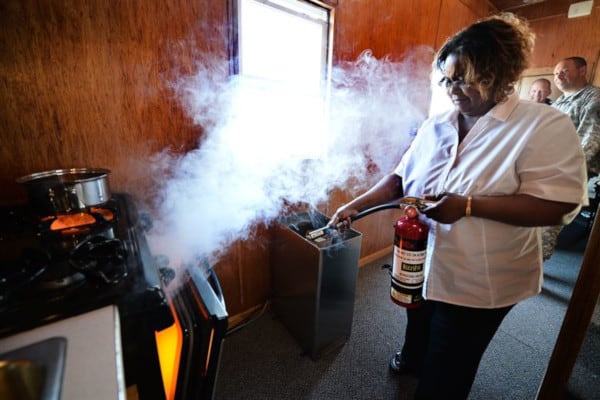 In the instances where extinguishers failed, most were because the fire had already grown too large. But NAFED's latest survey showed that nearly 30 percent of those failures involved often-avoidable problems with the fire extinguishers: operator error, extinguisher malfunction, a mismatch between the extinguisher and the type of fire, or an empty extinguisher.
While regular inspections vary in frequency, the problems they uncover with fire extinguishers must be remedied immediately
Under NFPA 10, the responsibility for inspecting and maintaining fire extinguishers rests with the building owner or a designated agent.
From the 2022 edition of NFPA 10

7.1* General.

7.1.1 Responsibility. The owner or designated agent or occupant of a property in which fire extinguishers are located shall be responsible for inspection, maintenance, and recharging. (See 7.1.2.)
In a non-binding note, NFPA adds that only "minimal knowledge" is required to perform the regular inspections outlined in the following section. And any problems uncovered by these inspections must be resolved immediately.
From the 2022 edition of NFPA 10

7.2.3 Corrective Action. When an inspection of any fire extinguisher reveals a deficiency in any of the conditions in 7.2.2 or 7.2.2.4, immediate corrective action shall be taken.
In general, these inspections take place at least once a month. However, NFPA 10 also adds that fire extinguishers should be inspected when first placed in service and inspected more frequently if needed.
From the 2022 edition of NFPA 10

7.2.1.1* Fire extinguishers shall be manually inspected when initially placed in service.

A.7.2.1.1 Frequency of fire extinguisher inspections should be based on the need of the area in which fire extinguishers are located. The required monthly inspection is a minimum.

7.2.1.2* Fire extinguishers and Class D extinguishing agents shall be inspected either manually or by means of an electronic monitoring device/system at intervals not exceeding 31 days.

7.2.1.2.1 Fire extinguishers and Class D extinguishing agents shall be inspected at least once per calendar month.

7.2.1.3* Fire extinguishers and Class D extinguishing agents shall be manually inspected daily or weekly when conditions exist that indicate the need for more frequent inspections.

7.2.1.4 Extinguishers that are electronically monitored for location only, such as those monitored by means of a switch to indicate when the extinguisher is removed from its bracket or cabinet, shall be manually inspected in accordance with 7.2.2.
Conditions that require more frequent inspections include a high frequency of fires, severe hazards, and a variety of real or anticipated problems with fire extinguishers, including theft or tampering.
Regular inspections focus on problems with fire extinguishers and cabinets that can be identified at a glance
Most fire extinguisher inspections cover a seven-item list designed to ensure that the extinguisher is accessible, operable, and easy to locate:
From the 2022 edition of NFPA 10

7.2.2 Inspection Procedures. Periodic inspection or electronic monitoring of fire extinguishers shall include a check of at least the following items:

(1) Location in designated place
(2) Visibility of the extinguisher or means of indicating the extinguisher location
(3) Access to the extinguisher
(4) Pressure gauge reading or indicator in the operable range or position
(5) Fullness determined by weighing or hefting
(6) Condition of tires, wheels, carriage, hose, and nozzle for wheeled extinguishers
(7) Indicator for nonrechargeable extinguishers using push-to-test pressure indicators
These monthly inspections are designed to uncover only the most basic problems. Rechargeable extinguishers reading low pressure or having a low weight should be refilled or replaced. Non-rechargeable halon and dry chemical fire extinguishers with the same problems should be removed from service, replaced, and properly disposed of.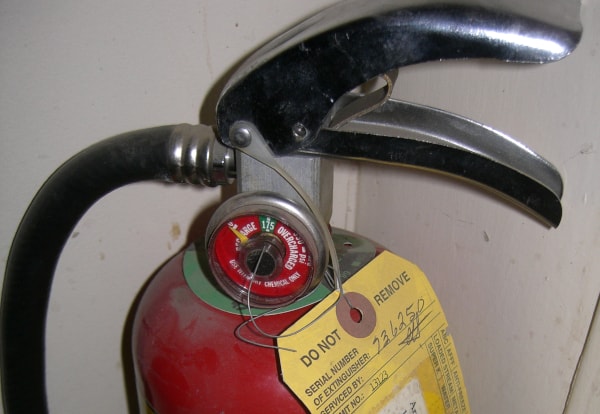 While this section doesn't deal directly with fire extinguisher cabinets — which aren't required by NFPA 10 — it suggests at least a few things. If the cabinet is damaged or obscured in such a way that access to the extinguisher is impaired, those problems should be rectified immediately. Similarly, decals, stickers, or other visual indicators used to make the extinguisher's location apparent should be cleaned or replaced if needed.
High-risk locations require a closer look at potential problems with fire extinguishers
In facilities faced with certain risks, either to the extinguishers themselves or the building, NFPA 10's visual inspections are slightly more involved:
From the 2022 edition of NFPA 10

7.2.2.3* In addition to 7.2.2, fire extinguishers shall be visually inspected in accordance with 7.2.2.4 if they are located where any of the following conditions exist:

(1) High frequency of fires in the past
(2) Severe hazards
(3) Locations that make fire extinguishers susceptible to mechanical injury or physical damage
(4) Exposure to abnormal temperatures or corrosive atmospheres

7.2.2.4 Where required by 7.2.2.3, the following inspection procedures shall be in addition to those addressed in 7.2.2:

(1) Verify that operating instructions on nameplates are legible and face outward
(2) Check for broken or missing safety seals and tamper indicators
(3) Examine for obvious physical damage, corrosion, leakage, or clogged nozzle
While not required in most cases, the items listed in section 7.2.2.4 are best practices for all inspections. Missing safety seals can indicate that the extinguisher has been used. Illegible operating instructions may confuse the extinguisher's user. And, left unresolved, physical problems with fire extinguishers may render them inoperable or even dangerous.
Annual inspections allow professionals to uncover and solve problems
Each fire extinguisher should undergo professional inspection and maintenance at least annually and, in some cases, more often. In accordance with section 7.3.2.5, all problems with fire extinguishers uncovered during these inspections must also be rectified immediately.
From the 2022 edition of NFPA 10

7.3 Extinguisher Maintenance.

7.3.1* Maintenance Procedure. Where required by another section of this standard, maintenance procedures shall include the procedures detailed in the manufacturer's service manual and a thorough examination of the basic elements of the fire extinguisher, including the following:

(1) Mechanical parts of all fire extinguishers
(2) Extinguishing agent
(3) Expelling means
(4) Physical condition

7.3.1.1 Fire extinguishers shall be subjected to maintenance at intervals of not more than 1 year, at the time of hydrostatic test, or when specifically indicated by an inspection discrepancy or electronic notification.
The visual inspections conducted during an annual inspection are far more thorough than most monthly inspections, covering the condition of the cylinder, nozzle, and operating instructions. They also cover the condition of hazardous materials identification system (HMIS) labels used to identify the health, flammability, and other hazards posed by extinguishers. For rechargeable extinguishers, maintenance also addresses the condition of tamper seals, which are removed and replaced during an examination.
From the 2022 edition of NFPA 10

7.3.2.1 Physical Condition. An annual external visual examination of all fire extinguishers shall be made to detect obvious physical damage, corrosion, or nozzle blockage to verify that the operating instructions are present, legible, and facing forward, and that the HMIS information is present and legible, and to determine if a 6-year interval examination or hydrostatic test is due.
Unresolved problems can turn a life-saving device into a liability: fix problems as soon as they're found
As we've covered so far, NFPA 10 requires that problems with fire extinguishers and cabinets be resolved after inspections. Some problems, then, could be fixed on a monthly basis, while others may last longer.
Those minimum standards go a long way toward keeping a building's occupants safe. Still, building owners and facilities managers would be well-advised to solve these problems as soon as they're brought to their attention, regardless of scheduled inspections. An impaired fire extinguisher poses unnecessary risks to those using it and can contribute to legal action.
For example, a class-action lawsuit in Athens, Ohio argued that an apartment owner's failure to rectify fire code violations — such as the inspection and tagging of a fire extinguisher — contributed to the displacement of as many as 41 residents. Similar suits brought in South Carolina, Texas, and elsewhere have attempted to hold building owners and property managers accountable for devastating fires allegedly compounded by empty or missing extinguishers. One involved a fire that forced a couple with a three-year-old baby to jump from the third floor of a burning condominium.
Replace missing or faulty fire extinguishers or extinguisher cabinets
If you've identified problems with your fire extinguisher or cabinet and need a replacement, take a look at our selection of fire extinguishers. Buckeye, a North Carolina-based manufacturer, offers portable dry chemical and CO2 fire extinguishers designed to fight fires of varying sizes and types. Each extinguisher complies with standards established by the NFPA, the Department of Transportation, and the US Coast Guard.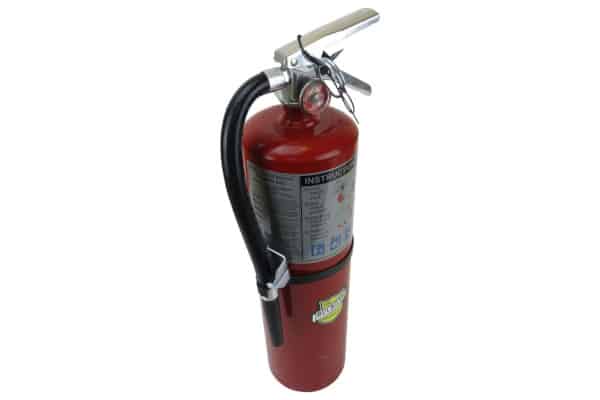 QRFS also stocks durable polystyrene fire extinguisher cabinets from CATO, a Florida-based manufacturer of fire safety products. Suitable for indoor or outdoor use, they feature a breakable acrylic panel and a built-in safety lock designed to hold extinguishers in place until use. These American-made, surface-mounted cabinets are available in red or white colors for extinguishers from 5 pounds to 20 pounds.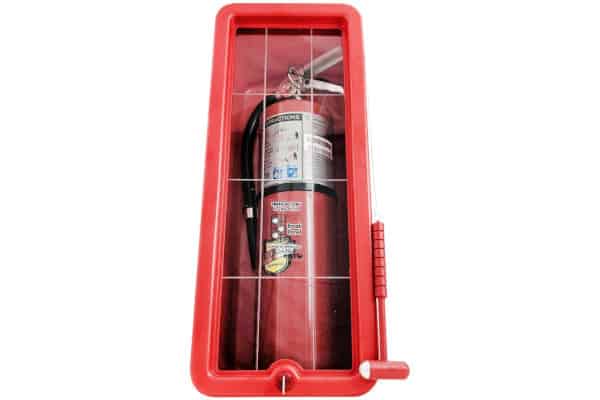 Questions or need specialized extinguishers that aren't in our online inventory? Call us at +1 (888) 361-6662 or email support@qrfs.com.
This blog was originally posted at blog.qrfs.com. If this article helped you solve problems with fire extinguishers or extinguisher cabinets in a timely manner, check us out at Facebook.com/QuickResponseFireSupply or on Twitter @QuickResponseFS.