A comparison of the most popular threaded rod anchors used in fire sprinkler systems and other applications
When it comes to fire sprinkler systems, any component that improves installation speed and efficiency without sacrificing safety or integrity is a valuable commodity. A good example is the threaded rod fastener.
Threaded rod fasteners are anchors with a rod coupler in a one-piece design. In sprinkler fitting projects, fasteners are used to hang threaded rod at different angles. They come in different shapes and sizes and for use in various mediums, allowing you to easily hang pipe where you need it.
As with any part of the pipe hanger assembly process, a strong method of attaching the threaded rod to the structure is critical. The anchoring and bracing devices should be designed to hold sufficient weight and improve the sprinkler system's survivability during an earthquake, fire, storm or any other event that may threaten a building.
NFPA 13: Standard for the Installation of Sprinkler Systems outlines specific support criteria for sprinkler pipe:
From the 2019 edition of NFPA 13

17.1.4.1.2 Sprinkler pipe and other distribution systems shall be permitted to be supported from a shared support structure designed to support five times the weight of the water-filled sprinkler pipe plus 250 lb (115 kg), and one and one-half times the weight of all other supported distribution systems.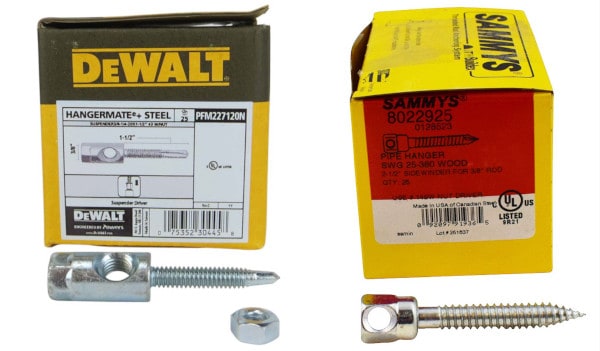 Sammy Screws and DeWALT HangerMate: Evaluating the top contenders
The use of threaded rod anchors can save time from other methods of hanging rod since it doesn't generally require the use of a secondary setting like a ceiling flange, site beam attachment, or clamp. Fasteners do, however, require a screwdriver or drill with an attached nut driver. Because the ends are threaded, they can be used with a nut and washer to add support for the external load.
Although the wide variety of fasteners gives users more opportunity to select the best product for a specific application, it can also make the selection process more difficult. This article aims to ease this process by providing a detailed overview and head-to-head comparison of two of the most popular threaded rod fastener brands—DeWALT® HangerMate®+ fasteners and Sammys® threaded rod anchors, commonly referred to as "Sammy Screws."
While there aren't major differences between the two brands, the DeWALT HangerMate+ fastener line does include a series of dual-directional models—called the "Suspender" series—which can be either horizontally or vertically oriented in a single screw. This option adds a little to the cost but offers the convenience of not having to purchase two different orientations for projects that require them.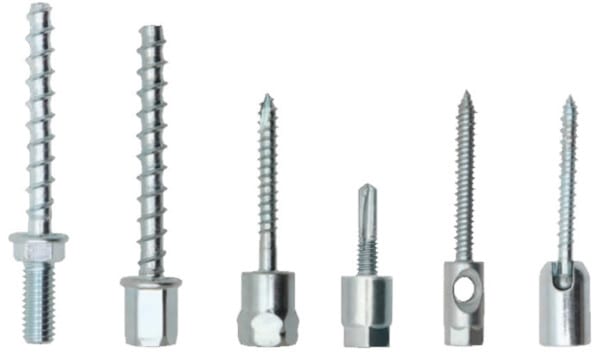 The finer points of DeWALT anchors
DeWALT Hangermate+ fasteners are small, but strong—supporting threaded rod and piping system components with ease. They are available in multiple configurations to meet diverse installation requirements.
The HangerMate+ line offers options for concrete, steel, and wood, needing only a drill for installation. All three fastener substrate types come in vertical, horizontal, and dual-directional ("Suspender") configurations. Each option allows for the use of a simple driver that works on all of the sizes but one, which is the HangerMate LG anchor.
Suitable for both vertical or horizontal use, HangerMate+ Suspender dual-directional fasteners are approved for use with fire sprinkler pipes and can support an ultimate tensile load up to 4,690 lbs*, making them a functional equivalent to their single-use peers. The dual-directional capability saves time by eliminating the guesswork for the number of vertical and horizontal fasteners required for a given project. Instead of grabbing a separate fastener with a different orientation, you can simply screw in the all thread rod (ATR) via the hole on the end or the one through the body of the base.
* Based on hanging orientation and base material.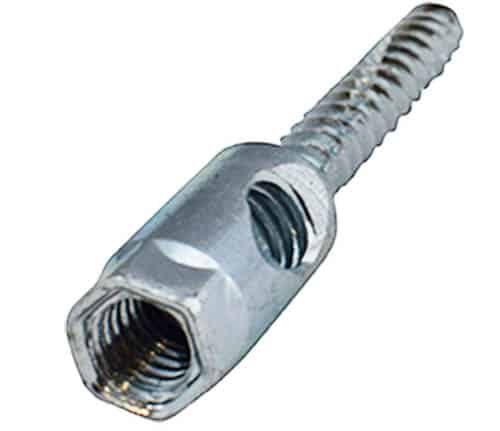 The key features of DeWALT HangerMate+ fasteners:
Install with a standard ¼-inch ANSI drill bit
Fast installation cuts labor cost
Patented thread design offers low installation torque
Tough threads for tapping high strength concrete
For wood and steel hangers, DeWALT recommends a HangerMate Socket Driver to provide accurate installation with a drill screw gun. For concrete hangers, a powered impact tool with a clutch is recommended. A pivot head version is also available for a flexible connection angle and positioning of rod hangers. An acoustical ceiling eyelet version is also available for hanging wire or cable attachments.
The Concrete HangerMate®+ Fasteners have been tested and qualified for use in cracked concrete and seismic conditions. They accept 1/4″ and 3/8″ diameter threaded rods and are also available in a 3/8″ male thread version.
The Steel HangerMate®+ Fasteners accept 1/4″ and 3/8″ diameter threaded rods. They are also offered in a side mount style for lateral installation of 1/4″ and 3/8″ diameter steel threaded rods onto joists, columns, and overhead members.
The Wood HangerMate®+ Fasteners accept 1/4″, 3/8″ and 1/2″ diameter threaded rods for vertical and horizontal wood applications. They enable easy and fast installation with no pre-drilling required.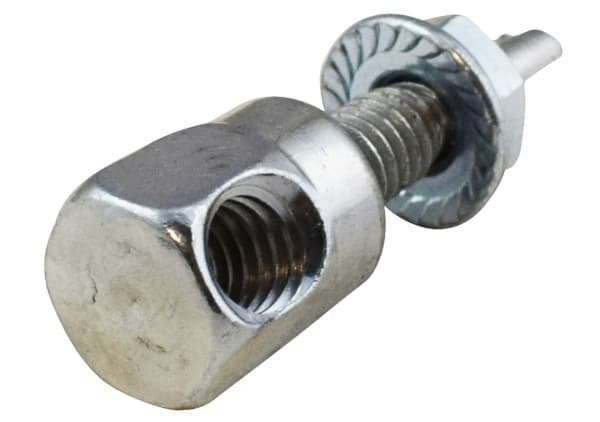 Sizing up Sammy Screws
Engineered by ITW Buildex, Sammys threaded rod anchors (aka Sammy Screws) are well-known throughout the commercial construction industry.
Whether you are hanging a pipe from drywall, steel, concrete, or wood, Sammys anchors offer superb design flexibility and versatility. In addition to installing into a wide range of substrates, the models can accommodate vertical or horizontal installations, or at an angle up to 90 degrees. Installation takes about half the time compared to three-step drop-in wedge or multi-piece hardware methods.
Advanced Threadform technology (by Tapcon® Anchors) provides teeth at intervals on alternating threads and allows the fastener to grip into concrete with holding power that traditional threads can't duplicate. Both wood and steel models can install directly into the substrate, eliminating the need to build a time-intensive trapeze. Sammys threaded rod anchors for concrete and drywall do require pre-drilling. The wood and steel anchors, however, the latter "made with Teks® self-drilling fasteners," do not need pre-drilled holes.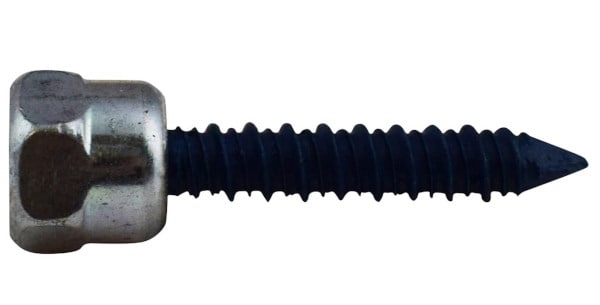 Sammys concrete, steel, wood and sidewinder models are available in 1/4" and 3/8" sizes. The threaded rod anchors can be installed using a nut driver to ensure correct installation torque and the tool is designed with a unique spin-off feature to reduce occurrences of fastener failure due to over driving.
One unique selling point for Sammy screw users is the Sammys Pole Tool, which helps to speed installation time when working in tight spaces or in areas with vaulted ceilings. Simply adjust the Pole Tool to the desired length, load the rod and your choice of Sammys threaded anchors, and the socket will spin free when the anchor is completely installed. The device is available in two telescoping sizes—one extends from four to 12 feet and the other from six to 18 feet. The tool saves time by removing the need for scaffolding, ladders, or lifts. (Some users have reported labor savings up to 25 percent.)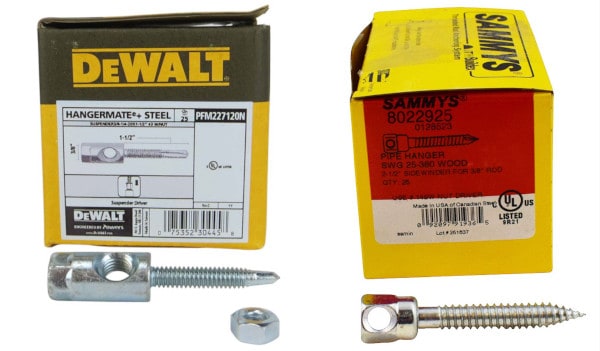 Fast-track your project with reliable sourcing of threaded rod anchors and other pipe hanger components
While calculating the load capacities and selecting the right pipe assembly parts can be tricky, sourcing the components you need should be quick and easy.
Browse our selection of both DeWALT HangerMate+ and Sammys threaded anchors.
QRFS also stocks, packages, and ships thousands of other sprinkler system and fire protection products. Explore our extensive inventory of pipe installation items, including our selection of pipe hanger swivel rings, fastener tools, and riser clamps for your next project.
If you need help finding a fastener or tool not shown in our inventory, or if you have any other questions about parts for your sprinklers or system, call us at (888) 361-6662 or email support@qrfs.com.