Building owners and facilities managers should write a scope of work that's specific, measurable, and based off of NFPA 25
Building owners or managers who hire a contractor to conduct the inspection, testing, and maintenance (ITM) on a fire sprinkler system need to scope the job, understand what they are paying for, and ensure that timely services keep their systems working and compliant with code. This is where a scope of work (SOW)—part of an overall request for proposal (RFP)—for these services comes into play.
Theoretically, every building owner or his or her representative should write a detailed SOW though, in practice, it is usually only facilities with more complex maintenance departments and fire protection systems who do so. Smaller businesses with fewer resources and little knowledge of systems, standards, and code often rely on the fire sprinkler contractor to explain their services and the necessary steps.
If you fall into the latter camp, it's not a bad idea to obtain multiple quotes for these services. This allows you to compare both the price and the details of what contractors intend to do. You can also run the plan by your local authority having jurisdiction (AHJ) to make sure it meets local government requirements.
This article explains the outline of a scope of work for fire sprinkler services, detailing the key elements and how and when it should mirror the content found in NFPA 25: Standard for the Inspection, Testing, and Maintenance of Water-Based Fire Protection Systems.
If you're simply looking to buy components for your fire sprinkler system, browse QRFS's selection of commercial sprinkler heads, as well as our sprinkler gauges, valves, switches, and other system components.
Building owners are ultimately responsible for fire sprinkler ITM
Model codes and standards place the responsibility for fire sprinkler system inspection, testing, and maintenance on the property owner. However, owners and facility managers cannot be expected to have expert-level knowledge in the care and maintenance of these critical life safety systems. For this reason, NFPA specifies that the ITM work is carried out by "qualified personnel" and also permits it to be contracted out:
From the 2017 edition of NFPA 25

4.1.1* Responsibility for Inspection, Testing, Maintenance, and Impairment. The property owner or designated representative shall be responsible for properly maintaining a water-based fire protection system.

4.1.1.2 Inspection, testing, and maintenance shall be performed by qualified personnel.

A.4.1.1 Any portion or all of the inspection, testing, and maintenance can be permitted to be contracted with an inspection, testing, and maintenance service.
When a dispute arises between a building owner and one of these contracted experts, the issue is often caused by unmet expectations. This can be prevented with a properly written and thoroughly outlined scope of work.
At a minimum, detail quarterly, semi-annual, and annual requirements while learning how to conduct less-frequent tasks
Inspection frequencies and testing requirements vary based on the type of system that is being maintained but, minimally, the RFP and SOW should outline quarterly, semi-annual, and annual ITM requirements. There are some system components that need to be inspected or tested on a weekly or monthly basis, however. At most facilities, designated site personnel conduct the simpler inspections or tests on short timelines. An outside contractor is only brought in for the more involved quarterly, semi-, annual, annual, and five-year requirements.
NFPA 25 provides a comprehensive list of all ITM requirements for water-based systems and their components. Your facility may only have one of these systems, or multiple types. Clearly list all of the systems you have that will need to be serviced and where they are located. When writing your SOW, consider whether or not your facility has the fire protection systems listed below; the parentheses show the table that summarizes the ITM requirements for each one within NFPA 25:
Fire sprinkler system (Table 5.1.1.2)
Standpipe and hose systems (Table 6.1.1.2)
Fire service mains/private fire hydrants (Table 7.1.1.2)
Fire pumps (Table 8.1.1.2)
Water storage tanks (Table 9.1.1.2)
Water spray system (Table 10.1.1.2)
Foam-water system (Table 11.1.1.2)
Water mist system (Table 12.1.2)
Build your SOW by taking the inspection timelines from the appropriate table and inserting them into the "Objectives of the Agreement/Deliverables" and "Timeline" portions of the SOW outline detailed below.
The outline of a scope of work
The SOW for fire sprinkler inspection, testing, and maintenance services clearly identifies all deliverables, milestones, reports, and end products. A scope of work document is made up of six sections:
Glossary
Problem Statement
Goals of the Agreement
Objectives of the agreement/deliverables
Administration
Timeline
1.Glossary
The glossary section defines any unusual terms or acronyms. Individuals who work at a facility typically have institutional knowledge, including area names or process acronyms. An outside agency will not be familiar with these details, so ensure that they are clearly defined within the glossary. This will provide the contractor with the context needed to provide efficient service and an accurate cost estimate for the project.
2. Problem Statement
This section describes the problem that the contractor will be solving. For fire protection systems, this includes maintaining compliance with codes and standards and ensuring system reliability.
3. Goals of the Agreement
This describes the overall tasks to be completed. It's the "big picture," or the end results the contractor is being hired to achieve. An example would be "conduct all monthly, quarterly, bi-annual, and annual inspection, testing, and maintenance requirements for [system] on timelines specified in this agreement."
4. Objectives of the Agreement/Deliverables
This lengthy section goes into detail on the end product and the expectations of the contractor. It should clearly describe the work to be performed, the actual documentation and hard copies to be received, and how these are to be accomplished. The S.M.A.R.T. acronym is a good guide to writing clear objectives:
S – specific
M – measurable
A – achievable
R – relevant
T – time-based
You should be specific about the goals and objectives that are to be met when writing the SOW for the RFP. This is where answers to the 5 "W's"—who, what, where, when, why—should be explained. The inspection, testing, and maintenance criteria listed in the NFPA 25 tables for each system type identify the specific answers to these questions. For example, list clear objectives and deliverables based off of this table showing the required maintenance for sprinkler systems: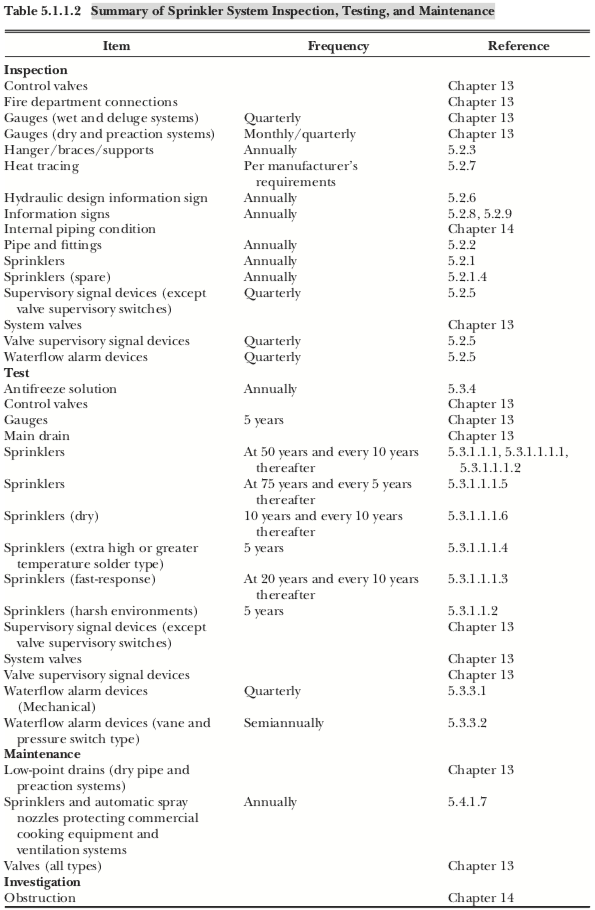 For the sprinkler maintenance work to be measurable, the due dates for inspections should be clearly enumerated. Rather than writing "quarterly inspections are to be completed," the SOW should be specific and state something to the effect of "quarterly inspections for [the year] shall be completed and reports delivered by [the exact dates that each quarterly inspection should be completed]. This will prevent the facility manager from having to constantly follow-up and see when the quarterly will be conducted and completed, or otherwise track down those reports.
Is the stated objective achievable? If not, why not, and what is needed to make it so? Describe which items are needed and how they will be provided. Common items required for achieving inspection goals are keys, official security access, a contact or point person, or maybe a site escort. The provision (or lack) of these elements should be clearly stated. Also specify how the inspection reports are to be received. Will they be digital only, digital and print, or submitted through a third-party vendor?
The SOW should strictly cover work and information that is relevant to the specific job and this specific contract. Only include the buildings and systems that are to be tested.
As sprinkler system inspections already have frequency requirements, the time-based component is somewhat built-in. Again, provide exact deadlines for the completion of work and the documentation to be received for the quarterly, semi-annual, annual, and, ideally, 5-year inspections.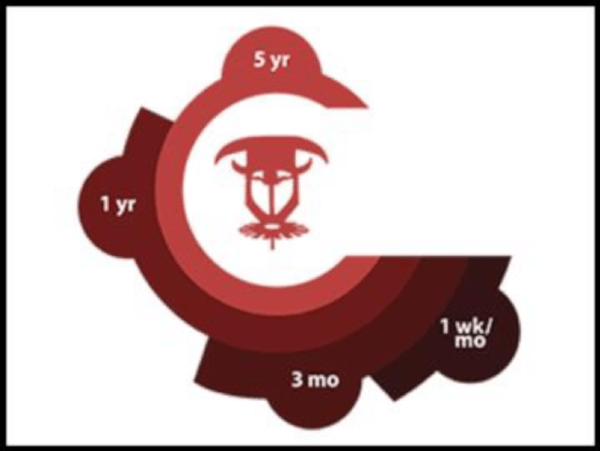 5. Administration
Other necessary functions for the completion of the job that are not considered an "end product" should be outlined here. These may include meetings, conferences, training, or memorandum and letter-writing requirements. In particular, training is advisable if onsite personnel are going to conduct some of the less-frequent tasks in NFPA 25 timelines.
6. Timeline
The timeline repeats the definite dates for the completion of work and the receipt of deliverables in one master list. Other items pertinent to the project, such as the aforementioned administrative tasks, should be integrated into the timeline as well.
When in doubt, be specific about deliverables, access, and expectations—and follow NFPA 25
The six elements we've detailed create a thorough scope of work document:
Glossary
Problem Statement
Goals of the Agreement
Specific objectives of the agreement/deliverables
Administration
Timeline
These sections paint a picture of what is expected, when it is to be completed, and how (and in what form) it is to be delivered.
NFPA 25 is also your crucial guide to writing a statement of work for fire sprinkler inspection, testing, and maintenance, specifically feeding the objectives and timeline sections. A digital or physical copy can be purchased from the National Fire Protection Association.
When contractors find system deficiencies and list them in their post-inspection reports, you should follow up by requesting a quote for the repair if the contractor doesn't quickly provide one. Deficiencies must be fixed quickly—and failure to immediately fix some of them may result in fire code violations that can cause fines and other penalties. Do not be afraid to request multiple quotes from different companies for the work, if you have the time to do so.
Many of the parts for these repairs may be purchased more reasonably from QRFS.com. We offer a wide selection of replacement parts for common deficiencies found during an inspection including commercial sprinkler heads, sprinkler gauges, valves, switches, and other system components.
 If you have any questions or need help finding an item, call us at +1 (888) 361-6662 or email support@qrfs.com.
This blog was originally posted at blog.qrfs.com. If this article helped you get a better understanding of fire sprinkler ITM, check us out at Facebook.com/QuickResponseFireSupply or on Twitter @QuickResponseFS.