Wheelchair users and people with limited sight benefit from proper placement and selection of fire extinguishers and fire alarm pull stations
Nearly 30 years after its passage, the Americans with Disabilities Act has improved the lives of millions of individuals. But some of its accessibility rules can be confusing to building owners and facilities managers who must comply with the law. The requirements are relatively straightforward for ADA fire extinguisher height and protrusion, as well as the placement of fire alarm pull stations, however.
In this article, we explain how the ADA's requirements allow people with visual impairments and wheelchair users to safely travel through a building and defend themselves if a fire breaks out. We also look at how the ADA impacts fire extinguisher height and the placement of pull stations, as well as other rules designed to ensure that individuals in wheelchairs can make full use of these life-saving devices.
The Americans with Disabilities Act provides enforceable design rules for most public and private buildings, with some exceptions
Since 1990, the Americans with Disabilities Act (ADA) has prohibited discrimination against individuals with disabilities. In employment, education, transportation, and day-to-day life, the ADA marked a shift away from the warehousing or infantilizing of people with disabilities. The law provides a wide array of rights designed to facilitate full participation in employment and public life, as this three-minute video from Minnesota's Twin Cities PBS explains:
The ADA is divided into large sections known as titles. Title II applies to government services, covering buildings that range from schools to courts to polling places. Title III regulates private businesses—called public accommodations—that are open to the public. All new construction and modifications in these facilities must be designed in accordance with the latest ADA standards, and all existing buildings classified as public accommodations must be ADA compliant. Public accommodations under the ADA include, but are not limited to:
Hotels
Restaurants
Movie theaters
Laundromats
Daycare centers
Pharmacies
Doctors' offices
The ADA makes exceptions for places of worship and other facilities owned by religious organizations or private clubs, including schools or daycare centers controlled by religious entities. Crucially, private residential housing is not covered by the ADA. While some kinds of apartments, condominiums, and other multi-family housing facilities are subject to other laws—in particular, the Fair Housing Act—the ADA only applies to select parts of residential buildings, such as commercial spaces or rental offices, that act as public accommodations.
The Department of Justice (DOJ), which develops and enforces the regulations that flesh out the ADA, has released the rules for today's buildings through the 2010 ADA Standards. A similar set of standards issued by the Department of Transportation applies to facilities used to provide public transportation.
For an authoritative, easy-to-read introduction to the ADA, see the United States Access Board's Guide to the ADA Accessibility Standards.
ADA standards limit how far mounted objects of all kinds can protrude into circulation paths
There are no official ADA fire extinguisher height or fire alarm ADA requirements. However, there are rules that govern the placement of all protruding objects, no matter their function, to accommodate blind and other visually impaired people.
The Department of Justice's 2010 ADA Accessibility Guidelines require objects protruding from a wall to be placed high enough that a visually impaired person would not bump their head on it, but low enough that they can detect it with a cane. This video provides an idea of how a blind individual uses tactile and auditory cues to navigate public spaces:
Protruding objects between these two heights—higher than 27 inches but lower than 80 inches—are in the hazard zone. With the exception of handrails, objects in the hazard zone must stick out no further than 4 inches into the walkway. But if some part of that object is in the 27-inch cane-detection zone, it can protrude any amount into the walkway.
These guidelines apply in "circulation paths," including interior and exterior walkways, hallways, elevators, and even courtyards—not just the accessible routes provided specifically for people with disabilities. However, protruding objects must not reduce the width of an accessible route beneath a minimum (typically, 36 inches).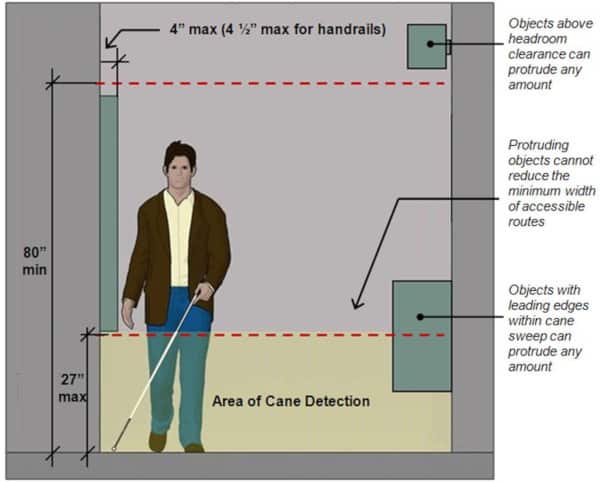 This 4-inch projection isn't always measured from the wall. When two protruding objects are placed one above the other—one in the 27-inch range of a cane sweep, another in the hazard zone— the higher object may project as far as the lower object and 4 inches more.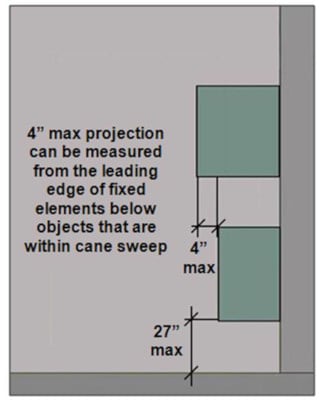 Hanging options and ADA fire extinguisher height are determined partially by rules on protruding objects
Fire extinguishers are typically hung either on hooks or surface-mounted cabinets within sight and reach of a building's occupants. As we've discussed in our article on when and where fire extinguishers should be installed, today's fire codes typically require extinguishers to be hung at the following heights:
Extinguishers weighing 40 pounds or less: The top no higher than 5 feet (60 inches), and the bottom no lower than 4 inches from the floor
Extinguishers weighing more than 40 pounds: The top no higher than 3 1/2 feet (42 inches), and the bottom no lower than 4 inches from the floor
While there is no fixed ADA fire extinguisher height, facilities managers are left with only a few mounting or hanging options that comply with both the ADA and most of today's fire codes:
Install the extinguisher in the hazard zone using a recessed cabinet that protrudes no farther than 4 inches
Mount the extinguisher on a hook, bracket, or cabinet within a sufficiently deep wall recess
Hang the extinguisher with a cabinet, bracket, or hook such that the extinguisher's base is lower than 27 inches in height but higher than 4 inches from the ground
In theory, a fire extinguisher with a small enough diameter could hang on a mounting bracket within the hazard zone. However, 5-pound extinguishers regularly exceed 4 inches in diameter, and 2 1/2-pound fire extinguishers may not have enough extinguishing agent to comply with fire code requirements.
Placing fire extinguishers and fire extinguisher cabinets partially within the cane-sweep zone allows for installations of cabinets that protrude as much as is needed without posing any risk to the visually impaired—although this placement isn't ideal for non-disabled users.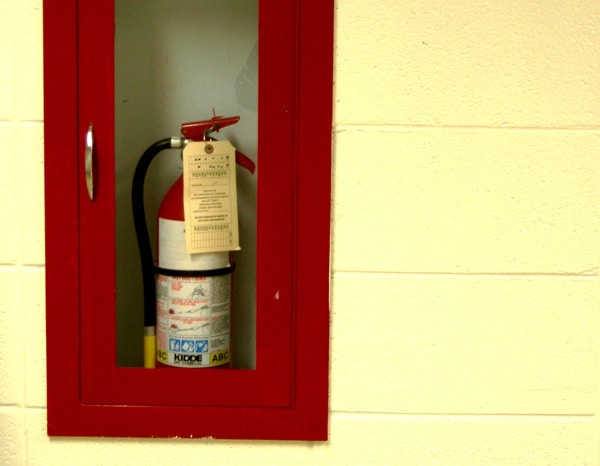 However, state and local codes may restrict the installation of protruding objects even when the ADA permits it. In particular, jurisdictions that adopt a version of NFPA 101: Life Safety Code as the law of the land may require hospitals and nursing homes to restrict protrusion to a 6-inch maximum and also require that protruding objects be placed at least 38 inches above the floor.
ADA-compliant installations of fire alarm pull stations and fire extinguishers must consider operable parts and wheelchair users
The ADA's requirements for handles, switches, and other key components of fixed-in-place devices—known as "operable parts"—impact ADA fire extinguisher heights and fire alarm ADA requirements. Operable parts include light switches, thermostat dials, handles on fire alarm pull stations, and other devices designed for use by a building's occupants. These requirements ensure that people in wheelchairs can make use of the building in the same way as everyone else.
In the case of fire alarm pull stations and fire extinguishers set in a cabinet, the operable part would often be the handle. Sections of the fire extinguisher cabinet may be higher or lower than the limits set in the section on operable parts, so long as that handle can be gripped by a person in a wheelchair.
These provisions don't apply to operable parts of non-fixed, or portable, devices. While the handle on a fire extinguisher cabinet must be placed at or below a specific height, the handle of the extinguisher itself may be placed outside of these limits.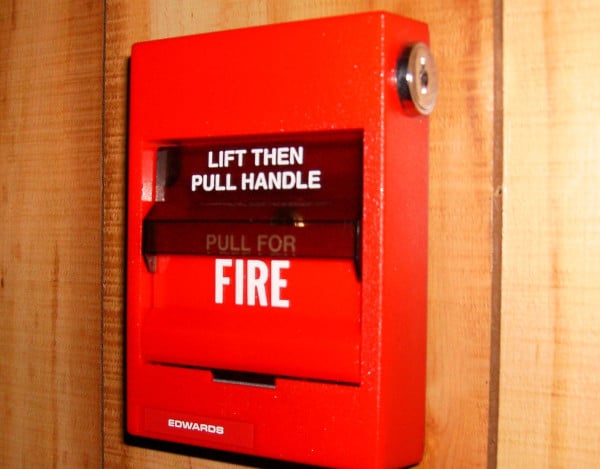 ADA fire extinguisher height and fire alarm pull station placement must allow wheelchair users access and ease of operation
The ADA provides two ways to make operable parts accessible to wheelchair users: through a forward reach or a side reach.
In a forward reach, the wheelchair user approaches the object head-on. If the path to the ADA-compliant fire extinguisher or pull station is unobstructed, the operable part must be placed from 15 inches to 48 inches off of the finished floor or ground. But when the wheelchair user must reach over an obstruction, these heights may change. If the obstruction forces the user to reach 20 to 25 inches forward, the maximum allowable height is 44 inches. Additionally, the knee and toe space available to the wheelchair user must be at least as deep as the distance he or she must reach.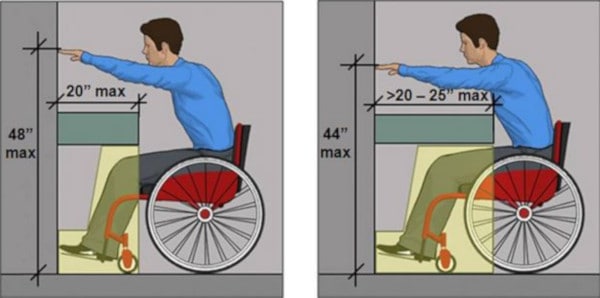 When a person in a wheelchair can approach the device with their wheelchair parallel to the wall—in what's termed a side reach—the operable part must be no higher than 48 inches and no lower than 15 inches from the ground. When the floor or ground space is obstructed, that obstruction can be no taller than 34 inches and no wider than 24 inches. If the obstruction is ten inches wide or less, the maximum height remains 48 inches, If the obstruction is between 10 and 24 inches, the operable part may be placed no higher than 46 inches from the finished floor.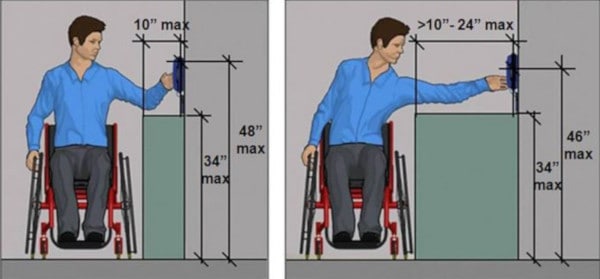 One final note: to be ADA compliant, fire extinguisher cabinets, fire extinguisher brackets, and fire alarm pull stations must also be operable with one hand and open with minimal force, as described in section 309 of the DOJ's ADA Standards:
309.4 Operation. Operable parts shall be operable with one hand and shall not require tight grasping, pinching, or twisting of the wrist.  The force required to activate operable parts shall be 5 pounds (22.2 N) maximum.
Five pounds of force is a very small amount. For example, the force required to gently open a full-sized door might be somewhere in the neighborhood of 14 pounds, as shown in the video below:
For more information and a selection of ADA-compliant cabinets as well as fire alarm pull stations, contact QRFS
Choosing an appropriate pull station or fire extinguisher and placing them at the proper height allows people with disabilities to defend themselves in a fire—and spares you the penalties that can accompany non-compliance.
If you're in the market for fire extinguisher cabinets, QRFS proudly distributes durable cabinets from CATO, a Florida-based manufacturer of fire extinguisher cabinets and protective covers. Their American-made cabinets are available for wall-mounting as well as recessed and semi-recessed installations.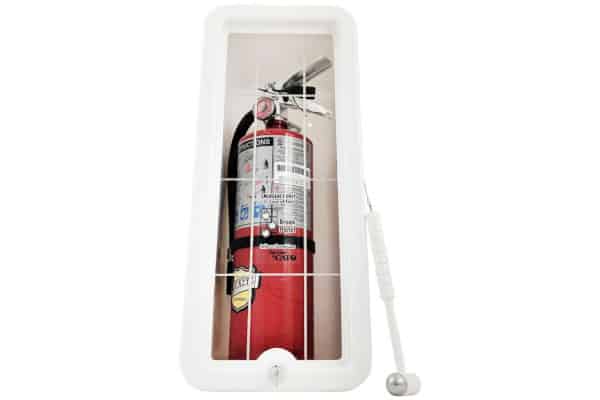 To order ADA-compliant cabinets, including CATO's classic semi-recessed and recessed cabinets, call us at +1 (888) 361-6662 or email support@qrfs.com. Viking pull stations manufactured by Potter Electric Signal Company are also available for order from QRFS—simply call or email us.
This blog was originally posted at blog.qrfs.com. If this article helped you wrap your head around ADA fire extinguisher heights and fire alarm ADA requirements, check us out at Facebook.com/QuickResponseFireSupply or on Twitter @QuickResponseFS.