A beloved pipefitting tool is often out of stock—but there's another effective option besides the pilot clamp
Having trouble finding a pilot clamp? You're not alone. The product is often listed as "unavailable until further notice" or "out of stock," with a large queue of backorders. There is a great alternative when demand outstrips supply, however—as well as something to buy for its own unique features. The Tru-Drill II from Triple R Specialty is a portable, effective substitute for the pilot clamp that can drill perfect holes on the job site or in the shop.
Review Tru-Drill II's pricing and specs for yourself.
A pilot clamp's low weight and versatility make it a favorite of pipefitters
If anything, it's a wonder pilot clamps don't go out of stock more often. Pipefitters cut holes in pipes on a daily basis—for tees, outlets, and flow or pressure switches—and the pilot clamp has long been one of the best tools on the market for conveniently drilling perfect holes in pipe.
We've looked at what pilot clamps are and how to use a pilot clamp in some detail before, but a brief summary goes something like this: it's hard to drill holes in pipe accurately. Hole saws' teeth don't always catch the surface of a pipe evenly, and the challenge of positioning a drill in a crawlspace or behind walls makes drilling even more difficult when you are at the job site. But a variety of piping systems, from fire sprinklers to drinking water lines, depend on the accuracy of these holes for a leak-tight seal with fittings and proper angling.
The pilot clamp, a sort of adjustable hole saw guide, makes drilling these holes much easier. The combination of a vise-grip with a hole saw guide allows pipefitters to choose the exact location, size, and angle of a hole—and to drill through it using a standard hole saw drill.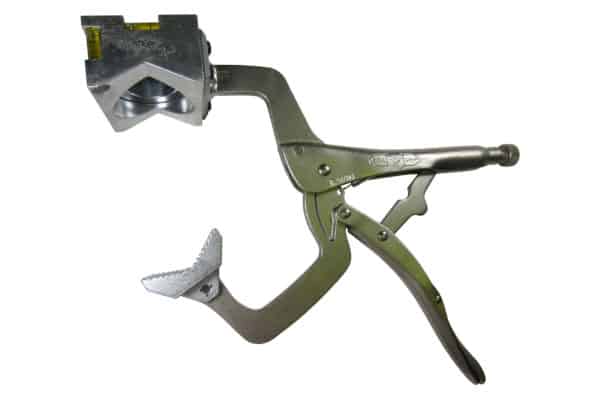 Often purchased as a kit weighing as little as eight pounds, the pilot clamp features a variety of interchangeable hole saw guides in various sizes, replaceable parts, and a carrying case. The end result: portable, reliable pipe-hole cutting.
Tru-Drill II: a proven alternative for drilling perfect holes in pipes
Fortunately, the inconsistent availability of pilot clamps doesn't mean that pipefitters need to resort to the old days of imprecisely bullying holes into pipes with only a drill and a hole saw. There's another product on the market that's long stood as a reliable, easy-to-use method of cutting accurate holes—and has its own unique features: the Tru-Drill II.
For more than 30 years, the patented Tru-Drill II has been a popular choice for cutting perfect holes in pipes 1 inch or bigger for a wide range of uses, including fire sprinklers, plumbing, and piping at chemical plants. It essentially functions as a lightweight, portable drill press, making it simpler, safer, and faster for pipefitters to drill up to 4.5-inch holes for mechanical tees, crosses, welded or threaded outlets, thread-a-lets, branch tie-ins, flow or pressure switches, and more.
Here's how: The base of the Tru-Drill is carefully designed to create a 90-degree angle when it's mounted to any pipe, ensuring a precise, linear motion for accurate hole placement and drill control—no matter how difficult the pipe's position. With extensions, this pipe hole saw cutting machine can even be used to drill identical holes through multiple pipes, such as for attaching pipe saddles to pipes that cross each other in an "X" formation.
Unlike pilot clamps, which offer the best results when adjusting or fixing currently installed pipe systems, the Tru-Drill's function as a portable drill press makes it just as useful for pipefitting in shops as it is in the field. A quick-fit chain enables operators to quickly and tightly mount the drill assembly to a pipe, eliminating wobble that leads to inaccurate, leaky holes. Since it only needs 16 inches of clearance, the Tru-Drill can also make it easier for pipefitters to place holes at the proper depth, angle, and width in confined spaces with minimal leverage, such as behind walls or underground.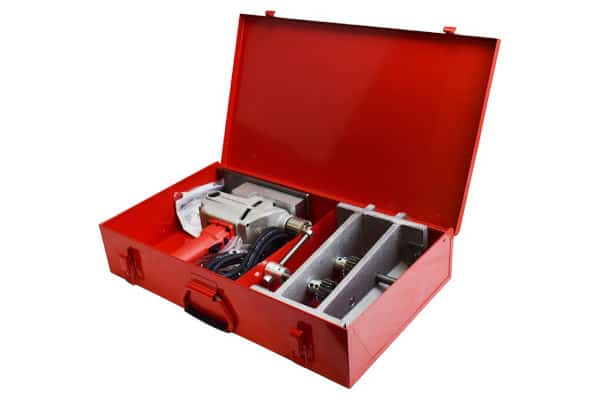 Innovation born out of pipe drilling challenges in the field
The Tru-Drill is the brainchild of Triple R Specialty, a Jacksonville, Fla.-based manufacturer originally founded in the mid-1980s by three friends with an idea for a better portable pipe grooving machine. Today, Triple R is a respected manufacturer of a variety of plumbing and fire protection specialty tools, including hydrostatic test pumps.
As the fire protection industry evolved, Triple R's owners noticed that contractors struggled to cut accurate holes in steel pipes when they had to expand existing fire sprinkler systems. The Tru Drill II was created to help pipefitters drill the precise holes they needed quickly and easily in the field.
Securing the Tru-Drill to the pipe also significantly enhances safety for operators—especially when working at elevated heights—by eliminating the potential for drill bit binds to throw a worker off balance. The Tru-Drill's design prevents jams from causing injury as well. Because it is secured and simply operated by a handle on the base, it prevents users from twisting their hands or wrists.
"This is a time-proven product that can last for decades when it's used properly," said Richard Mummaw, owner and president of Triple R Specialty. "We have a repair facility that can fix a Tru-Drill, but I can't tell you the last time I've been down there."
How a Tru-Drill and its components work
Typically, drilling holes in steel with a drill and a hole saw requires a great deal of effort and puts immense pressure on operators' hands, arms, and shoulders as they try to force the tool through the pipe. The Tru-Drill's ease of use significantly reduces drilling time—and labor costs—by making drilling a precise hole as simple as operating a lever and letting the drill and rack-and-pinion gear do the work.
Commonly used for car steering systems, rack-and-pinion gears rely on a gear wheel (the pinion) engaging with a flat-toothed bar (the rack) to translate rotational motion into linear motion, or vice versa. This controlled and consistent way of approaching a pipe can further cut costs by extending the longevity of the hole saw or cutting tool, preventing uneven wear or damage due to improper use.
The Tru Drill II includes a Milwaukee drill, a uni-block mount, permanently-attached dual-drive handles, built-in small and large pipe adapters, a pipe chain, and a red-finished carrying case for easy portability. Tru-Drills cost more than pilot clamps, but it's important to note that a drill is not included with pilot clamp kits. Although Tru-Drills are delivered complete and ready to use, the base and drill are stored separately and assembled on the pipe within 20 seconds, so they aren't too heavy to transport.
Watch this video to see the Tru-Drill II in action:
10 easy steps for accurate hole drilling in pipes
Attach the Tru-Drill base to the pipe with the wrench chain.
Properly align the base to the pipe and then tighten the rod adjustment nut—first by hand and then finish it with the provided rod to ensure the base is securely tightened.
Once the base is properly mounted, insert the drill and travel plate into the guide slots until the rack-and-pinion gear engages.
Plug in the drill and turn it on.
Pressing forward on the drill handle, use the drill traverse rod to move the drill and cutting tool against the pipe.
Back the tool off and check the hole placement.
If the hole is in the proper place, continue cutting.
If the hole is not centered, realign the drill base to the pipe or the drill to the travel plate.
After the hole is drilled, turn off the drill and unplug it before removing it from the base.
After removing the drill, loosen the wrench chain and remove the base from the pipe.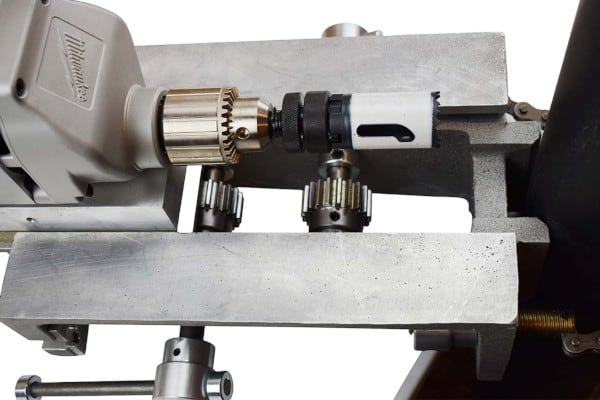 Ready to start drilling with the Tru-Drill II?
QRFS understands the frustration of discovering that the popular pilot clamp has been on back-order nationwide. We carry this equipment and fulfill it as soon as models become available from the manufacturer—and consider it a fantastic product.
But there's another great product that can get the job done well. The Tru-Drill II is a reliable, durable alternative for cutting precise holes in steel pipes while enhancing safety, saving time, and making drilling an easier task—in the shop or on the job site.
Questions? Call us at +1 (888) 361-6662 or email support@qrfs.com.
This blog was originally posted at blog.qrfs.com. If this article helped you find a solution for drilling holes in pipes, check us out at Facebook.com/QuickResponseFireSupply or on Twitter @QuickResponseFS.