It should be professionally installed, but consumer praise for this smart water-shutoff tool is easy to find
Our plumbing systems are essential but they're something we rarely think about—until something goes wrong. Too many homeowners are familiar with that feeling of dread when they come home to discover a leak and the significant damage and costly, time-consuming clean-up that come along with it. But the Water Hero P-100 gives homeowners the power to prevent these scenarios.
With mobile notifications and remote control over plumbing systems, the Water Hero stops these problems in their tracks—even when owners far from home.
We've written before about the benefits of these systems. But in this article, we take a closer look at the Water Hero, explaining what it can do, how to install one, and what consumers have to say about having a P-100 in their homes.
You can also check out our selection of Water Hero P-100 models—both for 3/4" and 1" pipe—now.
Water damage from pipe leaks and bursts can devastate homes and bank accounts
Water Hero, Inc., the Massachusetts-based company that manufactures the P-100, estimates that pipe leaks and bursts that lead to flooding occur in over 12 million U.S homes each year. A 2" line with water pressurized to 55 PSI can discharge 2,500 gallons of water in just 20 minutes. That's the equivalent of more than 35 full tubs of water saturating drywall, wood, and concrete, and nearly 21,000 pounds weighing on your home.
The restoration required after flooding can cost thousands of dollars while still leaving other costly problems unresolved. A major health threat caused by flooding is the activation of toxic mold spores. While most homes will inevitably have many inactive mold spores that are not harmful, when these organisms come into contact with water—from a burst pipe, for example—their growth is triggered and they produce spores that release toxins into the home. And the cost of subsequent mold removal can be sizable, with the contractor-matching service HomeAdvisor giving a range of roughly $1,000–$3,000 for cleanup.
Unfortunately, many people experience pipe leaks and bursts that end up destroying their homes. Take Janet Martin, a new homeowner living in Blaine, Minnesota. In 2017, her house was devastated when a pipe froze, burst, and flooded the residence's main floor and basement. In total, the restoration of the carpets, cabinets, and basement ceilings was estimated to cost $60,000.
Dan Sterling, the founder and CEO of Water Hero, had a similar experience—a burst so bad that it prompted him to create a device that would stop it from happening again. Sterling came home to a flood that did more than $100,000 in damage. "We had to move out of the house. We had months of disruption. And we want to prevent this from happening to you and your family."
The Water Hero P-100 helps homeowners stop leaks with multi-sensor detection, wireless alerts, and automatic shut-off
The Water Hero P-100 monitors a home's water flow and can shut off the flow of water through plumbing automatically. This device has two main parts:
A flow sensor, which provides readings of water usage
A motorized valve that can open or close pipes connected to water
The P-100 measures how long water keeps flowing through the system. When water runs longer than it should—as determined by the homeowner—it registers as a leak. For example, you might set the threshold to 15 minutes to account for someone taking a bath or shower (the U.S. average duration of a shower is 8.2 minutes, according to one estimate).
Once the Water Hero registers continuous flow as a leak, the device either sends an alert (via Wi-Fi) to the user's smartphone or simply shuts off the water. Additional sensors also make this plumbing accessory able to track temperature and humidity levels, helping to stop pipes from bursting at low temperatures.
The Water Hero P-100 is available in two set-ups: one for 1" diameter pipe and another for 3/4" diameter pipe. These common sizes exist because of structural and practical differences in homes in buildings. In essence, the quantity of water being used by a structure determines pipe size. Slight changes in diameter can make a big difference in how much water is available. A 1" pipe, for example, is only 33% larger in diameter than a 3/4" pipe—but provides almost 80% more water.
The Water Hero is available for 3/4" and 1" pipe sizes because they're among the most common sizes for the supply pipes serving homes. Both Water Hero models perform identically in terms of monitoring, notification, and remote alerts.
Plumbing knowledge makes installation of a Water Hero device easier
For a better understanding of how the Water Hero P-100 works, it's useful to know the basic placement of two parts: the water meter and the shutoff valve.
Both pieces of equipment are connected to the main supply pipe. The water meter is an attachment on the pipe that allows the amount of water usage to be read—typically by a utility company. The shutoff valve is also located on the same pipe, but has a small handle that, when turned, cuts off a house's water supply. This device is located in different places depending on the local climate, the home's age, and whether or not there is a basement, as the video below explains:
In warmer climates, water meters and shutoff valves may be located on an exposed pipe on the outside of the house. In a colder climate, homes with basements often have these parts inside near the water heater. Sometimes, however, they're located in a closet or an access panel on the wall.
Homeowners without a basement (and those in colder climates) may have a tougher time locating these parts. As in homes that do have a basement, the water meter and shutoff valve may be near the water heater, in a closet, or behind an access panel. In some cases, a meter could be in an underground "'pit' at or near the property line or right-of-way," sometimes in conjunction with submeters closer to the home. Whatever the case, a professional plumber will be able to find these components if you are having trouble locating them.
A mix of professional plumbing and do-it-yourself installation can get the Water Hero P-100 up and running quickly
The Water Hero P-100 is an invasive system, which means that your pipes will be physically cut into during installation. This is a fairly simple process for experienced plumbers, who may be able to install these devices in less than an hour.
Prepare the Water Hero for installation
Users will want to configure the Water Hero to work with their home's wireless internet before the real installation begins. Note that the water hero requires access to a power supply and a 2.4 GHz Wi-Fi connection (offered by most of today's wireless routers). To do that, take the following steps:
Connect the water hero to the shutoff valve, sensor, and a power source somewhere near the installation site
Create a Water Hero account at net
Connect your laptop or smartphone to the wireless network named "Water Hero Access Point"
Access the Water Hero configuration page on your local network at http://192.168.1.1 (note that this link won't work properly until the controller in your home is set up)
Follow the prompts to enter your Wi-Fi information
Check the LED lights on the side of the Water Hero controller—a green LED should blink rapidly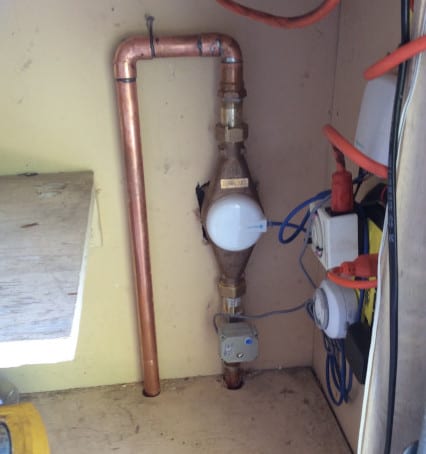 Allow a plumber to connect the device to your piping system
After completing the wireless setup, the Water Hero controller can be disconnected from the other components and power. Then, the following steps should be completed by a licensed plumbing professional:
Unscrew the sensor cap from the main controller
Shut off the supply of water to the home and drain connected pipes
Remove a 12" to 16" section of pipe indoors—located downstream of the water meter and shut-off valve
Connect the fittings, unions, water meter, and valve to the pipe, installing the ball valve upstream from Water Hero's meter. Note that the Water Hero can install on vertical or horizontal runs of pipe
A few words of caution: the Water Hero P-100 is not waterproof and must be installed indoors or in an outdoor-rated box with rated components from Water Hero, Inc. While it may be installed upstream or downstream of an irrigation system, installations downstream can allow for the detection of smaller leaks. However, it must be placed downstream of fire protection systems and should be placed downstream of water softener systems.
Get the equipment up and running
With the plumbing work finished, connect the Water Hero P-100's controller to the water meter, sensor cable, ball valve, and power. Reinstall the sensor cap. Then, take the following steps:
Access the Water Hero application at mywaterhero.net or  download the mobile app for IOS (8.0 or later)
Get familiar with the device's dashboard, which includes flow rates, the current temperature, and the shutoff valve's status (pictured below)
When ready, visit the "Settings" tab and set preferences for water shut-off and mobile notifications for Water Hero's "home mode" and "away" mode—along with any desired temperature alerts.
Click on the "Dashboard" tab and set the device to home, away, or disarm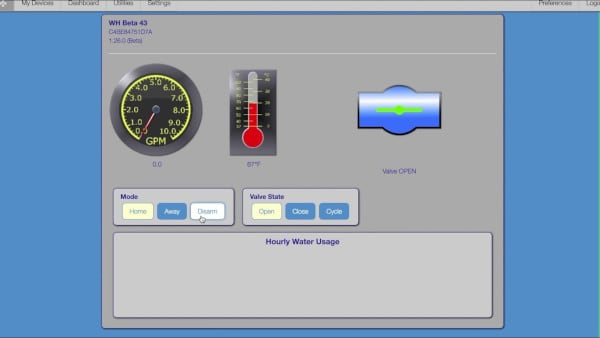 Water Hero reviews indicate that the equipment delivers on its promises
In 2018, Water Hero, Inc. pitched their leak detection devices at 43North, a competition for tech startups worldwide. From a pool of nearly 500 applicants, the company placed among only 18 finalists vying for a $1 million grand prize.
In a question-and-answer session, judges asked about Water Hero's potential to reduce insurance premiums. "I actually get two premium discounts," founder Jeff Sterling said. "I get a low-temperature alter discount—a freeze discount—as well as a premium discount for a leak protection device… [Insurance companies] already are doing premium discounts, but they're [also] looking at subsidizing the price of the device."
It's for reasons like these that this leak-detection device—almost five years after the product's modest start in a crowdsourced fundraising campaign—has garnered the attention of smart-home enthusiasts everywhere. Build Home Networks, whose reviews and guides cover everything from home automation to digital doorbells, says that Water Hero lacks only one thing: power over ethernet, or PoE.
If, instead of requiring a separate power source, Water Hero used network connection cables as a power source, "it would be the only product I would ever recommend." The reason is simple: "The actual critical parts are just plain, industry-standard parts with some electronics attached… The electronics are modular so if in 10 years you need a new electronic part because WiFi technology has moved on, you just swap that part out, no plumber needed."
Similarly, Smart Homz, which reviews and tests smart-home, calls Water Hero a "critical product" for rental homes and seasonal homes where the owners aren't always around. They emphasize the device's use as a tool of prevention, enabling owners to stop water flow from anywhere with WiFi accessibility—including "the comfort of your primary home."
By preventing runaway utility bills—and keeping water damage at bay—Water Hero earns its keep
Problems with home plumbing—from running toilets and unseen leaks to catastrophic pipe failures—can have a hefty price tag. But a close look at the Water Hero P-100 and customer reviews attests to the value, both in cash and peace of mind, of a whole-home leak detection system.
QRFS offers both the 1" and 3/4" pipe models of the Water Hero P-100. Each, as we've explained, offers smartphone control, text and email alerts, real-time water usage data, and other benefits that can prevent a home plumbing system from turning into a costly liability.
Questions? Call us at +1 (888) 361-6662 or email support@qrfs.com.
This blog was originally posted at blog.qrfs.com. Check us out at Facebook.com/QuickResponseFireSupply or on Twitter @QuickResponseFS.