How gambling on fire protection contributed to the deadliest event in Nevada history
The MGM Grand Hotel and Casino fire only lasted 90 minutes—but nearly 40 years later, its legacy remains. By the time the last smoldering ember was extinguished on Nov. 21, 1980, 85 people had been killed, 650 others were injured, and the once-lavish casino floor was nothing more than charred cinder and melted rubbish.
In this third installment of our series on lessons learned from history's deadliest fires, we examine the unfortunate decisions and mistakes that led to the deadliest event in Nevada history and the third-deadliest hotel fire on U.S. territory. Investigative reports revealed a whopping 83 different building violations, design flaws, and installation errors at the MGM Grand that contributed to the magnitude of the fire and the deadly smoke spread. And we reveal how the painful lessons that emerged from the tragedy have made casinos and hotels safer today.
Looking for fire protection system parts? Feel free to browse our selection of sprinkler system components and accessories, including commercial and residential sprinkler heads, installation tools, fire extinguishers, heavy-duty head guards that protect sprinklers from accidental damage or vandalism, and so much more.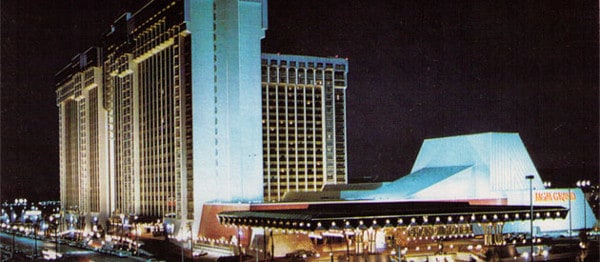 The MGM Grand Fire: What went wrong
The MGM Grand Hotel and Casino—now operating as Bally's Las Vegas—splashed onto the Vegas scene in 1973 with the most extravagant debut in a long history of over-the-top Las Vegas hotel openings. At the time, it was the largest resort hotel in the world. It was billed as the biggest, most expensive, and most luxurious hotel on the already-decadent Las Vegas strip with a then-staggering price tag of $106 million.
In its first full year of operation in 1974, the hotel contributed $22 million to Metro-Goldwyn-Mayer's $28.6 million net income; the highest net profits and revenues in the company's history. The MGM Grand's approximately 2 million square feet included nearly 2,100 guest rooms, eight major restaurants, a casino touted as the world's largest, a movie theater, and two enormous showrooms that attracted some of the biggest names in show business night after night—from Donna Summer to Dean Martin.
As the sun rose on Nov. 21, 1980, about 5,000 people were scattered throughout the resort. It's unclear exactly when the fire started, but it was reported to MGM security at 7:05 a.m. and the Clark County Fire Department at 7:17 a.m.
Where it originated is crystal clear: an electrical ground fault inside a wall in The Deli restaurant on the casino floor. Vibrations from an improperly installed pastry display case caused friction-induced damage to wiring in the wall, initiating an arc that sparked the fire.
The restaurant was closed, so the fire fed unabated off of abundant fuel sources: stacks of napkins, wallpaper, "chrome" and "crystal" finishes in the casino that were actually plastic, cellulose ceiling tiles that burned at a rate of 5 to 10 feet per second, and a tile adhesive so flammable it was banned in another state. In fact, nearly everything in the casino—from chandeliers to crap tables—was made from a highly combustible combination of wood and plastic.
By the time a hotel employee spotted the fire's flickering light, a wall of flames licked the restaurant's ceiling. Within six minutes, the entire 450,000-square-foot casino was engulfed by the blaze, while the burning plastics produced a deadly supply of smoke.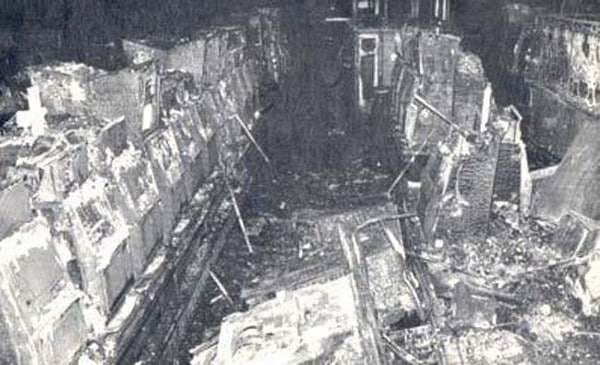 Missing fire sprinklers and other errors enabled the blaze to spread
Automatic fire sprinklers were installed in some sections of the MGM Grand, but they were missing from the casino, the 26-story high-rise hotel, and restaurant areas.
Despite pressure from the local fire marshal and a letter from one of the company's own consultants advising that "the liability of all the unsprinklered areas in this building should be a concern to your corporation," MGM balked at the $192,000 price tag of complete sprinkler coverage. That decision would be later called out in newspaper reports and lawsuits after the fire, noting the hotel's overall $106 million price and extravagant splurges in other areas, like marble floors.
The Clark County Building Department agreed to exempt MGM from installing sprinklers in places that were occupied 24 hours a day—reasoning that employees would quickly notice a fire and use a portable fire extinguisher to contain it. But when the hotel decided not to keep the deli restaurant open 24 hours, sprinklers were never added. Concluded David Demers, the National Fire Protection Association (NFPA) fire investigation manager who investigated the blaze: "With sprinklers, it would have been a one or two sprinkler fire, and we would never have heard about it."
But while firefighters' heroic efforts limited most of the damage to the ground-floor casino, most casualties resulted from a breakdown in the resort's fire safety systems that enabled black smoke to billow where the fire itself never reached.
It rose up the hotel towers, spewing toxic fumes into the hallways and rooms where guests were waking up. Smoke dampers in the building's ventilation system that were supposed to control the spread of smoke had been installed improperly. During the fire, they failed to shut, and the HVAC system continued to work—circulating smoke and carbon monoxide throughout the building.
Openings in the resort's vertical shafts, stairways, elevator hoistways, and seismic joints also allowed toxic smoke and gases to spread throughout the building all the way to the top floor. Many deaths occurred in the stairwells, where cut-outs from the construction of a new addition to the hotel caused them to fill with thick, black smoke. Making matters worse, stairwell doors automatically locked behind anyone who entered them. As smoke seeped in, some guests who tried to escape via the stairs became trapped inside and succumbed to the poisonous fumes and smoke.
The MGM Grand also lacked automatic fire alarms. Instead, staff had to set off alarms manually once a fire was identified—and no manual fire alarm pull stations existed on the casino level of the complex. If an alarm was pulled, a signal immediately sounded in the security office but there was an automatic five-minute delay before the central station and fire department were notified.
The delay was designed to give security officers time to investigate so guests were only disturbed if there really was a fire. But it allowed precious minutes to tick by while the fire spread, trapping sleeping guests upstairs.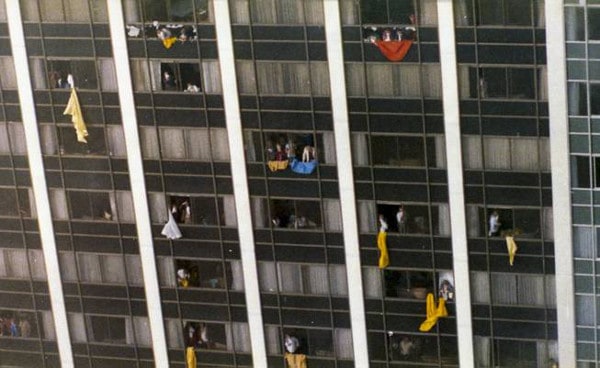 A public address system in the security office was used to notify guests in the casino of the fire. But in the confusion, hotel guests in the towers were never notified. Guest rooms also lacked smoke detectors, meaning many people had no idea there was a fire until they smelled smoke, heard panicked shouts, or noticed the fire trucks outside. NFPA investigations found no evidence that hotel staff tried to execute an emergency plan or sound a fire alarm signal in the hotel towers.
The fire was controlled around 8:30 a.m. but it took another three hours to finish evacuating the MGM property. Helicopters rescued more than 300 people from the roof and firefighters extracted others down ladders from their rooms, where many had shattered windows in desperate attempts for fresh air.
Of the 85 fatalities, four people died from burns, one jumped out of the building, and 80 succumbed to smoke inhalation and carbon monoxide. Eighteen of the victims were in the casino and the remaining 67 were trapped on floors 16 through 26.
Watch this video to learn more about the catastrophic fire at the MGM Grand and its aftermath. Warning: some images may be disturbing:
More than 1,300 lawsuits were filed against 118 companies after the fire and a $223 million settlement fund was distributed to victims within three years. While much of the cash came from MGM, no negligence was admitted as part of the deal.
MGM lost hundreds of millions of dollars between settlement payments, reconstruction costs, and a lack of gaming income while the casino was closed. And less than 90 days later, arson at the Las Vegas Hilton further damaged Las Vegas's reputation as a top tourist destination—killing 8, injuring 200, and creating a newly perceived lack of safety on the famed Strip.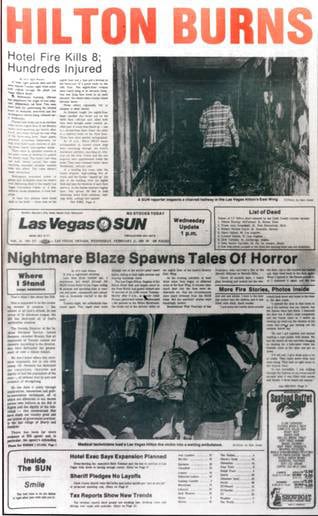 The MGM Grand Fire: Why casinos and hotels are safer after the tragedy
The subsequent Hilton fire devastated a city already reeling from the MGM Grand tragedy. But it also quieted any strong opposition among Nevada lawmakers to enacting some of the toughest fire sprinkler and life safety regulations in the nation. Ultimately, investigations by the NFPA and the Clark County Fire Department concluded that the MGM Grand catastrophe was not a failure of existing fire suppression systems—it was largely a failure in fire prevention and control.
Within months of the Las Vegas fires, the state enacted new fire codes that require:
Automatic sprinklers in every high rise taller than 55 feet and every large public area—no grandfathered exceptions. All new buildings three stories or more must have sprinklers.
Pressurized elevator shafts and stairwells to give people a clear escape route and avoid the chimney-like effect that sucked smoke to the upper levels of the MGM Grand.
Automatic elevator recalls that send elevators to a specific landing and remove them from service during a fire. Several MGM Grand victims died while trapped inside elevators.
Heating ventilation shutoffs.
Extensive fire alarm systems in high-rise buildings.
Evacuation maps on the back of every hotel room door.
Resorts, schools, and universities initially protested the expense but conceded the importance of proving the state's commitment to the highest fire safety standards. Many of these stringent regulations were subsequently adopted within building codes nationwide as horrified state and city leaders attempted to prevent similar high-rise hotel and casino tragedies within their jurisdictions.
NFPA and model building codes also now require automatic sprinkler protection in casinos and hotels, as well as a fire alarm/voice communication system. Smoke alarms are mandated in hotel guest rooms. And to ensure emergency procedures are properly carried out, most casinos have gone the extra step of establishing a dedicated fire protection staff with radio communications at a fire control center.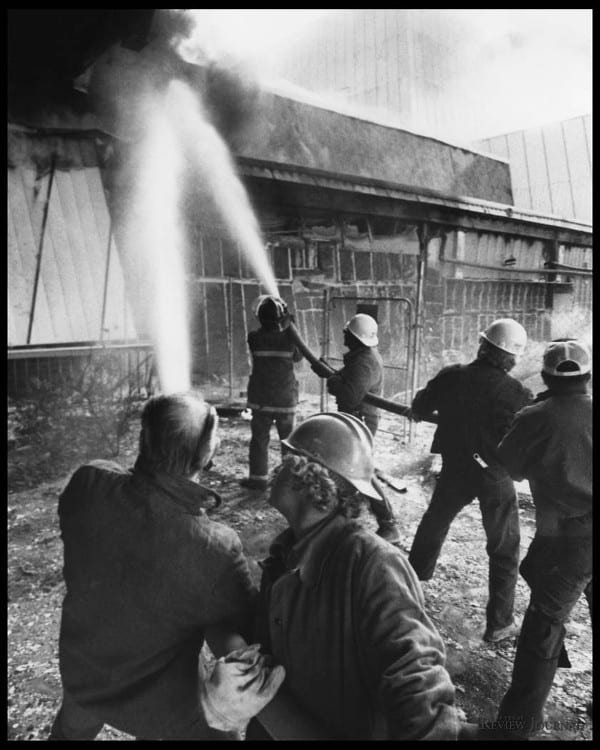 Code changes also focused on locked doors in stairwells. The doors at the MGM Grand automatically locked behind people who entered the stairwell for added security—preventing unauthorized guests from entering the floor. But during the fire, people who entered the stairwell only to find it filled with smoke had no means of escape.
NFPA 101: Life Safety Code and the model building codes now require locked egress doors on stairwells to automatically unlock when fire alarms actuate. Exit doors are also not allowed to lock behind occupants who leave a building.
The fire alarm system was another fire protection system that broke down during the MGM Grand fire. Amidst concern that some designers and installing contractors misunderstand or misuse delayed notification strategies, NFPA 101 and NFPA 72: National Fire Alarm and Signaling Code tightened requirements.
Most authorities having jurisdiction (AHJ) now require properties to meet tough requirements before permitting delayed notification alarm strategies. Wanting to reduce false alarms from an old system is not a valid reason; the system must be fixed so that it performs properly. Regulations are even stricter for occupancies with sleeping units such as hotels, although fire codes are more lenient in attached casinos. Acceptable reasons for using a delayed notification alarm might include an active shooter or situations where mass evacuations create danger, such as crowded stadiums.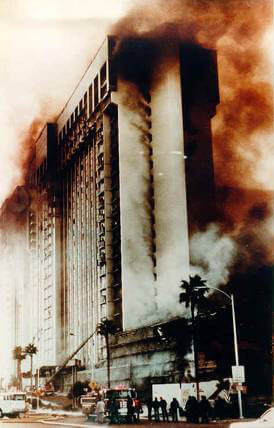 There are three main delayed notification strategies permitted by fire codes. Alarm verification aims to minimize nuisance false alarms from smoke detectors. Systems that incorporate this feature confirm whether there is a real fire by delaying the fire alarm system's response for up to a minute after a smoke detector is actuated. During that time, the system resets the activated smoke detector and waits to see if it re-actuates, proving whether the threat is real. Since 2007, NFPA 72 only allows an installer to use this feature once a proven smoke detector false alarm issue has occurred.
Presignal fire alarm systems send initial fire alarm signals to specific locations, such as control rooms or other central locations that are constantly manned. Transmission of the fire alarm signal to the supervising station or fire department occurs without delay, but general notification appliances on the property must be actuated manually by an authorized person.
Another alternative is a positive alarm sequence (PAS) system, which is permitted within hotels by NFPA 101 as long as the system's design permits immediate notification of the fire department in the event of a fire.
Here's how PAS systems work: an operator must acknowledge a PAS fire alarm signal within 15 seconds. If the operator does, a three-minute delay starts counting down before notification appliances on the property are triggered and signals are sent to a supervising station or the fire department. This gives the operator time to investigate the source of the signal and reset the system if there isn't a fire. If the operator does not initially acknowledge the signal—or a second PAS device or any other fire alarm system initiating device actuates on the property during the countdown—the system instantly switches to full alarm mode.
Still, in the end, many government and fire safety leaders concluded that the magnitude of the MGM Grand tragedy started with a failure in plans review and construction codes enforcement. It proved all too well that design omissions, non-code-compliance conditions, and other installation defects during the construction of buildings can have a terrible impact on the outcomes of fires.
After the MGM Grand fire, many fire departments in Southern Nevada and around the nation made it a priority to strengthen their fire prevention divisions and perform even more in-depth inspections of the fire protection and life safety systems of all new buildings. They also expanded their role in the design and construction phase of projects before the building department.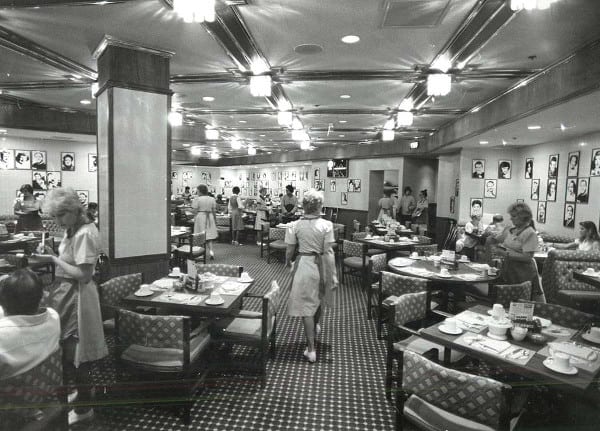 No fire fatalities have occurred on the Las Vegas Strip since the painful lessons from MGM Grand sparked tougher fire codes
Since Nevada enacted tougher fire safety codes, there have been more fires—but reports state there hasn't been another fire fatality in a high-rise hotel on the famed Las Vegas Strip. The Las Vegas Sun points to the vastly different outcome of a 2008 fire at the Monte Carlo casino resort (now Park MGM) to showcase the impact of implementing stringent life safety regulations at hotels and casinos.
After welders sparked a fire on the hotel's roof around 11 a.m., some 500 guests and 1,000 employees were quickly and efficiently evacuated. Automatic sprinklers and fire alarms activated, and a rehearsed room-by-room alert was carried out by hotel staff. Seventeen people were treated for smoke inhalation, but there were no serious injuries. The fire was extinguished in a little over an hour and the resort reopened in three weeks.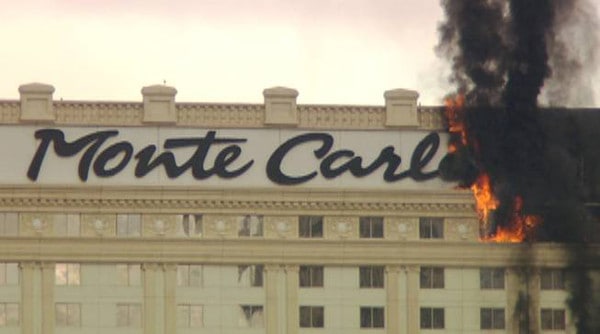 It can be hard to prove the value of fire prevention to business executives focused on bottom lines. After all, it's difficult to assign hard numbers to fires that don't occur. But the lesson learned from the MGM Grand tragedy is ultimately this: while the chances of a raging fire may be small, the consequences of failing to take proper steps to prevent one can be catastrophic.
In the market for fire protection system components? Feel free to browse our selection, including commercial and residential sprinkler heads, installation tools, fire extinguishers, heavy-duty head guards that protect sprinklers from accidental damage or vandalism, and so much more.
For more information about QRFS products, call us at +1 (888) 361-6662 or email support@qrfs.com.
Be sure to check out other installments in our series, which examine the Iroquois Theater Fire, the Triangle Shirtwaist Fire, the Our Lady of the Angels School Fire, and The Station Nightclub Fire:
The Deadliest Fires in U.S. History: Lessons Learned, Part 1
The Deadliest Fires in U.S. History: Lessons Learned, Part 2
This blog was originally posted at blog.qrfs.com. Check us out at Facebook.com/QuickResponseFireSupply or on Twitter @QuickResponseFS.