Recent efforts by a Virginia fire chief to add sprinkler requirements to local building codes have failed
On September 17, 2019, the Virginia Board of Housing and Community Development voted 10-4 against updating state construction code to require residential fire sprinklers in all new single-family homes and townhouses. The vote was lauded by the Home Builders Association of Virginia, which claimed that requiring sprinklers in new townhomes and single-family homes would add an estimated $15,000 to $25,000 to the price of construction, negatively impacting housing production.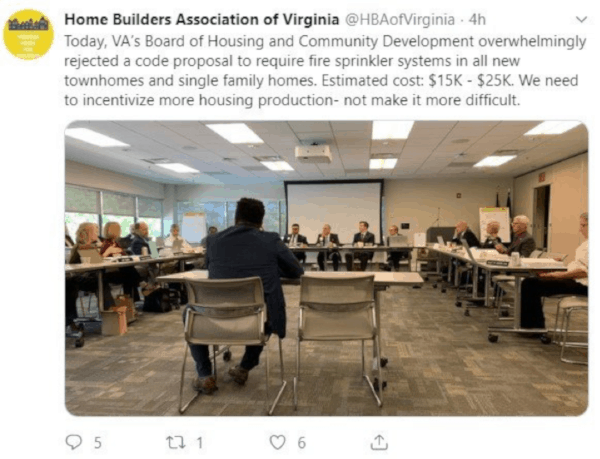 Keith Brower, the recently retired fire chief of the Loudoun County Combined Fire-Rescue System disagrees with this assessment, estimating the average cost of installing sprinklers in a new home at less than $5,000 for a 2,000 square-foot home. And he has serious concerns about the safety of those residing in newer, un-sprinklered homes in the event of a fire.
"We used to say you have 10 to 13 minutes to get out of your house, and that was because you had a lot of natural fabrics in your furnishings," he said. "Over the last 15 or 20 years, everything is now synthetic. Everything in your home is now a highly volatile, combustible product. What we're finding now is that fire spread has increased so rapidly that people only have two to three minutes to get out. The sprinklers are designed to give people time to get out."
Brower's concerns are shared by other fire chiefs throughout the area. Keith Johnson, who was selected as Loudoun County fire chief after Brower's retirement last year, proposed the code change out of concern for the safety of the residents of Virginia. In fact, one of his goals as chief was to continue Brower's work towards improving Virginia's fire and building codes.
Whether or not to require sprinklers in new single-family homes and townhouses has been an issue of contention in Virginia for years. In 2009, the same board voted 9-2 against a similar proposal.
A growing need for affordable housing fuels local home builders' fight against increasing fire and building code requirements. With a target of building at least 320,000 new housing units across the Washington D.C. region (which includes Maryland and Virginia) by 2030, that's a lot of homes that may be built without sprinklers.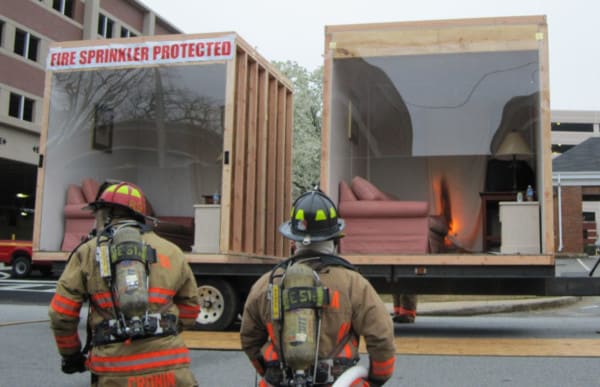 However, in spite of the regional housing crisis, both the state of Maryland and Washington, D.C. have realized the value of home fire sprinkler systems and have adopted versions of the International Residential Code (IRC) which now requires automatic fire sprinklers in all new one- and two-family residences.
This makes Virginia the region's lone holdover in rejecting requirements for installing sprinklers in single-family homes, duplexes, and townhomes—one of the most effective means of preserving life and property available to us today.
Many states reject residential sprinkler requirements due to inflated estimates of installation costs
Virginia is not the only state that has rejected the home sprinkler system installation requirements. Throughout the United States, only California, Maryland and Washington, DC require fire sprinklers to be installed in new single-family homes and duplexes. Some local jurisdictions in other states also require their installation, but many states have actually passed laws prohibiting local adoptions of fire sprinkler requirements in new one- and two-family homes.

As in Virginia, nationwide opposition to sprinkler installation requirements is led by the homebuilding industry, which has spent $57 million over a 10-year period in its effort to block state governments from requiring sprinklers in new homes. With 29 states now prohibiting local adoptions of fire sprinkler requirements in single-family homes and duplexes, the building industry's lobbying efforts have been largely successful.
For a closer look at how some states and cities have reacted to residential sprinkler installation mandates, read this article.
The building industry's resistance stems from concern that sprinkler installation will raise construction costs and complicate the building process, pricing many buyers out of the market and stifling industry growth. Housing industry groups estimate the price of sprinkler installation at as much $5 per square foot.
The Fire Protection Research Foundation, however, estimates sprinkler installation cost at a much lower $1.35 per square foot, on average. In fact, the price of sprinkler installation has been steadily dropping since 2008. In 2017, the price of installation in parts of California was less than $1 per square foot.

In addition, many jurisdictions offer incentives to developers who choose to install sprinklers, even when it's not mandated. These may include allowances for reduced street-width, longer dead-end streets, higher density of housing units, increased spacing between fire hydrants, reduced basement window requirements, and other ways to achieve fire safety while increasing return on investment.
In spite of the housing industry's concerns, there is little evidence to suggest that housing markets in California, Maryland, and Washington DC have been negatively impacted by residential sprinkler installation requirements.
State governments and local jurisdictions should consider the cost of deaths, injuries, and property losses due to fires that could be controlled by sprinklers
Regardless of the cost of installation, residential fire sprinklers have a dramatic life-saving effect. Homes with sprinkler systems installed have an 81 percent lower death rate than homes without sprinklers. The presence of sprinklers lowers the firefighter injury rate by an average of almost 80 percent. Fire-based property damage is also substantially reduced, as sprinkler systems contain fires to the room of origin 97 percent of the time.
This video shows a timeline of fire–event outcomes in homes with and without fire sprinklers:
The recommendations of the landmark fire safety report America Burning in 1973 helped drive a massive evolution in building and fire codes and standards. Among them was the recommendation to develop a specially designed residential fire sprinkler.
The National Fire Protection Association (NFPA) has subsequently developed and refined standards for installing sprinklers in single-family homes and duplexes in an effort to save as many lives as possible.
NFPA model codes have included a fire sprinkler installation requirement for all new residences since 2006. The International Residential Code, which is used by 49 states and the District of Columbia for single-family home construction, has required fire sprinkler installation in all new homes since 2009.
States adopt changes to IRC code over time and are free to reject specific parts of the code, which explains why many states do not currently require sprinkler installation in new homes. In fact, sprinklers were present in only 10 percent of reported structure fires from 2010 to 2014.
While housing industry groups and, in some cases, homeowners continue to lobby against required sprinkler installation in new single-family homes, proponents in several states are fighting for the adoption of the IRC sprinkler requirement.
The Home Fire Sprinkler Coalition (HFSC), a nonprofit sprinkler education group, is working to inform the public of the need for sprinklers, how affordable they are, and how they operate. Over 25 states now have sprinkler advocacy coalitions, while NFPA's Fire Sprinkler Initiative campaign also works to increase the number of new homes protected by fire sprinklers.
Sprin
klers
make communities safer—and they are affordable protection
With newer homes burning significantly faster than older homes due to open concept designs and synthetic building materials and furnishings, the reduction of home fire deaths that we've seen over the past three decades has plateaued.
Perhaps this sobering fact, in combination with increased public awareness of the incredible value of fire sprinklers, further education on the true cost of residential sprinkler systems, and the continued decrease of fire sprinkler installation costs will finally bring sprinkler installation to homes in Virginia and across the United States.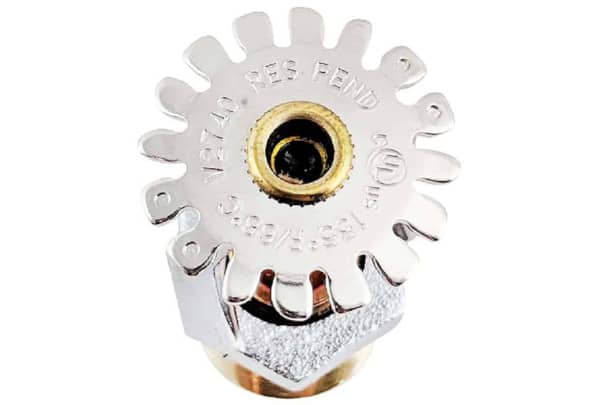 If you're an installer or homeowner looking to buy components for a residential fire sprinkler system, check out QRFS's selection of residential sprinkler heads, as well as our pre-assembled residential riser kits.
If you have any question about our articles or products, contact us at +1 (888) 361-6662 or support@qrfs.com.
This blog was originally posted at blog.qrfs.com. Check us out at Facebook.com/QuickResponseFireSupply or on Twitter @QuickResponseFS.