From customized local requirements to model standards, Inspect Point's NFPA inspection software enables faster, better fire protection ITM
Performing fire safety inspections is a weighty responsibility. Regular inspection of a building's systems is critical to preventing the loss of property and life that can accompany a fire. And if an inspector overlooks an impairment or omits something critical from a report, there's much more at stake than bad customer reviews. NFPA inspection software is making this job more efficient and more reliable—getting ITM (inspection, maintenance, and testing) professionals and the facilities they serve closer to 100% compliance.
Life safety inspection software offers tools that simplify ITM for both contractors and facility managers. It significantly reduces the potential for human error with a step-by-step process that places everything users need at their fingertips.
In this blog, we take a look at the systems covered by Inspect Point's NFPA inspection software and explain how using it enables inspectors to do their jobs faster and smarter.
If you'd like to see how NFPA inspection software works and how it make inspections, maintenance, reports, scheduling, and correcting deficiencies more efficient, sign up for a free demo of Inspect Point.
Step-by-step checklists based on NFPA standards and codes help ensure nothing critical is missed during inspections
NFPA standards detail minimum requirements for ITM of fire protection systems, from fire sprinklers and standpipes to alarms and hydrants. The organization also outlines the process that needs to be followed when problems are found, including proper fixes and reporting. Local authorities having jurisdiction (AHJs) often build upon these guidelines with specific requirements for their areas and then enforce the completion of repairs.
Eight NFPA codes and standards are currently preloaded into Inspect Point software; a catalog that makes it fire sprinkler system inspection software, extinguisher inspection software, fire alarm inspection software, and more, all rolled into one.
The program provides a template that inspectors can easily customize to meet their specific needs. Questions pertaining to new editions of NFPA documents are uploaded by the Inspect Point team as they are adopted by jurisdictions, ensuring inspectors always remain up-to-date with the latest requirements.
These NFPA documents come preloaded within Inspect Point:
NFPA 25: Standard for the Inspection, Testing and Maintenance of Water-Based Fire Protection Systems provides the baseline of ITM requirements for water-based fire protection systems. Inspect Point software covers inspections that include:
Fire sprinkler systems, including wet, dry, deluge, and pre-action systems
Foam fire suppression systems
Standpipe and hose systems
Fire pumps (electric and diesel)
Fire hydrants
Private fire service mains
Antifreeze
Water holding tanks
NFPA 17: Standard for Dry Chemical Extinguishing Systems offers minimum requirements for ensuring that dry chemical fire extinguishing systems function as intended throughout their useful lives. Dry chemical systems are most commonly used in industrial settings like paint spray booths or hazardous storage rooms, as well as on large off-road equipment. They typically utilize Class ABC or Class BC dry chemical compounds to extinguish fires when water is inaccessible. NFPA 17 addresses the full range of dry chemical systems, including total flooding, local application, hand hose line, engineered, and pre-engineered systems.
Inspect Point software uses NFPA 17 to help technicians and facility managers inspect dry chemical extinguishing systems.
NFPA 17A: Standard for Wet Chemical Extinguishing Systems outlines the latest rules for wet chemical extinguishing systems associated with restaurant and institutional hoods, plenums, ducts, and associated cooking appliances. These systems are designed to extinguish cooking fires in residential and commercial settings. They utilize a liquid substance that instantly cools flames when sprayed onto an affected area. When the liquid encounters cooking oils and fats, it produces a cooling foam that helps prevent fires from reigniting.
Inspect Point software uses NFPA 17A to enable inspections of wet chemical extinguishing systems.
NFPA 2001: Standard on Clean Agent Fire Extinguishing Systems helps those responsible for fire protection of IT/telecommunications equipment, high-value assets, or marine vessels keep pace with the latest design and maintenance requirements for clean agent systems. It also provides facts about the different types of halogenated and inert gas extinguishing agents currently in use. Clean agent systems are used when water could cause extreme damage when extinguishing a fire, such as in control rooms, power plants, museums, and offices with computers that store essential documents. These systems suppress fires with an inert gas or a combination of gasses that won't cause damage to electronics or potentially lead to permanent data loss.
Inspect Point software enables inspections of clean agent fire extinguishing systems, such as nitrogen fire suppression systems.
NFPA 72: National Fire Alarm and Signaling Code provides the latest safety provisions to meet today's evolving fire detection, signaling, and emergency communications demands. Inspect Point software uses NFPA 72 to help technicians and facility managers perform in-depth inspections of fire alarm systems.
NFPA 10: Standard for Portable Fire Extinguishers establishes requirements aimed at ensuring that portable fire extinguishers work as intended, are placed where necessary, and are of the correct type— providing the first line of defense against fires of limited size. Inspect Point enables technicians and facility managers to thoroughly inspect fire extinguishers.
NFPA 101: Life Safety Code is the most widely used source for ensuring occupant safety throughout the life of a building. It covers egress, sprinklers, alarms, emergency lighting, smoke barriers, special hazard protection, and more. Inspect Point software enables technicians and facility managers to use NFPA 101 to perform inspections that include:
Exit signs
Emergency lights
NFPA 80: Standard for Fire Doors and Other Opening Protectives regulates the installation and maintenance of assemblies and devices used to protect openings in walls, floors, and ceilings against the spread of fire and smoke in buildings. Inspect Point software uses NFPA 80 to enable inspections including: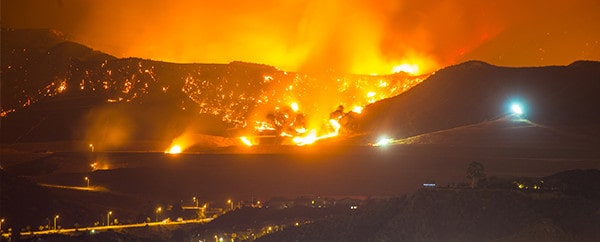 Customization options for NFPA inspection software help users meet local mandates and even inspect non-fire protection systems
While NFPA codes establish an overall national standard, many local AHJs also add their own requirements for fire protection systems to accommodate the unique demands of their areas.
The frequency of inspections required for fire protection system components also often varies by jurisdiction, making it essential for inspectors to ensure they are aware of local requirements. Unique requirements abound, such as New York City's attempt to crack down on fraudulent inspections by requiring inspectors to only use decals and tags issued by the fire department that have various security measures, such as bar codes that must be scanned as proof of compliance.
Inspect Point enables users to easily customize its intuitive iPad application to comply with local laws and business practices. Customization also decreases inspection time by eliminating ITM items that aren't relevant to a property's current frequency, system, asset, or building requirements.
That means inspectors like those in South Florida can quickly delete NFPA 25 inspection procedures for cold-weather dry sprinkler systems. It also means that inspectors performing less-intensive quarterly inspections of fire sprinkler components don't need to waste time answering non-relevant questions for more in-depth annual inspections.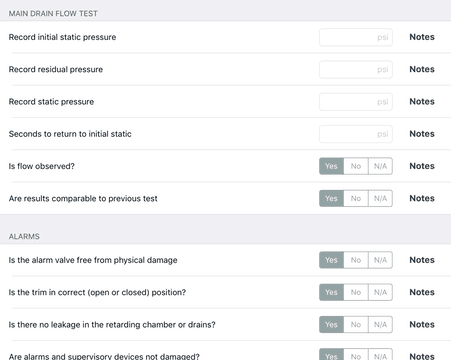 Inspect Point already includes hundreds of jurisdictional forms for customers that must meet specialized ITM requirements and/or formatting of reports in such places as California, Vermont, and Philadelphia, PA. In fact, California's codes are so customized and require such specific formatting that Inspect Point offers a separate portal for users in that area.
Inspect Point also currently maintains more than 200 forms to help technicians and facility managers inspect backflow preventers for water jurisdictions nationwide, including a generic form that works for many districts. Backflow preventers function as one-way gates in water-based fire protection systems, keeping unsafe water from reversing flow and contaminating a clean public water supply.
Customers can also pay a one-time fee to add jurisdictional forms that aren't currently part of the platform. Many facility managers ask Inspect Point to help them create custom inspections of non-fire protection systems as well, taking advantage of the software's ease of use to meet requirements for other governmental agencies like the Occupational Safety and Health Administration (OSHA) or the Environmental Protection Agency (EPA).
Inspections based on original equipment manufacturer (OEM) requirements are another customization option available through Inspect Point. For instance, the software already includes preloaded questions to help technicians or facility managers follow manufacturer requirements for inspecting equipment made by Huguenot Laboratories, which provides solutions for addressing corrosion in wet, dry, and pre-action sprinkler systems.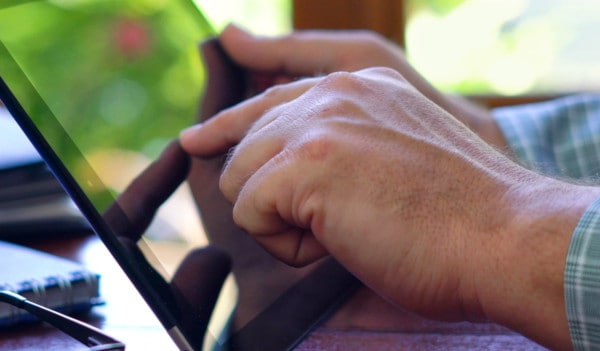 NFPA inspection software lowers risk for facility managers and increases revenue for ITM companies
Adopting Inspect Point's NFPA inspection software helps contractors and facility managers increase efficiency and compliance with NFPA and local codes, which translates into less risk for facility managers and higher ROI for inspection companies.
Here's how: The software is simple for any user familiar with smartphones or mobile tablets. Its templates are preloaded with all the questions and NFPA codes and standards needed to inspect fire protection equipment. It walks technicians through a step-by-step process every time they are in the field, requiring them to check off each element to ensure no detail goes unnoticed. Inspect Point also puts a property's ITM history at inspectors' fingertips, making it easy to spot trends and flagging equipment that has suffered previous deficiencies.
With traditional clipboard-and-paper inspections, technicians waste time searching for old data, uploading files from thumb drives, or scanning, photocopying, or combining images and handwritten reports into electronic documents. And it's all too easy for paper files to become damaged or disappear. Inspect Point's 100 percent digital interface automatically transfers photos and notes taken with the iPad into the final report, so there's little chance that something important gets lost or omitted.
The software automates many back-office activities as well, eliminating lengthy delays while administrative staff waits for paper inspections to arrive at the end of the day, struggles to decipher handwriting, attaches and associate deficiency images, and generates reports and proposals. With Inspect Point, it only takes a click for technicians to create inspection reports branded with the company's logo. Onsite professionals can also securely sync with back-office teams—enabling them to present proposals to correct deficiencies and get them signed while they are still in front of the customer.
Faster, simplified inspections and service follow-ups mean more of both for a wider range of clients, increasing revenue for inspection companies. And the software improves thoroughness and quality for everyone, including facility managers who conduct in-house ITM.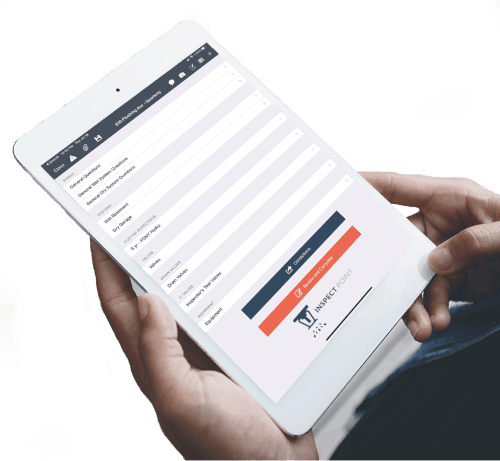 Inspect Point puts everything inspectors need at their fingertips
The importance of regular and thorough life safety inspections can't be overstated. And ITM contractors and facility managers have a huge responsibility to adequately address problems with a building's fire protection systems to protect life and property.
Inspect Point's NFPA inspection software gives inspection companies and facility managers everything they need to ensure fire protection systems remain in tiptop shape—and critical steps won't be overlooked along the way.
If you'd like to see how fire inspection software works and how it make inspections, maintenance, reports, scheduling, and correcting deficiencies more efficient, sign up for a free demo of Inspect Point's fire protection ITM software.
For more information, call us at +1 (888) 361-6662 or email support@qrfs.com.
This blog was originally posted at blog.qrfs.com. Check us out at Facebook.com/QuickResponseFireSupply or on Twitter @QuickResponseFS.