A global manufacturer with an impressive legacy offers some of the most trusted pressure and temperature instruments in any industry
For more than 160 years, Ashcroft, Incorporated has manufactured devices used to measure and control pressure. Today, the company's air and water pressure gauges are known around the world, supported by a network of partners located in 55 nations. Their headquarters in Stratford, Connecticut boasts a space exceeding 300,000 square feet, producing pressure and temperature instruments under brand names including Ashcroft, Heise, and Weksler.
In this blog, we look at Ashcroft gauges, highlighting their many benefits for fire protection and testing applications. We offer a brief history of Ashcroft, Inc. and stop to consider the uses and benefits of some specific Ashcroft gauges.
Not what you're looking for? Feel free to skip directly to our selection of air and water pressure gauges, including brand-name gauges from Ashcroft.
Ashcroft evolves with the world's machinery, from steam-power to modern technology
The proliferation of steam power during the early industrial revolution had dangerous and even life-threatening implications. Human error and machine failure often lead to explosions of steam-powered machinery, shutting down production and harming anyone working nearby.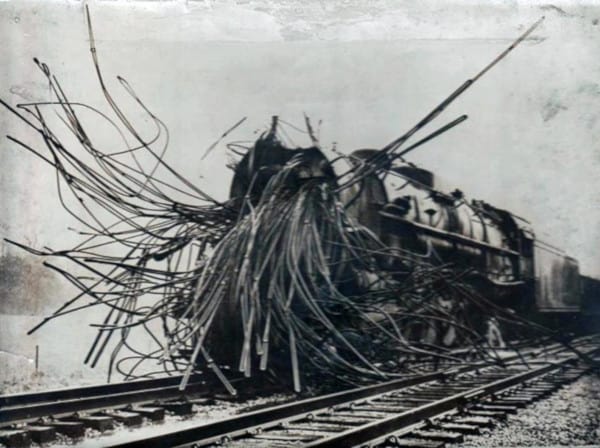 Seeing an opportunity to improve this often hazardous process, Edward Ashcroft, in 1852, started his company to develop reliable pressure and control instruments, including Ashcroft gauges. As new technologies emerged, Ashcroft adapted to each industry's unique requirements.
Today, Ashcroft provides a variety of products tailored to most industries, including gauges and other instruments for:
Oil & gas
Water
Chemical production
Power
Food & beverage work
Life safety
Pharmaceuticals
Ashcroft's products are manufactured in ISO-certified facilities. This distinction is given to organizations that meet strict requirements for quality management. Manufacturers adopt these standards to reduce waste and cost, to stand out from their competitors, and to become eligible suppliers to manufacturers and customers who demand certification.
Ashcroft tackles the issue of gauge vibration, a leading cause of error and failure
Decades of experience producing gauges have led to many trademarked innovations available only in Ashcroft's products. These improvements separate Ashcroft gauges from competitors, particularly in the fire protection and testing industry. These advancements came to fruition because Ashcroft addressed issues other manufacturers failed to address, including—and especially—vibration.
Mechanical vibration is an astoundingly common cause of gauge failure. Vibration impacts the accuracy of a gauge in three big ways:
Gauge vibration causes poor readings as the pointer flutters, forcing the user to make a best-guess
Cumulative vibration results in the pointer's tare or resting point being off-zero (usually requiring calibration)
Excessive vibration permanently damages moving internal parts rendering the gauge completely useless.
In the fire protection industry, both wet and dry fire sprinkler systems rely on an extensive system of pipes. Dry sprinkler systems are filled with pressurized air and wet systems with water. Both absorb and even create significant vibration during normal operations. Closing and opening valves can generate water hammer, an intense shockwave that rattles pipes and even damages equipment.
To combat sustained vibration, Ashcroft developed PowerFlex™. PowerFlex's 'suspended movement' isolates the pointer from the socket, the usual path for shock and vibration. This reduces the amount of stress transmitted to moving parts, lowering gauge maintenance and replacement costs. Gauge components can withstand anywhere from 10 to 50 times the shock and over ten times the level of vibration experienced by standard pressure gauges.
Recommended PowerFlex Gauge: 1005P Fire Protection Sprinkler Service Gauge.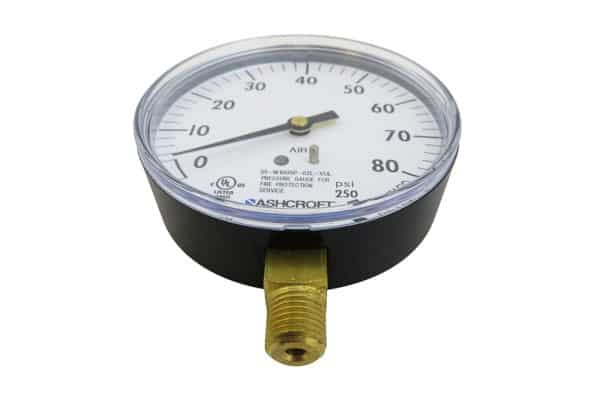 Benefits:
UL & FM approved
0-300 PSI range for wet systems, o/80 retard to 250 PSI for dry
"Zero zone" replaces conventional dial post to ensure that gauge reads zero only at zero PSI
Small changes in gauge design give users greater confidence in pressure readings
Damaged gauges may exhibit another issue: reading 0 PSI even when placed under pressure. In many conventional gauges, a small pin protrudes from the gauge's face at the zero mark. This pin, called a dial pin, stops the pointer from falling below zero.
While it's unlikely that you'd ever want to see a gauge return a negative number—unless you're working with a vacuum—dial pins can conceal damage to the gauge's internal parts. Ashcroft's TrueZero™ technology addresses this concern by doing away with the dial pin and using a "zero zone." In short, this simple tweak ensures that the gauge reads zero only at 0 PSI.
Fire pump, hydrant, or valve testing professionals will especially benefit from PowerFlex™ and TrueZero™ technologies. For example, the 1009 Duralife Gauge, available with 2.5" or 3" dials in a variety of dial ranges, features both TrueZero™ and PowerFlex™ technologies. This gauge is the perfect upgrade for Pitot Tube or other testing equipment.
Recommended TrueZero Gauge: 1009 Duralife PLUS! Gauge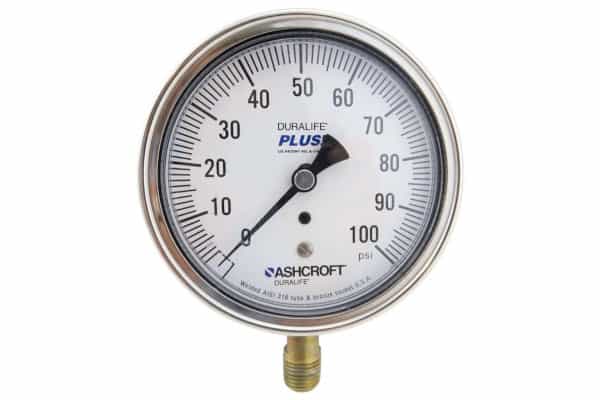 Benefits:
Corrosion-resistant stainless steel exterior
UL & FM approved
Features PowerFlex, True Zero, and PLUS designs, adding durability, accuracy, and performance
Available in 2 1/2″ and 3″ sizes
Eight dial ranges available
Ashcroft's line of pressure gauges includes advanced designs tailored to the needs of inspectors and exacting purchasers
One more selection from Ashcroft's catalog deserves a closer look: their DG25 digital air/water pressure gauge. This gauge features an impressive array of listings from UL, cUL, RoHS, ASME, and other organizations. It's the most versatile of all the gauges we've considered, displaying readings in nine different units of measurement on an LCD display. We looked closely at these gauges in our article on digital pressure gauges, but here's a quick take on what makes Ashcroft's digital gauges stand out:
Recommended Digital Gauge: Ashcroft DG25 Digital Air/Water Pressure Gauge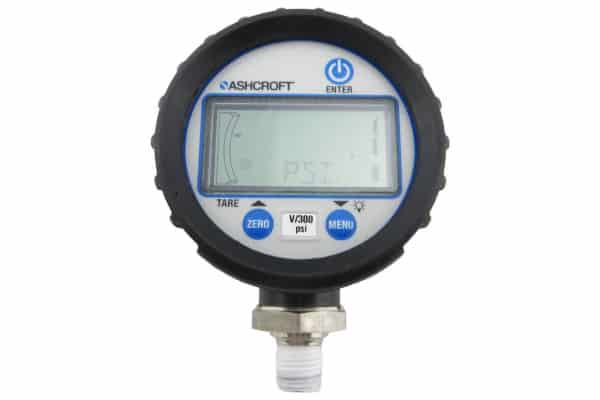 Benefits:
Made with laser-welded stainless steel components
Protected by Ingress Protection 67-rated enclosure for dust and weatherproof protection
Approved/listed by numerous organizations, including UL, RoHS, CE, and more
2000 hours of battery life provided by 2 AA batteries
The gauges introduced in this blog represent just a small sample of Ashcroft's full lineup of gauges. However, for fire protection and testing professionals, these four offer a combination of technology and timeless construction to provide accurate readings for a lifetime.
These and many more gauges are in stock at QRFS.com. Our large–and growing–selection of Ashcroft gauges comes standard with exceptional customer service, low prices, and incredibly fast shipping.
Click here to shop our selection of air and water pressure gauges.
If you need help choosing a gauge or want to leave us some feedback, call us at +1 (888) 361-6662 or email support@qrfs.com.
This blog was originally posted at blog.qrfs.com by Jason Hugo and Cameron Sharp on April 8, 2016. If this article helped you learn a bit about one of the world's most well-known gauge manufacturers, check us out at Facebook.com/QuickResponseFireSupply or on Twitter @QuickResponseFS.