Adjustable fire sprinkler escutcheons can help handle flush, recessed, protruding, or angled installations
When fire sprinklers install through a wall or ceiling penetration, escutcheons fill the gap between the sprinkler head and the hole's edge. Covering this "annular space" serves a few purposes. First and foremost, the escutcheon provides a clean appearance and prevents debris from falling through the hole. In addition, listed escutcheons help keep the sprinkler in place—with proper clearance—relative to the ceiling or wall.
While many escutcheons are simple parts consisting only of a flat metal ring, some are adjustable. The ability to fine-tune the position helps iron out variances in pipe cutting. It also allows sprinklers to be installed at different depths and angles depending on the design needs.
This article explains the different types of adjustable escutcheons, their use, standard escutcheon adjustment ranges, and how much play you may need.

Check out QRFS's full selection of escutcheons, including adjustable 401 parts, extension tubes, recessed escutcheons, and vaulted ceiling escutcheons.
Or use QRFS's Find My Tool to find listed recessed or flush escutcheons specifically compatible with your sprinkler.
401 adjustable escutcheons extend or retract to cover protruding sprinklers and drops
Fire sprinkler escutcheons might need some adjustment because the supply pipe (sprinkler drop) and sprinkler stick out too far from the wall or ceiling penetration.
For protruding heads and pipes, skirt and cup escutcheons, also called "adjustable 401" escutcheons, are the go-to part. They consist of two parts: a skirt, which covers the hole, and an adjustable cup, which covers the drop/sprinkler connection. Where needed, extension tubes can be used to lengthen the escutcheon even more.
All these parts are really for appearance only—NFPA standards don't require them, and they don't need testing and "listing" by UL, FM Global, or another safety organization.
Because 401s are unlisted and suited for various exposed installations, you can just pick a model that looks nice, fits your sprinkler, and gives the range of adjustment needed. Adjustable 401 escutcheons come in three primary adjustment ranges that correspond with the size of the cup:
Outer diameters, which determine how big of a hole in the ceiling or wall the skirt covers, range from about 3-1/2″ to 3-7/8″.
Finally, the fit of the escutcheon for a sprinkler is measured in terms of the sprinkler attachment size. The connection size of the sprinkler determines the inner diameter of the escutcheon you can use. Since 1/2" and 3/4" NPT connections are the most common sprinkler sizes, you'll see various escutcheons designed to fit these heads and labeled that way.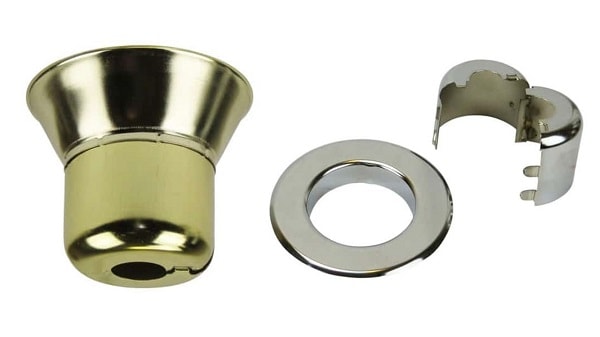 Two-piece fire sprinkler escutcheons provide flexible depths for recessed and flush sprinklers
Instead of protruding significantly from a ceiling or wall, sprinklers are often (partially or totally) hidden inside it. These are called recessed, flush, or concealed installations, depending on the depth of concealment. Concealed sprinklers have an "escutcheon" that is part of the sprinkler cup, but they also use cover plates that completely hide the sprinkler and often have their own adjustment range.
In contrast, escutcheons for recessed and flush sprinklers use a two-piece concentric-ring design. The outer ring braces against the ceiling or wall. The inner ring closely surrounds the sprinkler base/connection and has a range of vertical or horizontal adjustment within the outer ring.
Note that the term "two-piece" is sometimes also used in reference to "split-ring retrofit" escutcheons, which have rings that can split apart to enable retrofitting an escutcheon without removing the sprinkler head. Nevertheless, these are two different applications (and two different … "two-piece" items).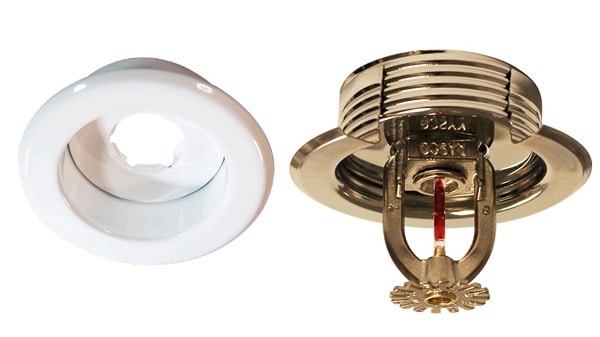 Unlike skirt-and-cup models, escutcheons for recessed and flush (plus concealed) sprinklers are required in those installations and must be "listed" for the sprinkler. Recessed and flush sprinklers are part of something called listed sprinkler assemblies; the sprinkler's performance was tested in conjunction with the escutcheon or cover plate.
This means only certain combinations are compatible, and you don't have unlimited choices for how much adjustment an escutcheon can achieve. Each sprinkler's data sheet explains what escutcheon models and potential adjustment ranges for each are available.
For instance, Tyco's TY323 FR-B sprinkler can be recessed using the Style 15 or 20 two-piece escutcheons. They have 5/8" or 1/2" adjustment ranges, respectively. Thus, simply choose the option that works best for your situation. This decision might be based on needing a little extra adjustment, or it could mean selecting other features like a larger outer diameter.
Here are some adjustment ranges by manufacturer and model for various flush to recessed two-piece escutcheon models:
Reliable F1 and F1S escutcheons: 3/4" of total adjustment
Reliable F2, F2S, FV, and FP escutcheons: 1/2" of total adjustment
Senju D1 escutcheon: 1/2″ total adjustment
Senju D2 escutcheon: 3/4″ total adjustment
Tyco Style 10, Style 40, and Style 70 escutcheons: flush to 3/4″ recessed total adjustment
Tyco Style 15 escutcheon: flush to 5/8″ recessed total adjustment
Tyco Style 20 and Style 30 escutcheons: flush to 1/2″ recessed total adjustment
Tyco Style 50 escutcheon: flush to 3/8″ recessed total adjustment
Victaulic V24, V27, and V34 escutcheons: 1/2″ or 3/4″ total adjustment
Viking E-1, NP-1: flush to 5/8" recessed total adjustment
Viking E-2, E-3, NP-2, NP-3: 27/32" total adjustment with 1/2" maximum recess
Note: manufacturers occasionally introduce new models and phase out others. The QRFS product pages for escutcheons and the specific escutcheon and sprinkler data sheets (linked on product pages) always provide the current information needed.
You can also use QRFS's Find My Tool to find matching escutcheon options for your sprinkler. The tool will prompt you to select the range on the "choose variation" screen if we have multiple compatible escutcheons with different adjustments.
A unique escutcheon type adjusts to match angles on ceilings
Some models are specially designed to provide angular escutcheon adjustment for use with sloped ceilings. However, the use case is rather narrow, so only Viking currently offers a part for this—its G-1 adjustable escutcheon.
NFPA 13: Standard for the Installation of Sprinkler Systems (2022 edition) has a small note about using sidewall sprinklers with sloped ceilings. Sidewall sprinklers should be located at the top of the slope and spray water down it to avoid obstructions(10.3.5.2.1, 11.3.5.2.1). In practical terms, the sidewall sprinkler's deflector should be parallel to the ceiling slope.
To make this happen, you need an escutcheon with angular adjustment. Viking's G-1 models do this (plus they can be recessed). In many ways, these escutcheons are the same as other two-piece escutcheons, but the inner ring's ball shape allows a small amount of angular adjustment. Sloped-ceiling escutcheons must be listed like other flush or recessed two-piece sprinklers.
Viking's G-1 escutcheons have "up to 5/8" total adjustment available for use with ceilings sloped up to 8/12 (33.7°)." They can "be recessed up to ½" (13 mm), depending on [the] degree of slope."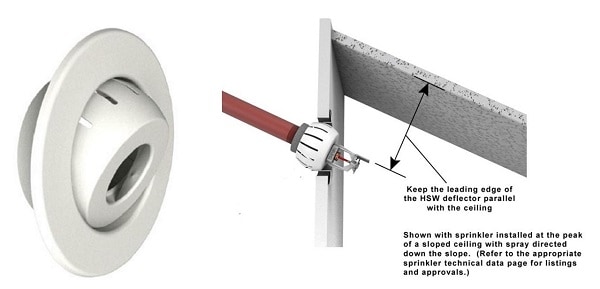 Single-piece models with some escutcheon adjustment also exist
Usually, single-piece fire sprinkler escutcheons are just circular pieces of metal with no adjustment. The head simply sits on the disk. However, there are "adjustable" single-piece escutcheons.
Senju's HF escutcheon for its horizontal flush sidewall residential sprinklers is one example, with a 3/16" adjustment available. This movement is possible because, unlike most disk/plate escutcheons, the SS4423 sprinkler fits inside the escutcheon ring instead of sitting on top of it. This placement allows some lateral movement, just like in a two-piece escutcheon. But in this case, the sprinkler body is essentially the inner ring.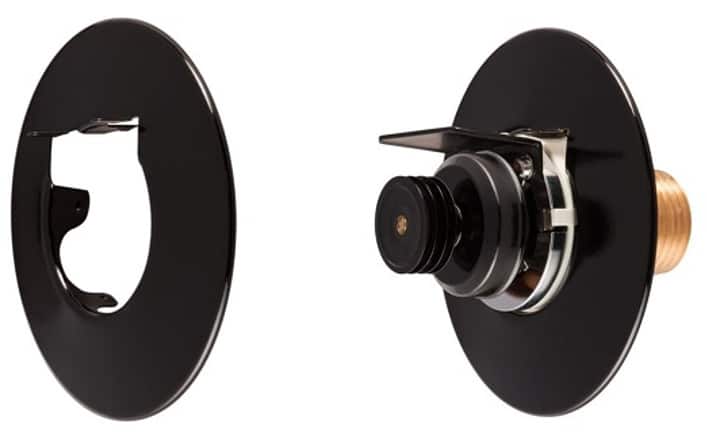 What adjustable escutcheon is right for your needs?
These simple devices are always aesthetic and sometimes functional. So, understanding escutcheon adjustment and picking the right part for your application often requires keeping both factors in mind.
Skirt and cup escutcheons play an important role by covering the gap around fully exposed sprinklers, but their primary purpose is to look nice. As such, you are not bound by listing requirements—just select the 401 model that fits around your sprinkler and has enough vertical adjustment for the protruding head and pipe.
Two-piece recessed escutcheons are also made to look nice, but they also play a functional role in sprinkler position and operation. So, you must pick a specifically listed and approved escutcheon found on the sprinkler's data sheet. This selection specifies the amount of adjustment each model has—and vaulted ceiling escutcheons with angular adjustment also follow those rules.

Ultimately, the goal isn't just to get the most adjustment possible from your escutcheon. The objective is to find an escutcheon that meets your needs—and QRFS has it! Browse our extensive fire sprinkler escutcheon catalog, including adjustable 401 models, extension tubes, recessed escutcheons, and vaulted ceiling escutcheons.
Need to quickly find compatible listed escutcheons for your recessed or flush sprinkler installation?
Just enter the sprinkler identification number (SIN) for the sprinkler, select a few options (including adjustment range, if applicable), and it brings you to the correct parts.
Still have questions? Contact us at 888-361-6662 or support@qrfs.com.
This blog was originally posted at QRFS.com/blog. If this article helped you, check us out at Facebook.com/QuickResponseFireSupply or on Twitter @QuickResponseFS.