Introducing a powerful tool that shows which fire sprinkler heads, escutcheons, cover plates, or wrenches you need
Finding the right fire protection equipment can seem overwhelming, but it's crucial. Fire sprinkler heads must match the system design specs, or they won't do their job.
In addition, the incorrect cover plate for a concealed sprinkler or a non-listed escutcheon for some exposed sprinklers won't do—and it's a code violation. And the wrong wrench can cause slippage, damage, and voided warranties.
Unfortunately, figuring out which piece of equipment you need can be challenging for many people.
Just type in a sprinkler's SIN (sprinkler identification number), choose a few options, and it shows the exact part you need!
The Quick Finder is simple to use, and you can take it for a spin now—or read on to learn more, including:
Why we created the QRFS Quick Finder—and the more complicated way to ID fire sprinkler heads and other fire protection equipment
At QRFS, we get many, many questions from customers looking to replace or buy fire sprinklers, escutcheons, covers, wrenches, and more. We usually find precisely what they need—the occasional exceptions usually involve very old, discontinued items that are part of systems with unusual design characteristics.
Nevertheless, even standard requests sometimes require a little research, and it typically starts with learning a sprinkler's sprinkler identification number (SIN).
All fire sprinkler heads made after 2000 have an NFPA-mandated SIN stamped on the deflector. It's a four to seven-digit alphanumeric code that starts with one or two letters indicating the manufacturer (TY for Tyco, RA for Reliable, VK for Viking, SS for Senju, and V for Victaulic).
Once you know the SIN, you also know the exact manufacturer and model and almost all of a sprinkler's key characteristics (whether it's quick or standard response, and the K-factor, orientation, size, etc.). The only things the code doesn't specify are a sprinkler's activation temperature and finish, as models with the same SIN can have several options.
In short, the SIN takes almost all the mystery and decision-making out of finding replacement fire sprinkler heads.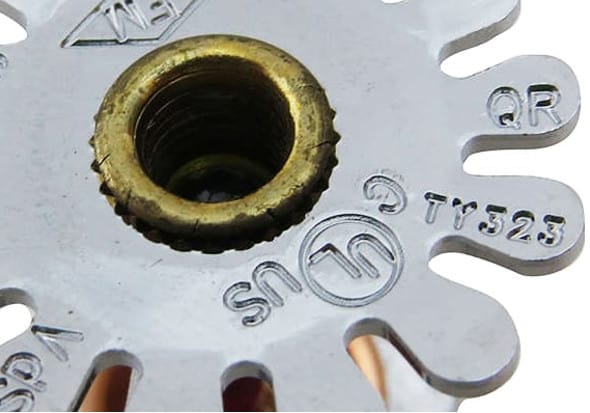 The SIN also tells you which covers, escutcheons, and wrenches (along with some other potential options) are "listed" (safety tested and approved) to work with the sprinkler.
The longer way of matching these parts is using the SIN to find the datasheet for that sprinkler. These documents, published on manufacturers' websites and QRSF product pages, detail everything you need to know about a sprinkler and what's compatible with it.
But a drawback of using datasheets is that it's a multi-step process, and the information can be confusing—especially for people not used to reading them! For example, check out this informative but complex table detailing various characteristics of a Viking sprinkler and its associated parts: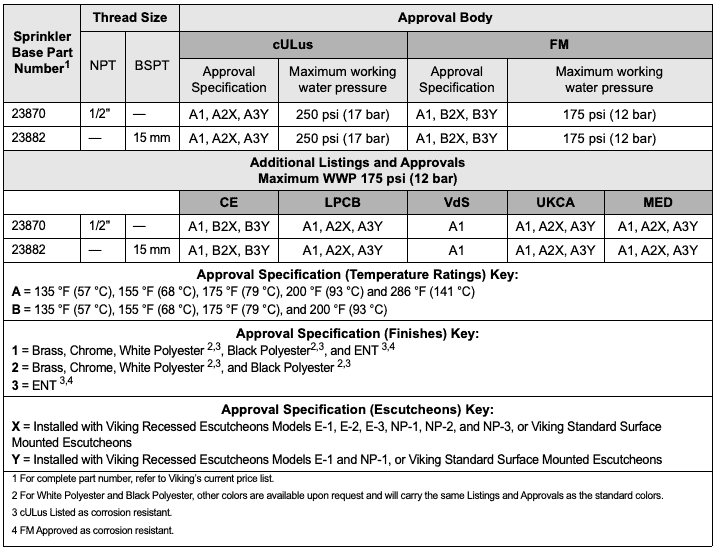 Figuring out which escutcheons you can use or what finishes are available—and maybe which ones are "listed" corrosion resistant (and by what organization)—isn't rocket science. But other essential info, such as which wrenches match, is elsewhere on the datasheet.
So, you've got to find this information on a multi-page document, different manufacturers' datasheets have unique formats, and you need to access multiple datasheets if you have different types of sprinklers.
Again, the process isn't terribly difficult—but you'll need to find the documents and learn to read them. And many folks just want to quickly ID and buy the correct fire sprinkler heads, escutcheons, cover plates, or wrenches.
That's where the QRFS Quick Finder makes things way easier.
How to use the QRFS Quick Finder to buy the right fire sprinklers heads and other parts
We've done the research for you, cataloging fire sprinkler heads and the essential parts that match them. The tool automatically finds everything in our inventory based on the SIN.
If you can't find a SIN or an old sprinkler doesn't have one, don't worry: we've got you covered. The Quick Finder provides a way to take pictures of the sprinkler and send them to us so that we can help.
Here's how it works:
1. You'll pick the type of fire protection equipment you need on the home screen: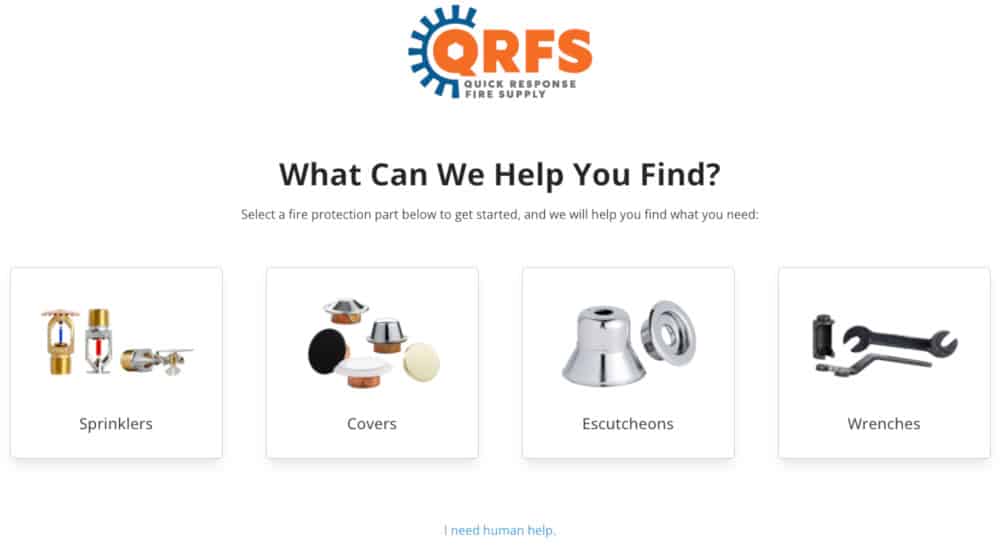 2. Whatever part you choose, the next page asks you to enter the SIN of the relevant sprinkler: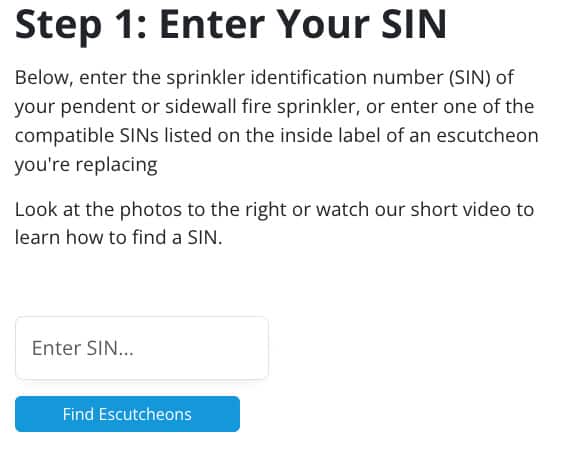 3. If you have trouble finding the SIN, the page provides a video and visual instructions. And if you still can't determine it—say, it's an old, discontinued sprinkler—the "I need human help" link at the bottom of every page leads to steps for getting assistance.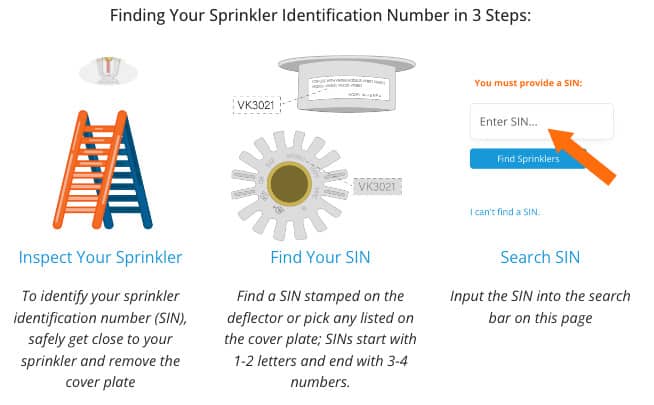 3. Once the SIN is in, the following pages have a few requests for additional information:
A fire sprinkler head search asks for the activation temperature and finish
You'll enter the temperature and finish and maybe choose from specific options (like domed or flat) for cover plates
Finding escutcheons requires choosing a finish and any other options (like threaded or push-on)
And if multiple types of wrenches are available, Quick Finder asks which one (such as standard, standard cabinet, or recessed)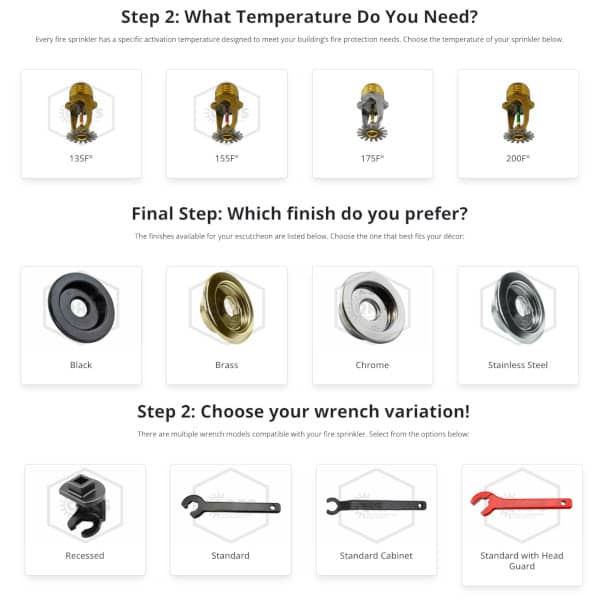 If you aren't sure about a temperature, finish, or another choice, each step includes helpful explainers—click the "I'm not sure which …" link to get some guidance.
4. Finally, get the part! The Quick Finder reveals the right equipment in our online inventory, allowing you to buy it immediately.
Handling advanced searches for more challenging product requests
The QRFS Quick Finder usually gets our customers their needed parts. But it relies on knowing the SIN, and some older sprinklers may not have one (or an obvious one).
In addition, the tool shows the items QRFS carries—and while that's a pretty large and comprehensive selection, a few people need specialty items or product features.
In every case, you can click on the "I need human help" link within the Quick Finder or reach out to QRFS directly at support@qrfs.com.
Our mission is to make finding the correct fire protection equipment easy so people are safer and buildings remain code compliant. And we pride ourselves on providing access to actual human beings dedicated to locating what you need. So …
But if you have any questions, contact us through the tool, call 888-361-6662, or email support@qrfs.com.
This blog was originally posted at QRFS.com/blog. If this article helped you, check us out at Facebook.com/QuickResponseFireSupply or on Twitter @QuickResponseFS.