The longer cover plates aren't a choice—they're required for some newer sprinklers and provide greater adjustability
Tyco has been updating its LFII sprinkler models with new characteristics, including sunsetting some K-factors and rolling out different listings and features. Among the changes is a new cover plate with a greater adjustment range.
The bottom line is that some older LFII sprinklers work perfectly fine but are obsolete—you can buy replacements and their covers only as long as supplies last. But if you need replacement concealed sprinklers, it's better to go with the newer models and their cover plates. This ensures a readier supply of reserves if you ever need them.
Let's dive into why Tyco made changes and what's different about some sprinklers and cover plates.
The newer Tyco LFIIs and cover plates
Sometimes, manufacturers tweak sprinklers without changing their sprinkler identification numbers (SIN). But in Tyco's case, it also rolled out various new SINs. For example, the TY3596 concealed residential pendent sprinkler and the TY2234 pendent are obsolete and only on sale as long as supplies last.
So, why did Tyco make various updates, and what's different?
The changes go beyond these, but, for example:
Tyco's TY3596 concealed pendent, now discontinued, was listed for use in wet and dry sprinkler systems, whereas the TY2534 and other 4.9k replacements are wet-only.
Some older 4.2k pendent models, like the TY2596, are no longer made, which can cause a problem replacing those sprinklers with a matching K-factor.
Tyco's lead-free TY3534, introduced last October, is the first concealed residential pendent with a "polymeric [thermoplastic] frame that performs to brass sprinkler testing standards and beyond."
Other updates to Tyco's LFII sprinkler line include new wrenches and sprinklers with slightly different activation temperatures (though still in the ordinary and intermediate ranges). But the bottom line is that customers must identify the SINs of the sprinklers they have and look at their data sheets to determine the exact replacements or accessories they need.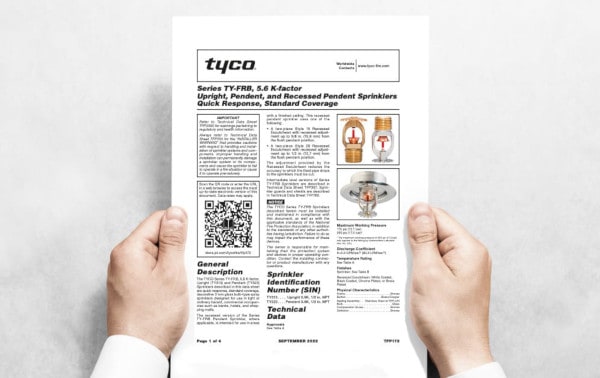 This rule of thumb is pretty simple: if you have newer pendent sprinklers with a flat cover plate—not sidewalls or the domed cover plate models—you'll need the latest 'long-neck' cover plates.
Check out our video showing how easy it is to install these covers:
What changed about some Tyco LFII sprinkler covers
Well, the new ones are longer and fit into a deeper cup surrounding newer LFII concealed sprinklers that don't use domed cover plates. The latest sprinkler cups are 2-1/8" vs. 1-7/8", allowing installers to adjust the position of the covers up to 3/4″ instead of only 1/2″.
This feature comes in handy while installing concealed pendent LFIIs. Installers can account for more significant variances in the distance between the supply pipe and sprinkler and the plane of the wall or ceiling.
The sprinklers that use domed cover plates still only have 1/2″ of adjustment, but the dome automatically provides more room for a sprinkler sitting out from a ceiling or wall.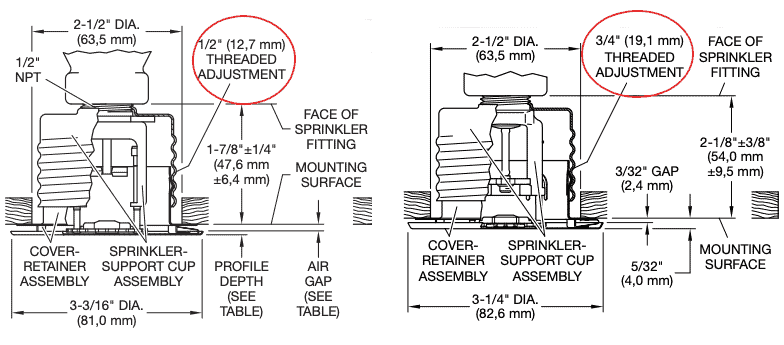 The current LFII sprinklers and their cover plate part numbers
Matching sprinklers with their cover plates is pretty easy when you know the SINs and part numbers. There are only three base cover plate options marked by the first five digits of the cover's part number; the last three to four digits of the part numbers change based on the finishes available.
Here is the current line of concealed Tyco LFII sprinklers and their compatible covers:
So, there are three base cover plate options:
Part number 56-873: current LFII pendents with domed plates
Part number 56-204: current LFII sidewalls with flat plates. These covers also work on some old LFII pendents.
Part number 56-891 (long-neck covers): current LFII pendents with flat plates
All the flat-plate covers for pendents have the newer "long-neck" cover with 3/4″ of adjustment.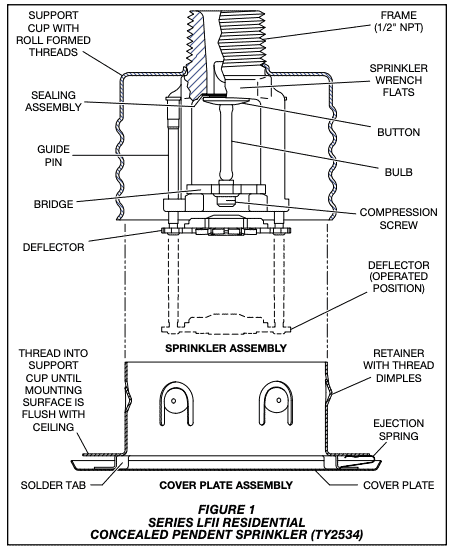 Again, the missing rest of these part numbers (three to four digits) indicate different finishes:
Domed covers come in chrome, signal white, or custom finishes.
Sidewall covers come in 10 different finishes, including the above options, and pure white, grey white, terra brown, black, and brushed brass.
And flat-plate pendent covers come in 12 options, including all of the above plus beige and ivory.
Finding the right Tyco LFII cover
We've gone over a few part numbers, and these matches are always subject to change as Tyco rolls out new versions of sprinklers and covers. For example, it might sunset those LFII sidewalls, and new cover plates with more adjustment might come into play.
But the basic rule is this: know your sprinkler's SIN and look at its data sheet to determine the compatible cover plate and available finishes.
Otherwise, you can also use the QRFS Quick Finder to ID the appropriate covers we have in stock based on the SIN.
Feel free to browse our selection of Tyco fire sprinklers and Tyco cover plates, or enter the SIN in the search bar at the top of the page. Each product page has data sheets linked toward the bottom.
Have questions or unresolved issues—such as an older, discontinued sprinkler without an available replacement head or cover? Contact QRFS at 888-361-6662 or support@qrfs.com.
This blog was originally posted at blog.qrfs.com. If this article helped you, check us out at Facebook.com/QuickResponseFireSupply or on Twitter @QuickResponseFS.