Decorative retrofit sprinkler head escutcheons install quickly, facilitating the timely activation of fire sprinklers
Fire sprinkler escutcheons cover the hole left in a wall or ceiling when a sprinkler head is installed. But the benefits are more than just aesthetic: by preventing hot air from passing into attics or other spaces, an escutcheon helps ensure that fire sprinklers activate at their rated temperatures.
Retrofit fire sprinkler escutcheons, sometimes also called split-ring or two-piece escutcheons, can make the task of replacing a defective or broken escutcheon much easier. In this article, we look at the types and functions of fire sprinkler escutcheons, including recessed, flat, and adjustable models. We'll wrap up by explaining how to install retrofit sprinkler head escutcheons in their place.
If you're more interested in ordering escutcheons than reading about them, skip directly to our full selection of retrofit fire sprinkler escutcheons.
Escutcheons, required in NFPA-compliant systems, are found with all kinds of fire sprinklers
While some facilities with open ceilings leave fire sprinkler system piping exposed, most conceal those pipes behind a wall or ceiling. Escutcheons, which are typically finished to match the color of the fire sprinkler, allow sprinkler heads to pass through drywall or other materials without exposing the open spaces behind them.
Fire sprinkler escutcheons are essential to sprinkler performance. An escutcheon that doesn't fit or is missing may delay sprinkler activation or cause serious malfunctions. The National Fire Protection Association (NFPA), which develops standards referenced by model codes adopted by state and local governments, has specific guidelines pertaining to the use of escutcheons with sprinkler heads. These rules are presented in NFPA 13: Standard for the Installation of Sprinkler Systems.
From the 2022 edition of NFPA 13

7.2.6 Escutcheons and Cover Plates.

7.2.6.1 Plates, escutcheons, or other devices used to cover the annular space around a sprinkler shall be metallic or shall be listed for use around a sprinkler.

7.2.6.2* Escutcheons used with recessed, flush-type, or concealed sprinklers shall be part of a listed sprinkler assembly.

A.7.2.6.2 The use of the wrong type of escutcheon with recessed or flush-type sprinklers can result in severe disruption of the spray pattern, which can destroy the effectiveness of the sprinkler.

16.2.5.4 The use of caulking or glue to seal the penetration or to affix the components of a recessed escutcheon or concealed cover plate shall not be permitted.
Rising smoke and heat travel along the walls and ceiling. In NFPA-compliant systems, these surfaces resist the passage of smoke and heat. But an undersized escutcheon could allow that heat to bypass the fire sprinkler head. And if hot air goes around the head and into the wall or ceiling, the sprinkler's activation could take longer, allowing the fire to spread.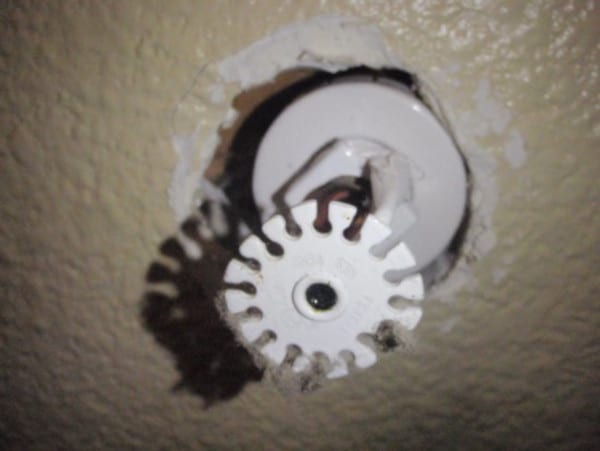 What does the NFPA mean by the phrase "listed sprinkler assembly"? Listings certify that a third-party group has tested sample fire sprinkler heads—with escutcheons and cover plates included—to ensure that the sprinkler performs as designed. In short, this requirement means that escutcheons must be approved for use with specific sprinklers. 

Fire sprinkler escutcheons, featured on pendent and horizontal sidewall fire sprinklers, come in three standard types
Pendent and horizontal sidewall fire sprinklers are commonly found in residential and commercial buildings, including schools, hospitals, hotels, and even family homes. The three standard types of fire sprinkler escutcheons are:
To choose an escutcheon type, it's important to know what type of fire sprinkler you have and how far the pipe protrudes from the wall or ceiling.
Recessed fire sprinkler escutcheons
Most commonly found in schools and offices, recessed sprinkler head escutcheons cover cutouts in ceilings, walls, and soffits, providing a low-profile, finished appearance. The inner ring is designed to encircle a recessed fire sprinkler head at a specified depth within the outer ring.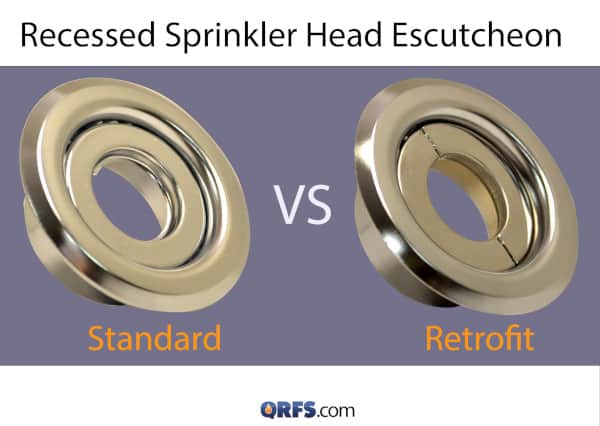 Adjustable fire sprinkler escutcheons
Adjustable escutcheons come as a two-piece assembly with a cup and a skirt. Many models provide up to 2″ of adjustment to cover the exposed pipe between the ceiling or wall and the fire sprinkler head itself. Cups as long as 12″ are available for extended coverage.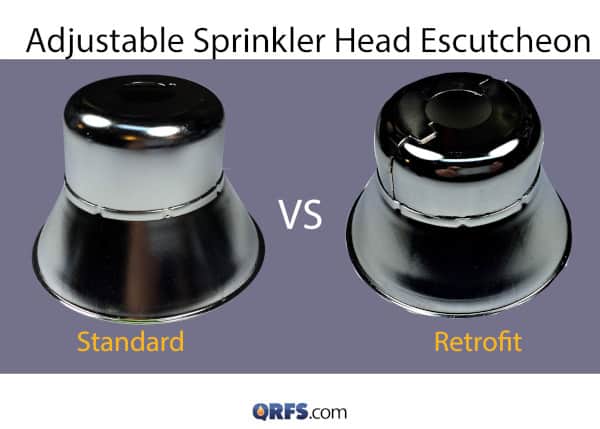 Flat fire sprinkler escutcheons
Flat sprinkler head escutcheons are used when the base of the sprinkler frame is flush with the ceiling. These retrofit versions of these escutcheons are the simplest of the three types, featuring a single plate made from two hinged components.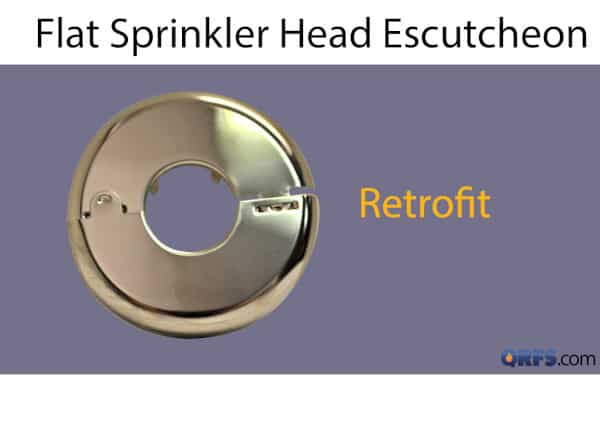 Why these models make replacement easier
Most standard escutcheons install permanently. The hole in the center seats over the fire sprinkler's thread connection, which screws into the pipe supplying water. Adding one of these escutcheons after installing the fire sprinkler head would require removing the head, which requires shutting down and draining the system.
Retrofit escutcheons make replacing escutcheons considerably easier. Unlike standard escutcheons, retrofit escutcheons install with no need for a sprinkler system shutdown. Each retrofit escutcheon secures to the head by pressing two detachable halves together. Like standard escutcheons, retrofit escutcheons are available in various finishes and styles, including recessed, adjustable, and flat.
How to install a retrofit fire sprinkler escutcheon in five easy steps
This example assumes that you're working with a removable ceiling tile and a ceiling-mounted pendent fire sprinkler. Pendents, the most common sprinkler style, hang from above-ceiling piping to discharge water into the spaces below.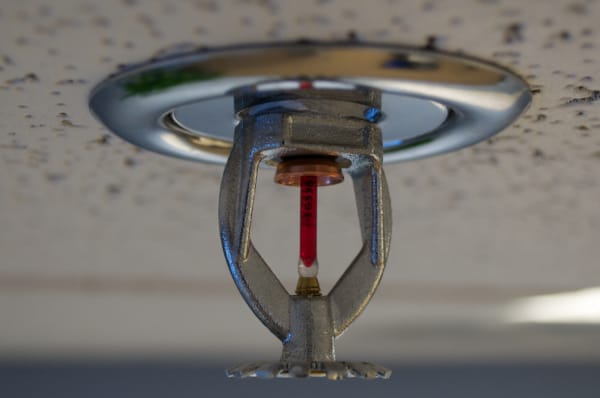 To get started, a qualified individual with fire protection knowledge needs a step ladder and something to use in cutting off the previous escutcheon. Proceed cautiously: even a small impact with heat-sensitive parts on the fire sprinkler head can trigger activation. Make as little contact with the fire sprinkler head as possible.
Lift up the ceiling tile, making room for the head and hands.
If the current escutcheon includes an outer ring or skirt, remove them by slowly pulling them down over the sprinkler head.
Cut the cup (adjustable) or inner ring (recessed) using kitchen shears or pruners, and remove it from the sprinkler head. For flat escutcheons, simply cut the plate and remove it.
Fasten the retrofitted inner ring (recessed), cup (adjustable), or entire escutcheon (flat) around the sprinkler head.
Install the outer ring (recessed) or skirt (adjustable) by sliding it up and over the sprinkler head.
Ordering retrofit sprinkler head escutcheons at QRFS
QRFS stocks retrofit escutcheons for fire sprinklers with 1/2-inch and 3/4-inch thread connections. Choose from chrome, white, and brass finishes for all three escutcheon types: flat, recessed, and adjustable. Our escutcheons provide from 3/4 of an inch to 3 inches vertical adjustment to help you position the escutcheon for maximum coverage of sprinkler parts and the installation hole.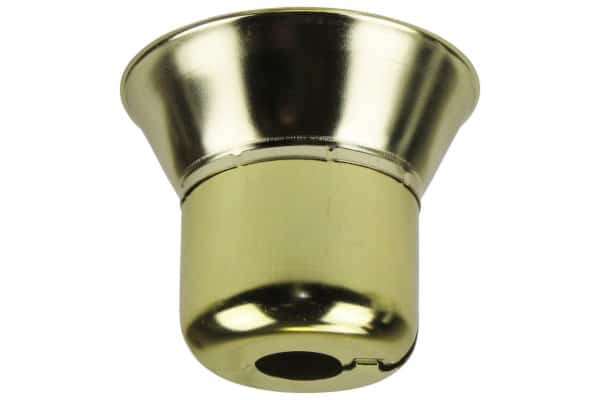 Click here to view our entire selection of retrofit fire sprinkler escutcheons.
Questions about our selection of split ring retrofit escutcheons? Call us at +1 (888) 361-6662 or email support@qrfs.com.
This blog was originally posted by Jason Hugo and Cameron Sharp at blog.qrfs.com on June 3, 2016, and updated on November 28, 2022. If this article helped you find what you need, check us out at Facebook.com/QuickResponseFireSupply or on Twitter @QuickResponseFS.