Detailed rules ensure that exit signs and emergency lights remain easy to see in an emergency
Exit signs and emergency lights facilitate safe evacuation from even the most complicated buildings. When a fire or natural disaster leaves buildings without power, these signs remain intact and illuminated, guiding those inside to safety.

In this article, we'll explain what life safety code and federal law expect from exit signs and emergency lights. We'll address some common concerns when selecting an exit light, and take a look at code-compliant products designed to meet safety needs in today's buildings.
Already know what emergency exit light you want? Feel free to click here to view our selection of emergency exit signs and emergency lights.
The NFPA and OSHA have similar requirements for externally-illuminated exit signs

The National Fire Protection Association (NFPA) developed standards for emergency exit signs after a massive blaze killed nearly 150 people in a Manhattan garment factory. By the 1940s, the NFPA published those recommendations, which were gradually made part of state and local fire codes. These local codes, along with workplace standards from the Occupational Safety and Health Administration (OSHA), govern the use of today's exit signs and lights.
OSHA requires employers to install plainly-visible signs at all exits. Employers must also provide sufficient lighting along exit routes. To ensure visibility at all times, exit signs must have distinctive coloring and reliable illumination. These signs must be illuminated to a surface value of 5 foot-candles, which is roughly the minimum recommended brightness in a parking garage.
The NFPA sets out illumination and visibility requirements for exit signs and lights in NFPA 101: Life Safety Code. NFPA and OSHA requirements overlap: both require that externally illuminated exit signs have 5 foot-candles of illumination. Both treat visibility, continuous illumination, and contrast as the cornerstones of functioning exit light or sign.
NFPA code provides additional details on power sources, internally-illuminated exit signs, and emergency lights
In chapters 11 through 43, Life Safety Code details a range of requirements pertaining to most types of buildings. Day-cares, hospitals, prisons, hotels, and industrial buildings each have their own place in the code. When those chapters require emergency lighting or exit signs, they follow the guidelines set in NFPA 101, Chapter 7: Means of Egress.
OSHA and the NFPA have the same brightness requirements for externally-illuminated signs. However, NFPA 101 goes into greater depth on internally-illuminated signs and lighting during a power failure.
From the 2015 edition of NFPA 101

7.10.7 Internally Illuminated Signs.

7.10.7.1 Listing. Internally illuminated signs shall be listed in accordance with ANSI/UL 924, Standard for Emergency Lighting and Power Equipment, unless they meet one of the following criteria:

(1) They are approved existing signs.
(2) They are existing signs having the required wording in legible letters not less than 4 in. (100 mm) high.
(3) They are signs that are in accordance with 7.10.1.3 and 7.10.1.6.

7.9.2.1 Emergency illumination shall be provided for a minimum of 1 1/2 hours in the event of failure of normal lighting.
Most internally-illuminated signs—excluding the tactile signage and floor signs mentioned in 7.10.1.3 and 7.10.1.6—require listings. These listings certify that the sign meets criteria established by OSHA and the NFPA, as well as the International Builders Code (IBC) and International Fire Code (IFC). Signs meeting ANSI/UL 924 standards have undergone tests that assess their fitness for an emergency, including tests of battery power, durability, and brightness.
Like exit signs, emergency exit lights must also remain active for 90 minutes after a power failure. Exit lights also require ANSI/UL 924 listings and must have sufficient light.
From the 2015 edition of NFPA 101

7.9.2.1.1 Emergency lighting facilities shall be arranged to provide initial illumination that is not less than an average of 1 ft-candle (10.8 lux) and, at any point, not less than 0.1 ft-candle (1.1 lux), measured along the path of egress at floor level.

7.9.2.1.2 Illumination levels shall be permitted to decline to not less than an average of 0.6 ft-candle (6.5 lux) and, at any point, not less than 0.06 ft-candle (0.65 lux) at the end of 1 1/2 hours.
LEDs provide needed illumination for exit signs and lights at the lowest energy cost
Exit signs and lights may use incandescent, fluorescent, or LED bulbs. Neither NFPA 101 nor OSHA prefers any one light source over another as long as they have ANSI/UL 924 listings. However, their energy use—and the associated cost—varies significantly.
Incandescent lights can use as much as 50 times the energy as LED lights. While they require as many as 30 replacement bulbs during their lifetime, an LED sign can last as long as a decade without replacement bulbs. Fluorescent lighting closes the energy-use gap but still has estimated ten-year energy costs five to ten times greater than that of LEDs.
Choice of red or green exit fixtures depends on visibility needs and local regulations.
The NFPA and OSHA don't require a specific color for exit signs. While local fire code may favor one color over another, brightness and contrast matter most. In the explanatory material on exit signs, the NFPA explains that back-and-forth on the subject of red and green exit signs has now settled on a preference for sign colors that provide the greatest visibility.
From the 2015 edition of NFPA 101

A.7.10.1.8 In stores, for example, an otherwise adequate exit sign could be rendered inconspicuous by a high-intensity illuminated advertising sign located in the immediate vicinity.

Red is the traditional color for exit signs and is required by law in many places. However, at an early stage in the development of the Code, a provision made green the color for exit signs, following the concept of traffic lights in which green indicates safety and red is the signal to stop. During the period when green signs were specified by the Code, many such signs were installed, but the traditional red signs also remained. In 1949, the Fire Marshals Association of North America voted to request that red be restored as the required exit sign color, because it was found that the provision for green involved difficulties in law enactment that were out of proportion to the importance of safety. Accordingly, the 10th edition of the Code specified red where not otherwise required by law. The present text avoids any specific requirement for color, based on the assumption that either red or green will be used in most cases and that there are some situations in which a color other than red or green could actually provide better visibility.
Some states may recommend one color over the other, but few have required it in law. To ensure you're in compliance with local regulations, check with your local fire marshal before major renovations or site-updates.
Stay in compliance with LED exit signs, emergency lights, and combination lights from Simkar
Simkar, a Philadelphia-based designer and manufacturer of lighting products, has developed exit signs and emergency exit lights that deliver energy-efficient, code-compliant protection to buildings of all kinds. Simkar's dual-voltage emergency fixtures can use either 120-volt circuits or 277-volt circuits, making them suitable for installation in many residential, commercial, or industrial spaces. Each listed unit meets the requirements of UL 924, NFPA, OSHA, and many local and state codes.
The Slimline emergency exit sign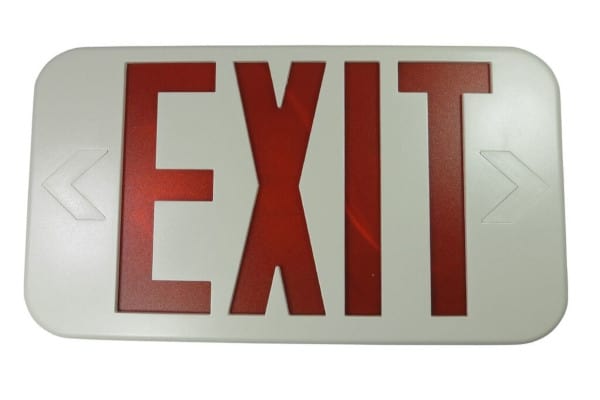 Simkar's Slimline DLR2RW exit sign is listed in accordance with UL 924 and certified for use in damp locations. This sign complies with NFPA, OSHA, and a host of state and local codes. With a two-rate charger, Slimline's exit sign can recharge a discharged battery within 24 hours. This emergency exit sign features an internal solid-state transfer switch that allows the sign to quickly switch to battery power as needed.
Simkar's emergency exit light with battery backup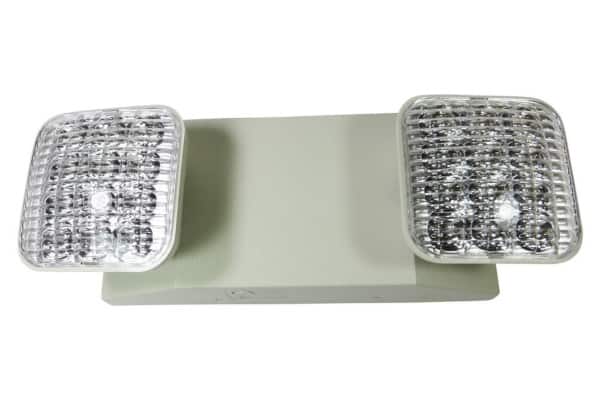 Remote-capable emergency exit lights mount to a wall or ceiling. Simkar's lights feature a quick-connect backplate for surface mounting. Each emergency light has a push-to-test switch for monthly, biannual, and annual fire code compliance tests. A rechargeable nickel cadmium (NiCd) battery provides 90 minutes of battery backup to two long-lasting, ultra-bright LED lamp heads.
Simkar's exit sign & emergency light combo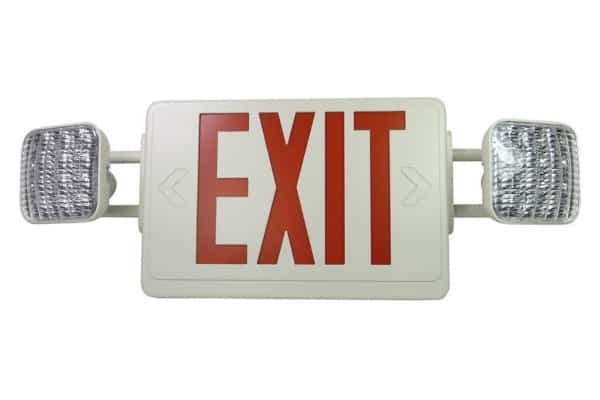 An exit sign emergency light combo offers all of the benefits of a LED exit sign and an emergency light in a single fixture, reducing overhead and installation time. This dual-voltage, dual-head combination features a 9.6-volt nickel cadmium (NiCd) battery that fully recharges in 24 hours. Simkar's adjustable ultra-bright lamp heads allow for a wide range of motion and optimal center-to-center spacing.
If you're looking to replace your exit signs or emergency lighting, click here to browse our selection, or have a look at the products listed below. For questions, call us at +1 (888) 361-6662 or email support@qrfs.com.
LED Slimline Exit Sign | Simkar DLR2RW

Rounded edges for a softer, sleeker design
Long-lasting and rechargeable NiCD battery (included)
Battery powers sign for a minimum of 90 minutes, recharges automatically within 24 hours
Dual 120/277 voltage
EZ-snap mounting canopy
UL-listed for damp locations

LED Dual Head Exit Emergency Light Combo | Simkar SCLD2RW

Dual, adjustable, ultra-bright LED bulbs
Rechargeable NiCD batter and self-diagnostic testing feature
Battery powers sign for a minimum of 90 minutes, recharges automatically within 24 hours
Charge rate and power ON LED indicator
Dual 120/277 voltage
EZ-snap mounting canopy

LED Emergency Light – Remote Capable | Simkar DLMWRC

Long-lasting, ultra-bright LED bulbs
Remote capable
Rechargeable NiCD battery
Battery powers lights for a minimum of 90 minutes, recharges automatically within 24 hours
Charge rate and power ON indicator
Quick connect back plate for easy mounting
Dual voltage 120/277
This blog was originally posted by Jason Hugo and Anna Hartenbach at blog.qrfs.com on May 26, 2017, and updated on January 27, 2019. If this article helped you find what you need, check us out at Facebook.com/QuickResponseFireSupply or on Twitter @QuickResponseFS.