As more and more jurisdictions join the ranks of those that require fire sprinkler systems, industry professionals are continuously seeking innovative solutions to make sprinkler system design and installation faster and less expensive. A complete sprinkler installation is a lengthy process, and one of the more time-consuming steps has been the fabrication and assembly of the fire sprinkler riser, which was traditionally built from scratch.
The introduction of pre-assembled commercial and residential riser manifests has standardized this process and sped it up considerably, however. In this article, we look at residential and commercial risers, explaining the benefits of their use and what you should look for when selecting a riser assembly.
Already know what riser solution you need for your next fire sprinkler system job? Jump straight to our selection of residential and commercial risers.
What are the benefits of commercial and residential risers?
Before the ease of pre-built riser manifolds, the installation of fire sprinklers could be summarized with the word "more." That's because it took more of everything: supplies, planning, energy, labor, and definitely time.
Since riser manifolds were commonly built from scratch, there were more necessary parts required for assembly and, therefore, more parts to account for when ordering supplies. These systems required additional thought and planning since pipes had to be cut to size and specification to build the manifold, meet the needs of the system, and comply with NFPA standards. They could also complicated and awkward to install due to their size and weight, which required additional people.
As a contractor, the main benefit of pre-built commercial or residential risers is the time saved in buying and assembling the individual pieces. Complete riser kits are compact and lightweight, allowing for easier installation, not to mention the money and labor saved by eliminating assembly. And because they're manufactured as one piece, it's easier to be consistent and code-compliant in facilities and dwellings that require more than one riser manifold.
Factory-assembled riser manifolds are now readily available in a variety of makes and configurations, making it easier than ever to get the best fit for your system with little time and effort. In addition to meeting the needs of each type of fire sprinkler system, these manifolds meet the requirements of local, state, and national codes and standards.
Transitioning from "more" to "less" results in more cost-efficient fire sprinkler systems which, in turn, allows your company to offer more reasonably-priced systems to your customers and/or increase your profits.
What components make up fire sprinkler riser manifolds?
Generally, the specific components needed for your riser manifold depend on the type of sprinkler system and how it's being assembled. With that being said, both residential and commercial risers are made with a pressure gauge, a flow switch, and the appropriate drain valve to meet the system's requirements per:
NFPA 13: Standard for the Installation of Sprinkler Systems
NFPA 13D: Standard for the Installation of Sprinkler Systems in One- and Two-Family Dwellings and Manufactured Homes
NFPA 13R: Standard for the Installation of Sprinkler Systems in Low-Rise Residential Occupancies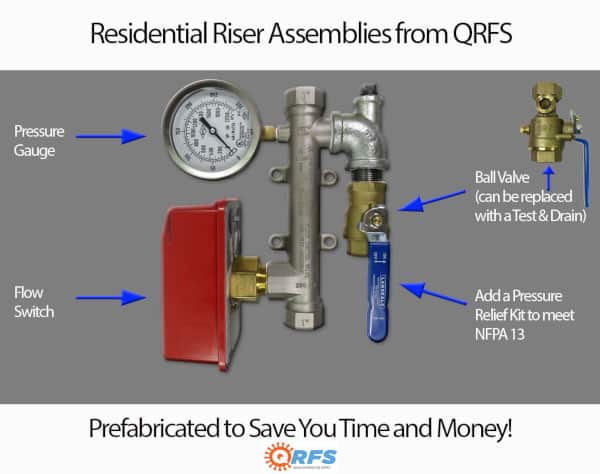 The simplest and most commonly used sprinkler system is a wet system. It draws water from a dependable source, maintains this water in the network of pipes, and utilizes pressure to push it through the system and out of the sprinkler heads. The riser acts as the bridge to "rise" the water supply to the sprinklers in the event of an emergency. Selecting the appropriate components ensures the system will function properly.
The biggest differentiating factor in commercial and residential risers is the type of drain valve used on the manifold and the option for a pressure relief valve. Most commercial and residential risers are offered with three drain valve options: a ball valve, a test and drain valve, or either of the aforementioned valves in combination with a pressure relief valve.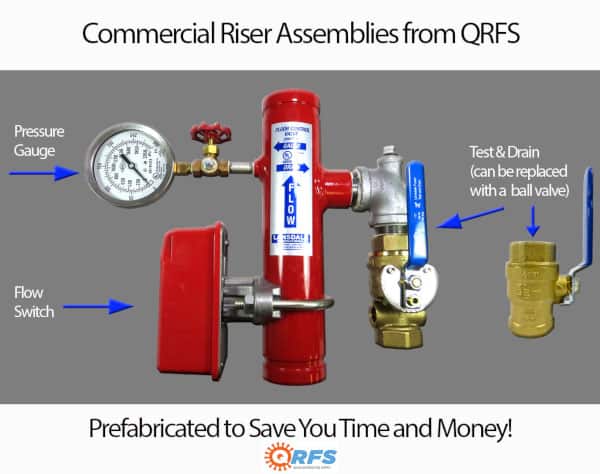 In most instances, determining the necessary components comes down to the specific requirements of the system being built and specific aspects of compliance with NFPA 13.
Pressure Gauges
In any commercial or residential riser assembly built with a check valve, pressure gauges must be installed. They should be installed above and below each alarm check valve or system riser check valve when they are used.
From the 2022 Edition of NFPA 13

8.1.1.1 An approved pressure gauge conforming to Section 16.13 shall be installed in each system riser.

8.1.1.2 Pressure gauges shall be installed above and below each alarm check valve or system riser check valve where such devices are present.

8.1.1.2.1 A single pressure gauge shall be permitted to be installed on a manifold below multiple riser check valves or alarm check valves.

8.1.1.2.2 Pressure gauges below check valves required by 16.9.10 and 16.15.2.2(1) shall not be required.
Valves: Ball Valve or Test and Drain
Ball valves are included on the most basic models of commercial and residential risers. They allow the system to be drained. Where a ball valve is used, testing must be performed with an inspector's test and sight glass at the end of a line. This method requires the system to be depressurized and drained through the main drain prior to testing.
Test and drain valves are an alternative option to ball valves. The major difference is that a test and drain provides the ability to perform hydrostatic testing in accordance with NFPA 25 on the sprinkler system without draining it first because it has a sight glass for water observation and a testing orifice that simulates a 5.6k sprinkler discharge (more on this later). Therefore, it provides an elegant solution for the need to test the system, while also enabling the system to be drained when that's necessary.
From the 2022 Edition of NFPA 13

16.9.1.1 Drain Valves and Test Valves.

Drain valves and test valves shall be approved.

16.9.1.2 Valve Pressure Requirements.

When water pressures exceed 175 psi (12 bar), valves shall be used in accordance with their pressure ratings.

16.9.11.1 All control, drain, venting, and test connection valves shall be provided with permanently marked weatherproof metal or rigid plastic identification signs.

16.9.11.2 The identification sign shall be secured with corrosion-resistant wire, chain, or other approved means.
Though both ball and t&d valve types are approved for use on a fire sprinkler system and riser assembly, there are benefits to both, which we'll cover more. The important takeaway is that whichever valve is used must perform in accordance with the pressure ratings of the sprinkler system, shall not close in less than 5 seconds, and must be properly identified.
Waterflow Detection Alarm
In a wet pipe system, NFPA requires a water flow detector, or flow switch, connected to an alarm. These devices are designed to initiate the alarm when the sprinkler system is activated. Because sprinkler systems are automatic, water flow devices can be made to signal an alarm system connected to the sprinkler system (e.g., a bell, water motor gong, or electronic horns).
From the 2022 Edition of NFPA 13

16.11.3.1 Wet Pipe Systems.

The alarm apparatus for a wet pipe system shall consist of a listed alarm check valve or other listed waterflow detection alarm device with the necessary attachments required to give an alarm.
To explain the importance of the water flow detector, we need to describe the alarm check valve, which is situated prior to the riser within the sprinkler system. These valves are used to prevent water within the system (which is no longer considered potable) from flowing back into the water supply. Within the alarm check valve are a spring, a valve clapper, and an alarm port. It's the spring's job to hold the valve clapper closed and ensure the water only flows in one direction. In the event of a fire emergency, as the temperature rises and activates a fire sprinkler, the clapper opens so water can flow through the system. The pressure on the alarm port from the water moving through the system prompts the water motor gong, mechanical bell, or A/V device to sound.
These days, water flow detectors are most commonly used in place of the mechanical water motor gong. They can be connected to an electric bell, horn, or horn/strobe and function similarly to the water motor gong, in that the pressure on the alarm port where an alarm pressure switch can be installed will trip the alarm signal to the panel.
Pressure-Relief Valve
A pressure-relief valve is required in all wet pipe systems unless they are built with auxiliary air reservoirs to absorb pressure increases. The relief valve cannot be less than ½ in (15 mm) in size and must operate at 175 psi (12 bar) or 10 psi (0.7 bar) and pressure not exceeding the system's maximum pressure rating. Relief valves are positioned downstream of check valves.
From the 2022 Edition of NFPA 13

8.1.2.1 Unless the requirements of 8.1.2.2 are met, a wet pipe system shall be provided with a listed relief valve not less than 1⁄2 in. (15 mm) in size and set to operate at 175 psi (12 bar) or 10 psi (0.7 bar) in excess of the maximum system pressure, whichever is greater.

8.1.2.2 Where auxiliary air reservoirs are installed to absorb pressure increases, a relief valve shall not be required.

8.1.2.3 A relief valve per 8.1.2.1 shall be required downstream of check valves required by 16.15.2.2(1).
In a nutshell, wet pipe systems need some form of pressure relief — whether that's by way of a pressure relief valve or auxiliary air reservoirs. Otherwise, the pressure within the system can build and exceed the pressure rating of the various fire sprinkler system components.
What are common pre-assembled riser manifold configurations?
Commercial and residential risers are beneficial because they come pre-assembled and pressure-tested to meet NFPA 13, 13D, and 13R standards. Since they come with all the required equipment, there is no more guesswork involved with ordering the correct parts and assembling them in the field. However, it should be noted that each component can be easily replaced onsite, if necessary. Here are the common configurations:
Basic Trim — This riser manifold configuration is aptly named, as it's the most basic model of the three configurations. Like all riser assemblies we're discussing, the riser with basic trim allows the system to be drained. However, it doesn't enable testing at the riser; that must be done at the end of the line with an inspector's test and sight glass. The riser with basic trim is acceptable for use in a system where pressure increases are absorbed through installed auxiliary air reservoirs.
Test and Drain — Commercial or residential risers equipped with a test and drain have an advantage over the basic trim model: the ability to perform hydrostatic testing without draining the system. This trim package enables easy system draining similar to the ball valve. However, it also includes a sight glass so the flow of water can be observed without witnessing flow from the exterior of the building. The built-in ½" testing orifice simulates the flow of a sprinkler head to facilitate testing and produce accurate results, ensuring the alarm will trigger and the system will function properly in the event of an emergency. Furthermore, it eliminates instances where the inspector's test would be easily accessible to the public (e.g., in stairwells, etc.) and tampered with, potentially triggering false alarms.
Pressure Relief Valve (PRV) — To comply with NFPA 13, this valve is a requirement for gridded systems or other variations requiring a pressure-relief valve. Gridded sprinkler systems are those that have parallel cross mains which have many branch lines to ensure that a sprinkler head receives water in both directions. Temperature changes or gravity can cause pressure to build within the sprinkler system above the recommended levels since wet systems are closed systems with nowhere for the pressure to go. Therefore, a pressure relief valve or auxiliary air reservoir is necessary. The pressure relief valve slowly releases that pressure on demand, so the system remains in compliance.
Why choose QRFS?
At QRFS, we offer residential and commercial risers in a variety of configurations to meet your sprinkler system specifications. Our riser kits are in-stock, UL-listed and FM-approved, and will save you both time and money compared to traditional riser construction and installation.
We offer a great line of residential risers in Basic Trim, Basic Trim with Test and Drain, and Basic Trim with Pressure Relief Kit. All three configurations have a working pressure of 175 PSI. In addition, we offer commercial risers with your choice of a test and drain or ball valve.
QRFS team members stay up to date on NFPA standards and industry best practices so we can assist you in selecting the right product to fit your project. We want to be your partner, delivering the right best-in-class fire protection equipment — affordably, and on time.
Still have questions? Contact us at (888) 361-6662 or support@qrfs.com.
This blog was originally posted by Jason Hugo and Anna Hartenbach at blog.qrfs.com on July 14, 2017, and updated on January 12, 2023. If you found this article useful, check us out at Facebook.com/QuickResponseFireSupply or on Twitter @QuickResponseFS.