Proper care, maintenance, and testing of fire hose can make all the difference in a fire emergency
Fire hose, while tough, is far from invulnerable. Mildew, abrasion, UV rays, and a host of other forces can weaken hose, leading to catastrophic failures that injure firefighters or hinder firefighting efforts. In this article, we'll look at how you can reduce these incidents and maximize the working life of your hose with a broad overview of proper fire hose washing, use, storage, inspection, and testing.
Proper care begins with proper use
Avoid dragging hose over sharp objects or abrasive surfaces. Rather than dragging hose on a folded edge, let a flat section of it make contact with concrete or pavement. This spreads the abrasion over a larger surface area to reduce wear.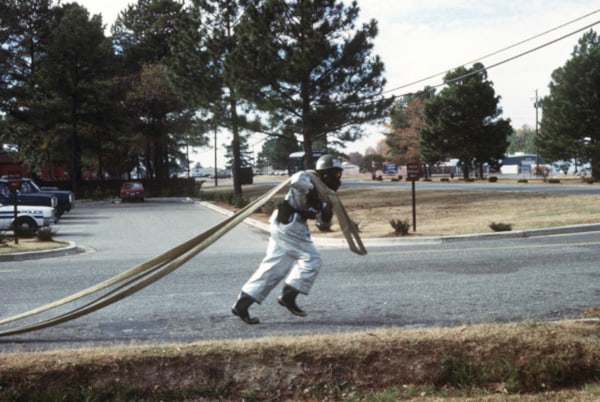 All hose should be used at or below its rated working pressure. Avoid surges in water pressure: raise the pressure inside the hose at a slow, but steady, pace whenever possible.
Gentle washing of fire hose can prolong usable life
Simple cleaning techniques employed regularly can greatly extend a fire hose's usable life. Many jurisdictions follow guidelines from the National Fire Protection Association (NFPA). In NFPA 1962: Standard for the Care, Use, Inspection, Testing and Replacement of Hose, Couplings, Nozzles, and Appliances, the NFPA provides best practices for hose washing and drying.
From the 2018 edition of NFPA 1962

4.6 Cleaning and Drying.

4.6.1* After each use, all hose shall be cleaned.

4.6.2 If dirt cannot be thoroughly brushed from the hose or if the hose has come in contact with harmful materials, the hose shall be washed.

4.6.3 If, during use, the hose has been exposed to hazardous materials, it shall be decontaminated by the method approved for the contaminant.

4.6.4 Covered hose shall be permitted to be wiped dry.

4.6.5* Hose shall not be dried on hot pavements or under intense sunlight.
When washing fire hose, keep the following in mind:
Before washing a fire hose, unroll it on a clean surface. Stretch it out, carefully removing any kinks.
Always use a clean, dry brush. Soft to medium bristles remove dirt and debris without unnecessary wear. Don't use a power washer or solvent, which can damage the outer jacket.
Repeat this process for both sides of the hose. Then, begin washing the fire hose with a garden hose or other low-pressure water source.
For hose covered with rubber, nitrile, or another protective exterior, wipe the hose dry. Other hose types can dry on a tower or rack. If using a commercial hose dryer, ensure that the inside of the hose drains completely.
Avoid drying hose in direct sunlight or on hot pavement.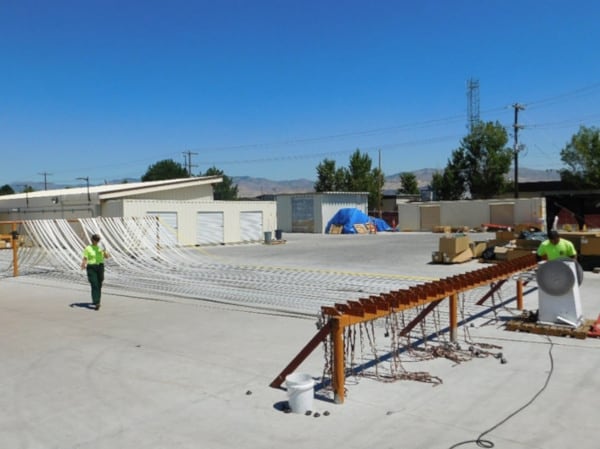 Properly store fire hose after washing
After gently washing and drying fire hose, carefully store it in accordance with NFPA 1962.
From the 2018 edition of NFPA 1962

4.7* Storage.

4.7.1 Hose shall be kept out of direct sunlight and in a well-ventilated location.

4.7.2 All hose shall be drained and thoroughly dried before being placed in storage.

4.7.3 Hose shall be stored only after it has been inspected in accordance with Section 4.5 and has been cleaned and dried.

4.7.4 Hose that is out of service for repair shall be tagged as specified in 4.11.1.6 and 4.11.3.6 and kept separated from any hose in storage that is ready for service
Note that fire hose inspection is required before storage—a process that we'll detail in the next section.
When preparing hose for storage, avoid damaging the couplings. Protect the exposed male coupling threads by rolling them inside the hose (or cover them with protective caps). Also, allow the fire hose to breathe. Avoid storing in shrink wrap, plastic bags, or other plastic material. This traps moisture inside the hose and can result in mold or mildew growth.
Visually inspect fire hose as frequently as it is used
Inspect the hose and liners for mildew, delamination, and other issues
Give each hose a thorough visual inspection before placing it in storage. A visual fire hose inspection can reveal loose covers, kinks, soft spots, cuts, tears, bulges, or other troublesome variations in the exterior or liner.
From the 2018 edition of NFPA 1962

4.5 Hose Inspection.

4.5.1 Physical inspection shall determine if the hose and couplings have been vandalized, are free of debris, and exhibit no evidence of mildew, rot, or damage by chemicals, burns, cuts, abrasion, and vermin.

4.5.2 During the inspection, a check shall be made to determine if the service test of the hose is current.

4.5.3 Liner Inspection.

4.5.3.1 The interior of the hose at each end shall be visually inspected for any physical signs of liner delamination.

4.5.3.2* If the liner shows signs of delamination, the hose shall be condemned.

4.5.4 If the hose fails the physical inspection (see 4.5.1), it shall be removed from service and either repaired as necessary and service-tested as specified in Section 4.8, Section 4.9, or Section 4.10 as appropriate or condemned.
While many defects can be repaired, hoses with delaminated liners must be removed from service immediately. To check for delamination, reach inside the hose and attempt to pinch the liner.
If it can be pinched, the liner has started to separate from the hose jacket. As these liners degrade, they can clog hose nozzles or block pumps, rendering hoses inoperable or damaging equipment.
Inspect fire hose couplings for wear, rust, and other defects
Before storing a hose, take a look a the couplings. During a visual fire hose inspection or service testing, NFPA 1963 requires that couplings with certain defects are repaired or the hose replaced.
From the 2018 edition of NFPA 1962

7.1.3* After each use and during each hose service test, couplings shall be visually inspected for the following defects:

(1) Damaged threads
(2) Corrosion
(3) Slippage on the hose
(4) Out-of-round
(5) Connections not rotating freely
(6) Missing lugs
(7) Loose external collar
(8) Internal gasket not in accordance with Section 7.2
(9) Other defects that could impair operation
(10) Any locking device operating improperly
Service testing requirements for fire hose vary with hose type
All hoses require periodic testing. Fire hose testing verifies that the hose can still safely operate under pressure. Further, fire departments that regularly test and care for fire hose earn higher scores in the ISO's Fire Suppression Rating Schedule. In turn, these scores can substantially raise or lower fire insurance premiums for homeowners served by the fire department.
NFPA 1962 requires annual fire hose testing for hoses still in service. Hoses stored for longer than one year also require testing before their return to service. During these tests, hoses are laid straight and filled with pressurized water. The pressure used varies with hose type:
From the 2018 edition of NFPA 1962

4.8.2.1 Attack fire hose shall be service tested to a minimum of 300 psi (20.7 bar or 2070 kPa) or a pressure not to exceed the service test pressure marked on the hose.

4.8.2.2 Supply fire hose shall be service tested to a minimum of 200 psi (13.8 bar or 1380 kPa) or a pressure not to exceed the service test pressure marked on the hose.

4.8.2.3 Forestry fire hose shall be service tested to a minimum of 300 psi (20.7 bar or 2070 kPa) or a pressure not to exceed the service test pressure marked on the hose.

4.8.2.4 Occupant-use hose shall be tested to the service test pressure marked on the hose.
This required service pressure must be maintained for three minutes. During this time, inspect the fire hose for leaks and other damage. Each hose undergoing testing should also undergo a visual inspection of the couplings, liners, and jackets described in prior sections.
From the 2018 edition of NFPA 1962

4.8.4.10* Any hose that fails the inspection defined in Section 4.5, bursts or leaks during the service test, or has couplings that leak or are otherwise found defective as defined in 7.1.3 shall be tagged as required in 4.11.1.6 or 4.11.3.6 and removed from service.
Replace fire hoses that fail inspection or testing
If you've discovered an irreparable defect in your current hose, take a look at the wide selection of fire hose available at QRFS. We source American-made supply hose, attack hose, rack and reel hose, suction hose, and more from Superior Fire Hose, a North Carolina-based manufacturer of fire and industrial hose.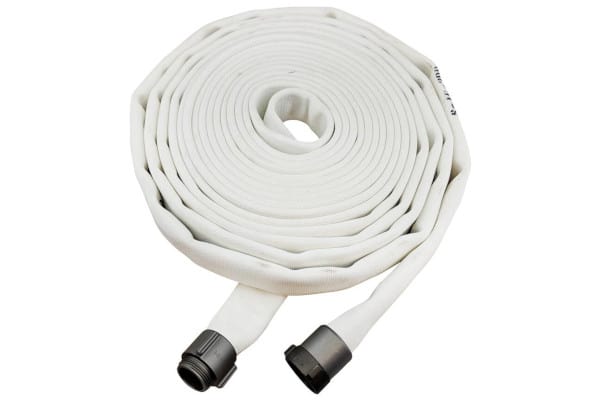 All of our hoses have a full 10-year warranty covering defects in material and/or workmanship. They're manufactured-to-order and stamped with the manufacturing date.
Questions about fire hose? Call us at +1 (888) 361-6662 or email support@qrfs.com.
This blog was originally posted at blog.qrfs.com. If this article helped you get a better grasp of fire hose washing, inspection, and testing, check us out at Facebook.com/QuickResponseFireSupply or on Twitter @QuickResponseFS.
Image source for top image: U.S. Navy photo by Photographer's Mate 3rd Class Kevin S. O'Brien (RELEASED)