Plastic fire extinguisher cabinets offer lightweight protection and sturdy storage
Fire extinguishers play a critical role in stopping small fires before they can grow. And fire extinguisher cabinets ensure that extinguishers remain intact—and in place—until they're needed.
In this article, we specifically look at plastic fire extinguisher cabinets, explaining how they provide cost-effective and easy-to-install protection for extinguishers.
If you already know what you need, feel free to hop on over and view our selection of fire extinguisher cabinets.
Why do you need a fire extinguisher cabinet?
Fire extinguisher cabinets perform two key functions: protecting fire extinguishers and helping a building's occupants find them quickly in an emergency. While other options exist for securing a fire extinguisher in a fixed location—including hooks and wall-mounting brackets—plastic fire extinguisher cabinets offer an additional layer of protection.
As we've covered before, these cabinets can provide some degree of protection against the elements. Prolonged exposure to sunlight or moisture can cause damage to an extinguisher. Rain, sleet, and snow corrode its body and various parts. Sun and harsh temperatures may cause the labels and directions to fade, making them unintelligible. Even the firefighting agents held inside the extinguisher degrade over time.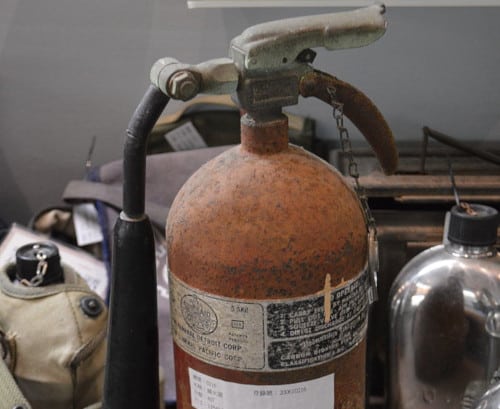 A cabinet also protects an extinguisher from many curious passersby, would-be thieves, or vandals. But most of all, a cabinet is a surefire way to ensure that your fire extinguisher stays in place. Once inside, the cabinet can be locked, securing the equipment in an easy-to-find location.
The features and benefits of plastic models
Plastic fire extinguisher cabinets are lighter than steel or metal extinguisher cabinets. This usually results in lower shipping costs and makes plastic models easier to install.
Instead of a glass front, plastic fire extinguisher cabinets feature a plexiglass front display, meaning there is no potential for shattered glass. Also, some plexiglass panels have ultraviolet (UV) inhibitors to protect the extinguisher's instructions and tags from sun damage. Most plastic cabinets feature a built-in lock on the front, securing the fire extinguisher against tampering unless the plexiglass display is broken.

These plastic fire extinguisher cabinets are designed to be durable and functional. Most designs feature a pitched roof to eliminate pooling water, and their design provides natural ventilation. The cabinets are also easy to maintain. They clean quickly, don't rust, don't have any paint to chip, and they're dent resistant. Perhaps the most important characteristic, though, is that they are also fire retardant.
How do plastic extinguisher cabinets fit with fire codes and standards?
Model codes and standards from the National Fire Protection Association (NFPA) have been adopted as law in states and cities throughout the United States. NFPA 10: Standard for Portable Fire Extinguishers, provides rules regarding the readiness, placement, and accessibility of portable fire extinguishers. While fire extinguisher cabinets aren't required by NFPA or many federal regulations governing portable fire extinguishers, they can make it significantly easier to stay in compliance with codes. Here are the relevant rules that illustrate how:
From the 2022 edition of NFPA 10

6.1.2 Extinguisher Readiness. Portable fire extinguishers shall be maintained in a fully charged and operable condition and shall be kept in their designated places at all times when they are not being used.

6.1.3 Placement.

6.1.3.1 Fire extinguishers shall be conspicuously located where they are readily accessible and immediately available in the event of a fire.

6.1.3.2 Fire extinguishers shall be located along normal paths of travel, including exits from areas.
A cabinet provides a consistent place to store your fire extinguisher at all times, keeping them readily accessible in the event of a fire.
From the 2022 edition of NFPA 10

6.1.3.3 Visibility.

6.1.3.3.1 Fire extinguishers shall be installed in locations where they are visible except as permitted by 6.1.3.3.2 or 6.1.3.3.3.

6.1.3.3.2* In rooms and in locations where visual obstructions cannot be avoided, signs or other means shall be provided to indicate the extinguisher location.

6.1.3.3.3 Fire extinguishers shall be permitted to be installed in fire extinguisher cabinets provided the extinguisher is visible or signs or other means are provided to indicate the extinguisher location.
Most plastic fire extinguisher cabinets are made with a high-visibility red or white plastic finish and are typically surface-mounted. Unlike other cabinet types which are often installed in a recess, they can be marked with additional signs and decals to clearly indicate the extinguisher's location.
From the 2022 edition of NFPA 10

6.1.3.11* Cabinets.

6.1.3.11.1.1 Cabinets housing fire extinguishers shall not be locked, except where fire extinguishers are subject to malicious use and cabinets include means of emergency access.

6.1.3.11.1.2 Cabinets housing fire extinguishers with break-front panels shall be provided with breaker bars or hammers, designed for accessing the extinguisher during a fire emergency.
As previously mentioned, most plastic fire extinguisher cabinets come with a lock and key. But locked cabinets are only placed in locations where they are subject to malicious use, like gas stations or outdoor picnic shelters. In any case—locked or not—the common method of emergency access is a breakable panel with an attached device required to break it.
Why buy a plastic fire extinguisher cabinet from QRFS?
QRFS stocks durable polystyrene cabinets from CATO, a Florida-based manufacturer of fire safety products since 1984. CATO's American-made cabinets are available in a red or white finish and sized for 5 lb, 10lb, or 20 lb fire extinguishers. Each surface-mounted cabinet has an injection-molded frame designed to inhibit UV rays and a safe-breaking front panel constructed from .080 thick acrylic thermoplastic.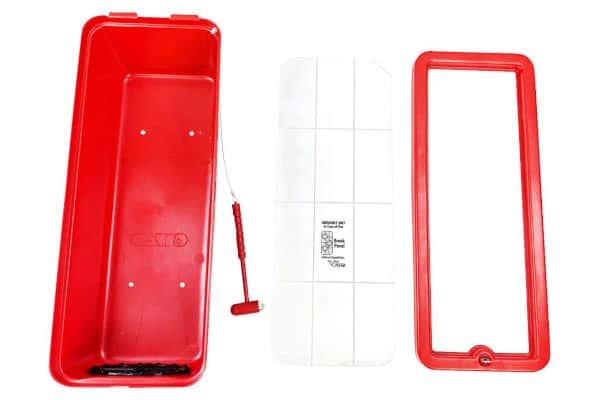 Their design incorporates a built-in safety lock made from chromium-plated brass and a lock cover that shields the keyhole from the elements, debris, dirt, and other types of build-up. Each cabinet comes with a matching ribbed-grip, polypropylene plastic-injected, molded hammer for easy access in the instance of an emergency. We also carry replacement hammers, break panels, and safety break locks.
Click here to browse our selection of fire extinguisher cabinets and accessories.
When you purchase a plastic fire extinguisher cabinet from QRFS, you benefit from our competitive pricing and gain the advantage of our extensive product knowledge, quality customer service, and quick delivery times (generally within 2-3 business days).
Have a question or need help placing an order? Call us at +1 (888) 361-6662 or email support@qrfs.com.
This blog was originally posted by Jason Hugo and Anna Hartenbach at blog.qrfs.com on November 2, 2017, and updated on March 4, 2022. If this article helped you, check us out at Facebook.com/QuickResponseFireSupply or on Twitter @QuickResponseFS.