While NST prevails as the go-to thread standard for fire hose and fire department connections, historically-rooted differences remain
When a fire breaks out, time is in short supply. If firefighters can't quickly connect a fire hose to other devices — pumps, hydrants, or the inlets to supplement or supply water to a building's fire sprinkler or standpipe system — lives may be needlessly lost or property unnecessarily damaged.
But there's more to the threads used with fire department connections (FDCs) and fire hoses than meets the eye. Thread size, gender, and the materials used to construct a coupling can and do vary from city to city.
In this article, we dive into thread standards and thread sizing. We'll look at the history of threads used in fire protection, learn what standards prevail today, and show you what solutions are available if your fire department connection threads don't fit local fire hose.
If you already know what thread you need, feel free to jump on over and check out our full range of fire department connections, plugs and caps, fire hose, and fire hose adapters.
How do fire hose and fire department connection threads differ from one another?
Thread size refers to threads per inch (TPI) and thread pitch. TPI comes from the number of threads per inch on nozzles, hoses, and fittings. Thread pitch denotes the amount of space between threads in millimeters.
When referring to threads, devices are often described as "male" or "female" and compatible items "mate." The female item has internal threads, while a male item has external threads. When the thread types of two items match, they "mate," which just means that the two items fit together functionally.
The outside diameter of the male end (OD or ODM) is the diameter of that fitting at its widest point (including the threads themselves). The inside diameter of the female end (ID or IDF) measures the diameter of the pipe within the walls.
Some other terms widely used with fire hose and fire department connection (FDC) threads include:
Nipple: a device with male threading at both ends
Coupling: a fitting with female threading on both ends that joins two male fittings together
Hermaphroditic connections: devices that feature both male and female threads.
Why are there different thread types and sizes?
After the development of hand-operated pumps in the 1700s, the city of Philadelphia crafted wooden water mains to make water more accessible to people fighting fires. Instead of hydrants, they used fire plugs, and their hoses were made of leather and rivets.
These hoses connected to fire plugs with couplings made by local blacksmiths. As a result, the design and quality of coupling threads varied from blacksmith to blacksmith and from community to community. Such differences remained even as the production of fire protection equipment passed from individual blacksmiths to larger manufacturers, in part because these patented standards protected the manufacturers from competition.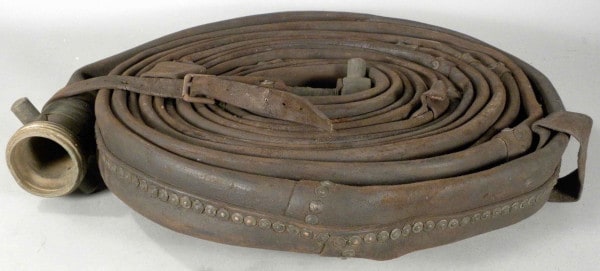 This often meant that neighboring communities had incompatible connections — sometimes, with devastating consequences. Mismatched hose couplings delayed firefighting efforts during the Great Baltimore Fire of 1904, which blazed for 30 hours and inflicted an inflation-adjusted two-billion dollars in damage. Fire suppression teams came from Philadelphia, New York, Wilmington, Harrisburg, Chester, Altoona, Annapolis, and Washington, D.C. to support local efforts. But due to variations in thread type and size, many were unable to connect their hoses to Baltimore hydrants. This allowed the fire, which destroyed more than 1,500 buildings encompassing 70 city blocks, to grow.
What are the types of threads used in fire protection?
From the Great Baltimore Fire of 1904 came the development of National Hose (NH) Thread, also known as National Standard Thread (NST) or "fire hose thread." Fire departments around the United States have chosen NST as their standard, making it the most widely-used thread standard in the country.
NST threads are considered to be "straight," meaning that the diameter of the threaded part remains constant from end to end. Many jurisdictions use another straight thread, called National Pipe Straight Hose Thread (NPSH or NPS), with their fire hose and fire department connections. However, NPSH fittings cannot connect to NST couplings.
While it isn't designed for use with fire hose couplings, fire department connections frequently connect to a building's fire sprinkler or standpipe system with National Pipe Thread (NPT). NPT pipes, commonly used in plumbing applications, also serves as the go-to standard for threaded pipes used in water-based fire protection.
To this day, many cities still use local fire hose thread and fire department connection thread standards, including:
Chicago (Chicago Fire Department Thread and Chicago Hose Thread)
New York City Fire Department thread
Cleveland, OH
Cincinnati, OH
Toledo, OH
Pittsburgh, PA
Detroit, MI
Denver, CO
Salt Lake City, UT
Richmond, VA
Raleigh, NC
Pittsburgh, PA
Louisville, KY
Phoenix, AZ
How do variations in thread standards impact the fire industry?
Local variations in FDC and fire hose thread standards persist. In some instances, like the Great Baltimore Fire of 1904, these inconsistencies have resulted in longer burn times, more damage, and greater difficulty for fire departments conducting operations outside of their jurisdiction. Today, however, manufacturers produce a wide variety of adapters designed to facilitate connections between incompatible thread standards. A fire department with a well-chosen stock of adapters can minimize the delay between when they get on the scene and when they begin attacking the fire.
Manufacturers still produce fittings meeting a wide range of thread specifications. However, they may not have a supply of fittings with less common threads on hand. For some thread types, like the New York Fire Department thread, the demand is consistent enough for manufacturers to keep a supply readily available. But because other municipalities' thread sizes may be less sought after, manufacturers often make them only when ordered, resulting in longer wait times for consumers.
Variations in thread sizing and standards even trickle down to building managers and owners. Without knowing or understanding sizing or standards, many individuals in charge of facility maintenance may unknowingly purchase fire department connection plugs, fire hose couplings, or adapters with the wrong thread size.
What solutions are available today for fire hose and fire department connection thread?
Today's market offers numerous solutions to solve thread incompatibilities for FDCs and fire hose.
QRFS carries a wide range of fire hose adapters designed to join fire hose, fire hydrants, and fire department connections with incompatible thread standards. Our stock of 1 1/2″ and 2 1/2″ brass adapters feature NST, NPSH, and NPT-threaded fittings in configurations including Male x Male, Female x Male, and Female x Female.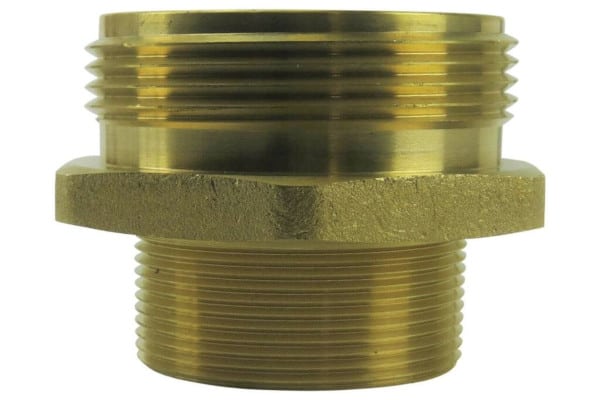 QRFS has a wide variety of brass nipples, reducers, swivels, and standard adapters available now, and access to a full range of aluminum adapters in almost any size. More often than not, we source your jurisdiction's unique thread standard.
If you need a cap or plug for your FDC but can't quite identify your fire department connection thread, consider purchasing an Adjust-a-Plug.  This universal plug features two adjustable metal plates that allow it to mate with a 2 1/2″ coupling with any kind of thread. The front metal bolt permits the user to lock it in place on the FDC after the proper fit is achieved.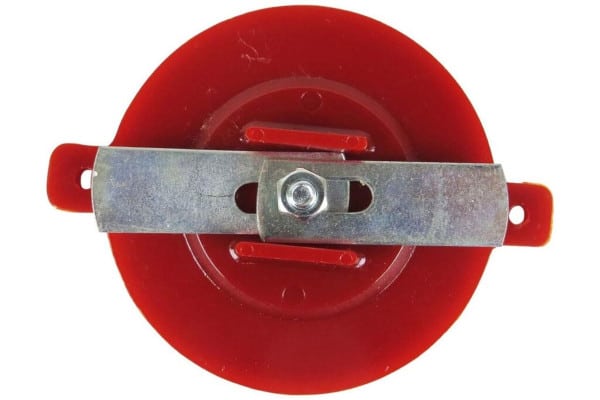 Take a look at our supply of fire department connections, plugs and caps, fire hose, and fire hose adapters.
Questions about this article or your own fire protection threads? Call us at +1 (888) 361-6662 or email support@qrfs.com.
This blog was originally posted by Jason Hugo and Anna Hartenbach at blog.qrfs.com on November 9, 2017, and updated on October 21, 2022. Check us out at Facebook.com/QuickResponseFireSupply or on Twitter @QuickResponseFS.