Many Kidde extinguisher models with plastic handles and push-button activation failed to deploy correctly
Kidde, one of the world's most popular manufacturers of life safety equipment, recalled nearly 40 million fire extinguishers recently. Likely you've seen one. The recall impacts extinguishers sold as far back as the 1970s. The Kidde recall is an example of the worst possible outcome when using a fire extinguisher: failure to operate.
What led to the recall? In this article, we'll sort out the details and give you the tools necessary to identify if your extinguisher was recalled and how to get it replaced. We'll discuss the different parts of an extinguisher that could separate a life-saving device from being a potential liability. Finally, we'll describe what to look for when buying extinguisher replacements.
Ready to throw your recalled extinguisher out and buy a trusted alternative? Check out our selection of Buckeye fire extinguishers.
Which Kidde fire extinguishers were recalled?
If you've shopped for a fire extinguisher lately, you may have stumbled upon a few pages just like this:

Before the Consumer Product Safety Commission (CSPC) and other government agencies issued their November recall, anyone could purchase one of Kidde's extinguishers by visiting pages like the one above. The recall, detailed at the CSPC's website, includes more than 130 models of Kidde extinguishers manufactured as early as 1973. These disposable extinguishers were sold through Amazon, at Walmart and The Home Depot, and at major department stores, including Sears, Menards, and Montgomery Ward. Even if you've never purchased a fire extinguisher before, you may have one of these models, as they are commonly included with different trucks, RVs, and boats.
It's a long list of defective Kidde models; so, what's the easiest way to tell if your extinguisher is part of this recall? Models with a curved plastic handle are NOT part of the recall, and neither are Kidde's metal-handle extinguishers. The recall also doesn't include Kidde Professional or Badger-branded extinguishers. For reasons we'll talk about later, we'd recommend that you give some thought to replacing the non-recalled plastic-handle models, regardless. Bottom line: if your extinguisher looks like the one below (plastic handle), it is NOT recalled.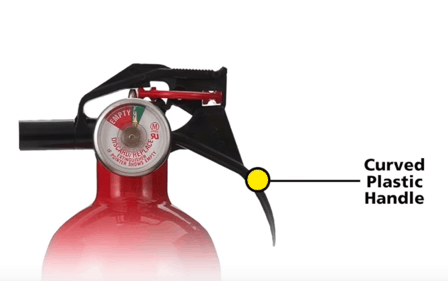 For the most part, recalled extinguishers have either a straight plastic handle or a push-button design. The table below can be used to identify different kinds of extinguishers covered by this recall according to their handles, pull-pins, and lever/trigger design.
If your extinguisher matches any below, repair or replace:
Type
Cylinder Color
Handle Color
Characteristics
Images
Plastic-Handle
Red, white, or silver
Black

Straight plastic handle and plastic lever
Vertically-oriented pull-pin
Has a gauge

Push-Button
Red or white
Red or black

Push-button design
T-shaped pull-pin
Loop handle
No gauge
How to replace a recalled Kidde fire extinguisher
Extinguishers with characteristics listed above or part of the full recall list should be considered defective and, as such, replaced as soon as possible.
You can request a free replacement from Kidde by calling their recall hotline at 855-271-0773 (Monday through Friday 8:30-5:00 EST or Saturday/Sunday from 9:00-3:00).
Before you call, inspect the unit's label and locate both the serial number and the first model number listed. For plastic-handle models manufactured in 2007 or after, you'll also need the date code that's printed near the bottom of the cylinder. You can view a handy, full-sized identification guide here.
A full list of impacted Kidde extinguisher models.
Why were Kidde extinguishers recalled?
To date, the Consumer Product Safety Commission has received nearly 400 reports of malfunctions leading to injury and property damage. In one instance, a victim of a car accident died when a defective extinguisher prevented first responders from putting out the fire.
According to a Safety Recall Report submitted to the National Highway Traffic Safety Administration, Kidde's push-button Pindicator extinguishers, ironically sold for their ease of use, may not activate without excessive force. Plastic-handle extinguishers may also fail to activate without excessive force and may clog during use, particularly when the user depresses the lever for less than one second. This flaw poses a risk to first-time users, who are likely to stop using the extinguisher when flames are no longer visible, allowing the fire to reignite. Reports also indicate that the plastic nozzles on these models may be launched from the extinguisher with projectile force.
Why don't the valves on recalled Kidde fire extinguishers work?
Kidde's extinguishers are very popular. In April 2017, America's Test Kitchen listed the now-recalled model FA110G as their #1 choice "in terms of kitchen safety." So, what's the problem?
The millions of possibly defective extinguishers have one main feature in common: non-metal triggers. And for each of the more than 140 models impacted, Kidde's solution is to replace both the black-plastic valve assemblies and push-button type extinguishers with a substitute that has a metal disposable valve.
To understand why extinguishers with non-metal valve assemblies might need to be replaced, we need to know a little bit about portable fire extinguishers.
Each extinguisher contains a powder, gas, or other extinguishing agents. A well-made and well-maintained extinguisher stores that agent safely inside the body, or cylinder, of the extinguisher. When it's time to release that agent to put out a fire, the locking mechanism (usually a pin) is removed.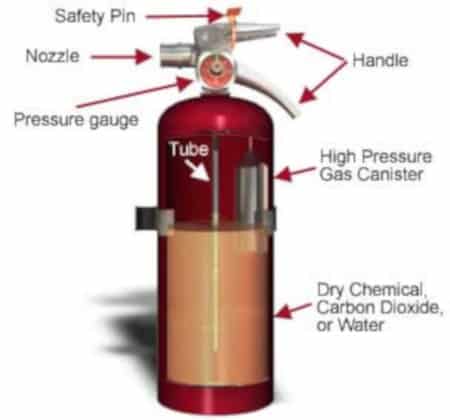 Now, the contents of the extinguisher can be released. This is where the design of your fire extinguisher really starts to matter. Typically, a household fire extinguisher contains a dry chemical powder. While it's a powerful extinguishing agent for a variety of fires, it won't make much of a difference if it stays in the cylinder.
When the lever or trigger is activated, highly-pressurized gas expels the extinguishing agent from the cylinder. Stored-pressure models contain that agent and the pressurized gas together in the cylinder, as pictured above.
Pressing the trigger or discharge lever creates an opening that allows the pressurized agent to escape through the nozzle or tube. With the valve open and the contents pressurized, the compressed air forces the chemical through the siphon tube, out the nozzle and, with the right technique, to the source of the flames.
A fire extinguisher is a simple device, and while the handle and nozzle are very basic parts that might seem tempting to replace with a less sturdy material, they're critical. The incidents leading to the Kidde recall illustrate this point. With the contents of the extinguisher under high pressure, it's no surprise that a plastic nozzle might detach, injuring people nearby and causing the contents of the extinguisher to discharge in a less effective manner.
An extinguisher's trigger, while simple, needs to be sturdy enough to push down on the components that keep the valve closed while the extinguisher isn't in use. If the lever bends, breaks, or slips during this process, opening the valve may become difficult or impossible, rendering the extinguisher's contents useless. As we mentioned earlier, while not all extinguishers with plastic handles require replacement, given that timeliness and precision are required of an extinguisher, are you comfortable relying on a cheap plastic handle? We're not, which explains why we only carry metal handle extinguishers.
What are good fire extinguisher parts?
You'd be upset if you spent a thousand dollars on a smartphone only to break it because you didn't spend $30 on a protective case. And that's only a phone. When a device is clearly positioned between life and death – as a fire extinguisher is – it's critical that it's up to the task. If any single part fails, you might as well have never bought it. Residential fire loss estimates suggest that more than 350,000 fires result in over $6 billion in property damage each year. A reliable extinguisher helps keep that risk in check.
When buying a fire extinguisher, skip over all the disposable extinguishers and go for a rechargeable extinguisher with durable metal parts. An extinguisher with a sturdy, noncorrosive metal handle, lever, and nozzle is one with parts that won't bend or break when you need them. For fire professionals, metal handles are a basic litmus test of an extinguisher's quality. But take it a step further. Make sure it has an easy to read dial, a durable pin, and enough extinguishant – usually described in pounds, as in a 5 lb. extinguisher – to tackle the fire you may have to wrestle.
If you're just beginning to learn about fire extinguishers, our Ultimate Guide to Fire Extinguisher Types can help you understand the basics of choosing, using, and maintaining fire extinguishers.
While it's tempting to select the most affordable extinguisher that meets your basic needs, it's a good idea to consider the manufacturer's reputation and the quality of the product, above all else. Your fire extinguisher is an investment that can save your life.
Invest in peace of mind with Buckeye extinguishers
QRFS is a proud supplier of Buckeye-brand fire extinguishers, a trustworthy, affordable extinguisher for your home, office, or vehicle.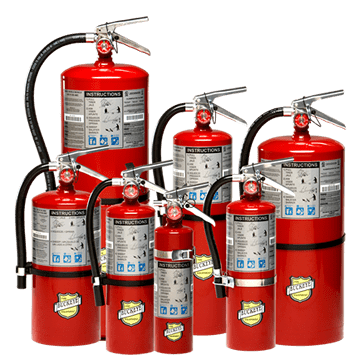 Buckeye extinguishers are made in the U.S.A. and built with sturdy, corrosion-resistant anodized metal or brass valve assemblies. All of Buckeye's extinguisher parts are machined and assembled in-house. We proudly offer multi-purpose ABC dry chemical and CO2 extinguishers in a variety of sizes online with an even larger selection available upon request.
All extinguishers available on QRFS.com are UL/ULC listed, compliant with Department of Transportation standards, and approved by the US Coast Guard.
When you make a purchase with QRFS you benefit from our competitive pricing structure and quality customer service. We keep fire extinguishers affordable by absorbing the Hazmat shipping charges and each order includes a wall bracket!
Questions? Don't hesitate to call us at 888-361-6662 or email us at support@qrfs.com.
A fire extinguisher is unlike most other purchases you'll make: it's an investment designed to save your life one random day in the future. Invest wisely.
This blog was originally posted on blog.qrfs.com on November 30, 2017. If you found this article informative, please share it. Then come check us out at Facebook or on Twitter.