Storz connections enable firefighters to connect to standpipe and sprinkler systems faster
The time spent connecting a fire hose to a building's sprinkler or standpipe system can allow a fire to increase in size. And while smaller, threaded fittings have long been the standard in the fire protection industry, the Storz connection — a larger threadless hose coupling — is growing in popularity and can significantly reduce connection times, quickly delivering large volumes of water when it's needed most.
In this article, QRFS explains what Storz connections do and how Storz fire department connections can provide unique protection, especially for low-rise, high-volume buildings.
Want to shop for a Storz fire department connection now? Browse Storz FDCs and Storz FDC caps.
The advantages of Storz connections
A Storz connection — found on fire department connection inlets, fire hydrants, and fire hoses — is a type of hose coupling. While most fire hoses in the United States feature couplings with National Standard Thread (NST) that screws together, Storz connections are often used with large-diameter hoses and offer certain benefits over traditional couplings.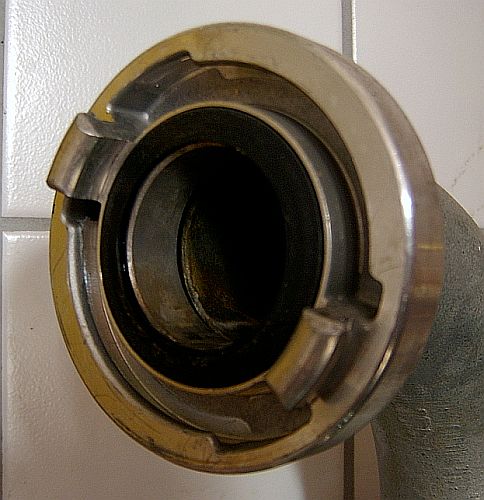 Storz fittings connect quickly. While threaded swivels and hose couplings require several turns to fully connect, Storz connections are simply pressed together and secured with a quarter-turn. Cities like Burnsville, Minnesota have undertaken six-figure efforts to replace their fire hydrants' thread connections with Storz couplings largely because this quick-connect feature reduces the amount of time firefighters spend connecting hose fittings.
Storz connections are known as universal, sexless, or genderless fittings. Couplings or swivels with NST threads (or nearly any of the other unique fire hose thread standards now in use) are gendered: each fitting has either male or female threads. Male-threaded fittings connect only to female-threaded fittings and vice versa. Gendered fittings can slow firefighting operations. For example, if a firefighter lays the male-threaded end of a fire hose at a male-threaded hydrant, the hose will need to be laid again or specialized adapters must be used.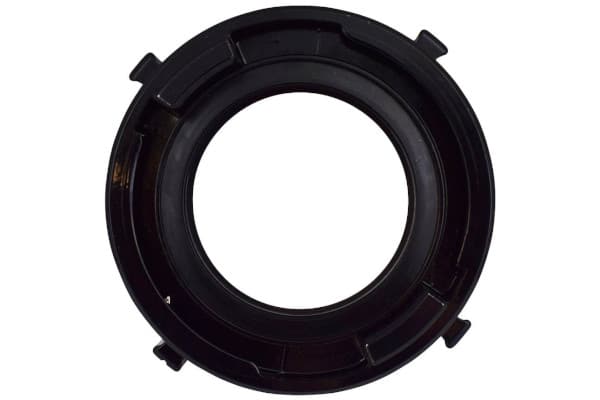 Storz connections, however, don't have this problem. Each fitting features hooks and slots designed to connect any other Storz coupling of the same size. In short, Storz connections make connecting hoses simple.
Storz fire department connections help firefighters quickly supply needed water to fire sprinkler and standpipe systems in low-rise, high-volume buildings
A fire department connection, or FDC, allows firefighters to connect their hoses to a fire sprinkler or standpipe system. This is essential in some cases: The only source of water to fight fires via a building's standpipe is supplied by the fire department through the FDC in manual-dry standpipe systems.
In contrast, FDCs aren't relied on meet the entire demand of a fire sprinkler system. Instead, they supplement existing water supplies. When natural disasters or piping failures strike — or when a fire sprinkler or standpipe's water supply has been exhausted or can't keep up with demand — supplemental water pumped through the FDC picks up the slack.
Need a little more background on FDCs? Click here to learn more about the role and components of fire department connections.
In situations where a fire sprinkler or standpipe system needs a lot of water, a fast, large-diameter hose with Storz connections performs exceptionally well. Storz FDCs with 4-inch or 5-inch couplings use a large-diameter hose (LDH) to maximize the volume delivered through a single opening. Volumes like this are important in sprawling buildings with high concentrations of flammable or hazardous materials, such as warehouses, manufacturing spaces, and other industrial buildings where a fire is likely to spread quickly.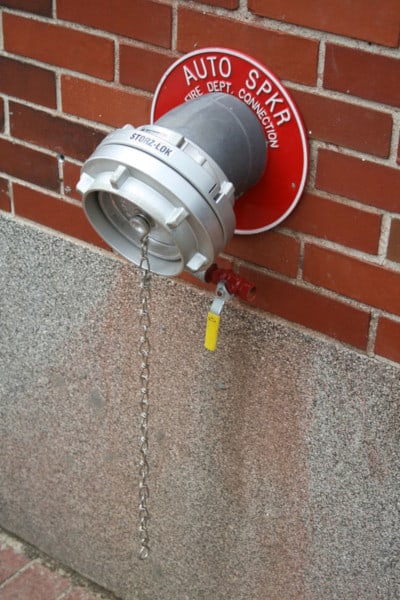 However, Storz FDCs work best for low-rise buildings. To some extent, large-diameter hose trades high volume for lower pressure, making them less effective at pumping water to the top of a very tall building. Standard FDCs with one or more smaller inlets use smaller hoses designed to supply water at high pressures. Multiple highly-pressurized hoses are somewhat better-suited to pumping water to the upper stories of a high-rise.
Whether or not a building uses a threadless fire department connection is up to the authority having jurisdiction
Cities in Texas, North Carolina, and elsewhere make use of Storz FDCs, and ultimately, local fire departments and codes have the final say on the use of Storz fire department connections. The National Fire Protection Association (NFPA), which publishes model codes and standards for fire sprinkler and standpipe systems, explicitly states that the use of FDCs with threadless couplings and large-diameter hoses must be approved by the authority having jurisdiction (AHJ).
From the 2022 edition of NFPA 13: Standard for the Installation of Sprinkler Systems

16.12 Fire Department Connections.

16.12.3.1.2 The use of threadless couplings shall be permitted where required by the authority having jurisdiction and where listed for such use.

From the 2019 edition of NFPA 14: Standard for the Installation of Standpipe and Hose Systems

4.8 Fire Department Connections.

4.8.2.2 The use of threadless couplings shall be permitted where required by the AHJ and where listed for such use.

7.12* Fire Department Connections.

7.12.3.1 An approved large diameter hose connection of a size to accommodate the required flow shall be permitted.
The reason is simple: firefighters can't supply a sprinkler or standpipe system with water if they can't connect their hoses to it. Mismatches between firefighters' hose connections and other fire equipment have contributed to some of the largest fires in history. If you're purchasing a new FDC, make sure the couplings you choose comply with the standards established by the fire authorities serving your building.
Some straight and 30-degree Storz adapters connect directly to system piping for use as Storz fire department connections
Although they lack the large body and the swivels found on other FDCs, Storz fire department connections are fully-functioning FDCs. They're sometimes called Storz adapters, but Storz fire department connections aren't designed to "adapt" an existing FDC's threads to a Storz fire hose. Instead, they connect directly to the grooved or threaded pipes supplying a fire sprinkler or standpipe system.
To illustrate, let's look at two types of Storz FDCs made by Fyrelane USA, a Texas-based manufacturer of fire protection products and fittings with nearly 40 years of experience developing products for water-based systems. These aluminum adapters feature a 4-inch or 5-inch Storz inlet for large diameter hose and an outlet with either 4-inch or 6-inch female National Pipe Thread (NPT), a tapered pipe thread standard used in fire protection systems throughout the United States.
Fyrelane's straight Storz adapters are among the most compact FDC bodies available, featuring only a Storz inlet and an NPT outlet. They can be mounted against a wall for use as a flush FDC or be connected to a 90-degree elbow for use as a freestanding FDC.
Fyrelane's 30-degree adapters, in 5" x 4" size and 5" x 6" size, function as an exposed FDC. They also feature a coated aluminum Storz connection, but with a sand-casted, angled aluminum elbow that allows a fire hose to bend gradually to the ground to prevent kinking.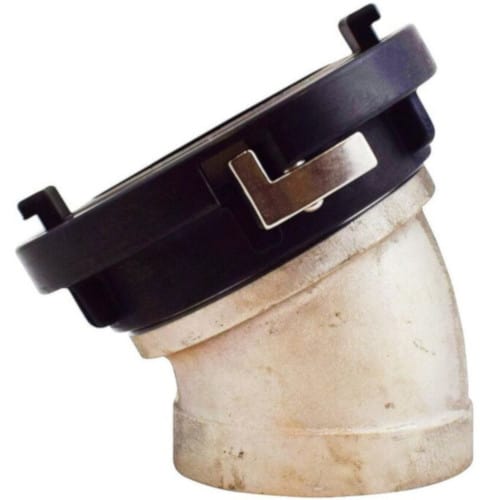 Storz fire department connections from Fyrelane are in stock at QRFS
QRFS carries a stock of Fyrelane's 30-degree and straight Storz adapters, including 4-inch Storz x 4-inch NPT, 5-inch Storz x 4-inch NPT, and 5-inch Storz x 6-inch NPT. These Storz FDCs are made with an aluminum alloy and specially heat-treated to increase their strength by as much as 30 percent over standard alloys. The exterior of these forged aluminum fittings is given a military-grade, hard-anodized coating designed to be denser, thicker, and more abrasion-resistant than other forms of anodization.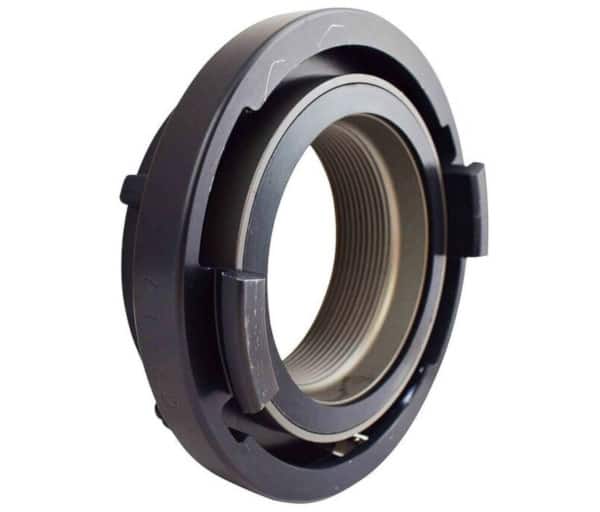 If you're purchasing a new FDC, keep in mind that every NFPA-compliant fire department connection — Storz or not — needs a protective cap or plug. With polished steel chains and aircraft-grade aluminum, QRFS's stock of Storz blind caps from Fyrelane can provide your FDCs with protection against wear, abuse, and sediment that can get into the pipe.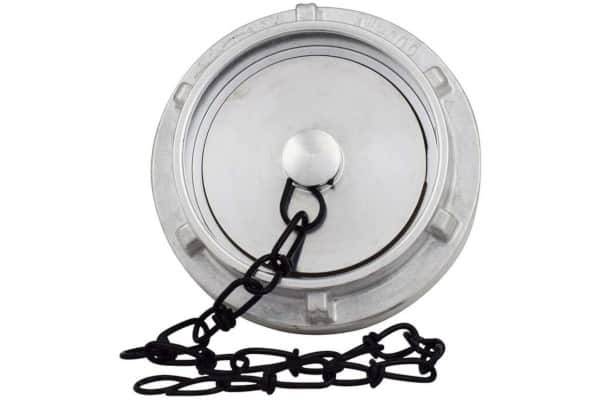 Questions about Storz adapters or Storz FDCs? Call QRFS at +1 (888) 361-6662 or email us at support@qrfs.com.