Economic factors and new certifications have allowed plastic piping to overtake the home fire sprinkler market, but metal still has a place in specific applications
According to the 2011 American Housing Survey, nearly 5.8 million American housing units—that is, roughly 5% of occupied living spaces—had a fire sprinkler system. Maryland, California, and the District of Columbia all require home fire sprinkler systems in new construction, along with various cities in Arizona, Delaware, and elsewhere.
Fire sprinkler contractors looking to make a mark in this new market have a variety of piping materials at their disposal, including tried-and-true metallic pipes, like steel and copper, and more flexible and affordable plastic alternatives, like CPVC and PEX. In this article, we take a detailed look at the rise of PEX and CPVC sprinkler pipe, estimate the popularity of piping materials in home fire sprinkler systems, and explain how some factors—namely, cost—have left copper and steel with a much smaller role.
Black steel pipe and copper see increasing competition from plastic fire sprinkler pipes
Schedule 40 black steel pipe dominated the market for sprinkler piping up until the mid-1970s. Research and debate within the National Fire Protection Association (NFPA)—an organization responsible for developing fire codes adopted at the state local level—led to an acceptance of thinner pipes in many fire sprinkler systems. Along with these changing requirements came the rise of types K, L, and M copper, which offered lighter weights and increased flexibility over steel pipes.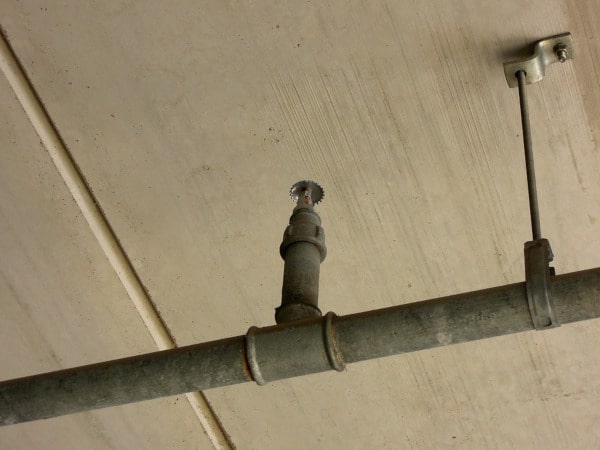 Chlorinated polyvinyl chloride, or CPVC, first saw use in fire sprinkler systems in the 1980s. The compounds used to make CPVC pipe and fittings vary, with some developed specifically for the fire sprinkler market. But all CPVC producers take strong, moldable PVC and greatly increase its resistance to high temperatures through a process known as chlorination. Today's fire sprinkler contractors have access to a range of brand-name products designed specifically for sprinkler system installation, including TFI, BlazeMaster, FlameGuard, and FireLock CPVC. The video below demonstrates how fire changes the composition of CPVC, creating a thermal barrier that slows the growth of fire:
Cross-linked polyethylene (PEX) is a material formed by joining molecules of polyethylene—a plastic used in applications from plastic wrap to bulletproof vests—in a process called crosslinking. Crosslinking increases the temperature resistance of polyethylene and reduces its vulnerability to cracks, abrasion, and chemicals. As a result, PEX materials can be rated for use in temperatures up to 200F, making many PEX-based pipes suitable for use in home fire sprinkler systems. Installers can choose from NIBCO, IPEX, Uponor, and a host of other manufacturers for installations in home fire sprinkler systems.
The limited use of metal pipe continues while manufacturers of PEX and CPVC fire sprinkler pipe compete for control over the market
The rise of specialty thermoplastics has been a boon to plumbers and sprinkler system installers alike, who now enjoy access to a wider range of corrosion-resistant, lightweight, and relatively inexpensive alternatives to metal pipes.
We've taken a look at PEX and CPVC in home fire sprinkler systems before. Both materials last longer and install more easily than metal pipes. However, metal fire sprinkler pipes provide greater levels of flame resistance. As a result, the use of metal in home fire sprinkler systems, while limited, continues in some unfinished basements, garages, and other exposed areas.
Proponents of PEX stress its greater flexibility, connection strength, and resistance to low temperatures when compared with CPVC. What may be the biggest selling point is cost: PEX's flexibility may reduce the number of fittings required, reducing the labor involved in installing PEX fire sprinkler pipe by 65 percent compared to some types of CPVC systems.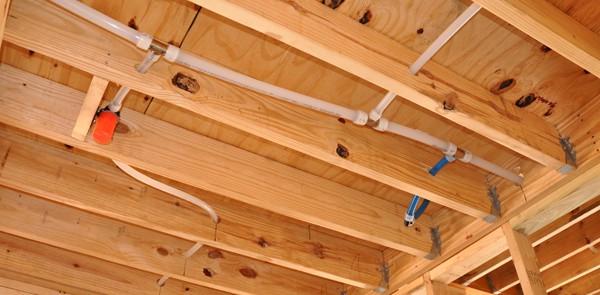 But labor estimates—along with the costs of the raw materials themselves—are a subject of contention between the leading producers of PEX and CPVC fire sprinkler pipe. And because there are two starkly different ways to install a home fire sprinkler system, these comparisons should be treated with care.
Home fire sprinkler systems fall into one of two categories: multipurpose and standalone. Multipurpose fire sprinkler systems are integrated with a home's plumbing system and draw their supply of water from the same network of pipes supplying other fixtures throughout the home. Standalone systems don't connect to a home plumbing system. Instead, the household water main or a dedicated water tank provides the water supply.
As we'll detail below, while CPVC appears to be competitive with PEX for both system types, CPVC fire sprinkler pipe may provide the biggest savings to contractors when it's installed as a part of a standalone system. Some of PEX's expected savings are delivered only when a plumber installs both the fire protection system and the plumbing—a benefit that can't be reaped in jurisdictions requiring licensed fire sprinkler contractors to perform installations.
Numbers from one widely-cited study suggest that CPVC fire sprinkler pipe leads by a wide margin, but the implications are limited
Various sources claim that PEX is the most-commonly installed form of piping in potable water systems today. If true, these claims represent a major shift in the plumbing industry, which far and away favored copper even as late as 2001. But it's unclear if PEX's popularity in plumbing systems has made PEX fire sprinkler pipe the material of choice for home fire sprinkler contractors.
One of the most frequently cited studies on home fire sprinkler systems is 2013's "Home Fire Sprinkler Cost Assessment." Commissioned by the Fire Protection Research Foundation, this report updates a 2008 study designed to understand how ordinances requiring home fire sprinkler systems impact system cost. The study focused on 17 North American communities—16 in the United States and one in Canada—with steady rates of homebuilding activity.
The 51 homes surveyed in the study used either plastic or a combination of plastic and metal piping in home fire sprinkler systems. As expected, plastic materials saw widespread use: nearly 70% of homes used exclusively CPVC or PEX, and 100% of homes used plastic pipe for part of the installation. But PEX has only a fraction of the market share: 62% of the homes surveyed used CPVC fire sprinkler pipe, 32% used a combination of CPVC and metal pipe, and only 6% used PEX fire sprinkler pipe.
None of these systems featured only metal piping. However, this number was noticeably higher in past years: three of the thirty houses surveyed in the previous edition of the report relied on copper piping. Those three metal systems were installed in a single community—Fort Collins, Colorado—by a single contractor.
There's a reason to take these numbers with a large grain of salt. These studies set out to measure one thing: how state and local laws impact the cost of home fire sprinkler systems. Both studies try to draw these conclusions from a very small sample of homes. Taking them both as broadly true would lead to the strange conclusion that ten percent of homes in 2008 used all-metal pipe—and that none use them today.
But one thing holds true for both studies: PEX and CPVC fire sprinkler pipe have found widespread use in home fire sprinkler systems.
As CPVC and PEX fire sprinkler pipe gain approval in more applications, metal pipe may be displaced completely
The 2008 "Home Fire Sprinkler Cost Assessment" found that installation costs were significantly higher for the all-copper systems mentioned earlier. Copper-piped systems cost $3.81 per square foot, while plastic-metal hybrids cost $1.44 per square foot (and all-plastic systems cost $1.30). A footnote from that survey suggests that even die-hard installers of metallic pipe are having second thoughts:
The sprinkler contractor has traditionally used only copper for sprinkler systems, believing it to be superior to plastic both in performance and longevity. The contractor is considering switching to plastic on their larger projects to remain competitive in the local market.
If these results hold for home fire sprinkler systems throughout the United States, then metallic piping maintains its foothold largely because plastic pipe couldn't deliver on the flame-resistance required in certain spaces.
But manufacturers of plastic pipe have taken note. The Connecticut Fire Sprinkler Coalition notes that CPVC has now been listed for exposed use in some unfinished basements, obviating the need to transition to metal pipe. Blazemaster CPVC—a widely-known CPVC brand from the Lubrizol Corporation—may now be installed exposed in many unfinished ceilings and even combustible concealed spaces like attics.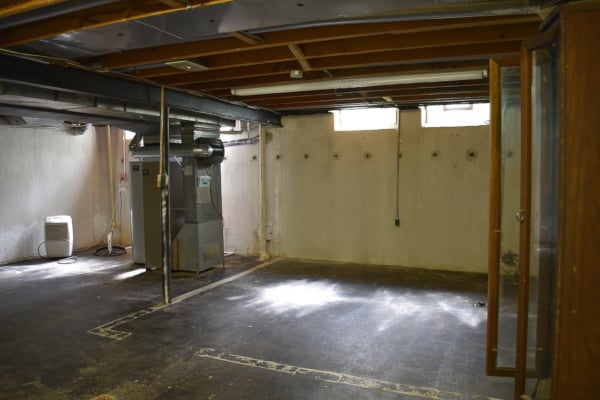 However, it's PEX fire sprinkler pipe that may see the greatest growth in the years to come. Like CPVC, some forms of PEX now have limited listings for exposed installation in accordance with UL 1821, the standard governing the manufacturing of thermoplastic sprinkler pipe. But prior to 2013, PEX's use was restricted to multipurpose fire sprinkler systems. Changes to NFPA 13D: Standard for the Installation of Sprinkler Systems in One- and Two-Family Dwellings and Manufactured Homes—a model fire code adopted in jurisdictions throughout the United States—allow PEX to be installed in both standalone and multipurpose fire sprinkler systems so long as the static pressure from the water supply is 80 PSI or less.
One other reliable study suggests that house size and design have a large impact on whether PEX or CPVC fire sprinkler pipe proves cheapest
In a 2006 study, the National Institute of Standards and Technology (NIST) estimated the total costs of residential fire sprinkler systems designed in compliance with NFPA 13D. The focus of their analysis was the cost of standalone and multipurpose fire sprinkler systems as constructed in three homes:
A two-story colonial with a basement (3,338 square feet)
A three-story townhouse (2,257 square feet)
A single-story ranch (1,171 square feet)
Using data from fire sprinkler system manufacturers and installers, NIST estimated the costs of design, installation (in new construction), and maintenance for PEX and CPVC systems. When these systems were installed without a backflow preventer, NIST's study found that the proposed standalone CPVC systems cost less in the largest homes—the colonial and the townhouse—but that multipurpose PEX systems cost the least in the small ranch-style house.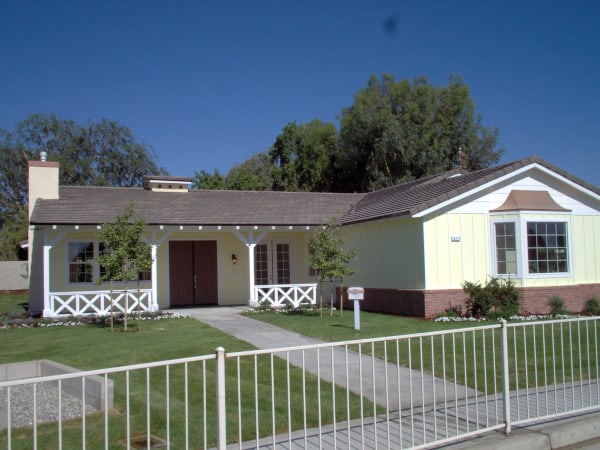 The multipurpose PEX system remains the cheapest for the ranch home even when a backflow preventer is added. However, the two larger homes could go either way: standalone CPVC systems proved cheapest when backflow inspection costs are low, homeowner tenure short, and the discount rate—the homeowner's preference for money now versus money later—is high. The multipurpose PEX system proved cheaper when inspection costs were higher, homeowner tenure longer, and discount rates low.
Notably, backflow preventers aren't required by NFPA 13D. However, some jurisdictions require them due to concerns that water in sprinkler pipes may contaminate local water supplies. If NIST's study were conducted again today, new developments in fire protection technology would likely change these figures. For example, many of today's installers can eliminate the need for a backflow preventer by connecting the sprinkler system to a toilet tank, allowing fresh water to be drawn into the fire sprinkler system with each flush.
QRFS carries the equipment needed to finish home fire sprinkler systems on time and under budget
If you're building a home fire sprinkler system, take a look at the wide selection of components available at QRFS. We carry brand-name residential fire sprinklers from Senju, Tyco, Victaulic, and Viking—all UL-listed and FM-approved for use in NFPA 13D home fire sprinkler systems—in a wide variety of finishes. Choose from white, chrome, brass, black, and dark-brown pendent and horizontal sidewall sprinklers, along with domed and flush concealed sprinkler heads.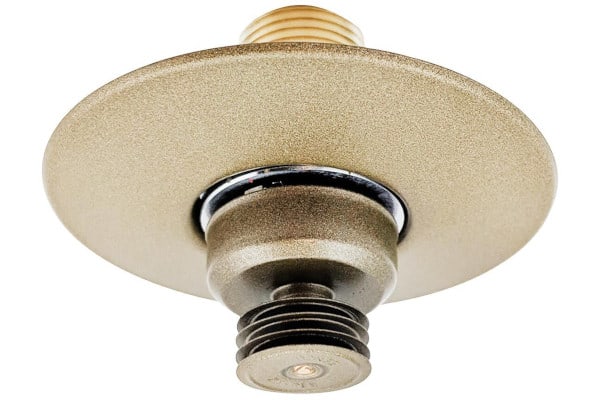 QRFS also distributes CPVC fittings from Thermafit Industries (TFI), a California-based manufacturer of plumbing and fire supplies. Their selection of American-made CPVC elbows, caps, couplings, bushings, and tees is pressure-rated for 175 PSI at 150 degrees Fahrenheit and backed by their ten-year limited warranty.
To order or learn more about our CPVC fittings, call us at +1 (888) 361-6662 or email support@qrfs.com.
This blog was originally posted at blog.qrfs.com. If this article helped you understand the evolution of pipes and fittings in home fire sprinkler systems, check us out at Facebook.com/QuickResponseFireSupply or on Twitter @QuickResponseFS.