Knowledge of local laws and a few facts about fire protection (along with judicious use of online resources) can help consumers select a reputable and qualified business
The decision to install a fire sprinkler system is generally made after significant research, preparation, and planning. But ultimately, how well these systems operate — and how long they last — depends largely on the quality of the fire protection company or fire sprinkler contractor hired to install or maintain them.
Finding highly-skilled and legally qualified installation contractors is crucial. And if it's a commercial system, it's critical to find someone who can perform the more complex inspection, testing, and maintenance (ITM) on the timelines today's fire codes require.
So, what should consumers look for when selecting a fire sprinkler contractor or company? What are the relevant questions to ask? In this article, we discuss resources to help would-be buyers vet fire sprinkler contractors and fire protection companies. We consider how online reviews, personal references, criminal histories, and even industry-recognized certifications can simplify an otherwise daunting task.
Need some help locating a credible fire sprinkler contractor or fire protection company? Contact us at support@qrfs.com for assistance with your search.
Public records and other readily available sources can help consumers thin the herd of fire protection contractors and fire sprinkler companies
Today, search engines, state-run databases, and other easy-to-access data points have made researching a potential fire sprinkler installer or fire protection company easier than ever.
We'll start with some guidelines that apply when hiring any contractor — not just fire protection companies. Jacksonville, Florida's First Coast News boils down the contractor vetting process to a few simple steps:
Check that they're licensed with local authorities for the sort of work they perform. Often, these licenses are issued by the state's fire marshal or contractor licensing authority.
Visit your Secretary of State's website (or other authority) to determine if their business is registered and for how long.
Check for complaints. State and local governments may keep a registry of contractors who engage in unethical or criminal behavior. The Better Business Bureau and other consumer advocacy groups may provide more information.
A company's history can tell a lot about how they operate. And depending on the scale of the project, consumers may want to seek additional information. Citations with the Occupational Safety and Health Administration (OSHA) may indicate the contractor permits or encourages unsafe behavior — troubles which can add extra expenses or delays to a project. Likewise, citations with the Environmental Protection Agency (EPA) can, if nothing else, prompt would-be clients to ask some tough questions of prospective contractors. The same goes for any past or pending lawsuits or criminal charges.
As of September 2019, some of these resources are available at:
Many, if not all, of these documents are available as public records. But even starting with the review websites can generally provide a peek behind the curtain. Has online feedback been generally bad, or mostly good? Reviews are a useful— but ultimately limited — resource. When a company has only a handful of reviews, it's not uncommon for them to be jam-packed only with ax-to-grind reviews or positive comments solicited by the company.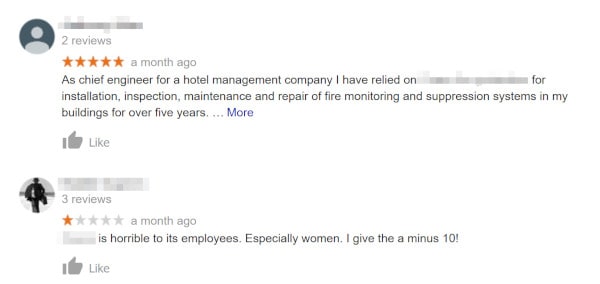 And not all review sites are equally credible: some may have no form of vetting for user comments, while others allow companies to remove negative reviews for a price. Still, there's a glut of online resources available. And many specialize in contractor reviews, including:
Uncovering any sort of information, good or bad, can help consumers decide if the company is one they'd like to entrust with their business.
References can provide the clearest window into a fire protection company's performance and business practices
Regardless of what's available on the internet, it's always a good idea to request references from the contractor. Checking references might seem a bit old-fashioned (or downright strange). But when it comes to large or costly projects, it's important that consumers vet a fire protection company just as an employer would a potential employee.
Angie's List, a paid business directory and review platform, also recommends asking references about:
The kind of work the contractor performed
Whether or not the contractor provided important details, including timelines and the qualifications of the employees performing the work
Timeliness
The contractor's credentials
Their experiences working with the contractor's crew
If the job was completed at or under budget
How they'd rate the quality of the work
One final question may provide the best indicator of the contractor's overall performance: "would you hire them again?" All of these questions and more can put information discovered online into a larger, and more credible, context.
Each fire protection company must abide by state and local laws
Fire protection companies' rules and regulations — from licensing to the work performed — vary from state to state and even between cities. To illustrate, we'll take a look at a few examples (current as of September 2019). Take, for instance, the rules for fire protection contractors in Ohio:
All companies and individuals involved in the service or maintenance of fire sprinkler systems or other fire protection equipment must have a fire protection certification. That includes water lines, sprinkler systems, emergency lighting, smoke and fire detection, and other systems.
The State Fire Marshall does not require specific work experience or training for fire sprinkler contractors working with automatic sprinklers and standpipe systems. But they do require it for non-water extinguishing systems.
Each company must provide proof of liability/completion insurance of at least $50,000 with its application. A company certification must be renewed yearly and provide proof of insurance. Individuals also must renew their certificate once a year.
Compare that with California, where extensive work experience is needed for sprinkler fitters —  to say nothing of the people who supervise them or design sprinkler systems:
Any individual installing, repairing, or inspecting fire sprinkler systems must be certified or registered with the State Fire Marshal.
Sprinkler fitters must complete an apprenticeship program with 3,500 hours and three years of experience for multi-family residential work, or 7,000 hours and five years' experience for commercial work.
Individuals can register as a trainee for one year after they've been hired, but they must be accepted into an apprenticeship program and register as such or cease working within the field. All apprentices must enroll in an approved state or federal program.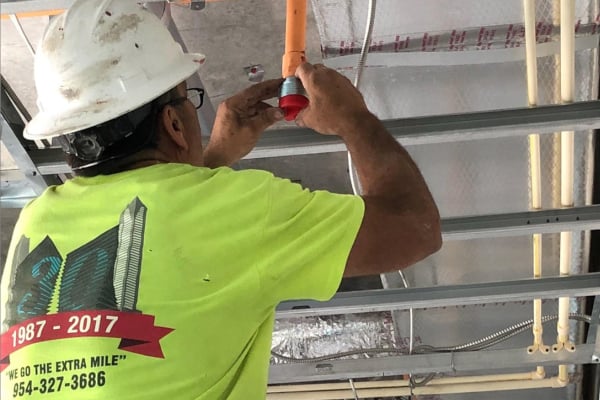 Florida also has stringent requirements for some working within the fire protection industry:
Contractors must apply for and receive a certificate to work on fire protection systems. The exams they pass are wide-ranging and encompass everything from design to repair and inspection.
These certificates require more than multiple-choice testing. Contractors must have years of work experience, "good moral character," and, in some instances, additional education or certification.
Florida has five levels of contractor certification. They're ranked in reverse order, with a Contractor V having only limited authority and a Contractor I authorized to perform nearly any service on any type of fire protection system.  A Contractor IV can install or service sprinkler systems in small residential buildings, while a Contractor II can work on water-based systems in any building.
NICET certifications can help consumers select a skilled fire sprinkler contractor
Building owners and facilities managers should familiarize themselves with these laws and perform a thorough background check on any fire protection contractor. With tens or even hundreds of thousands of dollars at stake, it's important to take charge and clearly define the scope of work expected of a contractor. Homeowners, on the other hand, may not have the experience or time needed for such rigorous vetting.
And clients for any project, large or small, will need at least a basic familiarity with the laws governing certification and business licensing. But this leaves one major question unresolved: does this contractor have the skill and experience the job requires?
That's where NICET certification comes into play. NICET, the National Institute for Certification in Engineering Technologies, is a non-profit organization that issues certifications for fire protection contractors and employees.
These certifications indicate that an individual has the experience needed to design, repair, modify, or maintain a fire sprinkler system. And they have some of the most rigorous requirements around: the highest levels of certification require at least ten years of work experience, successful project management, and demonstrable skills in communication, negotiation, and fire code implementation.

Many (but not all) states recognize NICET certification as a substitute for their own testing and vetting requirements. But the biggest benefit to consumers is that NICET certification is a nationally standardized way to holistically vet those who work for fire sprinkler contractors or fire protection companies. It's worthwhile to ask if the employees who will be working on-site are NICET-certified.
Having a list of questions ready can make discussions with fire protection companies more fruitful
Hiring a fire sprinkler or fire protection contractor can be a difficult process. Let's make this easier with a list of questions consumers should consider asking:
How many years has your company been in business?
What materials or brands do you regularly use when installing a fire sprinkler system? (Asking for specific models allows you to research the products, too.)
Are there any parts of the process you subcontract out?
Will there be a project manager assigned to the installation of my system?
How many of your staff have OSHA, first aid, and CPR certifications?
Do you perform a safety analysis before you begin the job? Do you have specific safety protocol or procedures that you follow? (You can even request to see a manual.)
How many engineers are on staff? What are their certifications?
Do you require staff to complete additional continuing education, training, regular in-services, conventions or seminars?
Do new staff members have an initial training period or mentorship?
Are you insured and bonded?
These questions can help consumers gain a better understanding of a company and how they operate. Further, the answers can offer insights about their values, their standards, and their dedication to quality and accuracy. When you set up a meeting to discuss your questions, it may be beneficial to visit their facility to see first-hand how they operate.
Call us at +1 (888) 361-6662 or email support@qrfs.com
We also invite you to browse our free publications on fire protection topics — many of which are written specifically for facility managers — and our wide-ranging catalog of fire protection equipment.
This blog was originally posted by Jason Hugo and Anna Hartenbach at blog.qrfs.com on October 5, 2017, and updated on September 13, 2019. If this article helped you find the right contractor, check us out at Facebook.com/QuickResponseFireSupply or on Twitter @QuickResponseFS.