Learn to look for the signs of fake fire sprinklers as well as legitimate models
Fire sprinklers are incredibly reliable. When they're thoroughly tested and properly installed, it's estimated that only 1 in 16 million sprinklers accidentally activates due to a manufacturing defect. But as hundreds of millions of heads are installed every year, the demand has given rise to the sale and use of "unlisted" and counterfeit fire sprinklers. These imitation products may appear acceptable for their intended use, but testing often reveals significant deficiencies that make them ineffective at controlling or suppressing a fire.
Few things are more dangerous than a product that creates a false sense of security when you expect protection in an emergency. This article provides tips on how to spot fakes vs. real sprinklers, as well as how to check for counterfeit advisories online.
If you need to purchase items for your NFPA 13, 13R, or 13D-compliant fire sprinkler system, be sure to browse our wide selection of commercial and residential fire sprinkler heads and system components.
The value of third-party fire sprinkler certification and listing
Two of the major fire sprinkler approval organizations—UL (formerly Underwriters Laboratories) and FM Global—play a key role in the advancement of sprinkler technology and the industry standards that determine installation and testing.
All FM Global-Approved sprinklers undergo rigorous testing to assess sprinkler strength, reliability, and performance in a wide range of difficult but realistic scenarios. The approval program includes an examination of the manufacturer's operations and quality control processes, supported by follow-up re-assessments and audits.
In order to become UL Listed, the representative sprinkler must be tested and meet the safety requirements set forth by rigorous UL standards. Sprinklers awarded the UL mark also take part in a follow-up program that continually tests the sprinklers to ensure the organization's performance criteria are being met.
UL and FM Global are always on the lookout for counterfeit fire sprinklers with fake labels on them. Both organizations publish notices when they discover fake fire sprinklers or those lacking appropriate product certification markings. In addition, the International Fire Sprinkler Association (IFSA) has reported on several geographic regions prone to the distribution and use of counterfeit sprinklers, specifically calling out a number of commercial installations in China.
For example, an IFSA safety alert outlined serious issues found in two sprinkler models, including one that failed to activate when it was exposed to the heat of a propane torch!
[T]esting on the two sprinkler models revealed the sprinklers did not demonstrate compliance with ANSI/UL 1767 in the majority of tests conducted. Some of the key safety concerns highlighted included:

O‐ring Water Seal: Both sprinkler models utilized an O‐ring type water seal. UL banned the use of O‐ring type water seals more than 10 years ago and many of the sprinklers that utilized these seals have been recalled due to concerns related to non‐operation as well as leakage in field installation environments.

Water deflector: Both sprinkler models were marked as ESFR sprinklers, but neither sprinkler was constructed with the type of water deflector that has demonstrated the ability to suppress a fire using ESFR sprinkler system design criteria as referenced in standard NFPA 13 ‐ Installation of Sprinkler Systems. In fact, one of the sprinklers was fitted with an extended coverage deflector design rather than an ESFR type deflector design intended for standard coverage areas.

Operating Characteristics: The link‐type heat responsive element used for one of the sprinkler models operated very slowly or did not operate at all when a propane torch was applied. For the sprinkler model fitted with a glass bulb heat responsive element, the strut lodged on the splitter of the sprinkle, which caused a substantial portion of the water to be discharged upward above the deflector rather than downward as needed to effectively attack a high challenge fire.
How to identify a fire sprinkler model and manufacturer
NFPA 13: Standard for the Installation of Sprinkler Systems outlines specific requirements that enable you to identify a given fire sprinkler model:
From the 2022 edition of NFPA 13

7.2.1* Sprinkler Identification. All sprinklers shall be permanently marked with one or two English uppercase alphabetic characters to identify the manufacturer, immediately followed by three or four numbers, to uniquely identify a sprinkler as to K-factor, deflector characteristic, pressure rating, and thermal sensitivity.
This alphanumeric sprinkler identification number (SIN) offers a way to determine the manufacturer and find operating specifications for the model. The SIN is typically located on the deflector and rarely stamped on the sprinkler's frame. Once you have this number, you can look up the make and model in a SIN Directory or just use a search engine. If a fire sprinkler is not stamped with a SIN, it was either manufactured prior to 2001 and/or it's not third-party-certified.
This method of ID only consistently works for sprinklers manufactured after December 31st, 2000, which is when NFPA required the marking on new models. Older sprinklers may have a hodgepodge of logos and lettering stamped on frames or deflector plates, requiring a bit more legwork to identify them. For an in-depth review of how to identify sprinkler heads—new or old—read our previous guides:
How to Replace an Obsolete Fire Sprinkler Head or Component
Which Fire Sprinkler Do I Have? And How Do I Replace It?
Stay on safe ground: Choose wisely when buying fire sprinklers
Advances in counterfeiting techniques can make it difficult to distinguish between an imitation and an authentic product until after the former fails. There are, however, some basic steps you can take to help you identify and avoid counterfeit sprinklers.
Procure directly from a trusted vendor. One of the best ways to steer clear of counterfeit sprinklers is to always purchase listed brands from reputable vendors. There is a greater counterfeit risk if you cannot track the product back to the original manufacturer. Reputable sprinkler manufacturers are expanding their distributor base to help resellers quickly and efficiently stock and supply authentic products for customers.
Conduct a detailed assessment. Counterfeiters have become increasingly sophisticated, using clever masking techniques and below-market prices to appeal to customers. To verify your sprinkler's authenticity, a careful evaluation is in order:

Look for a UL or FM certification mark. Be skeptical of inferior labels with dubious branding identifiers, incorrect or omitted date codes, and irrelevant markings not affixed by the original supplier.
Read the packaging and labels carefully. Packaging should identify the manufacturer and include contact information. All text should be grammatically correct and free of conflicting claims.
Be wary of bargain prices. Evaluate the price in relation to similar sprinklers of different vendors. If the number seems too good to be true, it probably is.
Use tools provided by the original manufacturer or certification organizations to verify the sprinkler's authenticity. Avoid products that don't display any brand affiliation.
Do your research. Both UL and FM Global provide regular updates and advisories about counterfeit and defective sprinklers and issue their findings in summary reports.

Check manufacturer identification. As detailed above, validate the Sprinkler Identification Number (SIN).
Report questionable products. If you believe a sprinkler to be fake, inform the brand owner right away. They will attempt to authenticate the suspicious product and take the appropriate steps to remove the potentially harmful sprinkler from the market. If you are unable to locate the brand contact details, don't let that deter you. Get in touch with the National Intellectual Property Rights (IPR) Center, which will distribute the details needed for an appropriate response.
Keep up to date on the latest counterfeit fire sprinkler advisories
Counterfeit advisories issued by testing agencies often include specific ways to spot a fake sprinkler, such as the one highlighted below from UL, which shows a counterfeit fire sprinkler bearing a fake UL Mark for the United States and Canada.
Though similar in appearance, the sprinkler identified in the image was not manufactured by Nanjing Fire Protection Technology Co Ltd, and the "Job"-branded thermal bulb was not manufactured by Job, GmbH. The fake fire sprinkler can be identified by 'NX' and 'C-I' marking on the wrench boss of the frame and may have model NX005 on the sprinkler deflector: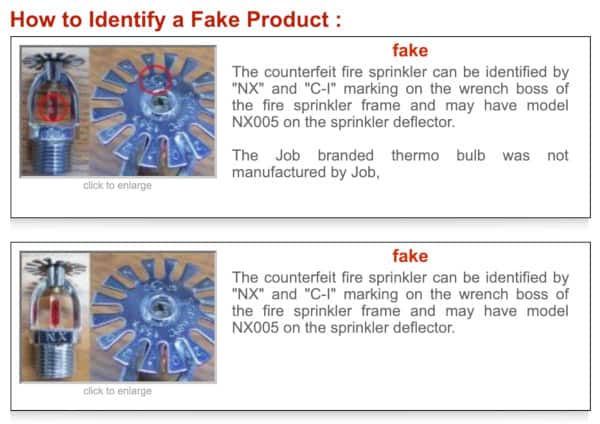 FM Global has also showcased a number of examples of counterfeit indicators: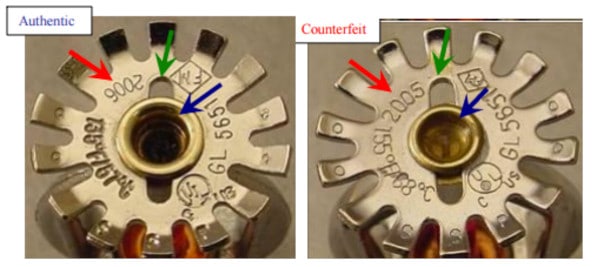 The comparison above shows the markings that appear on the authentic Globe GL 5651 deflector vs. the deflector markings of the counterfeit sprinkler. The most noticeable difference is the orientation of the stamping indicating the year of manufacture (pointed out by the red arrows). The bottoms of all text and numeric stampings (including the date) on authentic Globe sprinklers are oriented towards the outside edge of the deflector.
The blue arrows indicate differences in the compound around the load screw; in the authentic Globe sprinkler, green thread lock compound is used around the threads, whereas a clear sealant is applied around the top of the load screw of the counterfeit sprinkler. The green arrows point out a subtle but noticeable difference in the length of the slots stamped out of the deflectors.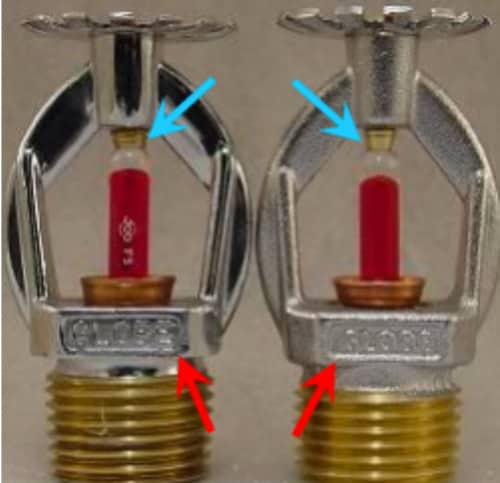 The chrome finish on the frames of sprinklers can be used to identify a counterfeit model. In the image above, the surface finish on the fake fire sprinkler (left) is smooth and highly reflective, while the real one retains the rough-cast, chrome-plated finish. There are also differences in font type and the size of the "GLOBE" marking on the wrench boss, as indicated by the red arrows.
The other visibly apparent difference is the profile on the load screw, indicated by the blue arrows. The load screw threads on the counterfeit sprinkler extend down to where it contacts the bulb; in the authentic sprinkler, the threads terminate just below the load screw boss. The load screw diameter also more dramatically tapers inward down to where it contacts the bulb on the authentic sprinkler.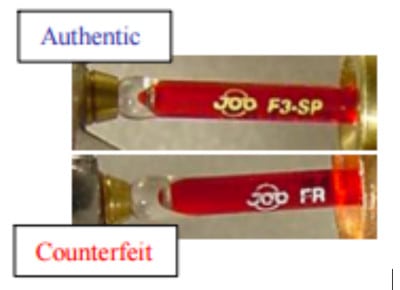 The above image shows enlarged views of the thermal activation elements found in the authentic (top) and counterfeit fire sprinklers (bottom). The real Globe sprinklers utilize the Job model F3SP bulb while the fake fire sprinklers use a Job model FR bulb. Any Globe GL5601 sprinkler with the FR marking on the bulb should not be considered an authentic Globe product.
UL and FM Global have issued numerous detailed advisories about counterfeit or substandard sprinklers in markets around the world. Reference the table at the bottom of this post with select advisories and do a search on their websites if you have suspicions about a sprinkler.
Placing a priority on safety and loss prevention
Sprinkler certification demonstrates a manufacturer's assurance of the performance of their products and provides buyers and end users with confidence that a fire sprinkler system will perform as expected in a fire. You can be assured of a quality product if it is made by a legitimate manufacturer. By relying on thoroughly tested and certified sprinklers, building and business owners reduce or eliminate fire losses, stay safe, and drive down the long-term cost of fire risk.
If you need to purchase items for your NFPA 13, 13R, or 13D-compliant fire sprinkler system, be sure to browse our wide selection of commercial and residential fire sprinkler heads and system components.
If you need help finding a sprinkler head or if you have any other questions, call us at (888) 361-6662 or email support@qrfs.com.
Some UL and FM Global advisories concerning counterfeit or substandard sprinklers:
Brand
Advisory
Description
Date
More Info
Altered FM Approvals Certificate of Compliance (CoC) circulating in the Philippines
Unknown sprinkler heads represented with FM Approvals for Victaulic sprinkler heads
Dec. 01, 2022
FM Approvals
Counterfeit Notification for Tyco for counterfeit automatic upright sprinklers
3/4″ NPT frangible bulb type automatic upright sprinklers
Feb. 19, 2019
FM Approvals
UL Warns of Counterfeit UL Mark on Globe Fire Sprinklers
Models GL5661 and GL5651
June 22, 2018
UL
Counterfeit Certificate of Compliance for Nanjing Tuna Fire Protection Co., Ltd. for fire sprinklers
Fire Sprinkler with decorative plate for use in clean room ceilings
Jan 22, 2018
FM Approvals
UL Warns of Counterfeit Fire Sprinkler (Release 14PN-18)
Pendent Type Fire Sprinkler
Dec. 31, 2014
UL
Counterfeit Automatic Fire Sprinklers Found in Malaysia
1/2″ NPT frangible bulb type automatic sprinkler
Sept. 9, 2014
FM Approvals
Counterfeit Certificate of Compliance for Flexible Sprinkler Hose Models for Hangzhou Ehase-Flex Co., Ltd.
Flexible Sprinkler Hose
Aug. 7, 2014
FM Approvals
Counterfeit Angus Automatic Fire Sprinklers
1/2″ NPT frangible bulb-type automatic sprinklers
June 3, 2014
FM Approvals
UL Warns of Counterfeit Fire Sprinklers (Release 14PN-9)
Upright TY3151;
Pendent TY3251;
Horizontal Sidewall PS007
May 15, 2014
UL
Counterfeit Tyco Automatic Fire Sprinklers
NPT frangible bulb-type automatic sprinkler
Mar. 24, 2014
FM Approvals