QRFS connects contractors and facility managers with a match for existing sprinklers and accessories
Every fire sprinkler manufactured since 2000 has a sprinkler identification number (SIN). And when it comes to replacing an existing head—or locating compatible accessories, like escutcheons, wrenches, or cover plates—the SIN provides an essential starting point.
This guide was created to:
Help consumers quickly understand the essential characteristics of their sprinklers
Make finding a substitute for discontinued heads simple
Connect buyers to identical sprinklers and compatible accessories
If you have a sprinkler identification number handy, you can browse our selection of fire sprinklers or contact QRFS and we'll look it up in our SIN directory.
That said, please note: knowing the SIN may not be enough. While each SIN refers to very specific sprinkler head types, or models, it doesn't specify a temperature or finish. If you'd like an introduction (or a refresher) to SINS and sprinkler characteristics, read on!
Sprinkler identification numbers specify a model but not an exact match, leaving consumers and contractors with some challenges
Sprinkler identification numbers help to distinguish between different types of fire sprinklers—but they're not always enough
Here's why you really need to know about SINs: leading fire codes require an exact or nearly exact match between sprinklers and common accessories. A broken or damaged cover plate needs the manufacturer's recommended replacement. The same goes for many escutcheons (sometimes called "trim plates"). Even the wrenches kept in spare sprinkler cabinets should be "specified by the manufacturer." The SIN helps consumers track down compatible parts or, in the case of broken or obsolete sprinklers, acceptable substitutes.
Let's get to it: a sprinkler identification number consists of one or two letters followed by three or four numbers. That code is imprinted on each sprinkler's deflector—the thin metallic part furthest away from a sprinkler's threaded inlet. Today, they're everywhere, thanks to recommendations from the National Fire Protection Association (NFPA). And guidelines from the International Fire Suppression Alliance (IFSA) require a new SIN for each variation in:
Orifice size (K-factor)
Response type (with "quick response," "standard response, or "residential (fast response)," as the leading varieties)
Distribution characteristic (including whether a sprinkler stands upright, points down, or mounts sideways)
Maximum working pressure
Nevertheless, one SIN may encompass several different temperature ratings, finishes, and approvals. (To get an exact match, you'll want to follow the steps outlined in our guide to sprinkler replacement). Further, these codes aren't uniform. Each one-or-two-letter prefix represents a manufacturer. Some of those prefixes include:
C, CS: Central Sprinkler
F, G: Grinnell Corporation
GL, GS: Globe Fire Sprinkler
GV: Victaulic Company
R, RA: The Reliable Automatic Sprinkler Co., Inc.
S: Star Sprinkler Inc.
SS: Senju Sprinkler Co., Ltd.
TF, TY: Tyco Fire/Tyco International
V: Victaulic Company
VK: The Viking Corporation Ltd.
The numbers that follow this letter prefix are assigned as that manufacturer sees fit. For example, VK101, V101, and SS101—Viking, Victaulic, and Senju sprinklers, respectively—may have nothing in common, other than the fact that they're all sprinklers.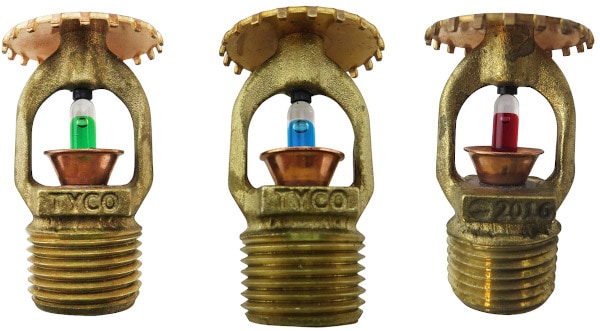 QRFS keeps track of all major types of fire sprinklers along with key characteristics and options
At the time of writing, there doesn't appear to be a single, open-access database for the world's sprinkler identification numbers. Some offerings come close: Product iQ™, a database operated by the safety science giant UL, allows (registered) users to search a list of their certified sprinklers.
In an effort to fill that gap, we've created a directory that outlines the SINs in QRFS's inventory — just call or email us, and we'll find the right replacement.
If the exact model isn't available, another brand or model may work as long as it has the same:
But if you know the sprinkler identification number, temperature, and finish you're looking for, start with attempting to replace the exact model. You can browse our selection of fire sprinklers or contact us at 888-361-6662 or support@qrfs.com, and we'll look it up in our SIN directory.
If you found this blog helpful, feel free to check us out at Facebook.com/QuickResponseFireSupply or on Twitter @QuickResponseFS to stay up to date on other articles.