Slight differences between pendent, upright, sidewall, and concealed sprinklers have a big impact on life safety
Installing new fire sprinklers — or replacing old ones — can be a confusing process. While most types of fire sprinklers bear a close resemblance to one another, different fire sprinkler heads are designed for different environments and applications, and they require careful consideration.
All traditional fire sprinklers are basically one of four types: pendent, upright, sidewall, or concealed. In this article, we'll review these forms and offer an in-depth look at the distinctive features offered by a few major manufacturers.
If you already know the type of fire sprinkler you need, click here to view our selection of Tyco, Viking, Victaulic, and Senju sprinklers.

To learn more about the wonderful world of fire sprinklers, click on an entry in the below table of contents or simply start scrolling!
How do fire sprinkler heads work?
Nearly all fire sprinklers are composed of the same components: a sealing assembly or 'plug' that prevents water from escaping, a heat-sensitive element that breaks or melts at a given temperature to allow water flow, a deflector that distributes the water effectively, and a frame that holds all these parts.
Fire sprinkler heads feature heat-sensitive parts — either a glass bulb or a fusible link – that cause them to activate at a specific temperature. When a sprinkler head has a glass bulb, that bulb typically contains a glycerin-based liquid. Once the air around the sprinkler reaches a certain temperature — often 155F or 200F (68C or 93C) — the liquid expands, which causes the glass to break. The water held back by the bulb then escapes and flows toward the deflector, which disperses it throughout the room.
Fusible link fire sprinklers replace that bulb with metal components secured to the sprinkler by a heat-sensitive alloy. Rising temperatures cause the alloy to melt, allowing the metal elements to fall from the sprinkler head and activate the sprinkler.
Most fire sprinklers are available in two primary sizes: 1/2″ (12.7 mm) and 3/4″ (19.3 mm). A 1/2″ model is the most common size for office buildings, hotels, and schools. 3/4″ sprinklers, on the other hand, are used in higher-challenge fire environments where larger quantities of water are necessary.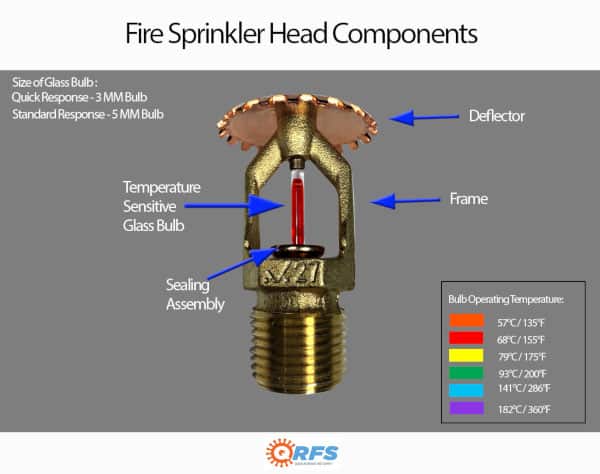 Fire sprinkler bulb temperature ratings vary
A fire sprinkler's temperature rating is the temperature at which the sprinkler will activate, which closely tracks rising ceiling temperatures. Options range from 135 to 650 degrees Fahrenheit (38 to 343 degrees Celsius). These ratings can be identified by the color of the liquid inside the bulb in the case of glass-bulb sprinklers, or the color-coded paint swipe or dot on the frame of fusible link sprinklers (both listed below):
From the 2019 edition of NFPA 13 (Table 7.2.4.1)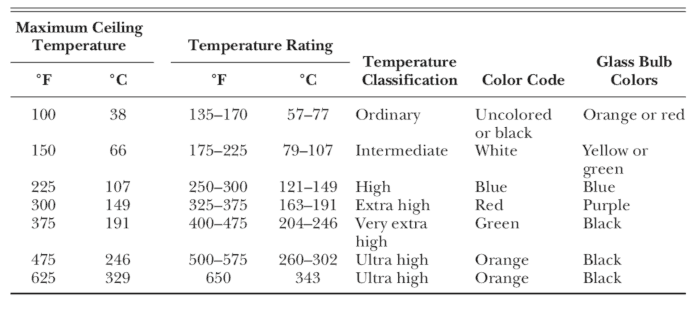 Standard response or quick response fire sprinklers depend on fire code and fire-safety priorities
Not all fire sprinklers are designed for the same purpose. Quick-response sprinklers are common in dormitories, hotels, auditoriums, and other places where many people gather. Standard-response sprinklers are primarily found in industrial and commercial spaces where keeping a building and its contents intact is a priority.
Quick response fire sprinklers cool walls, ceilings, and surrounding air to give a building's occupants a chance to escape by controlling the fire and delaying flashover — a deadly chain reaction resulting in the total ignition of and loss of all oxygen in a room. Glass bulbs utilized in quick response fire sprinklers are 3mm in diameter. Because they're smaller than the 5mm bulbs used in standard response sprinklers, 3mm glass bulbs are more sensitive to changes in heat and thus activate earlier than standard-response heads.
Response times vary according to the characteristics of the room and the fire, but differences in thermal sensitivity between these sprinkler types can lead to activation times that differ by ten seconds or more. Research over the past three decades shows that these extra seconds can have significant implications for human survival during a fire.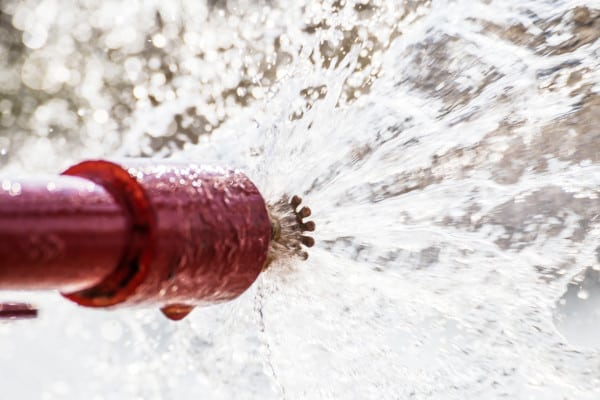 Fire sprinklers with a larger K-Factor discharge more water at a given pressure
Fire sprinklers with bigger K-factors have a larger orifice, allowing them to discharge more water at a specific pressure and to produce bigger water droplets that are more capable of penetrating fires. The most common K factors are 5.6k for fire sprinklers with a 1/2″ (12.7mm) thread connection and 8.0K for fire sprinklers with a 3/4″ (19.1 mm) thread connection.
Buildings with larger "fire loads" — defined in section 3.3.5 NFPA 557: Standard for Determination of Fire Loads for Use in Structural Fire Protection Design (2023) as a measurement of the total energy content of combustible materials in a building — should be protected using fire sprinklers with larger K-factors. Fire sprinklers for light-hazard environments (including many churches, offices, and apartments) must provide one-tenth of a gallon per minute per square foot, as much as two-tenths of a gallon per minute per square foot in ordinary-hazard environments (such as parking garages), and up to four-tenths of a gallon per minute per square foot in highly flammable extra-hazard spaces.
In short, fire sprinklers are expected to deliver more water while covering a smaller and smaller area as hazards increase. Sprinklers can cover up to 225 square feet in light-hazard environments; up to 130 square feet in ordinary-hazard environments; and up to 100 square feet in extra-hazard environments.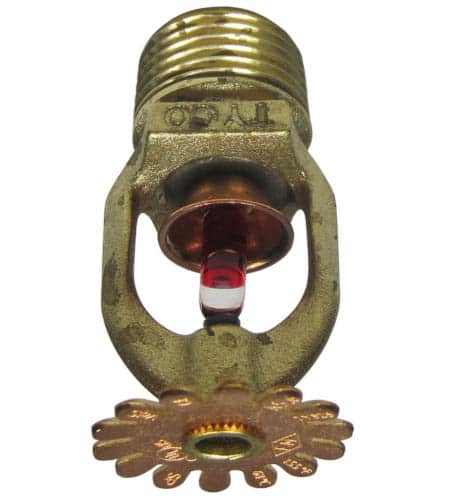 What is a pendent sprinkler head?
A pendent (sometimes incorrectly spelled "pendant") fire sprinkler hangs from above-ceiling pipes and distributes water in a domed or conical pattern using a convex deflector. Unlike concealed pendent sprinklers which hide behind decorative plates, the head of a traditional pendent fire sprinkler remains visible after installation.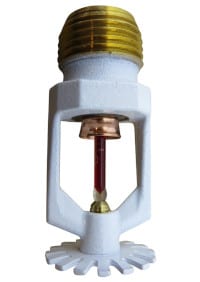 Major manufacturers offer pendent fire sprinklers in a range of K-factors, orifice sizes, and spray patterns to protect buildings of all kinds, from multi-level warehouses to daycares. The most common pendent fire sprinkler has a 1/2″ (12.7 mm) thread connection and a 5.6 K-factor, like those found in Viking's VK3021 and VK1021, Tyco's TY323, Victaulic's V2708 FireLock, and Senju's ZN-QR flush pendent sprinklers.
Slight differences in a pendent sprinkler's safety approvals and listings, design, and manufacturing process can make one sprinkler much better suited to some environments than others, however.
Listings
Listings and approvals from UL and FM Global attest to a fire sprinkler's suitability for fire protection service and are standard for sprinklers installed in the United States. But some pendent sprinklers, like Viking's VK302 and VK102, boast an especially large number of approvals from international organizations – such as Germany's VdS and the China Certification Center for Fire Products (CCCF) – that underscore their quality and readiness for import or installation abroad.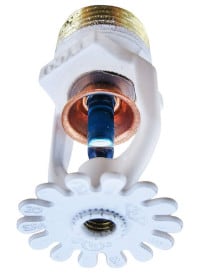 Corrosion-resistant finish
Listings also extend to fire sprinklers' protective coatings. While there's no universal corrosion-resistant finish, special coatings produced in accordance with NFPA 13 (2022: sections 3.3.215.4.3 and 16.2.2.1– 16.2.2.1.2) ) extend the life of key components in places like indoor swimming facilities, steam rooms, and coastal hotels, as well as factories and industrial spaces where corrosive vapors are present. For example, Tyco's white polyester coating, used with pendent sprinklers in the TY-B family of 5.6K quick and standard response sprinklers, is both UL and C-UL-listed for corrosion resistance. So are Viking XT1 sprinklers that have specific finishes: white polyester, black polyester, or ENT.
Casting
Many pendent sprinklers visibly protrude from the ceiling, leaving the frame visible. The frame at the core of each fire sprinkler is manufactured in a process called metal casting, where liquid metal takes shape as it cools inside a hollow mold. Die-cast frames, like those found in Victaulic's 5.6K V27 FireLock pendent fire sprinklers, are made under high pressure in a metal mold and have a smooth, even surface free of the small indentations found on other sand-cast sprinklers.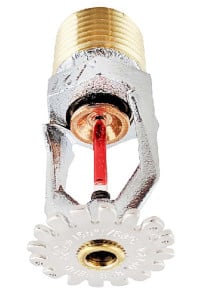 Flush pendent fire sprinklers
Flush pendent sprinklers, like Senju's ZN-UF "true flush" pendent sprinkler, take aesthetics one step further by keeping the sprinkler's working parts out of sight. While they're similar to concealed pendent sprinklers, flush fire sprinklers have no cover plate to reinstall when the sprinkler discharges, thereby simplifying replacement.
Fire sprinkler escutcheons
Most pendent sprinklers also have accompanying decorative rings called escutcheons to cover holes in the sheetrock at the point of entry. They aren't only decorative, however. Installing pendent sprinklers in a large-cut hole without the specifically compatible manufacturer's escutcheon — or with no escutcheon at all — allows rising heat to bypass the sprinkler head, potentially delaying the discharge of water.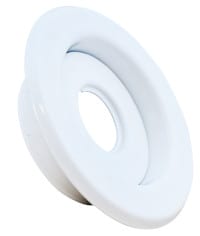 There are three main types of fire sprinkler escutcheons:
Escutcheons must be specifically approved for use with a particular fire sprinkler (NFPA 13 7.2.6, 2022 edition) and be appropriately sized for that sprinkler's K-factor, or orifice size. Recessed pendent sprinklers in Tyco's TY-B series sprinklers only use Style 15 or Style 20 escutcheons, Viking's VK102 and VK 302 sprinklers require the Model E-1/F-1 escutcheon, and Victaulic's V27 series require V27 recessed escutcheons.
Putting it all together
While pendent fire sprinkler heads are far and away the most common type used, careful selection of core features, decorative benefits, and coatings can lead to an extended product life as well as an installation that's easier on the eyes. If you've found what you're looking for, click here to view our selection of pendent fire sprinklers.
Click here to return to our table of contents.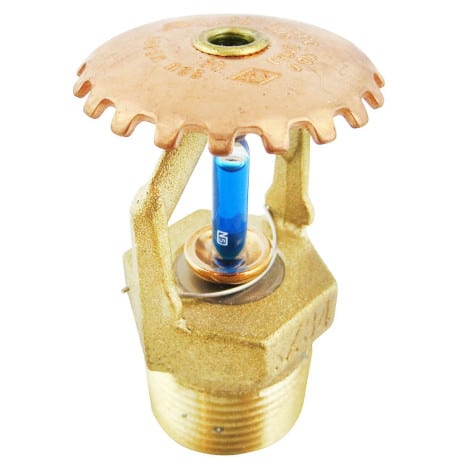 What is an upright sprinkler head?
Upright fire sprinklers spray water upward to a concave deflector, producing a dome-shaped spray pattern. They install deflector-up to cover specific areas and to prevent ice and debris from collecting in the head. Upright sprinklers are installed where obstructions interfere with coverage in many system types and in dry-pipe systems facing freezing temperatures.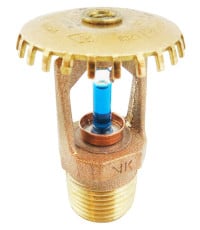 Upright fire sprinklers are often used in warehouses or industrial spaces, along with renovated open-ceiling structures such as modern office buildings and chic restaurants. For industrial, commercial, and storage spaces, most suitable upright sprinklers feature a 3/4″ (19.05 mm) thread connection with an 8.0 K-factor, such as those found in Viking's VK2001 and Victaulic's V3402. Many upright sprinklers are also available with the smaller 5.6K orifice, including some in Tyco's TY-FRB series, Victaulic's V27 series, and Viking's VK300 models.
But while upright fire sprinklers are a mainstay of nearly all fire sprinkler manufacturers, not all upright fire sprinklers are identical.
Installation
Upright sprinklers installed on branch lines must be installed with the frame arms parallel to the branch piping unless the manufacturer prescribes a different orientation; this minimizes obstruction of the spray pattern. Fire sprinklers in Victaulic's V27 and V34 series — including the 5.6K V2703 and V2704 and the 8.0K V3401 and V3402 — are cast with a hex-shaped protrusion, called a wrench boss, designed to provide a contact surface for wrenches to securely grip, rotate, and install sprinklers in the correct orientation.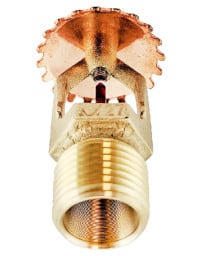 Corrosion-resistant coatings
In 2012, Viking introduced a corrosion-resistant electroless nickel PTFE (ENT) coating to several products in their commercial sprinkler line. In doing so, Viking joins Victaulic and others in providing a finish capable of surviving UL 199's rigorous 30-day corrosion-exposure test with little to no evidence of rust. Alternatively, many of Viking's standard response upright sprinklers, including the 5.6K Micromatic VK100 and the 8.0K Micromatic VK200, are also available with UL-listed and FM-approved corrosion-resistant coatings and finishes.
Aesthetics
While upright fire sprinklers can't be recessed or hidden behind a cover plate, system design can make upright models less of an eyesore. Tyco's Series TY-FRB sprinklers are available with a 5.6 K-factor, minimal frame, and narrow bulb and are designed for banks, hotels, and other commercial occupancies where appearances matter.
Early Suppression, Fast Response (ESFR) sprinklers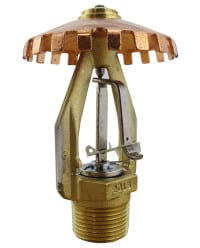 First developed in the 1980s, early suppression, fast response (ESFR) sprinklers have revolutionized the control and suppression of fires in storage settings with large k-factors and high-momentum sprays designed for deep penetration of burning fuel and fire plumes. Tyco has innovated in the market, introducing some of the earliest ESFR sprinklers, developing sprinklers for select cold-storage facilities in 2012, and transitioning from earlier ESFR models to their low-profile 16.8K Model ESFR-17 fire sprinkler line in 2015.
Putting it all together
The right upright sprinkler can keep even the most extreme fire conditions in check, endure corrosive vapors, install easily, and interfere only minimally with architectural and design needs. If you've found what you're looking for, click here to view our selection of upright fire sprinklers.
Click here to return to our table of contents.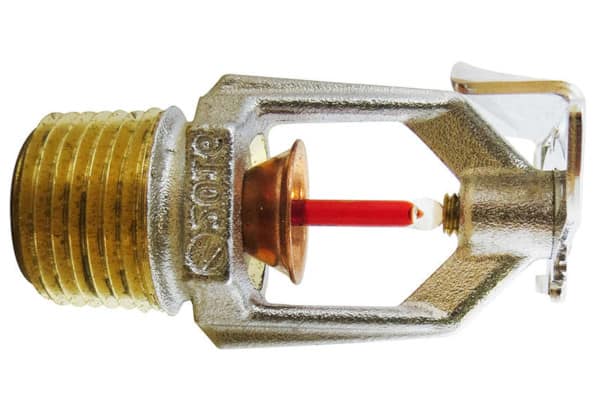 What is a sidewall sprinkler head?
Sidewall fire sprinklers install along walls or beneath beams where ceiling piping is unavailable, or where aesthetic concerns or obstructions weigh against the use of other sprinkler types. Most are designed to protect small rooms, closets, or hallways and have a semicircular deflector that produces a crescent-shaped spray pattern.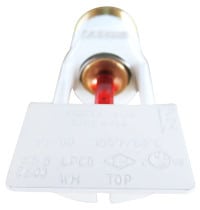 Horizontal sidewall sprinklers should only be installed below smooth, flat, horizontal ceilings in accordance with their listings, approvals, and NFPA guidelines. They are used in hotels, restaurants, churches, and a range of commercial structures, and most sidewall fire sprinklers utilize a 1/2″ (12.7 mm) thread connection and feature a 5.6 K-factor.
Standard finishes for most manufacturers' horizontal sidewall sprinklers — including those within Tyco TY-FRB series fire sprinklers, Viking's Microfast and Micromatic series, and Victaulic's V27 series — include white, black, brass, and chrome. Each manufacturer offers a slightly different variation on the sidewall sprinkler. These differences, including the factors listed below, can streamline installation and extend product life.
Installation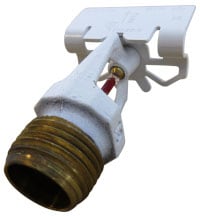 In 2018, Viking introduced 8.0 K-factor dry horizontal sidewall sprinklers with redesigned deflectors listed for installation with the deflector placed anywhere from four to 12 inches beneath the ceiling. Viking's recent line of listed sprinklers provides contractors with the same ease of installation offered by the company's other sidewall models, including the 5.6 K-factor VK305 and the VK104.
In 2016, Tyco merged with Johnson Controls, joining two global companies with wide-ranging industrial and building expertise. Johnson Controls subsequently announced a range of new products for Tyco sprinklers, including a straight-thread, tapeless adapter, called Rapid Seal, to expedite fire sprinkler installation in systems that use CPVC pipe and fittings. Rapid Seal promotes precision placement and orientation — an especially useful feature when it comes to installing Tyco TY-FRB series fire sprinklers and other sidewall sprinkler heads.
Coatings
While aftermarket paints ruin fire sprinkler heads, manufacturer-supplied coatings can extend their longevity by protecting against corrosion. Most manufacturers, for example, offer corrosion-resistant PTFE (ENT) coatings. But in 2014, Victaulic introduced the VC-250 coating to their FireLock sprinkler line. It's capable of withstanding exposure to a larger number of chemical substances, including hydrogen peroxide, sodium hydroxide, ammonia, and nitric acid. VC-250 coatings are available with Victaulic's 5.6 K-factor sidewall fire sprinklers in the V27 family and their V34-series 8.0K sidewall fire sprinklers.
Putting it all together
Sidewall fire sprinklers require careful, code-compliant installation, a process that depends on the right listings and accessories. All manufacturers offer protective coatings for sidewall sprinklers, but these coatings should be selected with the specific chemical hazards facing the sprinkler in mind. If you've found what you're looking for, click here to view our selection of horizontal sidewall fire sprinklers.
Click here to return to our table of contents.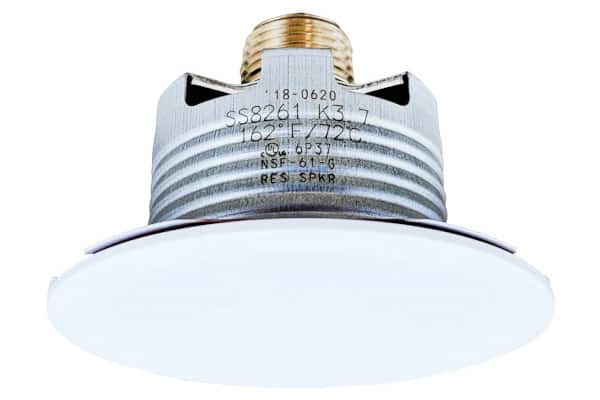 What is a concealed sprinkler head?
Concealed models install in walls or ceilings and fully cover a pendent or sidewall sprinkler head using a concealed fire sprinkler cover plate. This heat-sensitive plate detaches at temperatures roughly 20 degrees (F) lower than the fire sprinkler head, allowing the concealed sprinkler's deflector to drop and the head to activate.
Like pendent, upright, and sidewall sprinklers, most concealed models have a 1/2″ (12.7 mm) thread connection and a 5.6 K-factor, including Victaulic's V3802, Senju's SS2521, and Tyco's RFII (Royal Flush) series. Fire sprinkler cover plate temperatures vary with the head's activation temperature but are often set at 139F (59 C) for 155F (68C) sprinklers and 165F (74C) for 200F (93C) sprinklers.
The look of fire sprinkler cover plates varies enormously from manufacturer to manufacturer. While most sprinkler heads are available in white, chrome, black, or brass, cover plates are available in a wider range of finishes, including wood pattern, metallic, and, in some cases, custom-painted versions.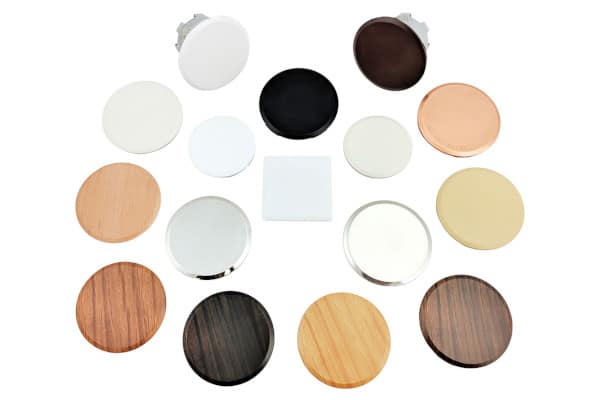 Senju, Japan's largest fire sprinkler manufacturer and the maker of that country's first fire sprinkler, has expanded rapidly in the past decade, increasing storage space to house an inventory that, at times, has barely kept pace with growing demand. Part of Senju's success is their distinct collection of standard-finish cover plates — including beige, nickel, Douglas Fir wood grain, and numerous other colors and patterns — and a fast turnaround for custom, image-based cover plates. Senju makes these plates available throughout much of its product line, including its 5.6 K-factor CN-QR sprinklers.
Because fire sprinkler cover plates should never be painted and must always be replaced with the manufacturer's approved plate, Senju's aesthetic line fills a sorely-needed niche for elegant buildings in need of fire protection.
If you've found what you're looking for, click here to view our selection of commercial concealed pendent fire sprinklers, or click here to return to our table of contents.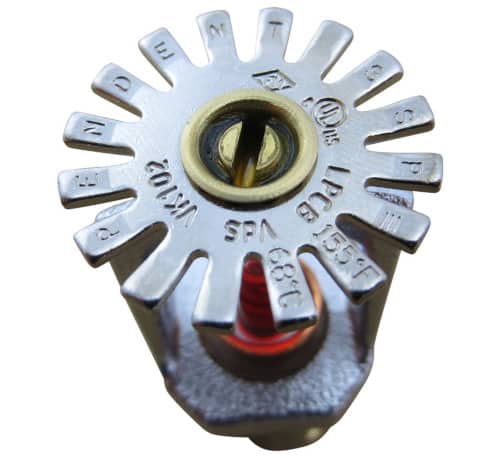 More fire sprinkler types for special applications are available
The sprinkler head types discussed above are far from the only options available. Over the years, manufacturers like Tyco have developed many specialty sprinkler heads for very specific applications. Extended Coverage Light Hazard (ECLH), Extra Large Orifice (XLO), vertical sidewalls, and mist systems are each well-suited to specific environments and fire hazards.
There is no "best" fire sprinkler — only the right model for a specific coverage area's needs. Licensed fire sprinkler designers and installers are key to ensuring that the sprinkler type, location, response type, K-factor, and temperature are customized to the fire hazard, occupancy type, and architectural design of a structure.

View our full selection of fire sprinklers and accessories. If you have any questions or otherwise need help selecting them, give us a call at 888.392.3362, comment below, or fill out our contact form and we'd be happy to assist you.