See the impact and aftermath of accidentally hitting a fire sprinkler—and discover how heavy-duty head guards can block these cringe-worthy mishaps
Sure, accidents happen. But the University of Iowa (UI) learned the hard way how much havoc accidentally hitting a fire sprinkler can wreak after someone kicked a soccer ball into a sprinkler head at the Campus Recreation and Wellness Center—dumping 600 gallons of water onto the gym floor.
The ball smashed through the standard sprinkler cage and ripped off the sprinkler head, drenching the hardwood floor so badly that water seeped down into locker rooms below. Weeks later, the gym was still closed while UI administrators waited for the floor to dry out so they could assess the damage.
It wasn't the university's first run-in with a broken sprinkler. A few years before, a student had accidentally yanked off a sprinkler head in her dorm room along with a personal item she had hung on it. A dozen suites were damaged by the ensuing flood of foul-smelling, stagnant sprinkler water throughout the dormitory.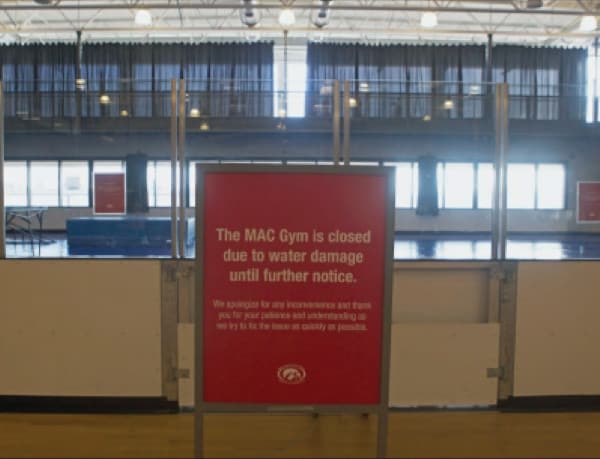 Fire sprinklers work reliably and well. National Fire Protection Association (NFPA) research shows that the death rate is 87 percent lower and property damage is nearly 70 percent less when fire sprinklers activate during a fire. And the odds of fire sprinklers failing due to a manufacturing defect are astronomically low: 1 in 16 million. In fact, the chances are better that you'll be randomly hit by parts of a plane falling from the sky (1 in 10 million).
But the simple design that makes fire sprinklers so reliable also makes them easy to break.
The below videos show how seemingly harmless activities can quickly turn into expensive sprinkler accidents. We also explain how a simple, inexpensive product—the heavy-duty fire sprinkler head guard—could have avoided these accidental discharges and the massive damage that ensues.
Need immediate sprinkler protection? Shop QRFS's full selection of fire sprinkler head guards, including heavy-duty head guards designed for high-impact environments.
7 videos of fire sprinkler accidents that heavy-duty sprinkler guards might have avoided
1. Slip and slide bowling
You're out for a night of bowling with your crew at a local recreation center. But a strike quickly becomes a strikeout when the bowling ball slips from your grip like a wild softball pitch and water starts raining on everyone's fun.
Watch this unsuspecting bowler forfeit her shoe deposit—and possibly a whole lot more— when she accidentally tosses her bowling ball into an unprotected fire sprinkler on the ceiling:
2. and 3. Forklift follies
Fire sprinkler systems are critical for protecting warehouses and storage areas, where a prevalence of highly combustible materials can cause fires to rapidly burn out of control. NFPA 13 (Chapter 25) also mandates in-rack fire sprinkler protection under certain conditions, such as tall storage heights.
Sprinklers greatly increase response times and minimize damage. But they can also be set off by a forklift or automated picking equipment. The cost of water damage to stored product—along with the clean-up cost and interruption to operations—can easily hit tens of thousands of dollars.
Watch these forklift operators try so hard—but ultimately fail—to avoid hitting a fire sprinkler while attempting to lift a pallet in a warehouse. The break comes at 2:00 but it's worth watching the lead-up hear the infamous words "I guarantee you won't touch [it]."
And this Target employee quickly grasps why shutting off the water, waiting for the fire department, or using a Shutgun (if you have one) are wise moves after sprinkler heads deploy. He's caught on surveillance camera breaking and trying to fix a gushing sprinkler—making the situation oh so much worse. You can skip to 1:00 for the moment of impact:
4. I take my cereal with milk, not sprinkler water
Contractors, painters, cleaners, or any other worker can face major liability if their work causes fire sprinkler accidents. Ladders, forklifts, and other heavy equipment can easily break or knock down sprinkler heads.
Watch a construction worker create, in his own words, "a huge mess really fast" when he accidentally breaks an active sprinkler in a grocery store demolition. By the time the property manager arrives with the key to shut the system down, the entire building is flooded.
5. Employees of the month? Fire sprinkler accidents aren't always accidental
From pranks to insurance fraud, deliberate sabotage is, unfortunately, a common cause of sprinkler damage. Correctional facilities and secure environments such as prisons especially benefit from the tamper-proof layer of protection around institutional sprinkler heads. One Tennessee jail even suffered a period where it experienced vandalized sprinkler heads every week.
But it's not just convicts who intentionally damage sprinklers. Bored at work? Don't follow in the footsteps of these two employees, who entertained themselves on a slow day by breaking one of their company's sprinkler heads—simply because they'd "never seen it happen before." Bet they never knew what a fire department fine—and perhaps what an institutional sprinkler—looked like before, either.
It's unlikely that a heavy-duty head guard would have stopped these miscreants—though a brightly colored cage might have signaled them to channel their boredom elsewhere. This is another good reason to have a Shutgun tool on hand that stops intentional damage fast.
6. When your goals are out of whack
A gymnasium is a high-activity environment—and while most of its components are designed to withstand abuse, a vulnerable sprinkler head has the potential to cause mayhem. Broken sprinklers are a nightmare for gymnasium operators, capable of causing hundreds of thousands of dollars in water damage and shutting facilities down for weeks. Water can quickly saturate hardwood floors, causing them to expand and distort. If the water sits long enough, the wood will buckle and any chance of salvage is lost.
Headlines abound of errant balls packing quite a punch to unprotected sprinkler heads. In Virginia, a school district considered holding the families of two students responsible for an impromptu soccer game that busted a sprinkler head, flooded the gym, and caused $150,000 in damage. Ohio State University suffered damage after a ball smashed a sprinkler head over its racquetball courts. The list goes on and on.
Watch this video to understand the chaos that ensues after a soccer ball breaks an unprotected fire sprinkler in a school gym:
7. "It's raining threes?" Nah, it's just raining
It's hard to blame this cute kid for accidentally hitting a fire sprinkler with a basketball—although he and his friends are clearly enjoying the aftermath. Heavy-duty head guards would have prevented this one:
Costs can reach $1,000 a minute during accidental sprinkler discharge
Jokes aside, property damage caused by fire sprinkler accidents is a serious concern in the fire suppression industry. There's no doubting the basic reliability of fire sprinklers—but add people into the mix and all bets are off. NFPA reports that firefighters responded to 33,600 unintentional sprinkler activations in 2014.
The vast majority of sprinkler heads function in two main ways: a liquid-filled glass bulb bursts or a soldered metal link melts at a given temperature and activates the sprinkler. But that also means that something as minor as getting bumped by a clothes hanger can shatter the fragile bulb and open the floodgates. Knock the sprinkler head off completely, of course, and water will gush even faster.
Extensive damage can easily occur while you wait for the fire department to shut off the water. Quick response fire sprinklers release 8 to 24 gallons per minute and they can flood a property with hundreds of gallons of water in less than 20 minutes.
Restoration involves removing, drying, and potentially replacing furniture, cloth, and other porous items. Water pumps, fans, and dehumidifiers are typically needed to remove standing water and dry impacted surfaces. Damaged drywall, carpets, and other structural components must be inspected, repaired, and replaced if mold or mildew poses a threat.
Total price tag: an estimated $1,000 for every minute the sprinkler is left running.
Fortunately, there's now a low-cost way of safeguarding sprinkler heads from physical damage: heavy-duty fire sprinkler head guards.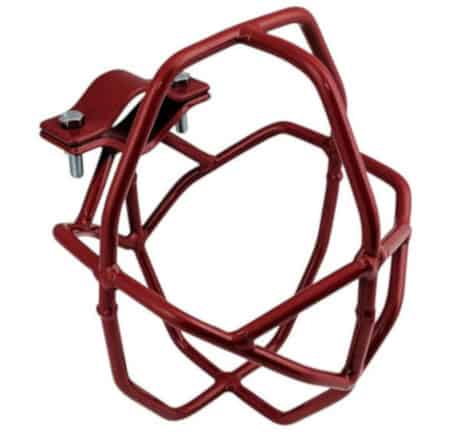 Heavy-duty head guards: low-cost insurance against expensive property damage
Most of these activations would have been prevented by installing heavy-duty fire sprinkler head guards. They are designed to stop accidental damage in high-impact environments.
Standard head guards, aka sprinkler cages, generally rely on steel wire that wraps a protective barrier around a sprinkler to prevent tampering or accidental breaks. But while they can stand strong against slow-moving or small objects, these standard guards are no match for the intense impacts that can occur in riskier environments like gymnasiums, warehouses, and construction sites.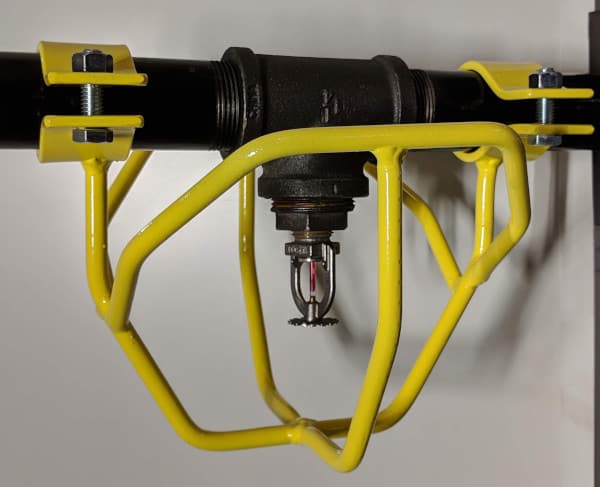 Heavy-duty head guards bolster the defenses of standard guards by creating a "crush zone" that stops—or in the case of the heaviest equipment, slows—the force of an impact. They can be installed over existing fire sprinklers and cages via two jig-assembled clamps that attach directly to the sprinkler system's piping. Not only does clamping onto the piping add an extra layer of strength, it also eliminates the need to shut off and drain the sprinkler system for installation, like standard cages require.
Heavy-duty head guards are made of hot-rolled heavy steel—strong enough to withstand hard hits but flexible enough to bend and avoid damage to the piping. They are available in bright colors like fire-engine red and yellow that make the sprinklers hard to miss, as well as standard choices like white and black.
NFPA 13: Standard for the Installation for Sprinkler Systems requires head guards for impact-prone sprinklers. It specifies the use of "listed" guards to ensure that their design doesn't interfere with the sprinkler's discharge pattern or coverage.
Heavy-duty head guards are not listed, meaning that NFPA-compliant fire sprinkler systems shouldn't be protected with these guards alone. But as a complement to existing cages—or a temporary solution on a job site—the protection they offer is unmatched. You should always consult your local fire marshal or other authority having jurisdiction before installing them.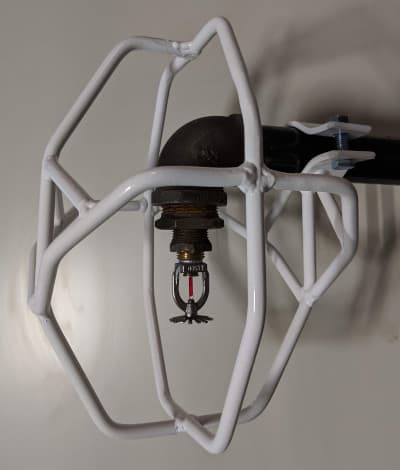 Accidents can happen almost anywhere there is a sprinkler head. But in places where hard hits are more likely to occur, heavy-duty head guards can save property owners from incredibly costly water damage.
And if you are worried about the damage—intentional or otherwise—that could get past any defenses, learn about the Shutgun, a tool designed to quickly stop water after fire sprinkler accidents,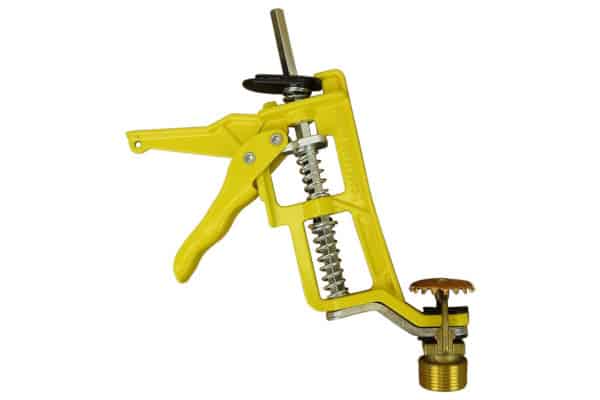 For questions or help placing an order, call us at +1 (888) 361-6662 or email support@qrfs.com.