Three leading American manufacturers of Storz connections offer considerable experience and comparable products
Storz connections facilitate quick and simple connections between fire hoses and other critical firefighting equipment. While they've taken some time to catch on in the United States, Storz couplings have grown in popularity, with a number of American manufacturers now offering their take on a design with more than a century of use. In this article, we discuss three manufacturers: Harrington, Fyrelane USA, and Kochek Storz products for fire protection.
We look at their experience in the fire protection industry and compare their current offerings, including Storz hydrant converters, Storz fire department connections, and more.
If you'd like to take a look at what QRFS has to offer, click here to browse our selection of Storz FDCs, adapters, caps, and wrenches.
All founded in the United States, Kochek, Harrington, and Fyrelane USA each bring a decades-long history to the table
Founded by brothers Greg and Charlie Kozey in 1988, Kochek—arguably the most well-known manufacturer of Storz couplings and adapters in the United States—hails from Putnam, Connecticut. Kochek Storz adapters and fire department connections are just one small part of a product line that began with suction strainers and gradually expanded to include suction hose and couplings, adapters, valves, and more. In the past few years, high-profile events have added to Kochek's brand recognition, including a fire product showcase at Florida's Walt Disney World Resort and visits from US Senator Richard Blumenthal and Congressman Joe Courtney.
Though lesser-known, Erie, Pennsylvania's Harrington, Inc. has an equally long history—and an even longer relationship with the Storz coupling. Harold Harrington's work as a manufacturer centered around Storz connections and large diameter hose, and that passion that took him from one fire department to the next in an effort to convince firefighters of the need for threadless connections. Today, Harrington's catalog offers one of the widest selections of Storz products on the market, including a line of integral hydrant Storz for brand-name fire hydrants.
But while both Kochek and Harrington bring decades of experience to their work, it's Fyrelane USA that has the longest history. Fyrelane USA is the relatively new brand name for a range of valves, adapters, and accessories from Hydra-Shield Manufacturing, Inc. Since 1979, this Texas-based company's expanding product line has served a growing customer base of fire departments and military bases throughout the United States. Much of their product line focuses on securing fire hydrants against water damage and theft and helping firefighters connect hose quickly in a range of settings.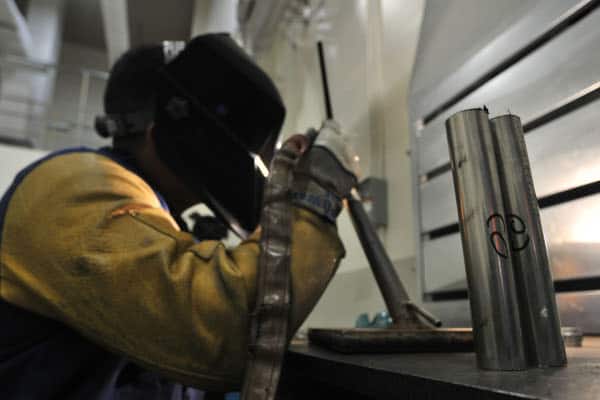 Strength and workability make 6061-T6 aluminum common in Harrington, Fyrelane, and Kochek Storz
Fittings and equipment throughout the fire protection industry are made from a variety of materials, from cast brass to ductile iron and a range of alloys in between.
But when it comes to Storz—whether that's Kochek Storz, Harrington Storz, or Fyrelane Storz—one material seems to be particularly common: aluminum. Specifically, 6061-T6 aluminum is the primary material for Storz adapters, Storz FDCs, and Storz hydrant converters across these three brands.
6061 aluminum, also known as structural aluminum, is used in aircraft fittings, couplings, electrical fittings, bike frames, and numerous other applications. In general, aluminum alloys are favored for their high strength-to-weight ratio, ease of fabrication, and low cost.
The first "6" in 6061-T6 aluminum indicates that roughly one percent of the aluminum alloy consists of a mixture of magnesium and silicon. These materials form magnesium-silicide, a compound that allows manufacturers to more easily strengthen the aluminum through a process known as heat treatment. The "T6" in 6061-T6 means that the metal has been heated to nearly 1,000 degrees Fahrenheit for an hour, rapidly cooled, and then heated again to a temperature between 325 and 400 degrees. T6 treatment allows the magnesium and silicon in the aluminum to take shapes that greatly strengthen the aluminum.
Although all aluminum alloys numbered from 6000 to 6999 feature magnesium-silicide, alloy 6061-T6 is particularly easy to machine and weld into the shape required. 6061 alloys are the second-most-popular 6000-series alloys chosen for extrusion, a process in which metal workers shape aluminum by forcing it through a metal die. It's their combination of both strength and formability that makes these alloys popular in construction applications requiring high strength. Below is a video demonstrating aluminum extrusion:
Manufacturers have good reason to stick with 6061-T6 aluminum. Some international standards for firefighting equipment require the use of wrought or forged aluminum in fire-hose connections. The alternative—cast aluminum—can fail when placed under pressure, posing risks to both firefighters and the buildings they work to protect. Government agencies may also require that components be made from specific materials, such as hardened T6 aluminum, that comply with specifications provided by European standardization agencies.
Manufacturers' standard coatings are sufficient for most applications
The aluminum used in Kochek Storz, Harrington Storz, and Fyrelane Storz is almost always hard-coated. These coatings, which can be dyed or undyed, add to the corrosion and abrasion resistance of the aluminum beneath. Across all three brands, standard Storz adapters, hydrant converters, and FDCs all feature coatings made in accordance with MIL-A-8625, the Department of Defense specification for anodic coatings for aluminum and aluminum alloys.
These anodic coatings are Type III, or hard-anodized, coatings. During anodizing, Storz connections are immersed in acid and passed through an electric current, forming a thick exterior with a permanent bond to the underlying material. When dyed, these coatings provide a long-lasting alternative to painting. Anodic coatings are well-suited to most applications in the fire service.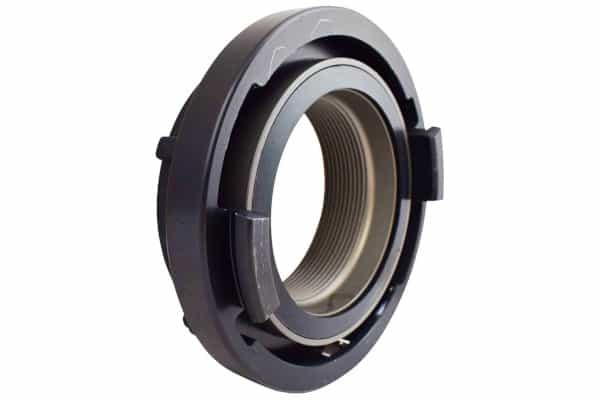 All three manufacturers carry standard-sized adapters, but Harrington Storz products encompass the widest range of listed sizes and integral hydrant compatibility
Harrington, Fyrelane, and Kochek each stock FDCs, adapters, and hydrant converters with 4″ and 5″ Storz connections suited for use with large-diameter hose.
Fire hydrant converters, which thread directly to a hydrant's existing threaded hose connections, most often feature large-diameter nozzles with 4 1/2″ National Standard Thread (NST). This size is available with Fyrelane, Harrington, and Kochek Storz alike. While many manufacturers are willing to machine less-common sizes by special order, Fyrelane also carries 4″ NST converters, and Harrington's selection includes 4″, 4 1/2″, and 5″ NST.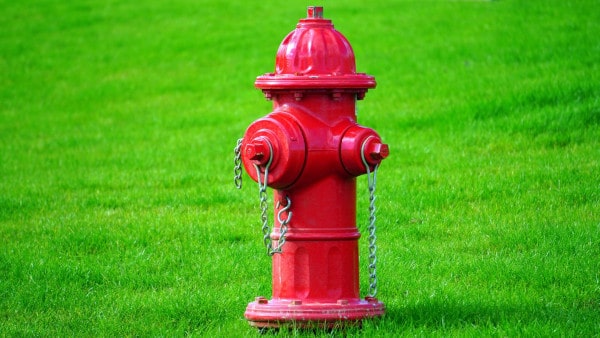 When it comes to fire department connections, all three manufacturers provide threads suitable to the most common pipe threads found in fire sprinkler and standpipe systems: 4″ National Pipe Thread (NPT) and 6″ NPT. Both Harrington and Kochek Storz FDCs are available with flanged fittings, and Harrington's selection includes NPT sizes from 1 1/2″ to 6″ with Storz couplings to match.
Harrington also offers integral Storz fittings that replace fire hydrant nozzles. Each of these 4″ and 5″ Storz nozzles is built for use with a particular hydrant, including those made by Waterous, Mueller, and U.S. Pipe. While more difficult to install, integral hydrant nozzles provide a permanent and secure alternative to threaded Storz converters.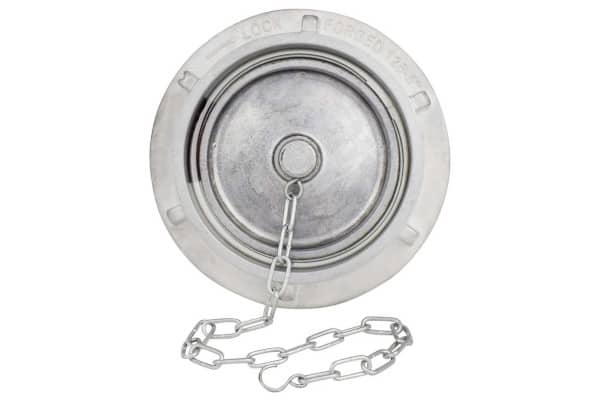 All three manufacturers offer a selection of caps for Storz fire hydrants and FDCs, but Fyrelane's Hydra-Storz adapters have a unique advantage: a capless design deters theft
Fire hydrants and fire department connections of all kinds require protection against weathering, vandalism, and wear. Typically, building owners and fire departments provide this protection with metal or synthetic caps secured to the hose nozzle or FDC inlet. Standard 4″ and 5″ Storz cap sizes are available through Fyrelane, Harrington, and Kochek, with some stock and made-to-order options available for other sizes.
Nevertheless, theft, loss, and vandalism happen, and there's always a risk of getting a fire code violation or having equipment compromised by debris. But for fire hydrants, a new product makes it possible to provide this protection while doing away with caps entirely.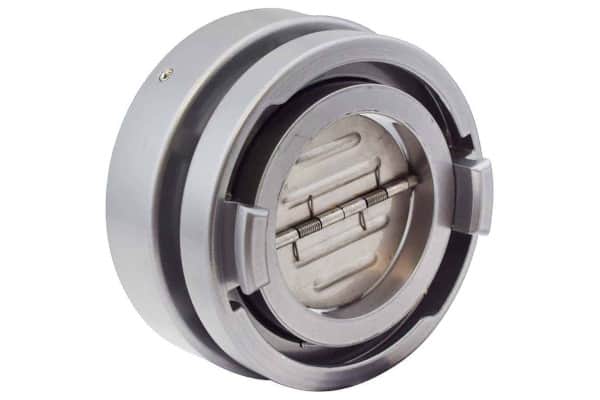 Fyrelane's Hydra-Storz adapters are specialized, threaded hydrant converters that replace traditional caps with a butterfly vane. This vane is self-closing and opens only when water flows through the hydrant. No caps are needed—unless firefighters need to use one of the smaller hydrant ports—which means that there's no chance of a cap jamming or getting stolen. Fyrelane explains that these adapters can also do more than protect against damage or missing caps:
These adapters deter a lot of contractual theft [of water]. Most of the time, only a fire department is going to have a hose connection large enough to connect to that large nozzle on the front. If you have our STORZ adapter on the front, and someone hooks their hose up to one of the smaller ports and tries to take the water, it's going to flow through our butterfly vanes and they're not going to be able to fill.
This video compares the speed of connecting to Hydra Storz vs. threaded adapters:
Replacing or purchasing new Storz products through QRFS
If you're in the market for a new Storz fire department connection, adapter, or wrench, take a look at our stock of Fyrelane Storz. QRFS has the most common sizes of threaded Storz FDCs and Storz blind caps in stock and ready to ship. Most of our Storz products are made in the USA from forged, heat-treated 6061-T6 aluminum designed for high-pressure applications.
QRFS carries Fyrelane's American-made 4″ and 5″ Storz FDCs with the same 4″ and 6″ NPT thread used in fire sprinkler and standpipe systems throughout the United States. Our selection includes straight Storz FDCs designed to mount flush to an exterior wall and angled Storz FDCs with a sand-cast A-365 aluminum elbow.
QRFS also carries a selection of aluminum and heavy-duty composite caps for fire hydrants and Storz FDCs, including 4″ and 5″ blind caps designed to withstand high pressures at the hydrant and snap caps that provide lightweight protection to 5″ Storz connections.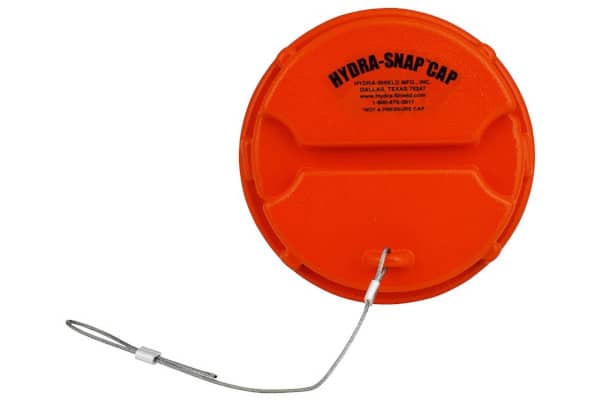 In addition, we have the uniquely "capless" HydraStorz hydrant adapters in the following sizes:
QRFS ships from locations throughout the United States to get products to your location fast. Our in-stock selection of Storz products ships in less than 48 hours and typically arrive in 2-3 business days.
Questions about Storz manufacturers or Storz connections? Call us at +1 (888) 361-6662 or email support@qrfs.com.
This blog was originally posted at blog.qrfs.com. If this article helped you make an informed choice between Fyrelane, Harrington, and Kochek Storz, check us out at Facebook.com/QuickResponseFireSupply or on Twitter @QuickResponseFS.