One of the deadliest nightclub fires happened nearly 40 years ago—but it resulted in changes to fire safety regulations that protect the public to this day
Across the Ohio River, less than five miles south of Cincinnati, sits the small town of Southgate, Kentucky.  Even though its population has never breached the 4,000 mark, Southgate was once home to the Beverly Hills Supper Club, a renowned events venue and nightclub. On any given night during its four-decade history, the Beverly Hills welcomed thousands of people who came from miles around to enjoy receptions, banquets, cabaret shows, and performances by big-name entertainers in the club's opulent surroundings.
Tragically, a fire ripped through the Beverly Hills Supper Club on May 28, 1977, decimating the venue and claiming the lives of 165 people in what would become the third deadliest fire in U.S. history.
In this installment of our series The Deadliest Fires in U.S. History: Lessons Learned, we look into what caused the Beverly Hills Supper Club fire and how it prompted both state and federal lawmakers to make major changes to fire safety regulations.
The Beverly Hills Supper Club
Originally built in 1937, the Beverly Hills Supper Club was a hotspot for decades. Throughout the 1950s, people flocked to bucolic little Southgate, where world-famous performers like Frank Sinatra, Dean Martin, and Carol Channing brought a little Las Vegas-style pizazz. And, according to a New York Times article, the club's draw was in no small part due to local "law enforcement looking the other way while gambling and prostitution flourished," although these activities had always been illegal.
The Beverly Hills was shuttered in 1961 when a new sheriff "cracked down" on the illicit activities but reopened in 1971 after extensive renovations and under new ownership. By 1977, the club had quickly regained its former glory—if not surpassed it—easily earning its nickname: "The Showplace of the Midwest."
The Beverly Hills Supper Club fire: What happened on May 28, 1977
On Saturday, May 28, during the 1977 Memorial Day weekend, the parking lot of the Beverly Hills was packed with cars. Nearly 3,000 patrons had walked through the club's doors, which was hosting several events that day, including a John Davidson concert.
More than 1,200 people were at the Beverly Hills just to hear Davidson sing, and they were gathered in the lush, multi-level Cabaret Room. As was the case in the entire venue, the room was over capacity: the maximum allowed occupancy in the Cabaret was reportedly 756, though the recommended safe allowance was 615. Thus, the room was at about double its safe capacity.
At around 8:45 p.m., a Beverly Hills staffer smelled smoke. At 9:01, a call was placed to the local fire department. In the interim, the source of the fire was discovered in the unoccupied Zebra Room, where a wedding reception had wrapped up an hour earlier. Employees began scrambling to try and extinguish the fire, notify staff and patrons, and evacuate the venue. But for 165 people who were at the Beverly Hills Supper Club that night—most of them in the Cabaret room—it was too late.
Watch this video of WKRC Local 12 in Cincinnati talking to singer John Davidson about the fire:
How a lack of training, safety code violations, and other preventable factors led to the high death toll
An electrical malfunction was deemed the cause of Beverly Hills Supper Club fire after investigations by the state of Kentucky and the National Institute of Standards and Technology (NIST). And once flames raced through the building, a number of other factors prevented people from escaping:
The club had portable fire extinguishers but no smoke detectors, no automatic sprinkler system, and no emergency lighting.
The entire venue—particularly the Cabaret room—was overcrowded.
Aisles and ramps were blocked by additional chairs and tables brought into the Cabaret to accommodate the crowd.
Curtains and seating were not flame-retardant and ignited quickly. As those materials and the finishes on the walls and floors burned, they created a cloud of heavy, toxic smoke that was impossible to overcome.
There was no emergency notification system. Employees having to manually notify patrons and fellow staffers caused a crucial delay, as well as confusion and chaos. A Daytona Daily News article on the 40th anniversary of the fire reveals how when a young Beverly Hills employee tried to evacuate the Cabaret room, members of the audience didn't take him seriously at first:
An 18-year-old busboy named Walter Bailey took the stage during a performance by the comedy team of Jim Teeter and Jim McDonald, the opening act for headliner John Davidson. He picked up a microphone and announced the Beverly Hills Supper Club was on fire. 'He seemed like he was part of the act,' said Norma Lou Mitchell, a witness, in the years afterward.
WLWT Channel 5 in Cincinnati marked the 30th anniversary of the Beverly Hills Supper Club fire with a look back at what happened:
Perhaps the most egregious act of negligence was the most easily prevented
Reports show that fire department personnel arrived at the Beverly Hills Supper Club three minutes after they received the call. But the parking lot and the long single-lane drive up to the club was overflowing with cars and filling with patrons who had escaped, which "hampered efforts to get units to the scene as well as making for extremely long hose lays for water supply," according to Carolina Fire/Rescue/EMS Journal.
Tragically, it may not have mattered. With a crowd that night well above safe and legal occupancy, the number of exits was woefully inadequate. The crowd in the Cabaret Room, now fully aware of the fire, tried to evacuate. But panicked and blinded by smoke, they tripped over tables, chairs … and one another. As more and more fell, their bodies blocked the exits. No one could get out, and firefighters couldn't get in.
A 2009 case history by the National Fire Protection Association (NFPA) described the chaotic rush:
One firefighter reported seeing people stacked two and three high. One bartender told of a young woman who had fallen near an exit. Other people fell on top of her. The bartender and one of his coworkers tried to pull her out, but they were unable to move her. "And there was a man that was on top," the bartender said. "He was a heavy guy and he was reaching up his arms and so I thought he was all right … the first thought was to get him off the top so you can do something with the bottom ones … I had him wrap his arms around my neck and I pushed up against this door as hard as I could … and I didn't have enough strength to lift him and he just looked at me and shook his head … there was nothing I could do.
From the Carolina Fire Journal:
There were no reports of the exit doors being locked, however, Bruce Rath, a Fort Thomas firefighter was quoted as saying, "When I got to the inside doors, which is about 30 feet inside the building, I saw these big double doors, and people were stacked like cordwood. They were clear up to the top. They just kept diving out on each other trying to get out. I looked back over the pile and it wasn't dead people, there were dead and alive in that pile and I went in and just started to grab them two at the time and pull them off the stack and drag them out.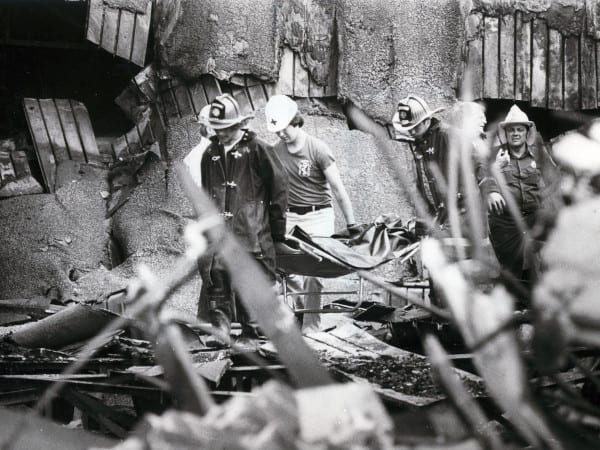 Fire safety lessons from the Beverly Hills Supper Club fire
In the aftermath of the fire, the late Richard Witt, a Louisville Courier-Journal reporter, earned a Pulitzer Prize for his coverage of the fire "and subsequent investigation of the lack of enforcement of state fire codes."
In September of 1977, a congressional subcommittee held hearings into the causes and effects of the Beverly Hills Supper Club fire. A Sept. 19 New York Times article reported that then-Kentucky Gov. Julian M Carroll "condemned club owners and state officials for ignoring state fire codes," therefore "setting the stage for such a disaster."
Carroll suggested that he felt Beverly Hills owner Robert Schilling, Jr. could face criminal charges for his "complete disregard for human life," as could former state Fire Marshal John Calvert , Jr., "who in 1971 allowed the club to expand despite the fact that some 40 fire code violations in the proposed building plans had been found."
By 1981, not only were changes to Kentucky building codes in place (thanks in large part to Witt's reporting), but changes on a national level were implemented. These steps included:
Both new and existing assembly occupancies with an occupant load exceeding 300 are required to have a fire alarm system, complete with a voice form of notification.
New assembly occupancies with an occupant load exceeding 300 (regardless of building construction type) are required to have an automatic sprinkler system.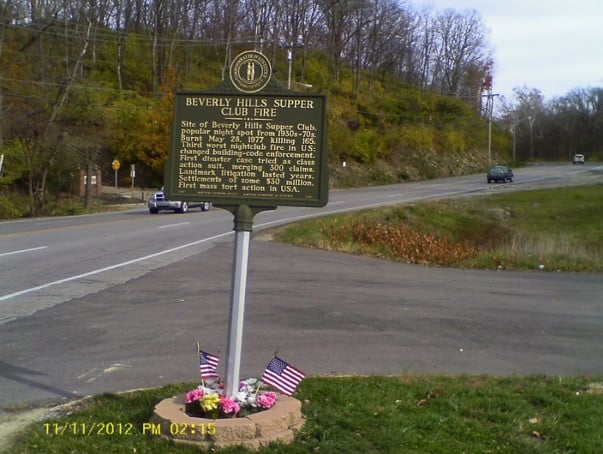 The lessons from tragedies have shaped US fire code
It's been a little over 42 years since the Beverly Hills Supper Club fire claimed the lives of 165 people, but the survivors, responders, family and friends of the victims, and members of the surrounding communities will never forget that night. And to help ensure that a similar senseless tragedy never happens again, neither should we.
Although states and cities in the U.S. have different regulations regarding the use of flame-retardant materials and other fire safety measures in public places, NFPA and the International Code Council (ICC) have developed model codes to help venue owners and government officials reduce the risk of fire and safeguard the public.
Unfortunately, many of these safety advances have happened after significant tragedies. To learn about more of the deadliest fires in US history that have shaped public safety, read these QRFS blogs:
QRFS is dedicated to fire safety. If you need fire extinguishers, fire sprinklers, fire hoses, nozzles, and accessories, fire protection test equipment, or anything else to protect lives and property from fire, feel free to view our online selection.
If you have questions or need help finding an item, call us at +1 (888) 361-6662 or email support@qrfs.com.
This blog was originally posted at blog.qrfs.com. If this article helped you, check us out at Facebook.com/QuickResponseFireSupply or on Twitter @QuickResponseFS.