The NFPA and ICC model fire codes that explain what protection is required, in which types of daycare facilities
The day was probably like any other. The kids tumbled into the car and were dropped off at a house, now converted to a daycare center, before a parent headed to work. But the scene the next morning would be much different. And daycare fire codes were probably the last thing on anyone's mind.
Parents had no idea that tragedy would strike on August 11, 2019. Sometime during the night or early morning hours, an Erie, PA daycare home that provided overnight childcare for working families became engulfed in flames, and five children perished.
Investigators determined that the fire originated in the faulty wiring of an extension cord, and there were not enough smoke detectors to alert occupants. This tragedy should never have occurred.
When we drop our children off at daycare, we have the expectation that they will be safe. And these facilities are vital—without safe daycares and their dedicated caregivers, it would be impossible for many parents to work and take care of their families. It is of the utmost importance that daycare facility owners, managers, and jurisdictional AHJs ensure that the strictest levels of fire protection and life safety are put in place and maintained.
In this article, we review the National Fire Protection Association (NFPA) and the International Code Council (ICC) model code requirements for fire protection in daycares. The key to understanding these daycare fire codes and whether they apply to a specific facility involves answering several key questions.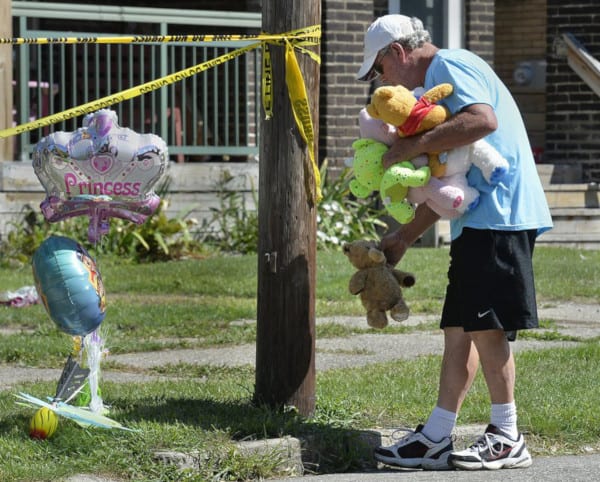 Daycare fire codes: Is the facility really a daycare?
To ensure that the right codes are being followed, you must first properly classify the space. This is done by answering the following questions:
How many children?
How old are they?
How long are they being cared for?
How many children?
The NFPA requirements found in NFPA 101: Life Safety Code only apply when there are "four or more" clients. The ICC's requirements detailed in the International Building Code (IBC) apply when there are "more than five" clients. For both codes, there are no special fire protection, life safety, or building construction requirements specific to "daycares" if there are fewer children than these minimums being cared for. In those cases, the childcare would be considered to be incidental to the main function of the facility, and the codes required for whatever different type of occupancy (e.g., business, industrial, residential) would apply.
How old are the children?
The only age classification that matters in the NFPA requirements is 24 months. If all of the children being served are two years old or older, and the primary function of the school is educational, then the facility must meet the requirements for an "Educational Facility" and is not classified as a "daycare" occupancy.
The IBC is a little more complex. If a facility houses between five and 100 children that are 2 ½ years-old or younger and they are cared for in a room with direct access to the outside, the space will be classified as Group E occupancy—educational. A facility will also be considered Group E if it is occupied by more than five clients over the age of 2 ½.
How long are they being cared for?
In both the NFPA and IBC model codes, the time limit that classifies a daycare is anything less than 24 hours. If children are cared for for more than a full day, the facility is technically classified as one of several types of lodging or rooming, residential, or institutional occupancies.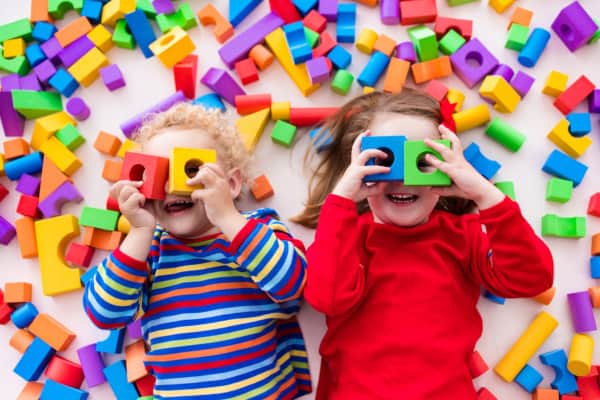 How do NFPA and IBC define daycare facilities?
To fully grasp the various fire protection and life safety requirements, we must examine the requirements from chapter 16 of NFPA 101 and of a Group E occupancy from the IBC.
IBC also has a listed occupancy of Institutional Group I-4, "daycare facilities."  However, in order to apply the correct code sections, you must understand the use of two different phrases which confuse the issue of what we think of as a children's daycare. In the Group I-4 "daycare" definition, it uses the words "custodial care." In contrast, the Group E definition uses the phrase "personal care."
From the 2018 edition of the IBC


[BG] CUSTODIAL CARE. Assistance with day-to-day living tasks; such as assistance with cooking, taking medication, bathing, using toilet facilities and other tasks of daily living. Custodial care includes persons receiving care who have the ability to respond to emergency situations and evacuate at a slower rate and/or who have mental and psychiatric complications.

[BG] PERSONAL CARE SERVICE. The care of persons who do not require medical care. Personal care involves responsibility for the safety of the persons while inside the building.
From these differing phrases, we see that the Institutional Group I-4 designation is intended more for adult daycare centers for the disabled or seniors. The majority of daycare facilities for children do not provide medical services — they provide the personal care services that are defined in the Group E occupancy classification. Thus, Group E applies to children's daycare facilities when it comes to the IBC model code.
NFPA 101 also provides prescriptive requirements for daycare occupancies. These occupancies are generally defined in Section 3.3.196.4. The actual requirements, however, are outlined with precise definitions within the daycare occupancy chapter, Chapter 16.
From the 2018 edition of NFPA 101

3.3.196.4 Day-Care Occupancy. An occupancy in which four or more clients receive care, maintenance, and supervision, by other than their relatives or legal guardians, for less than 24 hours per day.
Overall, the majority of the requirements subsequently listed in Chapter 16 apply to the daycare facilities that serve more than 12 clients. These clients can be of any age, even up to senior adults.
The other classifications of daycare occupancies are those serving more than three but less than 12 clients, classified as "day-care homes." These are further broken down into subclassifications:
"Day-care homes" serving more than three but less than seven children are classified as a "family day-care home."
A "group day-care home" serves no less than seven but not more than 12 children.
These distinctions are important to know, as the requirements for certain life-safety components, such as exits and egress paths, will differ—but only slightly.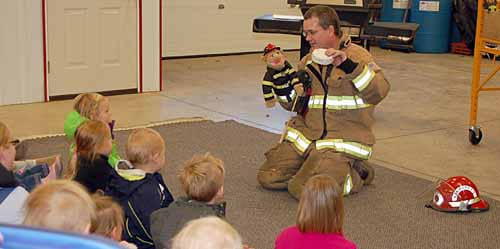 What are the requirements for compliance with daycare fire codes?
Both NFPA and IBC model codes outline requirements for daycare facilities in the following areas:
Egress (the methods of exiting a building)
Hazardous areas
Fire alarms
Fire suppression
Operational features
Both organizations' requirements are generally the same, with some minor differences (as noted below).
Egress
Important distinctions between a daycare occupancy and all others are the additional sections on "door latches" and "bathroom doors." In summary, no door locking mechanism can be installed on closets, pantries, and storage areas that a person cannot manipulate and doors cannot lock from the inside. Any occupant must be able to exit at any time. Because the facility serves children, bathroom doors in daycare facilities specifically must be able to be unlocked from the outside.
A minimum of two exits must be provided from every part of every story of the building. Exit and emergency lighting are required throughout. If a room is not covered by fire sprinklers or does not have a door leading directly to the outside, then an outside window that meets the specifications for an emergency rescue must be provided.
From the 2018 edition of NFPA 101

16.2.11.1 Windows for Rescue.

16.2.11.1.1 Every room or space normally subject to client occupancy, other than bathrooms, shall have not less than one outside window for emergency rescue that complies with all of the following, unless otherwise permitted by 16.2.11.1.2:

(1) Such windows shall be openable from the inside without the use of tools and shall provide a clear opening of not less than 20 in. in width, 24 in. in height, and 5.7 sq.ft. in area.

(2) The bottom of the opening shall be not more than 44 in. above the floor.

(3) The clear opening shall allow a rectangular solid, with a width and height that provides not less than the required 5.7 sq.ft. opening and depth of not less than 20 in., to pass fully through the opening.
Hazardous areas
Hazardous areas include those rooms or spaces such as boiler and furnace rooms, hazardous materials storage, janitor closets, laundry rooms, and maintenance spaces.
These areas are required to be separated from the other parts of the building by a minimum of a 1-hour fire-rated partition, and be protected by a fire sprinkler or other fire suppression system. If the facility is large enough to require a commercial cooking range and oven, then this is required to be protected, as well. However, if the facility utilizes common residential-type ranges and ovens for limited cooking and food warming, no special protection for these items is required.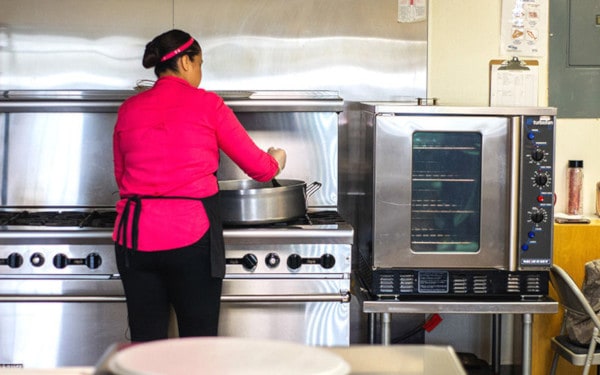 Fire alarms
Unless the daycare is housed in only one room with an exit directly to the outside, then a fire alarm system will be required. Smoke detection systems are required, with detectors being installed on each story in front of stairways and corridor entrances, and in the lounges, recreation areas, and any sleeping rooms. The fire alarm and smoke detection systems shall be installed and operational in accordance with NFPA 72: National Fire Alarm and Signaling Code.
Fire suppression
A fire sprinkler system is only required when the daycare is part of another occupancy type that requires it (such as a business or assembly occupancy). Otherwise, the only areas that are required to be sprinklered are those rooms and locations that are considered hazardous.
The IBC requires a fire sprinkler system only under the following conditions:
The space is greater than 12,000 square feet
The space is not located on the level of exit discharge, and there is no door directly to the outside at the ground level
The space has an occupant load of 300 people or more
Fire extinguishers are required to be installed throughout the facility. A minimum of 2A:20BC is recommended. These should be selected, installed, and maintained in accordance with the guidance provided in NFPA 10: Standard for Portable Fire Extinguishers.
Operational features 
There are some specific building-service components and staff responsibilities that need to be adhered to in order to provide the highest levels of safety and protection to children. Protective covers for all outlets are to be in place. Emergency action plans must also be at the ready, and emergency exit drills are to be conducted. These drills should be done on a monthly basis and must include all occupants.
Monthly fire inspections are to be conducted by a trained member of the staff. Though the codes are not specific as to what these inspections should include, staff should be on the lookout for fire and life safety hazards, exits that are blocked, doors that are in disrepair, any issues with fire alarm or fire sprinkler components, electrical hazards, and any issues that are not in compliance with Chapter 16 of NFPA 101.
As parents, teachers, and caregivers, we may love to display children's work and art on the walls. The code has limitations for how much surface area can be covered with this material, however, because it typically consists of flammable components such as, paper, paint, adhesives, and food products. If the building is protected by fire sprinklers, up to 50% of the wall area can be covered with kid creations; if there are no sprinklers, only 20% of the wall area can be covered.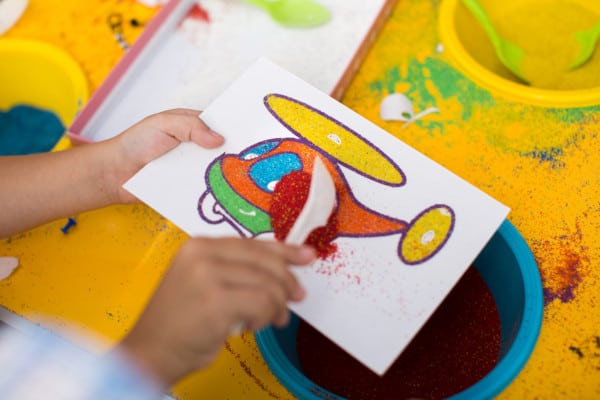 The responsibility and expectation of meeting daycare fire codes
Daycare facility owners, managers, and staff members are entrusted with the safety of children and thus have a huge responsibility. All personnel must know, understand, and implement the minimum requirements for a fire-safe environment. Corners should not be cut, and the minimums should be exceeded wherever possible. Parents have the right and expectation to retrieve their children at the end of the day in the condition they were left and better—as kids continue to play, learn, and grow every single day.
QRFS exists to help building owners and managers and fire safety contractors meet fire protection goals. We carry a full line of fire extinguishers, fire sprinklers, sprinkler system components, and exit signage to help you achieve a fully compliant and child-safe facility.
If you have any questions or need help finding fire protection equipment, call us at +1 (888) 361-6662 or email support@qrfs.com.
This blog was originally posted at blog.qrfs.com. If this article helped you, check us out at Facebook.com/QuickResponseFireSupply or on Twitter @QuickResponseFS.