Learn about the essential elements of an NFPA 101 life safety evaluation for arenas, stadiums, and other large assembly occupancies
Many fire incidents that occur in arenas, stadiums, or sports grounds are a result of people fighting or some other form of "crowd chaos." Traditional ignition sources are less of a common factor. This is one reason why complying with model code includes factors far beyond arena fire protection, though both fire and life safety rely on accounting for some of the same elements.
Most of the worst disasters in arenas and stadiums did not involve a blaze—instead resulting from the movement of large numbers of people during chaotic events. The worst of these incidents happened when fans charged the field after a controversial referee call during an Olympic-qualifying match in Lima, Peru. More than 300 people were killed from crush injuries and asphyxiation.
In the U.S., 11 fans were crushed at a 1979 Who concert in Cincinnati, Ohio. In 1991, nine people were killed in similar fashion at a New York celebrity basketball game.
One tragic fire at a sports arena happened at a stadium in Bradford City, England. The fire ignited when a football fan dropped a cigarette beneath the grandstands. Fifty-six people lost their lives, and more than 250 were injured.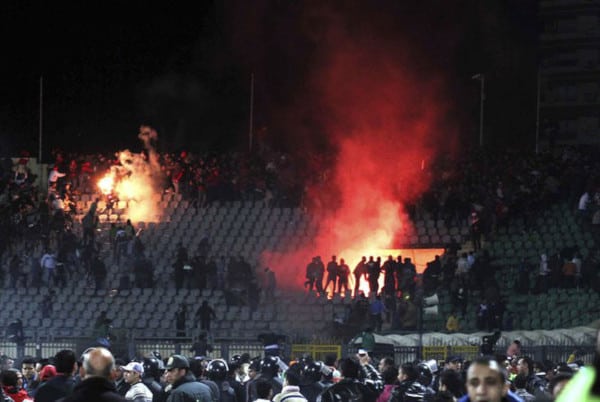 Large occupant loads require a life safety evaluation
When any assembly occupancy, including a sports arena or stadium, exceeds an occupant load of 6,000 people, a life safety evaluation—which goes beyond protecting against fire—must be conducted. NFPA 101: Life Safety Code® outlines the requirements:
From the 2018 edition of NFPA 101

13.4.1.1* General. Where a life safety evaluation is required by other provisions of this Code, it shall comply with the following:

(1) The life safety evaluation shall be performed by persons acceptable to the AHJ.
(2) The life safety evaluation shall include a written assessment of safety measures for conditions listed in 13.4.1.2 and of the building systems  and facility management in accordance with 13.4.1.3.
(3) The life safety evaluation shall be approved annually and shall be updated for special or unusual conditions in accordance with the provisions of 13.4.1 for existing assembly occupancies.
It is the facility manager's responsibility to work with the AHJ and the individual preparing the life safety evaluation to provide the information that is needed, and ensure that the guidance and requirements of the document are followed. The life safety evaluation consists of assessing the three components of safety measures, building systems, and facility management.
Life safety evaluations include an assessment of safety measures and conditions
The evaluation requires an overview of the various types of events that are held at the facility, with a summary of the expected crowds, crowd management, and egress measures.
Procedures for the facility-personnel response to each of the following types of emergencies must be described and clearly explained:
Medical emergencies
Earthquakes
Severe weather
Civil disturbances
Hazardous materials
The life safety evaluation must also address the fire hazards of the facility, the structural systems and components, and the normal roles and responsibilities of facility personnel.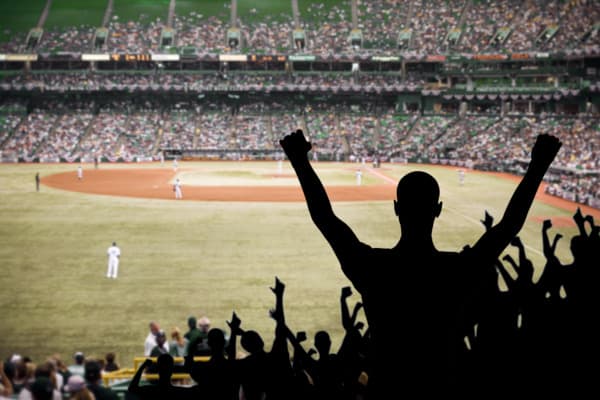 All building systems must be described in the life safety evaluation—including arena fire protection systems
Building systems are the next major category that must be assessed and described:
From the 2018 edition of NFPA 101


13.4.1.3* Building Systems and Facility Management Assessments. Life safety evaluations shall include assessments of both building systems and facility management upon which reliance is placed for the safety of facility occupants, and such assessments shall consider scenarios appropriate to the facility.
The building systems component of the life safety evaluation includes a narrative outline of the structure and its components, floor plans, and engineering analysis and calculations. This narrative should describe the building's construction type, occupant load capacity, and fire protection systems and features.
The fire protection systems and features to be described include:
Egress
Access
Fire alarm and sprinkler systems
Elevator operations
Emergency power and lighting
The fire command center
Every life safety evaluation must also include floor plans. These plans must show egress and exit pathways, fire and smoke barriers, smoke-protected seating and areas, hazardous locations, and various event plans and seating configurations.
The final components of the building systems evaluation are an engineering analysis and calculations report. These must be included when facilities utilize a smoke management system, omit sprinklers based on determined lack of effectiveness, and need to demonstrate load capacity for overhead hanging objects.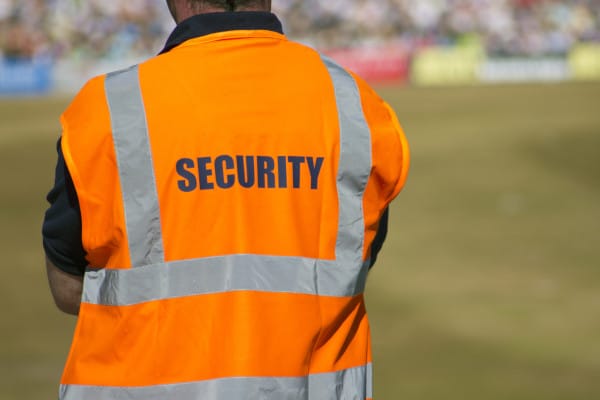 Facility management roles must be clearly defined
A portion of the life safety evaluation provides clear and concise instructions for facility personnel—specifically, personnel actions, roles, and responsibilities as they relate to normal operations, systems maintenance, and emergency situations.
Section 13.4.1.5.2 of NFPA 101, lists 18 items that must be considered. These include emergency plans, safety and safety equipment training plans, fire protection and alarm system testing and maintenance plans, housekeeping considerations, risk assessments, rigging design, and hazardous material safety data sheets.
All records of crowd management and safety training, arena fire protection systems ITM (inspection, testing, and maintenance), medical treatment, and first-aid compliance must be maintained and readily accessible. Also, the facility management plan should include a building systems reference guide.
From the 2018 edition of NFPA 101


13.4.1.5.4 Building Systems Reference Guide.

13.4.1.5.4.1 A basic life safety building systems reference guide shall be developed and maintained.

13.4.1.5.4.2 The life safety building systems reference guide shall contain the important and key information for the venue management's use when planning events/activities for the safety of patrons, performers/participants, employees, and vendors.
This life safety evaluation must be submitted to and approved by the authority having jurisdiction (AHJ; e.g., the fire marshal) every year. If an event will take place that has not been accounted for in the life safety evaluation or is otherwise outside the normal use of the space, the facility manager is required to perform an event-specific plan. This plan must be approved by the AHJ prior to the event taking place.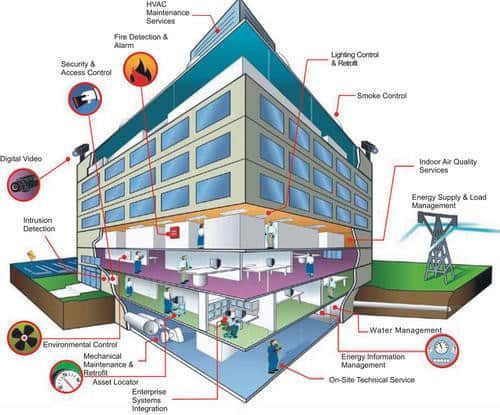 The benefits of smoke-protected assembly seating for arena fire protection
Though it's not expressly required by NFPA 101, the use of a smoke control system that creates an area free of smoke accumulation may be utilized. The code benefits of smoke-protected assembly seating are that exit-width factors can be reduced and exit-travel distances increased to permit larger occupant loads.
In the event of a fire, these systems maintain the smoke level six feet above the means of egress.  Smoke-protected assembly seating will be utilized when the facility's fire protection is specified by a performance-based design model. These systems must be designed and tested by a professional engineer and meet the requirements of NFPA 92: Standard for Smoke Control Systems.
Where fire sprinklers are required—and when they're not
In new assembly occupancies with occupant loads that exceed 300, a fire sprinkler system is required. In existing assemblies, sprinkler systems are mandated when there is an occupant load of over 100 in areas with festival seating, or when the exhibition or display area exceeds 15,000 sq. ft.
However, there are specific exceptions in arena fire protection—areas where sprinkler protection can be omitted. These exceptions apply to areas over the playing field, over the seating area, over open-air concourses where sprinkler protection would be ineffective, and underneath grandstands that are kept free of flammable and combustible materials.
If the arena is unenclosed, sprinkler protection can also be omitted from press boxes and storage rooms of fewer than 1,000 sq. ft.
From the 2018 edition of NFPA 101

3.3.248.1* Festival Seating. A form of audience/spectator accommodation in which no seating, other than a floor or finished ground level, is provided for the audience/spectators gathered to observe a performance.

3.3.129 Grandstand. A structure that provides tiered or stepped seating.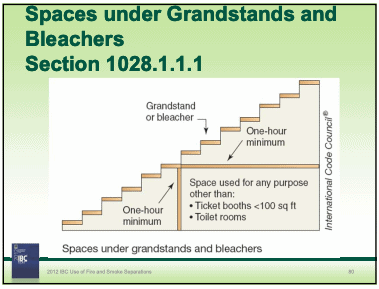 A facility manager's guide to arena fire protection and life safety evaluations
In addition to the regular code requirements for assembly occupancies, above are additional items that must be taken into consideration for arenas and stadiums. The effective development, use, and application of the life safety evaluation will assist facility managers in the safe operation of events.
It lists the tasks that help responsible personnel collect and prepare the information needed for a thorough evaluation!
If you have questions or need help finding fire protection equipment for your facility, call us at +1 (888) 361-6662 or email support@qrfs.com.
This blog was originally posted at blog.qrfs.com. Check us out at Facebook.com/QuickResponseFireSupply or on Twitter @QuickResponseFS.