This National Preparedness Month, ensure fire protection systems are ready for disasters
We rely on fire protection systems, including fire sprinklers, standpipes, and alarms, to keep us safe from fires. But other events, including winter storms, hurricanes, tornados, floods, and earthquakes, can damage fire protection systems and increase the risk of fires — making disaster preparedness essential.
For example, earthquakes sometimes rupture gas lines and expose arcing electrical wires that can ignite fires, and there were around 110 earthquake-related blazes after the 1992 quake in Northridge, CA. Disasters can also simultaneously limit the ability to fight fires. Floods, landslides, earthquakes, and storms can cut water supplies or prevent fire departments from deploying quickly. And extreme winter weather, especially in places not used to it, may wreak havoc on water-based fire protection systems by freezing and bursting pipes.
September is National Preparedness Month, an event designed to "raise awareness about the importance of preparing for disasters and emergencies that could happen at any time." It's a great reminder to prepare your fire protection systems to be resilient in the face of potential disasters.
In its report "Disaster Resiliency and NFPA Codes and Standards," the Fire Protection Research Foundation cites "three major meanings" of resiliency from Resilience Engineering: Concepts and Precepts:
Resilience is the ability to prevent something bad from happening.
Or the ability to prevent something bad from becoming worse,
Or the ability to recover from something bad once it has happened.
Thus resilience and disaster preparedness are about what you do before, during, and after a disaster. This article explores different tactics intended to prevent damage to fire protection systems, mitigate problems, and quickly recover after the event.
Whether preparing your systems or recovering after a disaster, QRFS is your resource for fire protection supplies and equipment. From sprinklers and fittings to test equipment and signage, we're here to help you get ready. 
Before an emergency: disaster preparedness for fire protection systems
While no one can stop or even accurately predict an earthquake or a direct hit from a hurricane, some basic preventative measures can reduce the risk of damage during a disaster. And ultimately, this means keeping up with design and inspection standards for fire protection system bracing and redundancy.
Regular ITM is essential
Inspection, testing, and maintenance (ITM) are at the heart of disaster preparedness for fire protection systems. If you aren't maintaining your systems, you can't expect them to work during a fire or withstand the stress of a disaster. NFPA 25: Standard for the Inspection, Testing, and Maintenance of Water-Based Fire Protection Systems (2020 edition) lays out the recommended ITM regimen for sprinklers, standpipe systems, and fire pumps.
Reliable power and system redundancy
Disasters, whether they are floods, hurricanes, tornadoes, snowstorms, heat waves, or earthquakes, often cause power outages. And redundant (backup) power supplies ensure that core systems stay operational during a disaster.
For example, NFPA 20: Standard for the Installation of Stationary Pumps for Fire Protection (2022 edition) requires power dependability for pumps in high-rise buildings. Fire pumps are powered by electric or diesel motors. Electric motors either need secondary power supplies (which can include generators) or backup diesel-driven pumps (NFPA 20 9.3.1). Fuel tanks supply diesel-driven pumps, so it's key to ensure they and/or any backup generators have adequate fuel. Reliable power also may be crucial for keeping heat tracing systems and overall climate-control systems active during winter weather to prevent frozen pipes.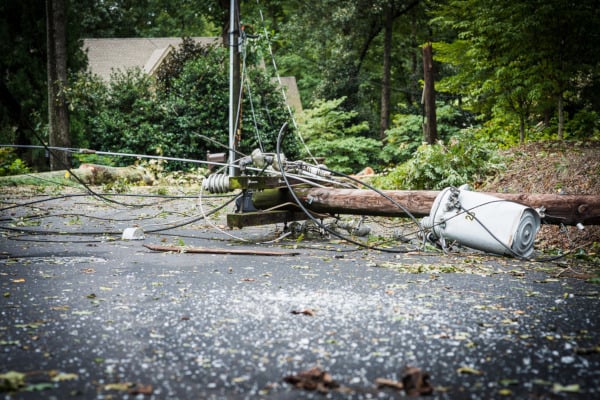 The same principle applies to fire alarm systems, electrical supervisory devices, and egress/exit signs. Are these systems ready to work in a power outage? You won't know unless they're up-to-date following NFPA 72: Fire Alarm and Signaling Code and NFPA 101: Life Safety Code.
It's also worth exploring whether glow-in-the-dark signs that don't require an external power source are a code-compliant option for your building.
Seismic design for earthquake prep
Fire sprinkler systems are particularly vulnerable to earthquakes. Violent shaking may damage pipes, fittings, and sprinklers, leading to extensive water damage and leaving the system impaired during the heightened fire risk after a quake. NFPA 13: Standard for the Installation of Sprinkler Systems (2022 edition) anticipates this problem and dedicates an entire chapter to seismic protection of fire sprinkler systems. These disaster preparedness design principles only apply where earthquakes are a risk, as defined by the seismic design category (SDC) assigned to specific buildings.
Seismic design uses two techniques to prevent damage: flexibility and rigid bracing. Sprinkler pipe can break where it spans the gap between different parts of a facility—such as between two floors or freestanding structures. To prevent this, the pipe fittings are more flexible in these spots, often with flexible grooved couplings.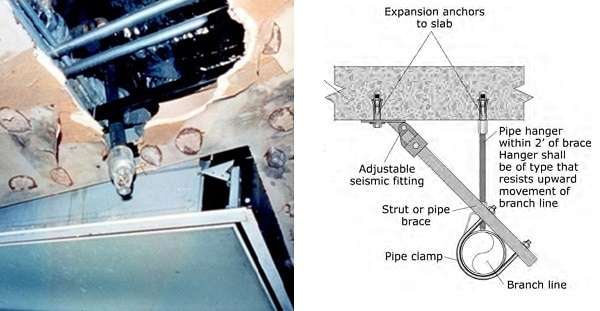 The response during a disaster
What individuals, employees, and property owners and managers should do during a disaster varies widely by the event, the threat it poses, its duration, the building's relative safety, and government advisories or mandates.
For example, a hurricane could cause local governments to issue shelter-in-place orders, and a specifically hurricane-proofed structure may be the safest place to do it. But in other cases, a building is less than ideal, or the threat is so dangerous that authorities order a total evacuation from the area.
Thus, all properties and businesses should have an emergency response plan that assesses likely risks and outlines what staff should do in different scenarios, including when and how they should evacuate, how everyone should communicate, and other continuity and safety steps.
Ready.gov offers a series of toolkits, including plan templates, to aid in planning for earthquakes, hurricanes, inland flooding, power outages, and severe winds/tornadoes. Within this framework — and with safety as the priority — certain steps might mitigate the impact on fire protection systems in some scenarios.
Maintaining staff in the building—only if safety permits
Keeping a skeleton crew on site may enable a response to some emergencies as they develop. Obviously, this isn't a universal rule—individuals should be sent home or seek alternate shelter if there is any danger. But qualified onsite personnel can monitor the building and its critical infrastructure and sometimes take action. For example, they may be able to mitigate flooding or address frozen water tanks, snow accumulation, and other problems. They can also call emergency services as necessary.
Snow removal during winter weather
When possible, snow removal crews should work to keep fire department connections (FDCs), fire protection system control valves, doorways, and nearby roads clear, enabling first responder access. And fire hydrants should be flagged, so they aren't completely hidden by snow.
Maintaining heat and power
As covered earlier, keeping the power on during a disaster can be vital. Grid power is the primary energy source for electric fire pumps. Moreover, power means heat, and heat can be crucial during winter weather, specifically for water-based fire protection systems not designed to work without climate control. Staff may need to maintain generators to maintain a building's power and heat. In the latter case, even a low temperature just above 40F can save a system from frozen and burst pipes.
Recovery: fire protection systems after a disaster
As mentioned earlier, fire risk is often higher after a disaster because of damage to gas lines and electrical systems. Plus, fire protection systems can be directly impaired, causing them to fail if a fire strikes. In this case, returning systems to normal as soon as possible is critical. Thus, the significant steps in disaster recovery are ITM and impairment procedures.
ITM review and repairs
A quick but thorough ITM assessment by a fire protection professional is needed to evaluate and repair any damage after a disaster. Here we focus on fire protection systems, but other parts of the building should obviously get this treatment as well.
After winter-weather events and earthquakes, inspect pipes, valves, and sprinklers. They could be harmed by freezing or shaking, and you'll want to identify leaks or significant physical damage ASAP. Also, look for damage to hangers and major equipment like pumps after an earthquake.
After a flood, it's essential to identify the high-water line and spot any waterlogged mechanical and electrical equipment. As explained in our article on hurricane preparedness, replacing electrical equipment soaked in a flood is crucial. Water-damaged devices can corrode quickly and create a fire hazard. Don't forget to check the fire pump and fire alarm control panel, as this equipment is usually on the lowest level of a building.
If serious problems with fire protection systems are found, you'll need to implement NFPA 25's impairment procedures.
Impairment procedures
If any damage renders a fire protection system (or a portion of it) nonfunctional, you have an emergency impairment (NFPA 25 3.3.22). Some examples of emergency impairments include (15.6.1):
An interrupted water supply (such as by a loss of municipal water or a broken yard main)
Burst or frozen pipes
Broken essential equipment
In addition, some system repairs may cause temporary impairments. For instance, replacing damaged sprinklers and pipes requires draining the system or a portion of it. Because this is known but renders the affected sprinkler system inoperable, it is a planned impairment.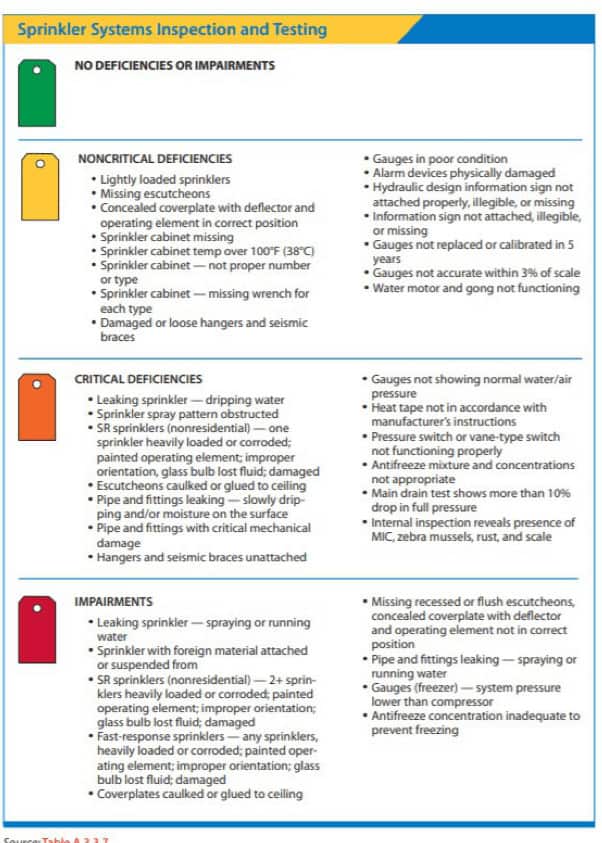 Whether planned or an emergency, impairments are "red-tag" situations, and the affected portion of a building becomes unsafe. In this situation, management must designate an impairment coordinator (15.2.1) to carry out impairment procedures. Before, during, and after an impairment, this coordinator:
Determines the extent of the impairment, the increased risk, and how long repairs will take
Communicates with management, the fire department, the fire alarm company, insurance carriers, and other stakeholders and authorities having jurisdiction (AHJs)
Uses tags to mark affected equipment/infrastructure
Assembles the necessary tools and equipment and coordinates repairs (5.2)
If a fire protection system will be impaired for more than 10 hours in a 24-hour period, the coordinator also has to arrange one of the following:
An evacuation of the building (or the affected area)
A fire watch
A temporary water supply
An approved program to eliminate ignition sources and fuel sources
Read our previous blog on how to conduct a fire watch (and when it's required). To learn more about impairments and other problems, as well as how they are marked and handled, see our guide to deficiencies and impairments.
This National Preparedness Month, get ready to safeguard your fire protection systems, property, and people
Fire protection systems are incredibly effective, but many different events can damage these systems and limit the ability of firefighters to respond. Worse, some can increase the risk of fires by damaging gas lines and electrical systems.
Resilient fire protection systems largely depend on how you prepare before a disaster — but also how quickly you can recover afterward. This article has outlined some tactics for disaster preparedness. Still, each property must develop its own customized emergency plan and work to build system resiliency with the help of qualified fire protection professionals.
If you ever need the equipment to make repairs, QRFS's selection of commercial fire sprinklers, installation tools, pipe components, valves, and more is in stock to help you restore your fire protection systems to service.
If you have questions about QRFS products or services, call us at +1 (888) 361-6662 or email support@qrfs.com.
This blog was originally posted at blog.qrfs.com. Check us out at Facebook.com/QuickResponseFireSupply or on Twitter @QuickResponseFS.