Fire hose adapters are small but essential components that reduce fire truck weight and enhance readiness
American fire trucks are often very, very big. Like giant toolboxes with wheels, these vehicles carry thousands of pounds of hose, tools, people, and water. Fire hose adapters and fittings are likely some of the smallest products on those engines, but they play a role in reducing loads—and a crucial one in keeping firefighters ready for anything.
To get a sense of what's on the market, how these fittings differ, and what to keep an eye out for while choosing a fire hose adapter, read on.
You can also click here to view our selection of adapters for fire hoses.
Thread types dictate which hoses and equipment connect
Most fire hose fittings and adapters have threaded ends. Male ends couple only to female ends of the same size (and vice-versa). And for the most part, different styles of thread aren't interchangeable. Their angle (pitch), spacing, and diameter vary. Mixing these thread types may cause fittings to leak or fly off under pressure, creating hazards to firefighters and the people they protect.

While thread standards vary from place to place, adapters designed for fire hose typically feature one of the following:
Most often: National Standard Thread/National Hose (NST or NH)
Second-most-often: National Pipe Straight Hose/Iron Pipe Thread (NPSH or IPT)
In wildland firefighting and special uses: Garden Hose Thread (GHT)
For connection to fixed piping systems or pressure gauges: National Pipe Thread (NPT)
Fittings with National Pipe Thread (NPT) are among the most confusing in the fire service. Here's why: when two NPT threads screw together, they do so permanently. However, some NPT-threaded fittings and NPSH-threaded fittings can connect temporarily.
But there's a big caveat: only male NPT threads can attach to NPSH fittings temporarily. Connecting a male NPSH fitting with a female NPT fitting will result in a permanent connection.
So, in short, follow these rules with NPT-threaded adapters:
Male NPT ends – connect them to NPSH fire hoses or female NPT-threaded pipes
Female NPT ends – connect them to male NPT ends only, for permanent installation to fire pumps or piping systems
Different types of fire equipment have different thread genders
Male or female threads on fire hose fittings and adapters connect to corresponding inlets or outlets on firefighting equipment. In most cases, equipment that discharges water has a male-threaded outlet—much like a garden hose—and orifices that receive water have fixed female threads or female swivels.
While it's up to fire departments and local governments to decide which components use which threads, most follow a few simple conventions. Here's a short list of fire equipment and the gendered connections they typically feature:
Fire hoses have a male coupling at one end and a female coupling at the other, allowing firefighters to chain hoses together as needed.
Fire department connections (FDCs) utilize female swivels. FDCs connect to male-ended fire hoses to supply fire sprinkler and standpipe systems with water.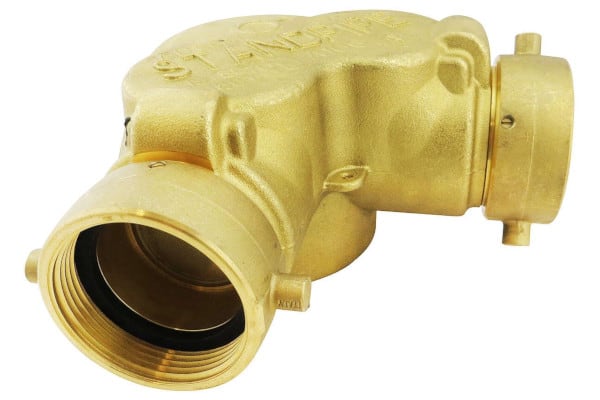 Fire hose nozzles have female inlets that connect to male-ended fire hoses.
Fire hydrants have male-threaded outlets or nozzles.
Dry hydrants are pipes connected to unpressurized water sources, like lakes or ponds. The choice of male or female threads varies from place to place.
Hose angle valves, often used with permanent indoor hose installations, feature either male or female-threaded outlets. Swinging hose racks typically use hose valves with female-threaded inlets, which allows for the attachment of a double-male nipple. Stationary hose angle valves, such as those found with rack and reel hose, may use male-threaded outlets.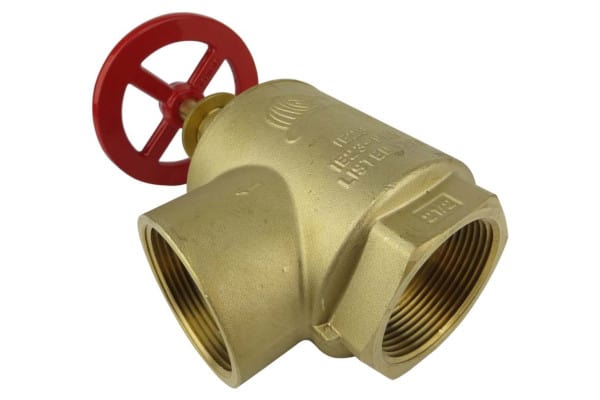 Some fire hoses and equipment connect with no threads at all
While threaded fire hose adapters and fittings are common, many hoses, valves, and pumps use threadless couplings called Storz connections. These fittings have been popular on European fire hoses, hydrants, and other equipment for decades—and are now seeing increased use in the United States. While manufacturers offer Storz couplings in sizes large and small, American fire departments largely use four-inch and five-inch sizes with the following equipment:
Fire hose couplings
Fire department connection inlets
Inlets and outlets on tankers/engines
Large-diameter "pumper nozzles" on fire hydrants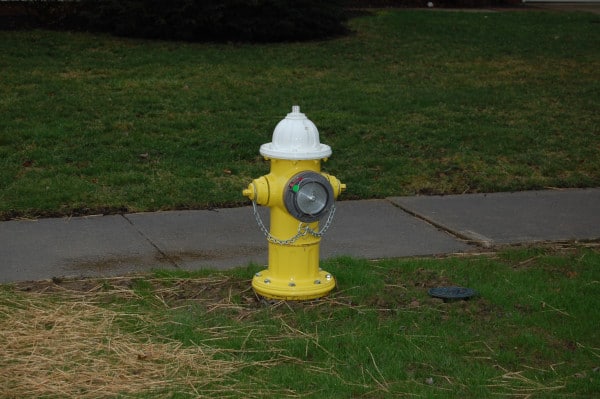 Some adapters connect perfectly good (but differently threaded) pieces of fire equipment
1991's Oakland Hills Fire showed the peril of incorrect fittings—and the promise of fire hose adapters. With hundreds of buildings in Oakland, California burning at a rapid pace, the fire department called for aid (PDF download). But the fire grew to an enormous scale, in part because visiting firefighters didn't have the right adapters for Oakland's hydrants, which used 3″ connections instead of the standard 2 1/2″ size.
In this section, we'll look at fittings used in situations like these, when:
Fire departments from neighboring jurisdictions combine forces (mutual aid operations)
New or donated equipment can't connect to existing equipment
Storz x 4 1/2″ NST
Common uses: Connecting standard 4 1/2″ hydrant inlets to large-diameter Storz hose.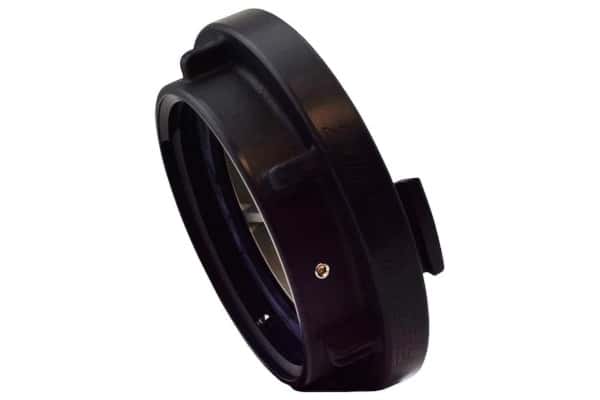 Swivel Adapters – 1 1/2″ or 2 1/2″ Female NST to Male NPT (Various)
Common uses: Joining the swivel end of NPSH hose to NST-threaded hose (male). They're also useful when connecting NST hoses to NPSH nozzles, or connecting an NPSH-threaded hose to an NST-threaded port on a fire pump.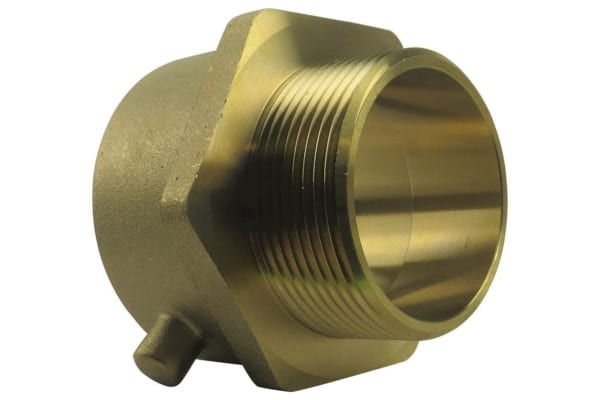 Common sizes include:
Hex Adapters – FNST x MNPT (1 1/2″ & 2 1/2″)
Common uses: Like swivel adapters, these hex adapters connect the male end of an NST hose to the female end of an NPSH hose or fitting. They join NST hoses with NPSH nozzles, NST and NPSH hoses, and NPSH hoses with NST pumps.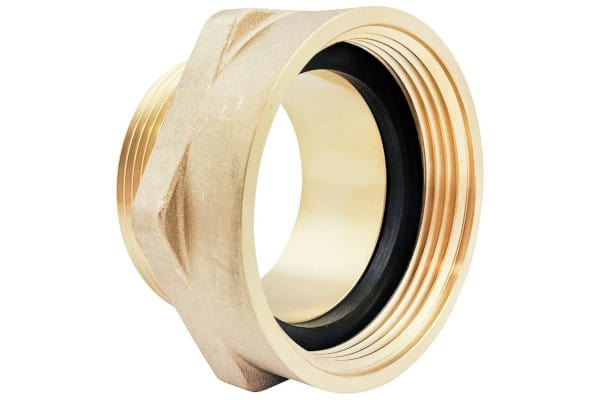 Common sizes include:
Fire hose fittings and adapters save time when a hose is laid in reverse
Most fire engines have hundreds of feet of hose on hand. Firefighters carry and store fire hoses in various ways—from the "flat load" to the "reverse horseshoe"—and each of those ways is better suited to some applications rather than others. But occasionally, a hose is stored in the wrong direction, or the wrong end is pulled from the engine. When that happens, fire hose fittings and adapters give firefighters the opportunity to correct the problem without re-laying hose.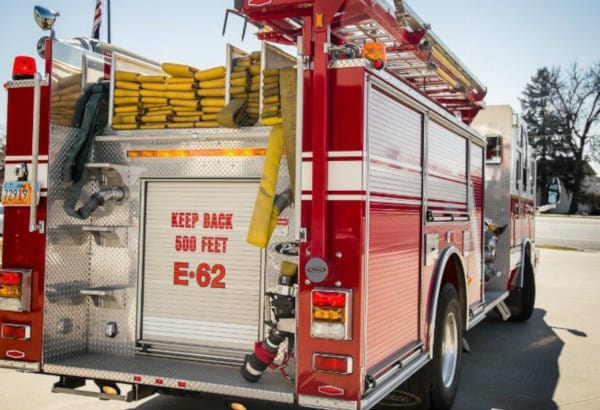 2 1/2″ Double Female NST
Common uses: Joining mislaid hoses to each other or to hydrants. Many double-female adapters have swivels designed to make connecting quicker.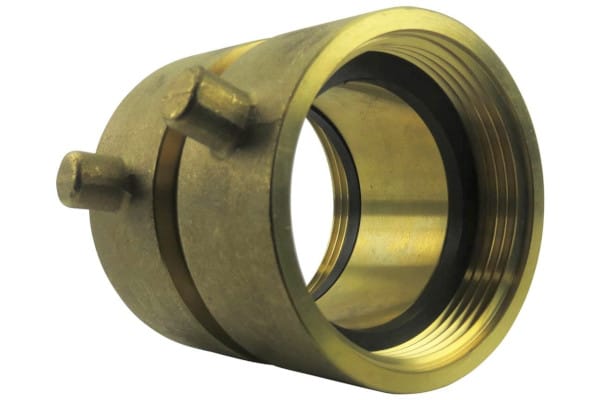 2 1/2″ Double-Male NST
Common uses: Connecting mislaid NST hoses to fire department connections, nozzles, engines, or other hoses.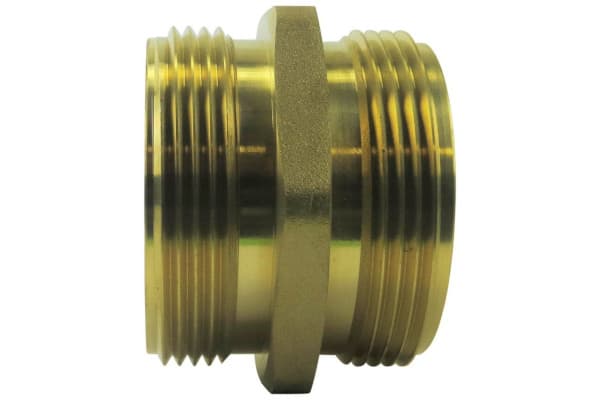 Other firefighting adapters are designed for long-term installation
The fittings we've looked at so far are used on an as-needed basis. In an ideal world, there wouldn't be any need to connect mismatched hoses on the fly, and all hydrants and hoses would have compatible couplings. However, some adapters install permanently, preventing these mismatches and ensuring that firefighters have access to water whenever they need it.
Hose Rack Brass Nipples (1 1/2″, 2 1/2″ NST)
Common uses: These nipples resemble most other double-male adapters, with one key difference: they're longer. This additional length, along with the hex-shaped protrusion, allows these nipples to reach through an opening in a swinging hose rack, holding an angle valve and a fire hose together.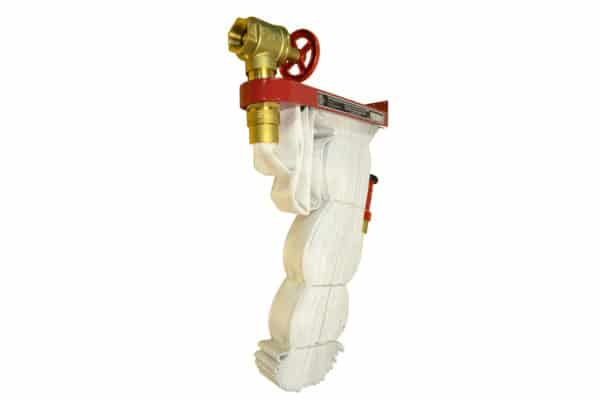 Sizes: 1 1/2″ pin racks are featured in Class II standpipe systems and some Class III systems. Some class III systems feature larger 2 1/2″ angle valves for firefighters' 2 1/2″ hose or 1 1/2″ permanent hose (via a  2 1/2″ x 1 1/2″ reducer). As such, typical sizes for hose rack nipples are:
Hex Adapters – 1 1/2″ or 2 1/2″ Double Female, Double Male, and Male x Female
Common uses: These adapters permanently allow pipes, pumps, and other equipment with NPT orifices to connect to fire hoses.
Sizes and types:  As a general rule, a pipe or orifice with female NPT threads serves as an inlet, while male threads indicate that it acts as an outlet. The following list contains fittings that connect to NPT outlets, sorted by the hose threads the adapter accepts:
With NPT inlets, the following adapters can be used:
Fire protection fittings and adapters can be deceptively complex
We've taken a look at standard uses for a wide variety of adapters, but they're far from the only applications. With the right size and thread—and a little creativity—it's possible to join all sorts of equipment together, fast. But it's important to choose these adapters carefully. Mismatched adapters can delay firefighting efforts and even detach with deadly force.
View our selection of adapters and fittings for fire hoses and hydrants, or if you need some help choosing the right fitting, call us at +1 (888) 361-6662 or email support@qrfs.com.
This blog was originally posted at blog.qrfs.com. If you like our content and want to learn more, check us out at Facebook.com/QuickResponseFireSupply or on Twitter @QuickResponseFS.