Two leading fire sprinkler shutoff tools—Shutgun and Quickstop—compete to help firefighters and building owners prevent water damage
While the odds of a fire sprinkler discharging for no reason are surprisingly low, research shows that tens of thousands of unwanted activations happen each year. It's an issue that impacts our customers and we've looked at it in depth, with articles on how to stop an accidental discharge and how to choose a sprinkler shutoff tool. We've even created a fire sprinkler (discharge) hall of shame to draw attention to the risks that a stray baseball or prank gone wrong pose to sprinkler heads.
For incidents like these, we've long been fans of the Shutgun. This handheld, caulk-gun-shaped tool can stop the spray of a fire sprinkler head in seconds. So, when we discovered that there was an alternative on the market—the Quickstop fire sprinkler tool seen on ABC's Shark Tank—we wondered: how do the two stack up?
In short, our assessment is this: both brands have a great deal to offer firefighters and building owners. Quickstop's products have features that make them well-suited to the fire service and serve as a convenient "all-in-one" tool for the right environments. Shutgun tools cover a wider variety of sprinkler heads and have features that may make them a great choice for most commercial or residential buildings.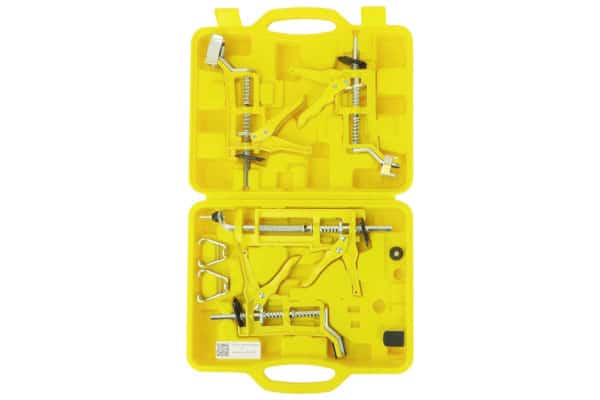 Quickstop debuts to fanfare, both on and off television
Let's start with the Quickstop fire sprinkler tool: They're the brainchild of Matt Scarpuzzi, a former firefighter with California's San Diego Fire Department. Scarpuzzi brought more than a decade's worth of experience in the field to the problem of unwanted fire sprinkler activations. His motivation, as he explained in an interview with San Diego's Fox 5, was simple: "I want to stop hearing the stories of businesses and homes that are destroyed by the systems that are designed to protect them."
After eight years in development, Scarpuzzi's tool found its way into the public eye. On a 2014 episode of Shark Tank—a show that gives would-be entrepreneurs the chance to pitch their products to a panel of investors—he brought Quickstop to the attention of more than six million viewers:
Scarpuzzi ultimately declined their offer of $150,000 for a 50% stake in his company. But by the time Quickstop's fire sprinkler tools appeared on Shark Tank, Scarpuzzi said he'd already sold $18,000 worth of products. And months earlier, his tool ended up in the hands of Captain Mike Kirby, who wrote a glowing review in Fire Rescue that included this enthusiastic list of pros and cons:
Pros
Simple to use
Durable yet lightweight
Requires no special training
Doesn't get you soaked
Competitively priced with a full warranty
Cons
While the Quickstop serves as a temporary sprinkler, it's activation temperature is higher than most sprinklers.
An equally favorable review of Quickstop's fire sprinkler tools came out just a month after Shark Tank. In a video for FireRescue1's "Innovation Zone," Chief Rob Wylie with Missouri's Cottleville Fire Protection District stressed the virtues of Quickstop's firefighter multi-tool, designed to stop activated heads, remove FDC caps, and more. "For me," said Chief Wylie, "the gold standard in a firefighting tool is a tool that can do more than one thing. Quickstop's firefighter multitool fits that bill."
Quickstop's tools are designed as all-in-one solutions for firefighters faced with an accidental sprinkler discharge
As of July 2019, Quickstop's product line includes two fire sprinkler shut off tools: the Talon and the firefighter multi-tool. Both retail for just under $90, and both promise to stop water flow from 1/2″ (15 mm BSP) or 3/4″ (20 mm BSP) heads. They're designed to work on pendent, upright, and sidewall sprinklers—even if their frames have sheared off. They also include heat-sensitive component, known as a fusible link, that allows water to flow from the sprinkler in the event of a fire.
Quickstop's tools perform well along other metrics, such as:
They're tested to stay in place at water pressures as high as 350 PSI
They can connect to an adjustable extension pole ($459.95), offering 6 1/2 to 12 feet of additional reach
When properly adjusted, they seal off the sprinkler with a single squeeze
They're reusable (although it's not clear if or how that applies to the fusible link)
Technicraft's Shutgun competes with the Quickstop fire sprinkler tool in cost and wide range of applications
There's no denying that Quickstop's tools are cool and versatile. And compared to shoving a wedge into the sprinkler's frame, they're a godsend.
But it's not the only option for firefighters and building owners. There's also Shutgun, the creation of Technicraft Product Design. Based in Ontario, Canada, Technicraft's firefighters and engineers began working on ways to stop activated sprinkler heads as early as 1992. They've been featured in publications from Fire Protection Contractor Magazine to The Portal, the journal of the International Association of Movers.
Shutgun's fire sprinkler shutoff tools don't offer the "all-in-one" capability of Quickstop's tools. Instead, Shutgun offers a range of shutoff tools and accessories tailored to a variety of specific sprinkler types and sizes. While they lack the Quickstop's versatility in a single tool, Shutgun has the edge in two respects:
Price range
Quickstop's commercial fire sprinkler tool and firefighter multi-tool currently sell for $89.95. Shutgun's standard model retails for $59.95. It's designed specifically for semi-recessed or exposed heads with 1/2" threads—the most common size in residential and commercial facilities.
Concealed heads, institutional heads, and recessed heads
With interchangeable parts and models for a variety of sprinklers, there really is a Shutgun for almost any conceivable sprinkler type. There's one for:
In contrast, Quickstop's Talon and the multi-tool, as the video below shows, stops a recessed or flush sprinkler via a four-step process that involves removing the escutcheon and pushing up the ceiling tile:
Shutgun vs Quickstop sprinkler tools: staying dry and avoiding future fires
During our review, we found a few more key differences worth mentioning. In short, Shutgun distinguishes itself with a better temperature range and a truly "any-scenario" kit option for firefighters and building owners facing unknown hazards. In contrast, Quickstop performs well at high pressures and offers some significant ease-of-use benefits—it is one handheld tool that does a lot of things. In an environment with the right sprinklers, this is very convenient. But its temperature range when acting as a temporary replacement sprinkler is too high for common applications.
Ease of use
Shutgun's adjustment mechanism resembles a caulk gun. Adjustments to its fit on the broken sprinkler can be made with the same squeezing motion used to get it onto the head in the first place. Quickstop-brand models, on the other hand, use a screwing mechanism to reach the proper height.
However, Quickstop allows users to seal off the sprinkler while standing to one side, while the Shutgun tightens from below—meaning the user may stay drier with the Quickstop.
Activation temperature
Both Shutgun and Quickstop act as temporary fire sprinklers. While neither one of these products should be left in place any longer than needed, there are notable differences in how these brands play that role.
Shutgun products activate at 164 degrees Fahrenheit, while Quickstop activates at 250 degrees. That allows Quickstop to stay in place in environments with high hazards, but it also means that it detaches far later than most residential and commercial fire sprinklers, which are generally in the neighborhood of 164 degrees Fahrenheit. Shutgun clearly has the advantage here in temporary fire safety—it can keep more-common systems up and running as they are intended until the sprinkler head is replaced.
Pressure range
Quickstop has a clear edge in terms of pressure. Shutgun has been tested up to 250 PSI for hydrostatic pressure (water pressure) and 145 PSI for pneumatic pressure (air pressure). Quickstop claims to maintain its grip at water pressures as high as 350 PSI. Fire pumps tend to run at 165 PSI, so both have common coverage.
"All-in-one" options
Quickstop works on 1/2" and 3/4" sprinklers of various types, whether they're sheared or not. Technicraft's most comparable option is the Shutgun Kit, which contains four 1/2" shutoff tools—standard, sheared, concealed, and institutional—along with interchangeable tips for 3/4" sprinklers and more. It's got everything you need to shut off almost every common sprinkler type.
With a little education, choosing and using the right fire sprinkler tool is easy
A concern raised by Shark Tank's investors is the sense that most consumers might not know they need fire sprinkler tools like Quickstop—and wouldn't know how to use them if they had them. We agree, and we've dedicated a bit of effort to get the word out about how to prevent or stop accidental discharges. If you'd like to learn more, we invite you to check out the following articles:
QRFS carries a complete supply of tried-and-true sprinkler shutoff tools. Our selection of lightweight, cast-aluminum models includes: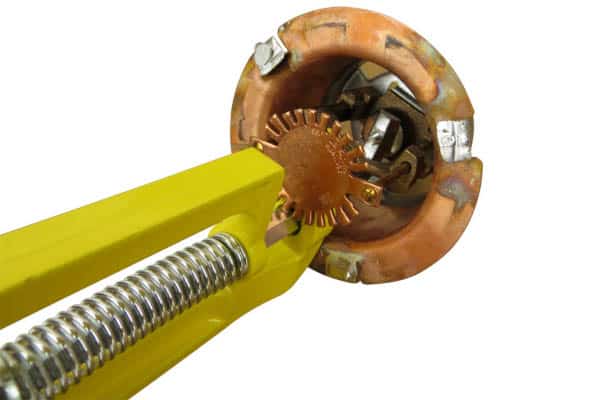 QRFS also offers Technicraft's Shutgun Kit, containing everything firefighters and building owners need to stop discharge from 1/2" and 3/4" sprinklers of all sorts—sheared or not.
Want more information? Call us at +1 (888) 361-6662 or email support@qrfs.com.
This blog was originally posted at blog.qrfs.com. For more, check us out at Facebook.com/QuickResponseFireSupply or on Twitter @QuickResponseFS.