Your search for replacement parts may uncover defective sprinklers and prompt total replacement
Central Sprinkler Company's fire sprinkler heads and cover plates—including those for Model GB4 and Model GBR fire sprinklers—have grown harder to care for in recent years. That's largely thanks to a massive recall and buy-out that abruptly took many of their sprinklers and accessories off the market.
This article provides a run-down of some sought-after Central Sprinkler heads and cover plates, including the Model GB4, GBR, and their variants. We explain how to tell when these sprinklers are one of the millions of defective models that were never replaced in the company's voluntary replacement program. Then, we scour sources online to help building owners better understand the characteristics of these sprinklers, and the options available for replacing Central cover plates (or entire assemblies).
Consumers familiar with the characteristics of the Central models they're replacing can skip directly to our selection of fire sprinklers, including residential models, and fire sprinkler cover plates.
Take a close look before replacing Central Sprinkler cover plates—a flat plug may indicate a dangerous design flaw
Plug problems impacted a wide variety of Central Sprinkler heads
Many fire sprinklers from Central Sprinkler Company (often called Central Sprinkler or CSC) have been discontinued. After a massive recall and other financial difficulties, Tyco purchased Central in the late 1990s. Some CSC products—or Tyco's substitutes—are still on the market. But the dwindling number of product offerings has left some building owners with few choices when sprinkler system components become obsolete or unserviceable.
Many Central-brand sprinklers were part of a voluntary replacement program. The problem—one that impacted the residential GBR models and commercial GB4 models, among others—had to do with faulty O-ring seals. Minerals, salts, and other contaminants caused the seal to swell. As a result, the plugs in these heads would remain in place during a fire, preventing the sprinkler from discharging water.
Many model GBR and GB4 heads, along with other O-ring sprinklers, disappeared from Central Sprinkler Company's website not long after Tyco's purchase. But before then, installers placed millions of these and other now-recalled models in dormitories, daycares, nursing homes, and other commercial and industrial settings throughout the United States.
Many defective CSC fire sprinklers may remain in service
Facilities can continue to use Model GBR, GB4, and other sprinklers that have a Belleville seal (as long as they don't have other replacement-worthy flaws). That's not the case for CSC fire sprinklers with an O-ring seal. Unfortunately, Central's voluntary replacement program stopped offering free substitutes more than a decade ago. And in 2007, with the deadline for replacement looming, Tyco estimated that roughly 13 million faulty sprinklers hadn't been replaced. Complicating matters is the fact that most were manufactured prior to 2001—before the National Fire Protection Association (NFPA) required manufacturers to stamp a five-or-six-digit identification number on each head.
To identify a Central Sprinkler head, take a look at the deflector—the small, "L"-shaped or wheel-like component at the end of the head. (If the sprinkler has a cover plate, first remove it by gently twisting or pulling it free.) Model GBR sprinklers will include the letters "GBR." Not all GBR sprinklers have the faulty O-ring seal, however. Some sprinklers manufactured after 1998 have a Belleville seal—and, again, these can remain in service. The same is true for Central's Model GB4 concealed pendent sprinklers, which feature the letters "GB4," "GB4-EC," "GB4-FR," or "GB4 QR-EC" on the deflector. However, all GB4 models that are specifically for dry-pipe sprinkler systems fall under the scope of the CSC recall. Those should be replaced.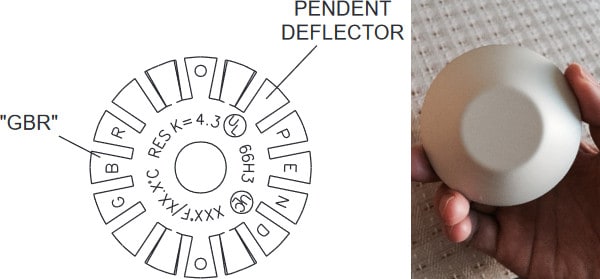 Central Sprinkler's GBR heads have varying orifice sizes and domed plates, while GB4 models have flat plates and standard K-factors
Central's catalog still featured GB4, GB4-FR, and GB4-QREC sprinklers (as well as some GBR models) before September 2000. It's difficult to determine exactly when the working, Belleville-seal-type versions of these sprinklers stopped being manufactured. But today, many building owners and responsible parties with aging equipment struggle to find replacements (or even compatible substitutes).
Manufacturers' data sheets typically make this process easier—but few, if any, of Central's are available today. That's unfortunate because these documents contain information about flow rates and sprinkler coverage that's critical in selecting a suitable replacement. Still, here's what little information can still be found about these CSC fire sprinklers:
GBR residential concealed pendent sprinklers were available with 4.3K orifices designed to operate at low flows and pressures; other GBR or GB-R models had K-factors of 5.4K. These heads had 1/2" (12.7 mm) thread connections and were 2" tall. Concealed models activated at 155 degrees Fahrenheit and were paired with domed cover plates that detached at 135 degrees.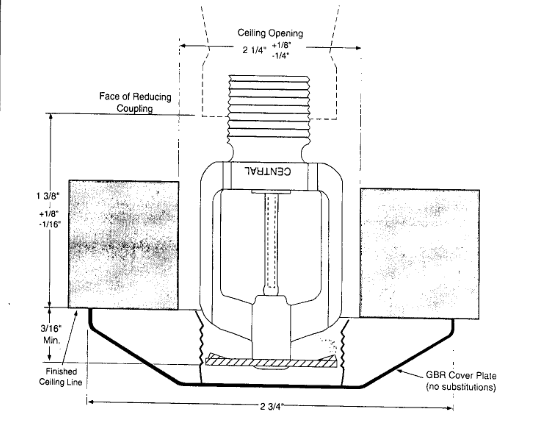 Concealed GBR sprinklers provide anywhere from 12 to 16 square feet of coverage each, depending on how quickly the sprinkler system flows water:
12 square feet: 13 gallons per minute (GPM) for a single sprinkler or 10 GPM for multiple sprinklers
14 square feet: 16 GPM/13.5 GPM
16 square feet: 21 GPM/15 GPM
Model GB4 commercial fire sprinklers—which were largely concealed pendent sprinklers—had higher flow rates of 5.6K. They used flat cover plates that were interchangeable with other Central Sprinkler heads, including the Residential Optima Concealed (ROC) and the Model B4. Dimensions for these plates were:
Outside diameter—3 1/4"
Projection below ceiling—3/16"
Cup diameter—2 1/8"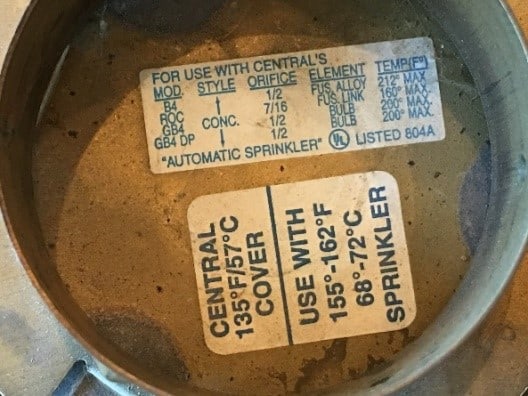 No known substitutes are available for GBR cover plates, and some consumers' replacements for GB4 plates run afoul of fire code
Today, Tyco offers only one product that even remotely resembles the domed cover plates used with GBR concealed pendent heads: the LFII cover plate. These won't fit. They activate at 135 degrees Fahrenheit—which is exactly what a concealed GBR sprinkler needs—but the dimensions don't match. At 3 5/16" in diameter, the LFII's plates are significantly wider. They also thread into a "support cup" surrounding the sprinkler plate, while Central Sprinkler's domed cover connects using a different mechanism.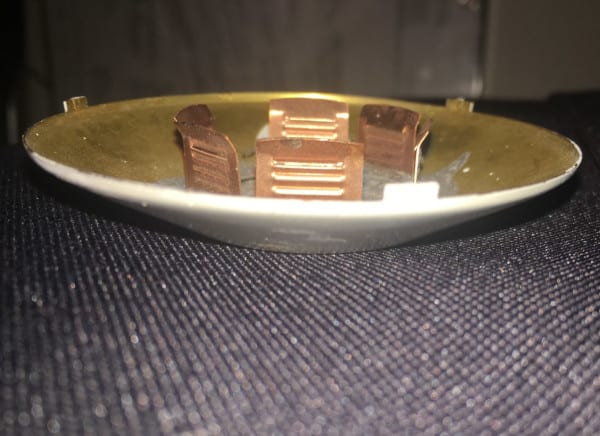 Cover plates for the GB4—along with the B4, ROC, and one other GB4 variant—closely resemble Tyco LFII's flat cover plates. LFII plates have a 3 1/4" diameter (similar to the GB4's plate) and project anywhere from 3/32" to 5/32" below the ceiling (compared to 3/16" for the GB4).
Some of our customers report that they've used these covers with Central GB4 sprinkler heads. They say that placing a bit of thread seal or plumbers' tape on the bumps of the cover's cylinder provides a snug fit. But this practice conflicts with fire codes and may put people at risk. Like other critical components, cover plates must be listed (tested and certified) with specific sprinklers—and installed in accordance with those listings. Further, cover plates rely on small gaps between the plate and the ceiling to operate properly. If the plate is too tight or grows too loose over time, the sprinkler may not activate on time.
As a rule, if you can't find an exact match for the cover plate, have the entire assembly—sprinkler head and plate—replaced.
Heads from Central Sprinkler Company have many close substitutes, but few exact matches
Those looking to replace GBR, GB4, or other Central Sprinkler heads don't need to find an exact match—or even a sprinkler from the same manufacturer. Instead, replacement sprinklers must have six compatible characteristics:
Style
Orifice size
Temperature rating
Coating (if applicable)
Deflector type (upright, pendent, sidewall)
Design requirements
"Design requirements" include response characteristics (quick response, standard response, residential, or other) and spacing requirements, among other things. If an exact replacement can't be found, the sprinklers selected should have comparable:
Response characteristics
Spacing requirements
Flow rates
K-factors (orifice sizes)
Temperature ratings
While each system is different—and sprinkler selection should be performed with the help of a professional—we'd like to offer the following recommendations to help consumers get some ideas about the replacement process:
Replacing Model GBR Heads: GBR, GBR-2, GB-R, GB-R1, and GB-RS
Most of the models listed below are designed for residential applications. Most have slightly different K-factors but can cover as much or more area as the sprinklers they replace. Most of the replacements suggested here are for ordinary-hazard environments and activate at 155 degrees Fahrenheit. To confirm compatibility with a specific sprinkler, take a deeper dive into sprinkler replacement with this full-length guide.
Replacements for GBR sprinklers
GBR—4.3K domed concealed pendent: Senju Sprinkler's 3.7K sprinklers offer comparable dimensions. Although they have flat cover plates rather than domed ones, these plates have an outside diameter of 2 5/8" (1/8" smaller than the dome plates typically used). They provide the same coverage with less gallons per minute: 10 GPM for 12 square feet and 14 GPM for 16 square feet (as opposed to the GBR's 13 GPM and 21 GPM, respectively).
There's also a variety of 4.9K sprinklers—both domed and not—that may be able to do the job. Victaulic's V2742 4.9K concealed pendent covers 12×12 feet at an identical 13 GPM, with greater coverage areas at lower GPMs.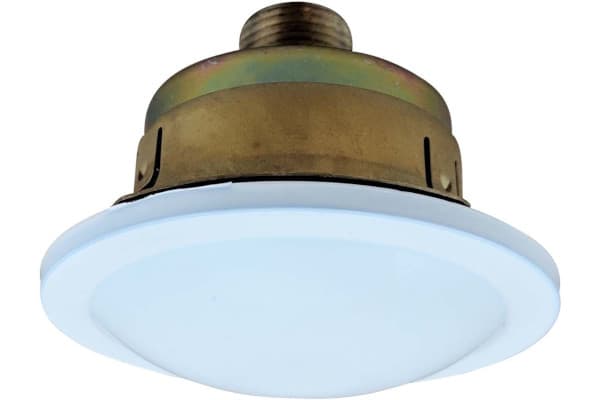 GBR—4.3K pendent: Viking's VK430 offers an identical K-factor that covers larger areas at lower flow rates.
GBR—5.4K horizontal sidewall: Today, 5.6K is now one of the most common orifice sizes. However, it's harder to find residential horizontal sidewall models that fit the bill. One substitute that may be comparable is Viking's VK460 Freedom sprinkler, which has a 5.8K orifice and activates at 155F.
Replacements for GBR-2 sprinklers
GBR-2—4.3K pendent: Like the GBR pendent, the GBR-2 pendent head shares much in common (flow rates, temperatures, orientation) with Viking's VK430.
Replacements for GB-R sprinklers
Replacing GB4 sprinklers and cover plates: GB4, GB4-FR, GB4-EC, GB4-QREC
Each of these commercial models is a concealed pendent sprinkler with a standard orifice size. It's so common, in fact, that our stock includes many sprinklers with the same K-factor. Each of these Central Sprinkler heads varies only slightly from the next, with response types and coverage areas distinguishing one model from the next. However, temperatures for commercial fire sprinklers tend to vary a great deal. Be sure to compare the specifications found on the deflector—including temperature—before purchasing.
GB4 and GB4-FR—5.6K concealed pendent: Any one of the 5.6K concealed non-residential sprinkler heads might do the trick. However, look closely at each deflector first: it's critical to match the temperature (typically between 155 and 205 degrees Fahrenheit) and the response type (quick response or standard response).
GB4-EC and GB4-QREX—5.6K concealed pendent: The "EC" here stands for "extended coverage." Fewer sprinklers can cover a larger area with EC models, so long as the spray isn't obstructed or the ceiling isn't too steeply sloped. If the model has a quick-response (QR) element, Senju Sprinkler's SS3561 may provide the proper coverage—and a comparably-sized cover plate.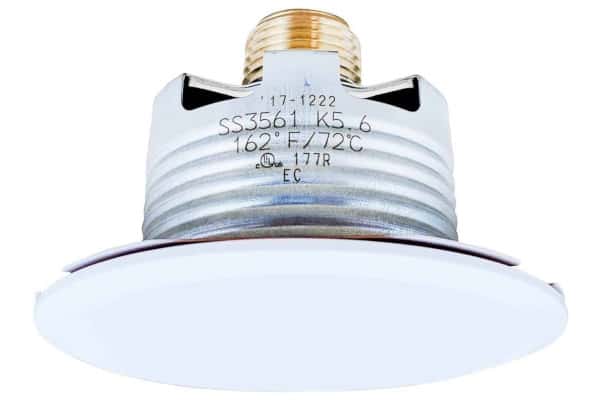 Please note that these are suggestions—building owners should consult with a qualified fire sprinkler professional to determine a suitable replacement. They must follow design density and K-Factor rules set by the NFPA 13, NFPA 13R, or NFPA 13D installation standards, and you can read more about those rules and the replacement steps for sprinklers with discontinued K-Factors here.
If you can't find a suitable match or have other questions, call us at +1 (888) 361-6662 or email support@qrfs.com.
In most cases, replacing the entire assembly provides the most code-compliant solution—and the fewest headaches—in the long run. It's far easier to find a matching wrench and spare sprinklers (required in jurisdictions that comply with NFPA 13) from companies that haven't gone out of business.
This blog was originally posted at blog.qrfs.com. If this article helped you, check us out at Facebook.com/QuickResponseFireSupply or on Twitter @QuickResponseFS.