Could new recruitment, training, and technology solve the problem?
Fire protection systems have proven to be highly effective. However,  they must be properly engineered, designed, and installed—and inspected, tested, and maintained (ITM)—to work properly. Some of the most common sprinkler system failures in the event of a fire, for example, are attributed to a lack of system inspections and insufficient maintenance.
Fire protection ITM is a vital part of fire safety, and the importance of having trained professionals to complete required work promptly cannot be overstated. But with fire protection needs growing rapidly and the fire protection workforce declining, industry experts have begun looking for ways to address a projected shortfall of ITM professionals.
In this article, we explore the causes of this looming manpower shortage and what businesses, trade associations, and governments are doing to tackle the issue.
The fire protection industry is growing while the workforce is shrinking
Several factors have led to rapid growth in the fire protection industry. Economic growth since the Great Recession has contributed to a strong increase in new construction and the need for the design, installation, and maintenance of many new fire protection systems.
Recent years have also seen an unfortunate number of hotel and high-rise fires in the Middle-East, prompting a call for better fire safety in hundreds of buildings judged to be infernos waiting to happen. Changes to legislation governing fire protection in North America, including the piecemeal adoption of residential sprinkler mandates, have also strengthened the demand for fire protection systems. In fact, the industry is projected to double its 2015 market value by 2020.
This rapid industry growth and the demand for projects to be completed promptly fuels the demand for experienced fire protection professionals. Unfortunately, as the need for these types of skilled employees increases, a wave of current contractors are retiring and fewer high school graduates are entering the trades overall.
In the United States, there have been more vacancies in the skilled trades than in any other industry for almost a decade. There is a projected shortage of 1.4 million craft professionals by 2022 and it is estimated that 29 percent of the skilled-labor workforce will retire by 2026.
Looking at the fire protection system market specifically, maintenance services have recently held the largest size of the fire protection system market and they will likely continue to dominate. Given this reality, it's reasonable to assume that the overall shortage of skilled labor will hit fire protection ITM particularly hard.
How is the fire protection industry addressing a skilled labor shortage?
The fire protection industry is sometimes criticized as slow to change but a potential critical labor shortage has been widely recognized. And the issue is being addressed from several angles. Recruitment and training programs are being developed, compensation is rising, technology has a role to play, and the National Fire Protection Association (NFPA) is adjusting standards in response to both technological advances and new data.
Companies are stepping up recruitment efforts for fire protection jobs
Many teenagers and young adults and, perhaps more importantly, their parents, view a career in the trades as a difficult or unattractive line of work, with no potential for career advancement, lesser job security, and little to offer in the way of financial security. Partly in response to this stereotype, high schools now focus almost entirely on preparing students for academic studies at 4-year universities.
And this perception is just a stereotype—fire protection ITM is a highly skilled profession and we're hard-pressed to think of jobs with greater security or more importance, given the demand for workers and the lives and property that can be lost when it's not done right.
To counteract this trend, many companies have started reaching out to local vocational schools to recruit potential employees. They've started educating the educators on employment opportunities within the fire protection industry and have learned to use language that appeals to today's teenagers and young adults. Recruitment marketing materials often speak to the younger generation's ideals of being environmentally friendly, saving lives, and protecting their local community.
This video about becoming a fire sprinkler technician from the National Fire Sprinkler Association (NFSA) is a good example of the messaging that is being used to encourage today's youth to consider a career in fire protection:
New training programs help attract and retain employees
Many state governments, the federal government, and professional associations are devoting attention and resources to the projected shortfall of skilled trade professionals, and various programs promote technical education and collaborations between community colleges and businesses.
The state of Tennessee has even made its technical colleges tuition-free. The American Fire Sprinkler Association (AFSA) offers scholarship opportunities to students enrolled in fire protection programs at certain schools. Individual businesses have partnered with high schools and technical colleges to develop internship programs.
Companies are also adjusting existing training programs and developing new ones to help transition inexperienced employees from raw recruits to seasoned employees within a few years. Inexperienced new hires may be enrolled in the AFSA's Fire Sprinkler Fitter Apprenticeship Training Program, its Inspection, Testing & Maintenance (ITM) Inspector Development program, or a similar program, depending on their area of interest. Pairing new employees with experienced workers in mentorship programs can also help with effective employee training and retention.
The opportunity to learn a trade while earning a paycheck is one of the benefits that most attracts young people to the fire protection industry. AFSA also promotes learn-as-you-earn opportunities in fire protection to military veterans and those looking to change careers.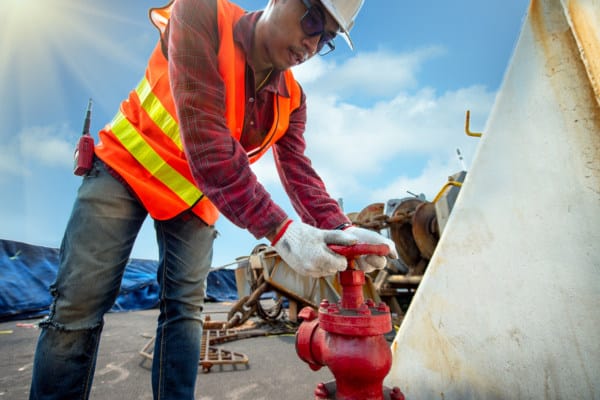 Fire protection jobs offer above-average compensation
Salaries in the fire protection industry are already above average. According to Payscale.com, the average salary for a fire sprinkler designer in the United States is $61,000. Per Indeed.com, the average salary for a fire sprinkler technician in the United States is $66,499 per year. Compare these figures to the $46,800 median annual income for a full-time worker in 2018, and you can see why fire protection careers should be attractive to many individuals starting out in the workforce.
To find and retain experienced trade professionals, companies have increased compensation, introduced incentive bonuses, and implemented generous training schemes. Steady wage growth is the norm and many employers are also offering pensions, a traditional benefit that is now almost unheard of in the modern workforce.
Advances in fire protection ITM technology offer potential solutions to the skilled labor shortage
Aside from creating and improving ways to attract recruits to the fire protection industry and retain them long-term, the industry has seen several informational and technological advances in the last several years that may at least partially make up for the shortage.
Automated ITM components can help reduce inspector workload
Standpipes, alarms, fire extinguishers, fire sprinklers, and other fire protection systems require a plethora of inspections, many of which need to be performed by professional contractors or highly qualified onsite personnel. Reducing the frequency of inspections and adding the ability to perform remote and automated inspections can help reduce the overwhelming demand for fire safety professionals.
NFPA 25: Standard for the Inspection, Testing, and Maintenance of Water-Based Fire Protection Systems has long specified longer inspection timelines for certain components that are electronically supervised vs. components only receiving in-person, manual inspections. Control valves are the basic example; NFPA 25 recommends that control valves be checked weekly. However, electronically supervised control valves can be inspected quarterly instead.
From the 2017 edition of NPFA 25

13.3.2.1 All valves shall be inspected weekly.

13.3.2.1.2 Valves that are electrically supervised shall be permitted to be inspected quarterly.
The 2017 edition of NFPA was the first edition to introduce requirements permitting automated inspection and testing of water-based fire protection systems, eliminating the need for an ITM contractor to be physically present at the facility for certain tasks.
From the 2017 edition of NPFA 25

4.6.6.1 Automated inspection and testing procedures performed in accordance with the requirements in this standard shall be permitted to be used.

4.6.6.2* Automated inspection equipment that meets the intent of a required visual inspection shall be permitted to replace the visual inspection.

4.6.6.3 Automated testing equipment shall produce the same action required by this standard to test a device.
As Chad Duffy, a principal fire protection engineer at NFPA, writes in NFPA Journal, "Automated inspection and testing equipment can consist of valves with a motorized function capable of opening and closing the valve, cameras for observation, or auxiliary pumps for circulating water, such as those on the side of a system riser capable of circulating water past a flow switch, to mention a few."
And the list of components that can be automated or mechanically supervised will grow with further advances in fire protection technology.
Relaxing inspection requirements—based on smart analysis—could partially ease the need for fire protection jobs
NFPA is also looking at relaxing certain ITM requirements based on an analysis of the actual performance of these system components. Released in 2018, "Applying Reliability Based Decision Making to ITM Frequency," is an NFPA report intended "to develop a framework for applying reliability-based-decision-making using inspection, testing and maintenance (ITM) data" rather than simply continuing historical requirements which are not always based on either ITM data and observed deficiencies.
As we previously wrote in "Fire Safety Inspection, Testing, and Maintenance Reporting: The Digital Future:"
"For example, NFPA standards and fire code stipulate that building owners are responsible for inspecting various components of fire pumps on a monthly, quarterly, semiannual, annual, or biennial basis. If nationwide reporting found that the failure rate of a certain component was consistently very low over a certain timeframe, these ITM requirements could be adapted—meaning building owners could inspect and maintain these systems less frequently and save money while still keeping them working and compliant."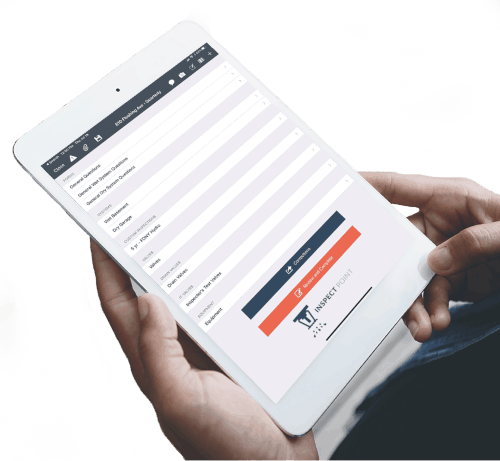 Fire inspection software increases efficiency
Preparing traditional paper inspection reports can be tedious and time-consuming, with additional office time required for reviewing, processing, and creating a corrective plan, to say nothing of the inefficiencies of later searching for previous paper reports when they need to be referenced.
Utilizing digital fire protection software like the Inspect Point platform streamlines the process. The software can be run on mobile devices in the field and synced electronically with the back office, simplifying inspections and automating much of the follow-up work. Fire protection software is designed to increase safety and compliance while reducing work for inspectors, allowing them to do their jobs much more efficiently. More inspections and service follow-ups can be done more accurately by fewer professionals.
Inspect Point's features designed for this purpose include the ability to view and map upcoming assignments, a step-by-step inspection process with preloaded questions based on NFPA standards and codes, the ability to customize the software to include relevant local laws and eliminate inspection questions irrelevant to the inspection at hand, voice dictation for notes, picture taking and uploading capabilities, and one-click report creation.
This video has more information about the features offered by Inspect Point:
Whatever digital platform is used by ITM professionals, the reports that they create need to be submitted to the local government authority having jurisdiction (AHJ) so that they can enforce NFPA standards for sprinklers, fire alarms, and other systems in their community. All primary NFPA documents now permit electronic inspection reporting, and third-party reporting through an ITM software platform is currently utilized in at least 37 states, with many more jurisdictions acquiring and implementing programs.
From the 2017 edition of NFPA 25

4.3.1.1* Records shall be permitted to be stored and accessed electronically.
Recruiting, training, and technology are working to combat a skilled labor shortage in fire protection
The increasing need for fire protection ITM professionals is indeed being addressed by multiple sectors of the industry and from several different angles. Communicating the worth, value, and benefits of these jobs—and applying new data and technological solutions—may ensure that ITM work will be carried out by enough well-trained professionals, well into the future.
If you need fire protection equipment, please view our online selection. You can also sign up for a free demo of Inspect Point digital fire protection ITM software.
If you have any questions or need help placing an order, call us at +1 (888) 361-6662 or email support@qrfs.com.
This blog was originally posted at blog.qrfs.com. Check us out at Facebook.com/QuickResponseFireSupply or on Twitter @QuickResponseFS.