Pandemic lockdowns are contributing to the risk of residential fires—which have the greatest potential for death and injury
Though only 27 percent of fires happen in homes, these blazes are responsible for most fire deaths (79 percent) and injuries (73 percent). A combination of fewer working fire suppression and alarm systems in residences and the presence of elderly individuals contribute to these statistics. And as COVID-19 lockdowns force more people to stay home and work remotely, the risk of fire grows.
While 2020 data is still being aggregated and collected, it's reasonable to assume we'll see an annual uptick in fires as more people spend more time in their residences—especially as cooking becomes more common.
This is why the National Fire Protection Association (NFPA) "urges added caution around home fire safety during COVID-19 pandemic" and runs down some commonsense steps to reduce the risks.
In this blog, we go over essential home fire statistics and fire protection basics, plus explain why the best defense is having an active fire protection system that protects residents 24/7.
Where do fires start in the home?
NFPA's latest report on "Home Structure Fires" studied incidents between 2013–2017. Of the average "354,400 home structure fires per year," most were caused by cooking (49%), followed by:
Heating equipment (14%), which presents an added level of risk during winter lockdowns
Electrical distribution and lighting equipment (10%)
Intentional (8%)—this includes arson and fires started by children
Smoking materials (5%)
A key detail is that while smoking materials are only responsible for 5% of fires, these types caused the most deaths (22%), a proportion that slightly eclipses cooking (21%). Cooking took the top spot for injuries (45%) and hit number two in property damage (17%).
Other causes that don't make the top five are candles (2%) and exposure to another fire (4%), often when a neighbor's home goes up in flames.
Home fire safety tips during COVID—and all of the time!
There are several steps outlined by NFPA that any resident can take to achieve better fire safety. And given the high proportion of cooking fires, things start in the kitchen:
Cooking fire safety
If you're cooking with quicker-acting equipment, stay in the room and keep an eye on things! Turn off the stove, fryer, broiler, or grill if you have to leave. Use a timer for longer cooking tasks, such as baking, simmering, or roasting; forgetting this equipment is on can trigger blazes.
Keep fuel sources—from towels and mitts to empty pizza boxes—away from the stove. And make sure pot and pan handles aren't sticking out, and try to keep small kids out of an active kitchen!
Heater fire safety
Keep fuel sources—basically anything that can catch fire—at least three feet away from any type of heating equipment, and enforce the same distance rule for kids. Use the correct type of fuel for non-electrical heaters, and be careful with any device that emits carbon monoxide indoors. CO detectors are an essential life-saving device that works like a smoke alarm.
Turn off portable heaters if you leave or go to bed and, while this one seems obvious, NFPA felt it's necessary to state: don't try to use the oven as a home heater!
Electrical fire safety
Don't charge devices under covers or pillows. Avoid overloading electrical circuits by plugging numerous things into outlet adapters, and don't use adapters at all for big appliances—plug those straight into the wall!
Ensure cords are in good shape and from the manufacturer. And remember, extension cords are merely temporary solutions to achieve plug-in distance.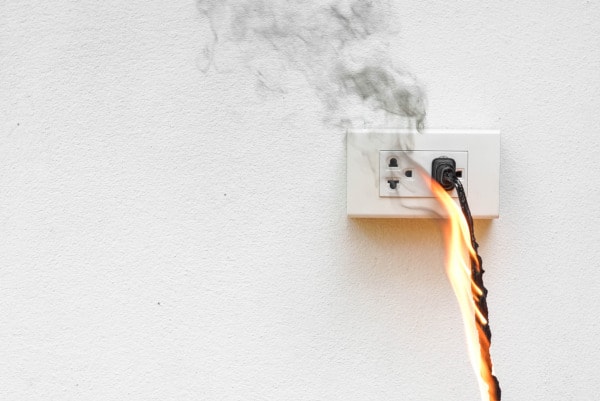 What else can you do to be safer from home fires?
Home fires can happen even with diligent safety measures. Wiring or devices can go bad, and there is a risk of fires spreading from neighbors in closely packed residences, along with the potential for arson. This is why it's essential to always have the right fire protection equipment and plans to react to an emergency.
You often don't have a lot of time to escape home fires. Research has shown that flashover can occur in less than five minutes and as little as two. This phenomenon is "the sudden involvement of a room or an area in flames from floor to ceiling caused by thermal radiation feedback." Essentially, when enough fuel is present, the fire expands rapidly, and no life can survive in the area.
Almost half of the victims who died in residential fires were trying to escape when they were killed. This is why it's imperative to develop and practice a fire evacuation plan and have working smoke detectors.
A home fire safety plan involves the following elements
Plan out the avenues of escape—there should be at least two ways to get out of every room in the home.
Set a family meeting spot where everyone gathers outside in the event of a fire. Make it far enough away to avoid getting hurt by smoke, flame, flashover, or debris, such as a neighbor's driveway.
Designate a fire captain responsible for assisting anyone who has trouble leaving the house and who accounts for everyone's whereabouts.
Always test and maintain your smoke alarms to ensure they work. Waiting for the low-battery beep is not enough; units can go bad, and smoke detectors are vital for signaling a fire in time for you to escape. Make sure you have enough alarms. NFPA recommends having one outside every sleeping area and one inside every sleeping room—and on every level of a home.
Teach the plan to your kids, especially small children. Explain how to touch a doorknob during a fire to test for heat, and give them instructions to immediately make their way out of the house to the meeting spot if the alarm sounds.
Practice the plan! At least two times a year is a recommended schedule.
The American Red Cross provides this handy "Home Fire Escape Plan" template that lets you draw out your home's layout and avenues of escape.
Passive fire protection in the home: Don't forget to close bedroom doors at night
Perhaps the easiest fire protection step is a "passive" one. Fire protection is divided into active measures that do something to control a fire (more on that in a second) and passive ones that simply protect you. Among the latter is something called "compartmentation," which is the principle of isolating a fire to specific areas within a structure.
In many buildings, this is done through installing fire-rated barriers that have a rating (like 2-hours) that quantify how long it takes a fire to burn through them. But even though average bedroom doors have a pretty weak fire rating, they still serve as a fire barrier that slows flame spread and can save your life. A shut door can also "reduce toxic smoke, improve oxygen levels, and decrease temperatures"—and smoke is the number-one killer in fires.
The UL Fire Safety Research Institute reports that a closed bedroom door can:
"Keep carbon monoxide levels at 1,000 PPM versus 10,000 PPM when a door is left open."
"Mean the difference between 1,000 degrees and 100 degrees in the event of a fire."
Learn more at Close Before You Doze. And check out this demonstration of what a difference a door can make:
Active fire protection: fire extinguishers and fire blankets
Homeowners doing something to control or extinguish a fire—vs. just trying to escape—is a viable option in certain scenarios. Basically, if the fire is small enough and you catch it in time, there may be time to put it out safely.
The first rule is to have these items on hand and know how they work. Every home should have at least one ABC-rated dry chemical fire extinguisher, and it should only be used on the right types of fires:
The A covers trash, wood, and other "ordinary combustibles."
B works on flammable liquid fires, such as those caused by gasoline or paint—excluding grease or cooking oil.
C works on fires involving live electrical equipment; a situation where using water would be a terrible idea.
Skip to 0:50 in this video to see why water doesn't work too well with energized electrical equipment:
Fire blankets are a handy alternative to extinguishers for small kitchen fires, especially those involving ignited cooking oil in a pot. A blanket can be dropped over the top to smother the blaze.
Ensure these tools are only used on very small fires in their early stages—otherwise, the priority is to get out. Also, make sure to discard fire blankets after use on a fire, and that extinguishers are full and maintain their pressure charge.
To learn more about fire blankets and fire extinguishers, read this blog.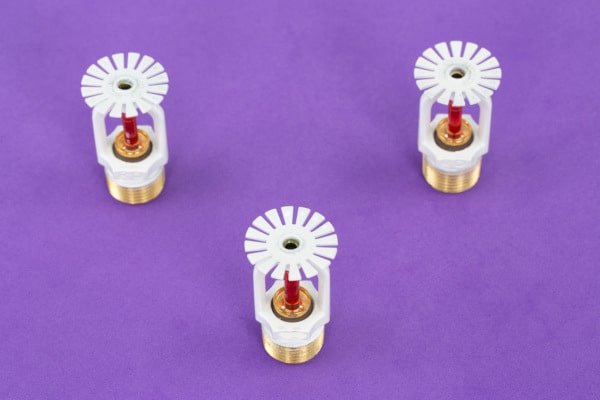 Active fire protection: sprinklers are the best defense
The ultimate safeguard against home fires—and protection from death, injury, and property damage—is an automatic residential fire sprinkler system.
This active fire protection measure works whether you are home or away, around the clock. And fire safety advocates say sprinklers work, they mean it.
NFPA research shows that residential sprinklers:
Activated successfully in 94% of fire events.
Controlled (or extinguished) a fire 97% of the time when they were present and activated.
Resulted in an 85 percent lower death rate and 63% less property damage.
Read this blog for a more in-depth look at these stats and other reasons to install sprinklers, as well as a practical examination of installation requirements. The bottom line: Nothing is as effective at controlling or stopping home fires as sprinklers.
Consider two more stats: first, remember that flashover can happen in less than five minutes and as little as two. Second, a 2006 report on "Structure Fire Response Times" issued by the National Fire Data Center found that the "90th percentile response time to structure fires is less than 11 minutes" in the U.S. And NFPA's target standard for firefighter response is six minutes, 90 percent of the time.
That's admirable—and pretty fast. But it's not as fast as sprinklers, which put water on a blaze almost immediately and are like having an onsite firefighter, 24/7.
During and after COVID lockdowns, practice smart home fire safety
The pandemic, now cresting in a second wave, has many more of us at home for many more hours. And fire risks are higher as we spend all of this time at home. Take some time to achieve better fire safety. Make a plan, close bedroom doors, check on or get those extinguishers and smoke detectors, and practice cooking, heating, and electrical safety. And take a hard look at installing fire sprinklers if it's financially viable.
Also, maintain this vigilance long after pandemic restrictions lift.  A few simple, commonsense steps may save your life or the lives of your loved ones.
If you need fire extinguishers, fire blankets, or home fire sprinklers, or residential risers, feel free to browse QRFS's online selection.  And give us a call at 888.361.6662 or email support@qrfs.com if you have questions or need help finding an item.
This blog was originally posted at blog.qrfs.com. Check us out at Facebook.com/QuickResponseFireSupply or on Twitter @QuickResponseFS.