Reliable fire sprinkler data sheets contain the info you need to select heads and accessories
Manufacturers publish fire sprinkler data sheets to explain their products thoroughly and simplify the ordering process for customers. And if you're evaluating Reliable fire sprinklers and accessories, the company calls these documents "bulletins."
Reliable fire sprinkler data sheets contain the information you need to determine which items fit your needs, whether replacing existing heads and accessories or outfitting a new system. Most of its sprinkler bulletins follow the same format, though some have variations. We'll walk you through them in this blog:
Are you in the market for fire protection equipment? Check out QRFS's selection of fire sprinklers from major manufacturers, including commercial and residential models. QRFS stocks a large selection of Reliable cover plates, escutcheons, and wrenches. If you know the sprinkler identification number associated with a sprinkler or accessory, the QRFS Quick Finder is the fastest way to ID and buy the right parts.
How Reliable organizes its sprinklers and bulletins (data sheets)
Every modern fire sprinkler has a specific sprinkler identification number (SIN). The SIN is the primary means of identifying a head and its associated parts.
This four-to-seven-digit alphanumeric code corresponds to an exact manufacturer and model and represents a combination of specific characteristics, including response type, orientation, K-factor, and more. Essentially, the only major things a SIN doesn't tell you about a fire sprinkler are its exact temperature and finish.
Reliable SINs begin with either R or RA, followed by several numbers.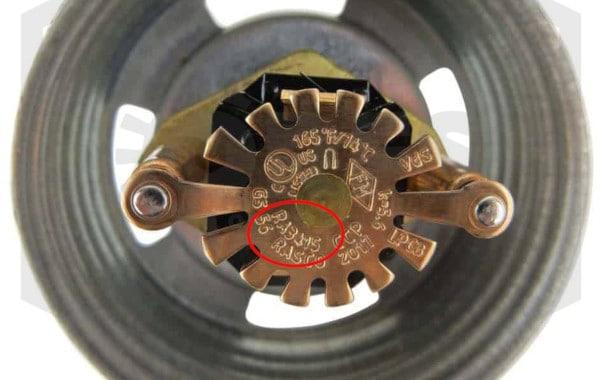 If you'd like to learn more, here's a QRFS blog about how to locate a sprinkler's SIN and one about the makeup of a SIN and SIN directories.
So, how does Reliable organize its sprinkler line and bulletins — where are those SINs in relation to the documents?
Top-level categories
Overall, Reliable organizes its fire sprinklers by the following categories based on the sprinklers' characteristics or where they provide protection:
Quick response sprinklers
Standard response sprinklers
Extended coverage sprinklers (which may have quick or standard response models)
Residential sprinklers
Storage [facility] sprinklers
Special [Applications] sprinklers that "protect unconventional and challenging areas"
Within each of those groups, the sprinklers are further divided by different characteristics.
For example, Reliable subdivides its quick and standard response sprinklers by their temperature-sensitive activators: glass bulbs vs. solder elements. In contrast, the storage category includes CMDA (control-mode density area), CMSA (control-mode special application), and ESFR (early-suppression fast response) sprinklers. Other categories have their own subcategories.
From there, it's all about the …
Reliable fire sprinkler series
Like some other manufacturers, Reliable organizes its sprinklers into distinct series. Various sprinkler elements differentiate each series. For example, the quick response F1FR80 Series includes one upright sprinkler and one pendent sprinkler. Reliable's extended coverage F1FR56 Series has a pendent and a sidewall—etc., etc.
Each Reliable bulletin/data sheet covers one series and all the sprinkler identification numbers (SIN) in it. These documents usually have one to six sprinklers/SINS. However, a few bulletins cover more. For example, Reliable Bulletin 110 has 18 different SINs on it.
Some examples of bulletins and the sprinklers they cover are:
Bulletin 063 covers the F1FR80 Series of standard coverage quick response sprinklers with SINs RA6322 (upright orientation) and RA6312 (pendent orientation).
Bulletin 078 covers the F1FR80-300 Series of quick response sprinklers with SINs RA7822 and RA7812. The "-300" refers to the maximum working pressure in psi/bar.
Bulletin 034 covers the Model G5 Series of standard coverage flat plate concealed pendent sprinklers with six SINs: RA3411, RA3413, RA3415, RA4014, RA3412, and RA3417.
Suppose you are buying fire sprinklers for a new system. In that case, you'll want the sprinklers/SINs specified by the system designer — or any sprinklers that otherwise precisely achieve the necessary performance characteristics and listings. If you're replacing sprinklers in an existing system, the first step is also to match the exact sprinkler via the SIN.
However, if you can't do that (perhaps the sprinkler is now obsolete), you'll need to find a replacement with the same or very similar performance characteristics. A fire protection professional should be involved in the process.
Reliable's sprinkler data sheets make it easier to select the appropriate heads and their accessories (head guards, escutcheons, wrenches, or covers).
A note about the format of Reliable data sheets (bulletins)
All Reliable sprinkler data sheets communicate the same types of information, but there is some variety in formats among the sprinkler series. The newer bulletins for current sprinklers feature the colorful company logo and full-color product photos, with the standard presentation of sections described below.
However, the placement of sections can vary a bit. And documents for older sprinklers, like Bulletins 121 and 161 for the Model G4 and G4-300 Series, have a black-and-white format and contain the same information in a slightly different order. Also, the newer bulletins are identically formatted when they limit coverage to one or two SINs. However, those detailing an extensive list of SINs differ — they tend to rely on more tables to organize the data.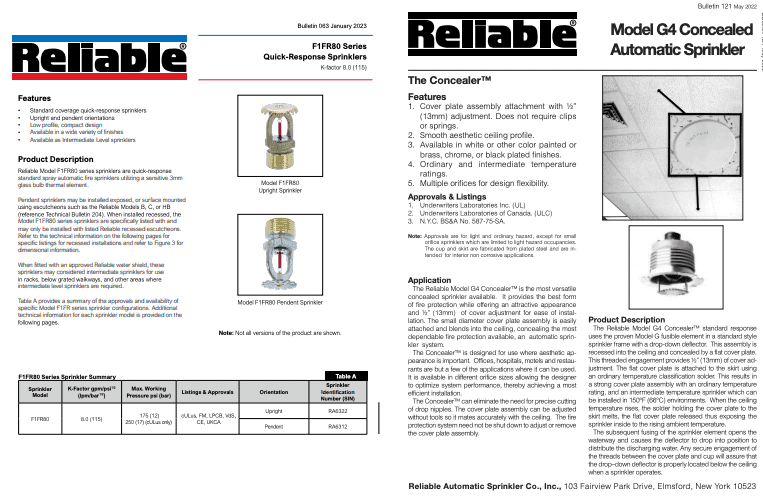 The Features and Product Description sections of Reliable fire sprinkler bulletins
The first thing on most Reliable bulletins is a bullet-pointed Features list. It provides a general summary of the type of sprinkler, its orientation, K-factor, and available temperature classifications, along with some product attributes, such as "compact design" or "lead-free."
The Product Description section typically consists of multiple paragraphs that detail the types of sprinklers in the series, their intended use, and the accessories to use with them. The first paragraph will often reference the standards the sprinklers comply with; for example, "designed for installation in accordance with NFPA 13 and FM Global Property Loss Prevention Data Sheets" in Reliable Bulletin 034.
Sprinkler Summary table and listings
The next section contains a Sprinkler Summary table with in-depth coverage of the sprinklers by SIN. Bulletins for series with multiple SINs present the basic characteristics of each one.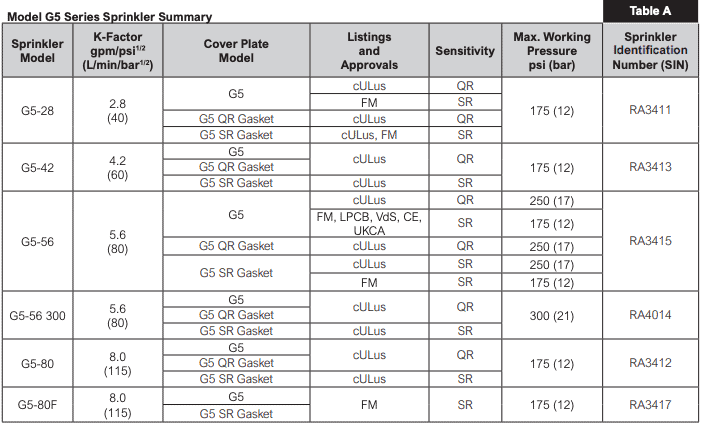 The table essentially continues, but each sprinkler in the series is presented in its own 'box' that includes more information with an accompanying image of the head.
These boxes provide additional details such as technical specifications, material specifications, temperature ratings, and the model names of the correct matches for escutcheons, cover plates, and wrenches. However, some items may refer you to additional tables in the bulletin for complete information.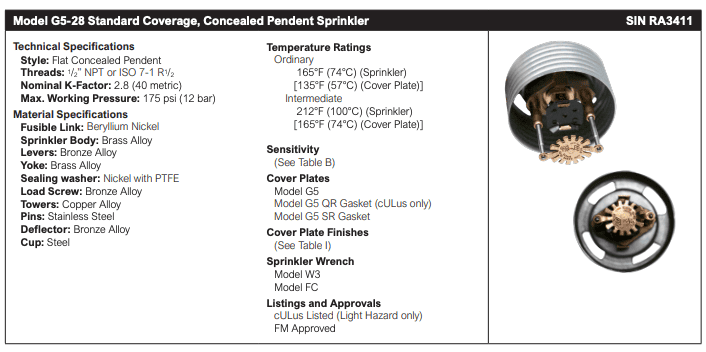 Each box is followed by an illustration of the sprinkler that labels all the components and dimensions: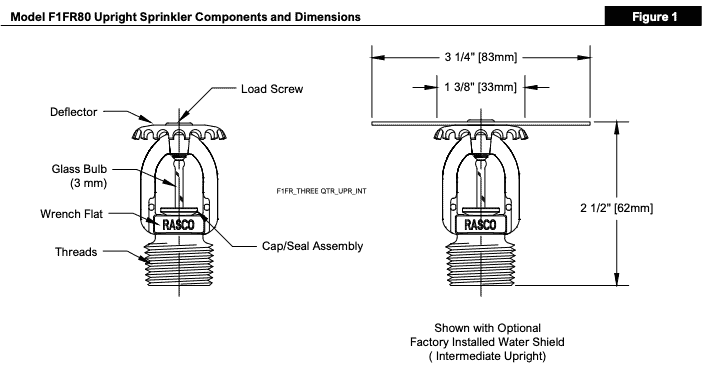 About listings and approvals
Listings and approvals are vital when ordering fire sprinklers and accessories because they must be appropriate for your application. National Fire Protection Association (NFPA) standards require all fire sprinklers, cover plates, and many escutcheons to be "listed" by a recognized safety organization. In addition, some finishes have listings for corrosion resistance.
Listings indicate that the item has been tested and certified and meets the requirements of NFPA 13: Standard for the Installation of Sprinkler Systems and other relevant standards. "UL" or "cULus" are the most pertinent marks in North America. FM Approval is also important and sometimes necessary to meet specific requirements, such as those set by insurance companies.
In addition to those listing organizations, Reliable can include several others on its bulletins:
LPCB – Loss Prevention Certification Board, UK-based
VdS – a German testing institute
CE – Conformité Européene or European Conformity
UKCA – United Kingdom Conformity Accessed
Reliable bulletins can mention listings in several places: the header, the summary table, the sprinkler information boxes, and tables specifying available finishes.
For a more detailed discussion of fire protection certifications, check out our blog explaining fire protection listings and approvals.
Installation diagrams and how to find accessories
Next, Reliable bulletins provide diagrams showing how the sprinklers are installed. These illustrations include detailed measurements, diagramed parts, and some instructions while repeating the specific accessories that go with a sprinkler. An example: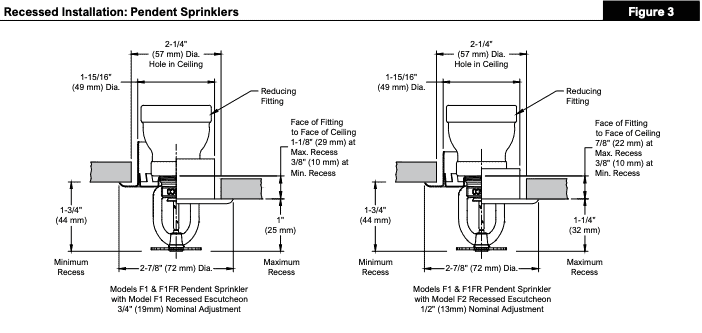 Like other manufacturers, Reliable makes cover plates, escutcheons, and wrenches designed to be used with specific sprinklers. There are also often listed head guards, which can protect sprinkler heads from some impacts, and water shields to block overspray.
As previously mentioned, Reliable provides information about these accessories and tools that correspond to each sprinkler in multiple spots in the bulletins.
Accessories information is always included in the detailed boxes explaining each sprinkler. But many bulletins also repeat these essential parts and show images of them below the installation diagrams.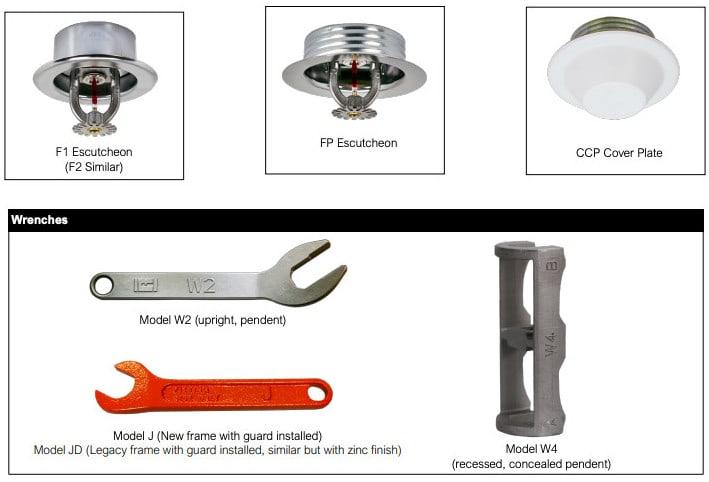 The installation diagrams and additional accessory info are followed by a table revealing the available finishes for sprinklers and their accessories.
Pay special attention to any superscripts in these tables and their corresponding footnotes below because they often point out important distinctions among finishes. For example, the table in Bulletin 063 on the F1FR80 Series quick-response sprinklers has notes revealing that only specific finishes are listed/approved as corrosion-resistant, among other key details.
Listed corrosion-resistant sprinklers may be necessary in harsh environments and can lengthen the required timelines to test or replace the heads.

Need fire protection accessories? QRFS stocks a large selection of Reliable cover plates, escutcheons, and wrenches. If you know the sprinkler identification number associated with a part, the QRFS Quick Finder is the fastest way to ID and buy the right equipment.
Other notable sections on Reliable fire sprinkler bulletins: Application, Installation, and Maintenance
Reliable's data sheets are a bit inconsistent about where they present additional information, including the "Application," "Installation," and "Maintenance" sections.
The installation diagrams mentioned above have good detail on how to put in fire sprinklers, escutcheons, and cover plates, but there is also a separate "Installation" section.
Its location and format vary among the data sheets and sprinkler series. Most bulletins feature a few paragraphs about the installation procedure and the required tools. Some of Reliable's data sheets also have additional tables covering torque guidelines to help prevent any damage to the sprinkler and help ensure a safe installation.
An "Application" section is usually featured on a Reliable data sheet's first or last page. The text explains when the sprinklers in the series are used under which standards (e.g., "NFPA 13 and FM Global Property Loss Prevention Data Sheets"). It also specifies if the sprinkler was designed for a particular purpose, such as the low-lead Model F1FR42LL and F1FR56LL sprinklers, generally used to protect fuel-fired equipment in non-occupied areas. 
Finally, the "Maintenance" section of a Reliable bulletin contains fairly standard reminders that the sprinklers should be inspected and maintained following NFPA standards and the requirements of any AHJs. It also details procedures for storing the sprinklers before installation, cleaning them once installed, and common industry warnings.
Ordering Information for Reliable fire sprinklers and accessories
The bulletins end with a summary of info to place an order for Reliable sprinklers and accessories. It's a bulleted list of options on most data sheets, but some include tables when the series consists of numerous SINs or accessories. It doesn't specify the SIN, but be sure to know it from the previous bulletin info. Otherwise, the Ordering Information provides a checklist of these items:
Sprinkler model number, orientation, temperature rating, and finish
Type and finish of cover plates and escutcheons
Type and model number of wrenches
The list may refer you to other parts of the document to find some of this key information.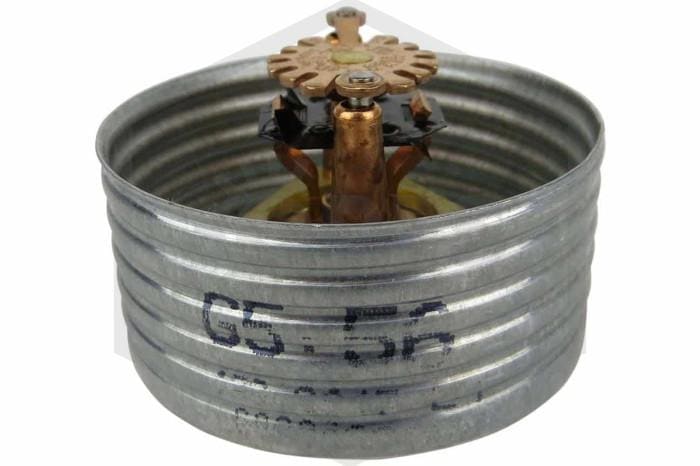 Reliable fire sprinkler bulletins identify the right parts!
All of the essential product information is in Reliable fire sprinkler bulletins—though communicated a bit differently from other manufacturers' data sheets and sometimes even other Reliable documents. And all of the company's sheets repeat essential info a lot, which isn't a bad thing!
Our pro tip for reading these to find what you need: most of the essential information about each sprinkler is in the boxes that are part of the first table.
Otherwise, you can quickly get details and identify relevant parts by doing a text find on the topic. For example, if you need to know the proper wrench, hit Command or Control + F on your keyboard, type "wrench" into the search box, and hit enter.
If you need sprinklers and accessories, check out QRFS's selection of fire sprinklers, including commercial and residential models. QRFS stocks a large selection of Reliable cover plates, escutcheons, and wrenches.
If you know the sprinkler identification number associated with a sprinkler or accessory, the QRFS Quick Finder is the fastest way to ID and buy the right parts.
Questions? Contact us at 888-361-6662 or support@qrfs.com.
This blog was originally posted at blog.qrfs.com. If this article helped you, check us out at Facebook.com/QuickResponseFireSupply or on Twitter @QuickResponseFS.