Building owners and facilities managers may need to protect fire extinguishers with cover bags (or cabinets) under NFPA rules and local fire codes
Made from sturdy, waterproof materials, fire extinguisher covers—sometimes described as cover bags—play an important (if underappreciated) role in keeping extinguishers in fighting shape. While they don't offer the same level of protection as fire extinguisher cabinets, covers can help those responsible for a building's fire protection systems stay in compliance with local codes and National Fire Protection Association (NFPA) standards.
In this article, we examine when a fire extinguisher needs a cover bag and the sort of protection they offer. We conclude with a series of tables designed to allow users to easily match some brand-name fire extinguishers—from Buckeye Fire Equipment Company and Amerex Corporation—to QRFS's line of plastic (reinforced vinyl) covers.
Browse our full selection of plastic- and vinyl-reinforced fire extinguisher cover bags.
Fire extinguishers need cover bags for protection against the elements and other forces
While the subject of how many fire extinguishers are required and where is addressed by various fire codes, the issue of how extinguishers should be installed (and when they need covers) is answered in NFPA 10: Standard for Portable Fire Extinguishers.
From the 2022 edition of NFPA 10

6.1.3.8* Fire extinguishers installed under conditions or in locations where they are subject to physical damage (e.g., from impact, vibration, the environment) shall be protected against such damage.

A.6.1.3.8 Where an extinguisher is located in an area that makes it susceptible to damage, the supplier of the extinguisher should be consulted to determine whether special mounting equipment or protective coverings are available.
In jurisdictions adopting a version of NFPA 10 as law, extinguishers need covers (or another form of protection) when "susceptible to damage." Keep in mind, however, that said protection should address the specific problems that the extinguisher faces. So, while a cover bag may protect an extinguisher from dirt or harmful UV rays, it won't do much against an impact from a loaded pallet jack, for example.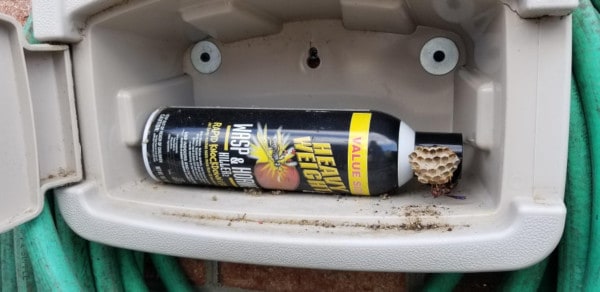 The clarifying appendix explanation for section 6.1.3.8 contains NFPA 10's only direct mention of "protective coverings" for fire extinguishers. However, another applicable provision in the standard should be observed.
From the 2022 edition of NFPA 10 [emphasis ours]

6.1.3.1 Fire extinguishers shall be conspicuously located where they are readily accessible and immediately available in the event of fire.
Any cover that obscures the availability, usability, or visibility of an extinguisher will run afoul of NFPA 10. Conversely, while covers that enhance visibility aren't required, they align with NFPA's efforts to make fire extinguishers easy to find and use in an emergency.
Plastic or vinyl covers for fire extinguishers can offer needed protection against various threats, especially outdoors
Fire extinguisher covers often consist of fabric reinforced with durable, weather-resistant material. Vinyl—often in the form of polyvinyl chloride (PVC)—or other plastics can help fire extinguisher covers resist tearing, damage from sunlight, and other elements that reduce the extinguisher's lifespan.
Reinforced vinyl cover bags offer protection to many fire extinguishers installed outdoors. In locations where these devices remain safe from impact but are still exposed to the elements—such as vehicle repair shops, certain factories, or protected parts of large vehicles—covers may do the trick.
On the other hand, cabinets may be needed in areas where collisions are a possibility. At fueling stations, factories or storage facilities with forklift traffic, and parking garages, cabinets may provide the protection needed. Also, cabinets that are recessed into walls may prove especially useful when installing extinguishers in compliance with the Americans with Disabilities Act (ADA), which limits how far objects may protrude from walls in some public spaces.
In short, a plastic or vinyl fire extinguisher cover is appropriate when users want to:
Slow corrosion
Reduce exposure to sunlight
Keep dirt and debris off of extinguishers
Enhance visibility
Keep extinguishers ready for use
Slowing down corrosion
The pressure within each extinguisher varies. But the force within a stored pressure fire extinguisher—including the common dry-chemical and carbon-dioxide types—can cause the container to explode with deadly force if the shell is compromised. Over time, rust may weaken fire extinguishers exposed to moisture, humidity, or weather, making scenarios like these more likely.
However, rust requires a mix of air and water to form. Plastic or vinyl covers can reduce can limit a fire extinguisher's exposure to outdoor sources of moisture, helping preserve the metal canister and other rust-sensitive parts.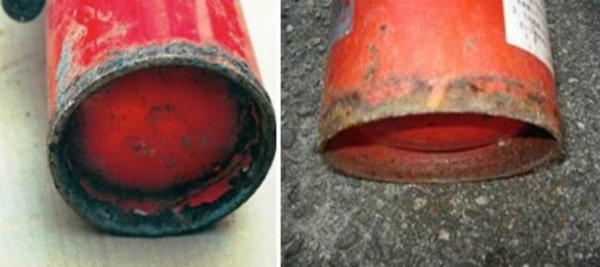 Shielding against ultraviolet (UV) radiation
UV radiation can degrade materials found on fire extinguishers. Some rubbers and other synthetic materials, including plastics, may lose strength or flexibility when exposed to too much sunlight. While extinguishers' bodies are metal, labels, pigments, and some plastic horns or hoses may benefit from protection against sunlight.
Keeping extinguishers clean
Dirt can, in theory, cause all sorts of problems with extinguishers, from blocking hoses to rendering a handle inoperable. But there's one more obvious problem a dirty extinguisher presents: the label may become unreadable. An illegible label will result in an extinguisher failing some kinds of NFPA 10 inspections—in particular, inspections conducted when buildings or extinguishers face unusual risks.
Worse yet, an inexperienced user may not have the extinguisher's instructions available when the time comes. For a variety of reasons—including the fact that using the wrong extinguisher can make some fires worse—it's best to protect the label proactively.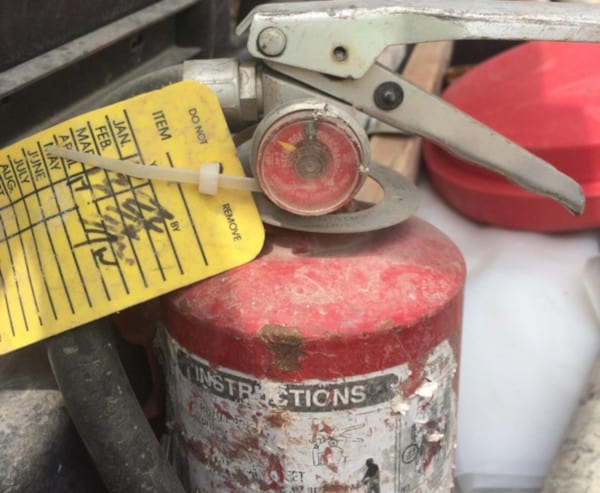 Making extinguishers easier to identify
29 CFR 1910.144—part of the Code of Federal Regulations, or CFR—provides the Occupational Safety and Health Administration's (OSHA's) safety color code for marking physical hazards. Among other things, red serves as the basic identifying color for "fire protection equipment and apparatus."
OSHA's mandates apply to most businesses throughout the United States and US Territories, both public and private. So, when a plastic or vinyl extinguisher cover serves fire protection equipment in a workplace, a red one enhances visibility and remains consistent with government standards.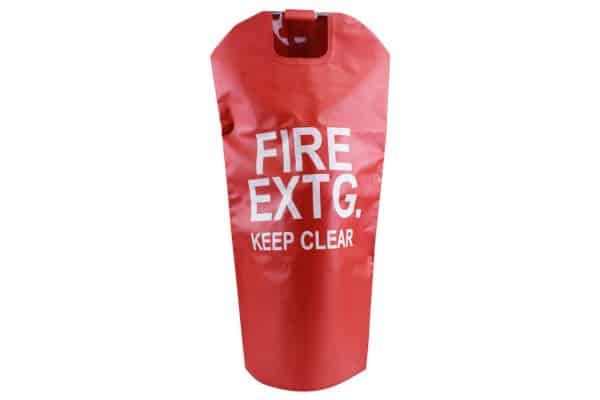 Reducing tampering, theft, and misuse
Plastic or vinyl fire extinguisher covers provide one of the mildest forms of protection against tampering and theft. Many cabinets, for example, require would-be vandals to first break a glass or acrylic panel. And in some buildings, moving an extinguisher will trigger an alarm. A cover doesn't go as far as these other solutions—but it does require one more step for those looking to deface, damage, or misuse these life-saving devices.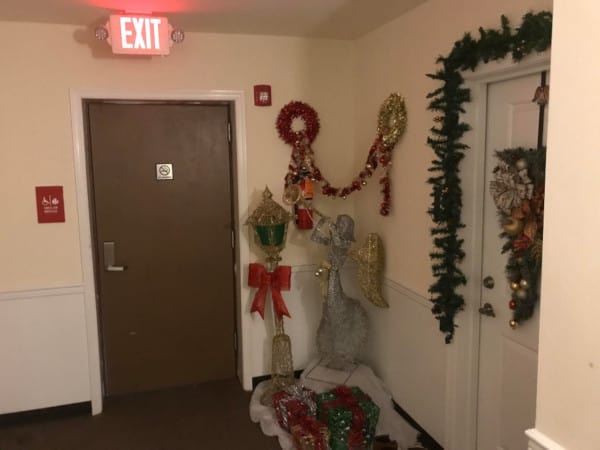 While there's a plastic or vinyl fire extinguisher cover for nearly any extinguisher, the dimensions require special attention
Fire extinguishers aren't perfectly uniform from manufacturer to manufacturer. Some are specially made as a compact alternative to otherwise identical extinguishers. For the most part, though, these dimensions don't vary too much: height, width, and depth remain fairly constant across brands.
The best way to ensure that a plastic or vinyl cover bag fits a particular fire extinguisher is to simply measure that extinguisher's dimensions. Get the height, the width (at the broadest point, including the hose), and the depth (typically, the canister's diameter). Retailers and manufacturers of covers typically provide dimensions that can be used to find a cover that's at least slightly larger than the extinguisher it protects.
For readers' convenience, QRFS has assembled a list of compatible covers for carbon dioxide (CO2) and dry chemical (both ABC and BC) extinguishers sold by two leading manufacturers: Buckeye Fire Equipment Company and Amerex Corporation. These sizes are for our line of open-base cover bags designed to protect the extinguisher's sensitive mechanical parts (especially the gauge and handle) and most of the body. They don't wrap around the bottom of the extinguisher, which makes them easy to remove in an emergency.
You can read more about different extinguisher types here.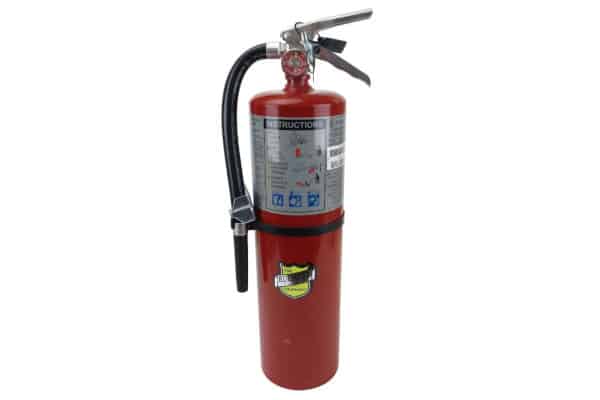 Use this table of contents to skip directly to a list of fire extinguisher covers that fit specific extinguisher models from Amerex Corp. and Buckeye (or to skip this section entirely). If you're looking for a closer fit—particularly on 20 and 30 lb. dry chemical models—feel free to call us at 888.361.6662 or email us at support@qrfs.com about sizing custom covers.
Please note that this list is provided as a reference only and does not constitute either manufacturer's approval or endorsement of the information or products provided:
With most fire extinguishers, the matter of choosing a protective cover is simple
The cover bags listed above should meet the needs of most consumers looking to provide an additional layer of code-compliant protection for their fire extinguishers. However, QRFS also carries two larger covers for wheeled fire extinguishers:
Made from the same material as our dry chemical and CO2 covers, these vinyl-coated bags offer protection against dirt, moisture, debris, sunlight, and other factors that can reduce fire extinguishers' effectiveness.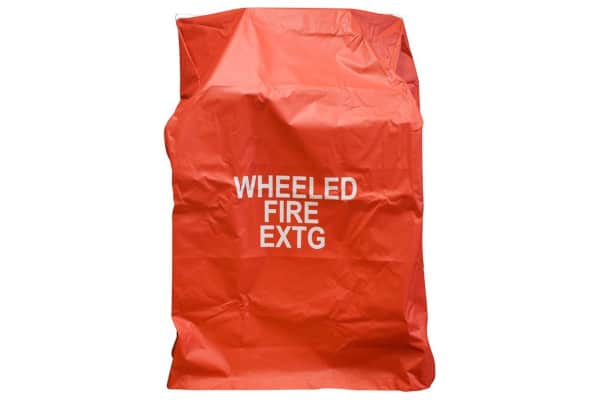 We invite you to take a look at the rest of our selection, with standard covers ranging from 20" high and 12 1/2" wide to 32" high and 16" wide, including:
Browse our full selection of plastic- and vinyl-reinforced fire extinguisher cover bags.
Questions? Need a custom cover made? Call us at 888.361.6662 or email support@qrfs.com.
This blog was originally posted at blog.qrfs.com. Check us out at Facebook.com/QuickResponseFireSupply or on Twitter @QuickResponseFS.