Learn how ditching paper and clipboards drives revenue, efficiency, and compliance
Running a fire protection inspection, testing, and maintenance (ITM) company isn't exactly simple. Typical days are jam-packed with supporting staff, managing projects, coordinating schedules, and staying up-to-date on ever-evolving public safety codes and equipment. And, of course, there's the biggest responsibility of all: performing inspections, testing, and maintenance on the life safety equipment that saves property and life.
It's a lot to keep track of, and a weighty responsibility to get right. Fortunately, fire protection inspection software is changing the game for ITM businesses—taking the pressure off business owners and their technicians and making their companies more efficient and profitable.
In this blog, we show seven ways NFPA inspection software can boost ROI and bring technicians and the facilities they serve closer to 100 percent compliance with fire protection codes and standards.
If you'd like to see how NFPA inspection software works and how it make inspections, maintenance, reports, scheduling, and correcting deficiencies more efficient, sign up for a free demo of Inspect Point.
Fire protection ITM software can transform an inspection company
Inspect Point software provides templates preloaded with all of the questions technicians need to inspect fire protection equipment based on eight National Fire Protection Association (NFPA) codes and standards. Put simply, it is fire sprinkler inspection software, fire extinguisher inspection software, fire alarm inspection software, and more, all rolled into one.
The platform is completely customizable to the task at hand; technicians performing a quarterly check don't need to waste time wading through more intensive annual requirements. And inspectors in sunny South Florida don't have to bother with questions for cold-weather dry sprinklers. It also includes hundreds of forms that cover local codes, with the ability to easily add more to address requirements in a specific area.
Inspect Point can even be used to inspect non-fire protection systems covered by other governmental agencies like the Occupational Safety and Health Administration (OSHA) or the Environmental Protection Agency (EPA).
To learn more about its capabilities, read our previous blog: "Inspect Point NFPA Inspection Software: What Can I Inspect?"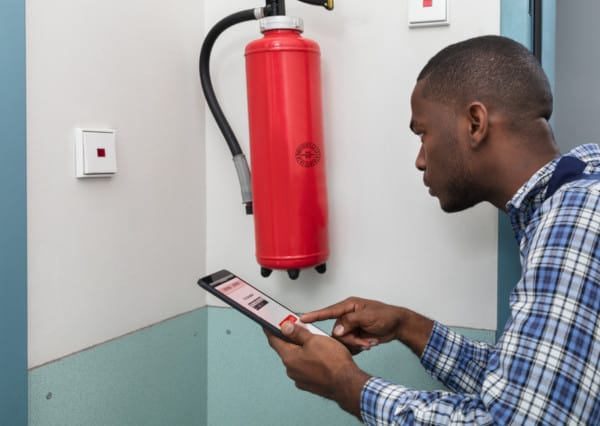 Inspect Point's intuitive software is simple to operate for anyone who's ever used a tablet or smartphone, and it's easy to scale from one user to 100 as a business grows.
It walks technicians through a step-by-step process every time they are in the field, ensuring that they check off each step, so important details aren't missed. Inspect Point also makes a property's ITM history instantly accessible and flags equipment that suffered previous deficiencies.
The cloud-based platform automates many back-office activities as well, enabling technicians to deliver inspection reports and repair proposals—and get sign-off—while they are still on the job site. Faster, simplified inspections and service follow-ups lead to more work, which generates higher revenue and ROI. Even more importantly, Inspect Point increases safety and compliance.
How fire protection ITM software makes life easier for inspection company owners, technicians, and staff
1. Eliminate piles of paperwork and lost files
Paperwork is arguably an inspection company's biggest time drain. The average inspector performs four inspections a day—and then heads back to the office for paperwork that takes at least an hour per inspection. Paper reports are cumbersome to put together, forcing staff to waste time combing file cabinets for old data, uploading pictures and PDF files from thumb drives, or scanning, photocopying, and combining images and handwritten reports into electronic documents.
That doesn't include how much extra time is lost scribbling inspection findings and snapping pictures on a separate device in the field. Or racing back to the office to find the right ITM forms. Or filing paperwork once a report is finally completed.
It's also incredibly easy for paper files to get lost or damaged, causing something important to be overlooked and putting people and property at risk.
Repair proposals can take days or even weeks to send out as back-office teams wait for paper inspections to arrive, struggle to decipher handwritten notes, and associate and attach deficiency images. By then, a customer's focus has often shifted to other matters—and getting someone to return calls or sign off on the job may be a frustrating challenge.
Paper inspections hurt revenue and leave too many chances for error. Even low-tech digital improvements such as inspection documents that are PDF, Excel, or Word files do little to improve efficiency, with no way to quickly transform the data into a proposal.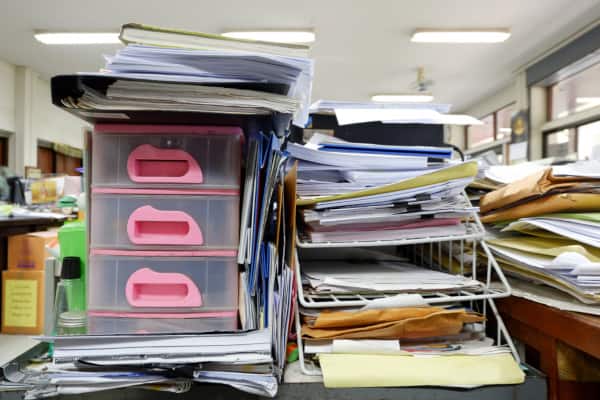 Inspect Point streamlines the inspection process through digital inspections that keep all files related to a customer in one convenient place, including a property's inspection history. Photos and notes recorded by typing or voice dictation on the iPad are automatically transferred into the final report—ensuring that nothing is lost and speeding the job by 20 to 30 percent.
Inspectors can generate branded reports with a simple click of a button. They can even use the readings collected in the field to create professional fire pump performance curves, automating one of the most cumbersome ITM tasks. And inspections, photos, notes, signatures, deficiencies, and proposed corrections are securely sent to the office from the field in real-time in a single, easy-to-read document.
This leads us to the next benefit of fire protection inspection software …
2. Get service proposals signed while you're still in front of the customer
The software syncs electronically with the back office while an inspector is in the field, and its "proposal wizard" makes creating proposals to repair deficiencies as simple as hitting a few buttons. Repair proposals can be completed, delivered, and signed or denied while the inspector is still in front of the customer. This condenses a process that can often drag on for 30 days to 30 minutes and could increase service revenue for the average ITM business by as much as 40 percent.
Approved work can then be sent to the administrative team immediately, who can instantly begin ordering parts and scheduling technicians to perform the repairs. Back-office personnel no longer have to wait for physical reports, followed by approvals. This also vastly reduces having to chase down customers weeks after the inspection is completed to get them to sign off on work.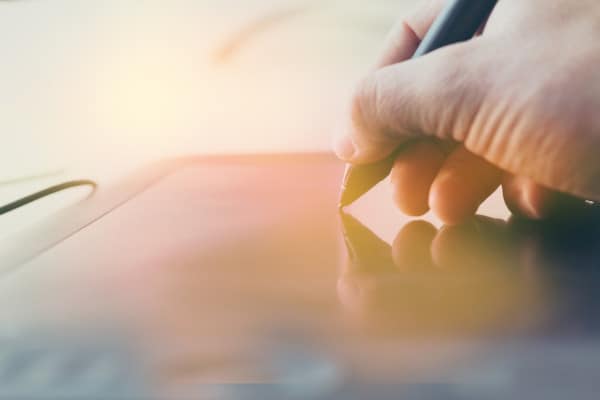 3. Establish seamless communication between the field and office
Thanks to Inspect Point's cloud platform, anyone in the field or office can view inspection notes, which are date-, time-, and name-stamped. The information is seamlessly synced between devices to make sure that important updates or suggestions are never missed.
Open communication helps eliminate the common delays that impact revenue at inspection companies. It also enables technicians to generate additional revenue on the spot by instantly writing up, performing, and invoicing small service items, such as replacing sprinkler wrenches or smoke detectors during ITM activities.
4. Stay up-to-date with new NFPA codes
NFPA describes its codes and standards as living documents that never age. They are continually updated with new information based on fire experience and research.
But while ever-evolving codes are critical to life safety, it can be hard for busy inspection companies to always stay abreast of the latest developments. Making matters more complicated, different jurisdictions often follow different editions of NFPA standards or codes and can adopt new ones at any time.
Fire protection ITM software removes the pressure of staying on top of updates to fire codes. Questions pertaining to new editions of NFPA documents are uploaded by the Inspect Point team as they are adopted by jurisdictions, ensuring that inspectors always follow the latest requirements.
5. Build smart schedules that are nearly impossible to mess up
Human error may be unavoidable, but it's unacceptable to angry customers waiting on no-show technicians who didn't realize they had an appointment. Building schedules with pen and paper or an Excel spreadsheet is not only a lot of work, but it creates a lot of opportunity for error.
Inspect Point enables companies to organize and sync all schedules in one spot. The software makes it simple to keep track of where everyone is, what needs to be scheduled, and what jobs have already been performed. Business owners can easily see customer profiles and the schedule of individual technicians, noting gaps that need to be filled to maximize productivity.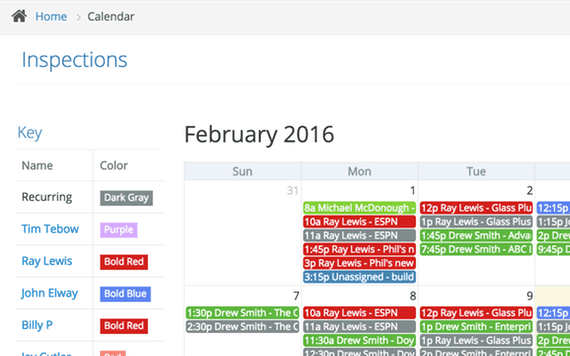 Inspect Point also eliminates the need to track down technicians for new assignments. Simply schedule, assign, and dispatch inspections to a technician for a specific date, time, or recurrence and the inspection instantly appears on their iPad when they connect to the internet. The software also enables technicians to filter their assignments by buildings, zip code, or city, enabling them to pin the locations on a map and plan the best routes.
And here's a final perk: the software will automatically schedule recurring inspections, so business owners don't waste time rescheduling the same building ITM every month, quarter, or year.
6. Prioritize workflow and service follow-ups
Deficiencies can quickly add up after a round of inspections, and some are more important to address than others. After documenting deficiencies in the field using the iPad camera, fire protection ITM software enables technicians to select a priority deficiency status to assist with workflow and service follow-ups.
When deficiencies are deemed "critical" or bumped up to system impairments, the software adds another layer of detail and prioritization. That helps inspection companies make strategic decisions about service dispatching and ordering. It also tracks what deficiencies have been resolved or what resolution level has been achieved. Documenting deficiencies in order of priority helps ITM companies optimize the inspection process over time.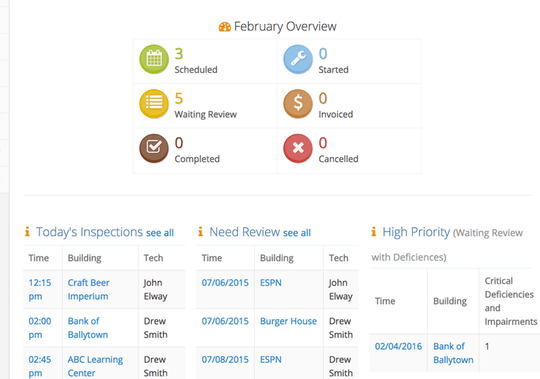 7. See the big picture in one convenient application
Real-time updates from the field enable business owners to quickly view inspections awaiting review, inspections scheduled for that day, all documented deficiencies listed in order of priority, and more on the software's home screen.
Having that big-picture information available in one convenient place helps managers keep better track of their business and ensure that nothing slips through the cracks. It also helps them understand what needs to be done to tweak and optimize their processes.
NFPA inspection software increases revenue for ITM businesses—and boosts compliance for the clients they serve
Fire protection inspection software resolves many of the headaches of running an inspection business, including lost paperwork and improperly scheduled technicians. It increases revenue, efficiency, and compliance by enabling faster, better-quality inspections and service follow-ups. This means more inspections can be done more accurately with fewer professionals—a boon in an industry struggling to find qualified ITM professionals amid a skilled labor shortage.
Adopting digital inspection software also helps level the ITM playing field. It allows businesses of any size to quickly deliver professional reports and proposals, keep pricing competitive by lowering costs, and increase cash flow by drastically decreasing the number of outstanding days for service follow-ups and proposals.
If you'd like to see exactly how NFPA inspection software works, sign up for a free demo of Inspect Point.
If you have any questions, call us at +1 (888) 361-6662 or email support@qrfs.com.
This blog was originally posted at blog.qrfs.com. Check us out at Facebook.com/QuickResponseFireSupply or on Twitter @QuickResponseFS.