This equipment helps firefighters face challenges on the scene
Mention firefighter tools, and images of axes, fire hooks, and Halligan bars immediately come to mind. But there are many other pieces of equipment that make a firefighter's job safer or easier at a fire or rescue scene.
In this blog, we examine innovative equipment that helps firefighters meet the challenges they may encounter. We will also look at a standard piece of firefighting equipment that building owners can easily get wrong—causing a risk to life safety.
In the market for firefighter tools? Be sure to check out the Quickstop Firefighter Multi-Tool, assorted fire department connections (FDC), and life safety and rescue rope.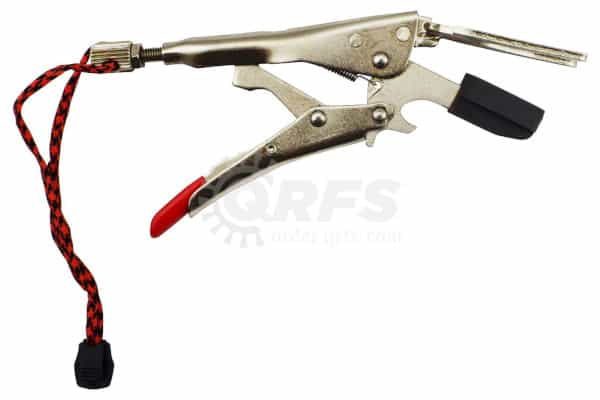 1. The Quickstop Firefighter Multi-Tool enables quick, easy shutoff of accidental sprinkler activations
The National Fire Protection Association (NFPA) reports that firefighters responded to 33,600 unintentional sprinkler activations in 2014. And seconds matter when fire sprinklers are activated accidentally—clean-up costs are estimated at $1,000 for every minute a sprinkler is left running. Sprinklers may also continue to spray after they've entirely extinguished a blaze.
Designed by a former California firefighter, the Quickstop Firefighter Multi-Tool is the first and only multi-use shutoff tool on the market, allowing firefighters to stop water from flowing with a simple squeeze of a hand.
Even better, the Quickstop combines the shutoff ability with six other essential firefighter tools, including:
A spanner wrench for hose couplings
A wrench for fire department connection (FDC) caps
A wrench for oxygen tanks
A pressure-reducing valve key for adjusting system pressures
A clamp for shutting off residential gas utility valves
The sturdy steel frame enables the tool to act as a door chock by wedging it under the door or slipping the handles over a hinge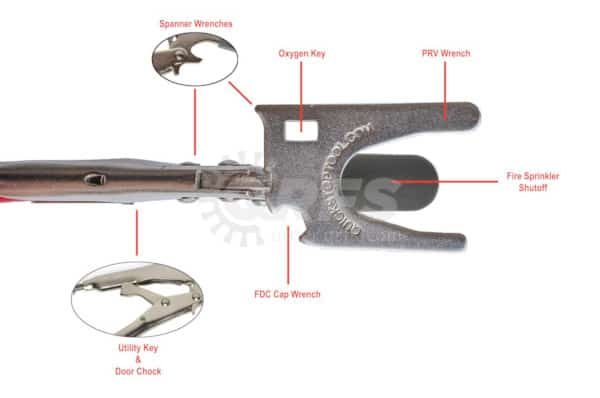 The Firefighter Multi-Tool works with ½" and ¾" pendent, upright, and sidewall sprinkler heads—even if they're recessed or sheared. It holds 100% watertight up to 350 PSI (pounds per square inch) or 2,400 KPA (kilopascal pressure units). It can also be connected to an adjustable extension pole, offering 6 ½' to 12' of additional reach.
The Quickstop includes a thermal element that temporarily restores an activated sprinkler's ability to function in the event of a fire, offering peace of mind until the sprinkler head can be replaced. The fusible link melts at 250°F, so be sure to verify that that temperature requirement is adequate for your situation.
In a video for FireRescue1's "Innovation Zone," Chief Rob Wylie with Missouri's Cottleville Fire Protection District touted the benefits of the Quickstop Firefighter Multi-Tool. "For me, the gold standard in a firefighting tool is a tool that can do more than one thing. Quickstop's Firefighter Multi-tool fits that bill."
Constructed from aircraft-grade steel and plated to reduce rust, the Firefighter Multi-Tool is made to withstand the rigors of firefighting. Whether you torque it hard to remove FDC caps or jam it in door hinges, the device is up to the task. Although it comes with a 5-year warranty, a light treatment with WD40 is usually enough to keep it in working order.
Check out this video for a demonstration of the Quickstop Firefighter Multi-Tool:
2. Fire department connections are essential firefighter tools—and building owners must choose them wisely
Fire department connections (FDC) enable firefighters to quickly deliver water to life safety systems, supplementing sprinklers and helping standpipes pump water to high floors in a multi-story building. But too many building owners and facility managers are unaware that every FDC swivel can't connect to every fire hose coupling—and that can lead to nasty surprises.
A building with an FDC that doesn't match the hose the local fire authority uses puts responders in a perilous position. Without functioning standpipes, firefighters lose precious minutes running long lengths of hose through high-rise buildings. In 1991, mismatched couplings delayed efforts to battle an Oakland, CA blaze that killed 25 people.
So, how do building owners and facility managers looking to repair or replace an FDC choose the right product for their jurisdiction? Size, threading, and gender are the major factors that ensure a lifesaving connection.
In most cases, a few threading standards prevail. National Hose/National Standard Thread (NH/NST) and National Pipe Straight Hose (NPSH) thread are two of the oldest and most common thread types for fire department connections and hoses in the U.S. Each connects the male end of a hose (threads located on the outside of the coupling) with a female FDC coupling (threads located on the interior).
But some jurisdictions—Phoenix, AZ, San Francisco, CA, and New York, NY, and more—maintain their own specific thread standards for hose couplings and fire department connections.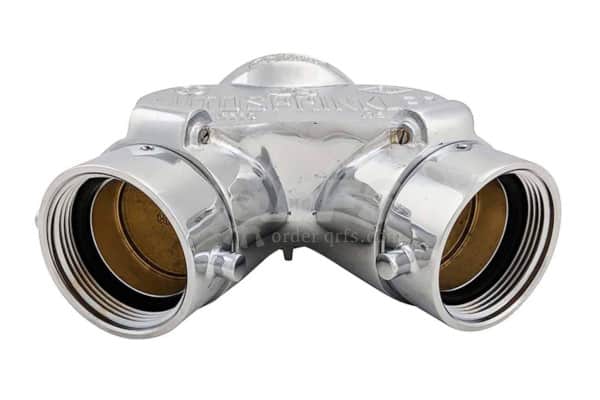 Storz couplings are another option, with no threads and no designated male or female end. Hose couplings are simply pressed against the fire department connection and rotated until they latch together, reducing connection times and delivering large volumes of water faster.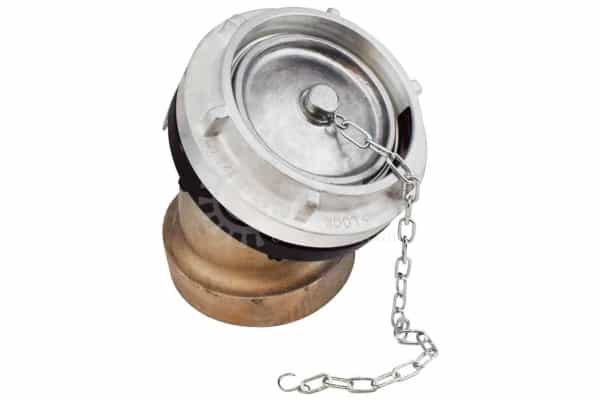 There's too much at stake for building owners and facility managers to make the wrong choice. To learn how to select the right FDC for your jurisdiction, read our blog: "Guide to Fire Department Connection (FDC) Sizes and Threading.
3. Search and rescue ropes get firefighters safely in and out of tough spots
Few firefighter tools are as essential as rope. And the Night Saver and Bulwark Safety X ropes stand out in the fire safety market, each offering unique abilities to protect firefighters on the scene.
Firefighter disorientation—a loss of direction due to lack of visibility in a structure fire—is a common factor in firefighter fatalities. Depleted air supply, falling debris, building collapse, and sudden flashover or backdraft pose serious threats to disoriented firefighters.
As a best-in-class, glow-in-the-dark search rope, the Night Saver illuminates the path to safety for firefighters in low-visibility situations. By tying the rope and holding the line when they enter a smoky space, the Night Saver acts like a glowing exit sign that prevents firefighting teams from becoming lost or separated.
The high visibility of the glow-in-the-dark search rope also gives search teams the confidence and orientation they need to hasten their progress into a structure. The Night Saver creates an easy-to-follow trail so help can quickly locate teams deployed to rescue downed, lost, or injured firefighters.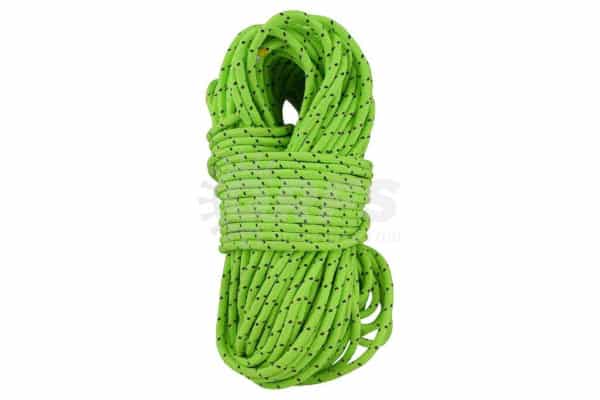 The Night Saver's long-lasting glow comes from a patented pigment infused into standard polypropylene yarn. The pigment acts like an old-school watch dial: basking in sunlight or ultraviolet rays stores up energy that makes the rope glow. A four or five-hour "charge" will illuminate the rope for up to eight hours. Reflective tape that runs every two centimeters along the rope's length further enhances its visibility.
A 3/8-inch diameter Night Saver rope in a 600' or 1,200' length is best suited for helping firefighters retreat from dangerous situations. It's small enough to be flexible when it's tied or looped onto objects to mark a path and not too cumbersome to pack alongside all the other gear firefighters lug. That diameter is also big enough to be located and held with a gloved hand. It is easy to knot as well—a trick firefighters often use to indicate distance or direction as they move throughout a large, confusing structure.
However, when sturdier, NFPA-compliant life safety rope is called for, the Bulwark Safety X provides the superior strength and abrasion resistance firefighters need to perform rope rescues confidently. Firefighters use life safety rope to lower or hoist people to safety, rappel in or out of areas with limited or dangerous access, or hoist equipment during emergencies.
The Bulwark Safety X exceeds standards for technical life safety rope in NFPA 1983: Standard for Life Safety Rope and Equipment for Emergency Services. It is also one of the few ropes to receive the stamp of approval from UL (formerly Underwriters Laboratories) for meeting or exceeding stringent life safety rope standards. It is manufactured based on the robust, SGS-certified ISO: 9001-2015 standard, a global benchmark for quality and integrity.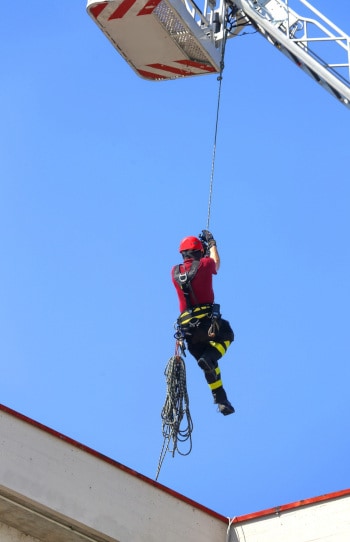 NFPA-approved and UL-listed technical life safety rope like the Bulwark Safety X enables firefighters to perform rope rescues with confidence.
As a kernmantle static rope, the Bulwark's strength comes from its twisted nylon type 6.6 core, 16-carrier braided HTP inner sheath, and 32-carrier HTP outer sheath. HTP (High Tenacity Polyester) is the preferred material for high-performance applications where maximum strength and minimum stretch play a critical role in safety. The high carrier number on the outer sheath creates a supple feeling and easy knotability—enabling the rope to slide smoothly through gear and making it simple for firefighters to handle.
The Bulwark features a melting point of 482°F (250°C) and a 5:1 recommended working load. A working load defines the maximum safe force that a rope can exert to lift, suspend, or lower a given mass without fear of breaking.
The Bulwark maintains excellent resistance to chemicals, UV, and abrasion as well. That includes internal abrasion caused by surface wear and rubbing against other fibers and rope components, as well as external abrasion caused by a contact surface like wraps or winch drums.
Firefighters generally prefer the 600' or 1,200' sizes. Custom lengths are also available upon request, plus custom colors that help ensure the rope won't be camouflaged by rescue environments. Many fire departments also like to represent their station colors.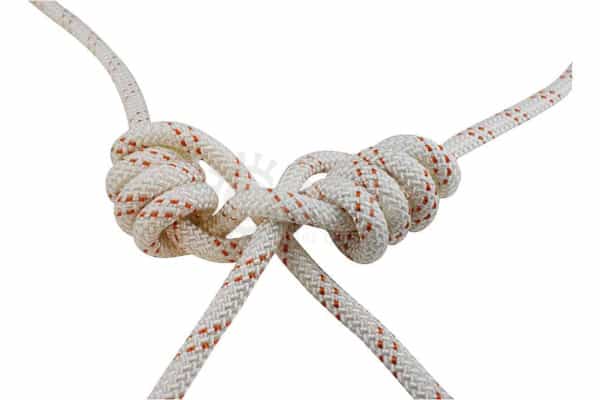 Find the firefighter tools your crew can't live without
Whether they're scaling buildings or saving them from water damage caused by sprinkler activations, every fire crew needs the right equipment to do the job. These reliable, durable, and innovative firefighter tools ensure teams are ready to face common challenges.
Be sure to check out QRFS's selection, including the Quickstop Firefighter Multi-Tool, assorted fire department connections (FDC), life safety and rescue rope, and more.
This blog was originally posted at blog.qrfs.com. Check us out at Facebook.com/QuickResponseFireSupply or on Twitter @QuickResponseFS.