Competitive pricing, shipping, and performance make the US-based Superior Fire Hose and QRFS a winning combination
Quick Response Fire Supply, LLC, is a premier distributor of Superior Fire Hose. Yet a question we often receive is: why choose QRFS? And more specifically, why choose our Superior fire hose over the supply of our competitors—like American Fire Hose and Cabinet, John M Ellsworth Co (JME Ellsworth), and Firequip—or countless other domestic and imported alternatives?
In short, the answer boils down to QRFS's smart shipping practices, competitive prices, and Superior's reputation for quality hose. To learn more, read on.
If you came here looking for a supply of Superior fire hose, skip straight to our selection.
Regulations make 7-10 day shipping an industry norm, but QRFS strives to minimize wait times
Let's get one caveat out of the way: in most instances, QRFS does keep a supply of fire hose in-house. That's because NFPA 1962, a volume containing many of the National Fire Protection Association's rules for fire hose and fittings, bases many of their inspection and replacement requirements on the manufacturing date—not on the date firefighters first begin using hose. Take this requirement, for instance:
From the 2018 edition of NFPA 1962

4.1 Attack Hose, Supply Hose, and Forestry Hose.

4.1.3 Hose shall be service tested in accordance with Section 4.8 the later of 1 year after its date of manufacture or before it is placed in service for the first time.
The service tests in section 4.8 involve pressurizing hoses. They're important tasks, but can take up a considerable amount of time. And depending on the type of hose, other inspections or testing schedules may use the manufacturing date as a benchmark. Made-to-order hose allows firefighters to maximize the amount of time between their purchase and required testing or replacement.
We sell plenty of fire hose—everything from 1 1/2″ mill hose up to 5″ supply line hose. To ensure you receive hose that is date-stamped on or near the day you buy it, we send all orders to the manufacturer. Save for rack and reel hose (which we keep in stock), our hose ships in an average of 7-10 business days.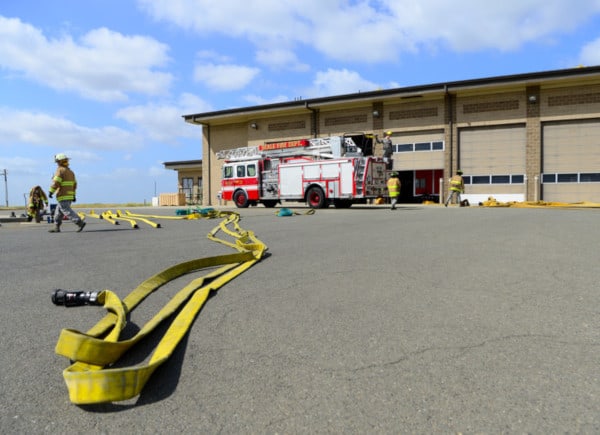 Superior Fire Hose's manufacturing process maximizes service life
Outer jacket
Superior's outer jackets consist of both staple and filament polyester that are combined in both warp and weft directions. What that means, as we explain in our look at how liners and jackets work, is that the weave of these strong fabrics offers excellent resistance to the forces of water pressure and abrasion. The staple polyester is distributed evenly around the circumference, along with filament polyester in the hoop of the jacket, for added pressure containment.
Superior's optional Steadfast Coating can increase a jacket's service life even more. This environmentally safe coating resists abrasion and repels water. The Steadfast Coating contains polymers and binders that are extremely elastic, leaving the natural flexibility of the hose intact.
In short, superior's single- and double-jacket hose with Steadfast Coating:
Offers improved abrasion resistance
Takes up very little space in a hose bed
Maintains a brilliant color over time
Stays softer longer
Outer jacket
Superior's EPDM liner resists ozone, heat, and weathering. All liners are extruded in Superior's state-of-the-art manufacturing facility. They're also double-checked by Superior's quality control department to guarantee correct thickness to a thousandth of an inch. Superior's specially-formulated liner gives more than double the jacket adhesion than required by the National Fire Protection Association in NFPA 1962.
Other benefits
All of Superior's manufacturing is done in house, allowing them to produce some of the best fire hose on the market at competitive prices. Additionally, consumers can request various listings and approvals from organizations like FM Approvals or UL (formerly Factory Mutual and Underwriters' Laboratory). These tests and certifications add a measure of certainty Superior's already-impressive quality.
QRFS offers competitive pricing, selection, and shipping for bulk and one-off orders
Most of our customers buy hoses in small quantities. Yet even for one-off orders, QRFS offers better pricing than JME Ellsworth or American Fire Hose and Cabinet. Take this comparison between QRFS and JME Ellsworth:
Hose type: Single jacket
Couplings: 1 1/2″ aluminum
Length: 50 feet
PSI: 250
JME Ellsworth: $87.64
QRFS: $84.95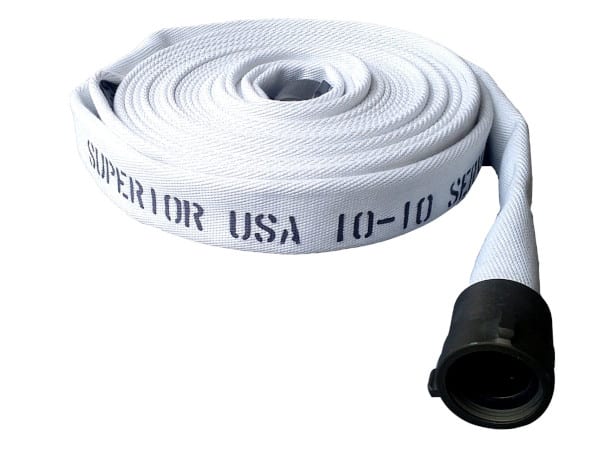 But that's not all. We offer buyers significant discounts in bulk, including:
10 with 5% discount each
25 with 10% discount each
50 with 15% discount each
100 with 15% discount each
Additional discounts may be available for an approved fire department, sprinkler contractor, or large commercial buyer. Contact us for more information.
Get Superior fire hose at QRFS
Quick Response Fire Supply offers a full line of Superior single jacket and double jacket fire hose, including 1 1/2″, 2″, 2 1/2″, 3″, and 4″ sizes (depending on required service pressure). Hoses come in 50-foot, 75-foot, and 100-foot lengths. We also carry 1 1/2″ – 2 1/2″ rubber-covered fire hose in the same lengths and 1 1/2″ – 5″ Superior Super-Flow supply lines.  Choose your preferred coupling—brass, aluminum, and Storz—and add a UL listing or Steadfast coating on the same page.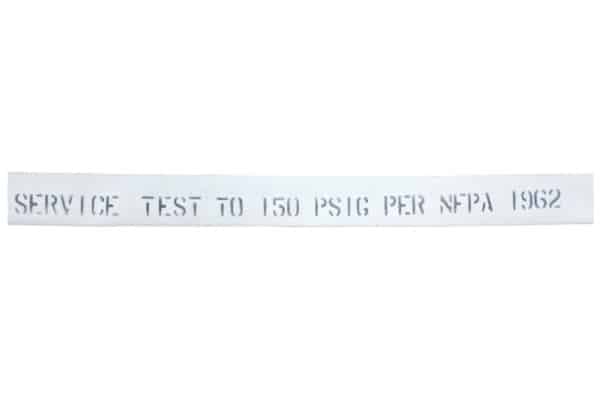 QRFS also carries an in-house supply of hose accessories that include:
Superior's fire hose can be used in various industries from oil production to restaurants. What doesn't change is Quick Response Fire Supply's excellent pricing and phenomenal customer service.
Need more information? Call us at (888) 361-6662 or email support@qrfs.com.
This blog was originally posted at blog.qrfs.com. If this article helped you find great fire hose at competitive prices, check us out at Facebook.com/QuickResponseFireSupply or on Twitter @QuickResponseFS.